Travel
Ohio Scenic Byways: 4 Summer Drives
Check out one of these driving tours for a road trip that merges the beauty of our state with fun, insightful and historic stops.
May 2021
BY Frances Killea | Photo by Aerial Agents
May 2021
BY Frances Killea | Photo by Aerial Agents
Lake Erie Coastal Ohio Trail
Stretching like a grin from the city of Toledo to the far eastern Ohio town of Conneaut, the Lake Erie Coastal Ohio Trail takes travelers off the interstate and along scenic routes where our Great Lake is a constant companion for most of the 293 miles.
Designated in 2004, the Lake Erie Coastal Ohio Trail is classified as one of America's Byways — a federally designated scenic byway that meets specific standards for historical and cultural significance, as well as recreational opportunities and scenic beauty.
"It truly does offer something for everyone," says Carrie Whitaker, senior transportation planning engineer for the Erie County Regional Planning Department. "There are historic sites, there are natural protected areas, there are beaches, parks, museums, wineries."
Along the western portion of the trail, Oak Openings Preserve Metropark is a draw for nature lovers. Part of Metroparks Toledo, it spans about 5,000 acres and is home to varied and unique habitats, plus 70 miles of recreational trails. Heading east, the historic Marblehead Lighthouse provides a place to learn about Lake Erie history and take in scenic views. Whitaker suggests first making a stop at Netty's to grab some chili dogs and fries to go.
"You can stop there and go over to the Marblehead Lighthouse and picnic," she says. "I always enjoyed that. There are beautiful views out there."
Other notable attractions along the route include Cedar Point, with its world-famous amusement rides and beautiful sand beach. A little farther east, the city of Vermilion welcomes summer visitors. Continue on to downtown Cleveland to visit the Rock & Roll Hall of Fame, which stands against the backdrop of Lake Erie at the end of East Ninth Street.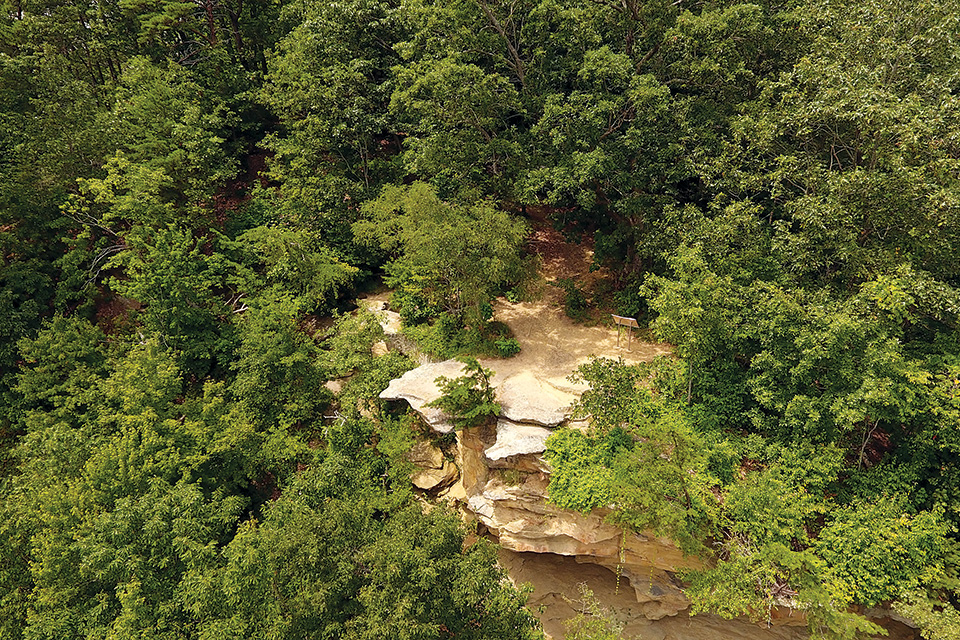 Scioto Heritage Trail
Starting in the river town of Portsmouth, the Scioto Heritage Trail scenic byway winds over 80 miles, much of it within the bounds of Shawnee State Forest. The trail was founded in 2007, inspired by a vacation to the Great Smoky Mountains in Tennessee.
"When our [former] county engineer got back, he got to thinking: Well gee, we've got everything here that they've got down there," says Bill Tipton, committee president for the Scenic Scioto Heritage Trail.
Just outside of Portsmouth on state Route 52, Raven Rock — named for the shape of the hills seen from the 500-foot vista — is a favorite for hearty hikers.
"That is probably the most visited site down here," says Tipton. "You will have a beautiful panoramic view of the whole Ohio River valley from Portsmouth for several miles downstream. It's gorgeous."
Following township and county roads, the byway continues through the most scenic parts of "Ohio's Little Smokies" and into Shawnee State Park, where travelers can book a room in the lodge or rent a cabin. Activities here range from boating to mountain biking to horseback riding, and hiking trails within the state park and forest top 60 miles.
Other favorite spots along the Scioto Heritage Trail include the newly restored Otway Covered Bridge to preserved locks along the Ohio & Erie Canal, where, at Lock 50, the Union Mills Confectionery sells homemade sweets to hungry travelers.
"It's as much about the drive as it is the destination," says Tipton. "It's just a beautiful drive through the country. Stop, talk to some of the country folks. They love speaking to you."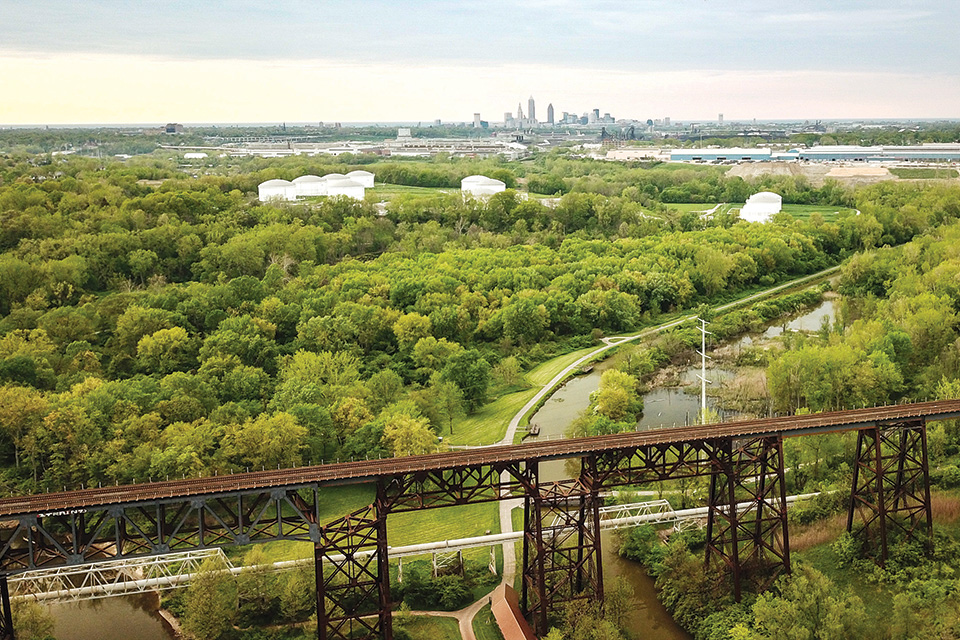 Ohio and Erie Canalway
The Ohio and Erie Canalway, also an America's Byway, stretches 110 miles from Cleveland to New Philadelphia. It touches 58 communities, highlighting not only the byway's namesake shipping roots but also points of natural and cultural history in the area.
"You're going to see a tremendous diversity in experiences," says Mera Cardenas, executive director of Canalway Partners, which helps develop the northern end of the Ohio & Erie Canalway National Heritage Area. "You're going to have the really intense urban setting — a working river in Cleveland — and then an urban core in Akron. You're also going to travel through the Cuyahoga Valley National Park, one of the most visited national parks in the country, and [see] what an oasis and a jewel that is."
Cardenas suggests mixing up your exploration a bit by taking a break from your drive to bike along the historic Ohio & Erie Canal Towpath Trail. You can even stop in the town of Peninsula and get a lift back to your car on the Cuyahoga Valley Scenic Railroad.
For those looking for a place to spread out a picnic blanket, Cardenas suggests Hart Crane Park, a pocket park along the northern end of the route in Cleveland.
"Sometimes the freighters come by, because you are on the federal shipping channel," she says, "but you'll also see the kayakers and the rowers."
Football runs deep in northeast Ohio culture. The southern half of the byway takes travelers near the Pro Football Hall of Fame in Canton and the town of Massillon, where legendary NFL coach Paul Brown first made his name at the helm of the Massillon Tigers high school football team. The Massillon Museum downtown has an exhibition dedicated to Brown's legacy.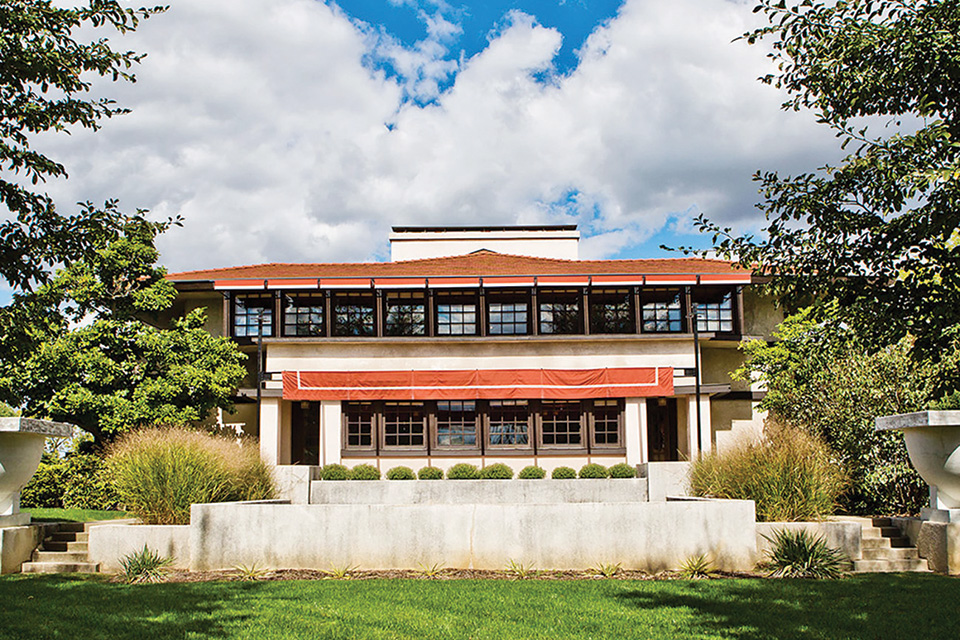 Historic National Road
In 1806, President Thomas Jefferson authorized legislation that created the National Road — the United States' first federally funded highway — and by 1825 ground was broken in Ohio. Today, it stretches 228 miles across the Buckeye State, but the route's construction was not without wrinkles. It was created a century before Ohio's section of the road was paved, and at one point funding ran dry, leaving construction incomplete.
"The National Road actually stopped just west of Springfield for many years," says Cyndie Gerken, author of three books on Ohio's portion of the National Road and former president of the Ohio National Road Association. "They referred to the Pennsylvania House as 'the inn at the end of the road,' because it was literally the end."
These days, the Pennsylvania House — now a museum — is just one of many noteworthy stops along the Historic National Road byway, also one of America's Byways. In Springfield, famed architect Frank Lloyd Wright's Westcott House sits near the route. Built in 1908, the home went through a period of subdivision and neglect until a $5 million restoration returned the historic property to its former grandeur in 2005.
"It's the only prairie-style home [Frank Lloyd Wright] built in Ohio," Gerken adds.
About 45 miles east of Springfield, the Ohio Statehouse sits along the route in the heart of Columbus. A little past that you'll find Franklin Park Conservatory and Botanical Gardens.
"It's about 100 acres of a lot of fabulous things," Gerken says of the attraction that is home to beautiful outdoor gardens, the historic Palm House and sculptures by famed glass artist Dale Chihuly.
For more information about any of these Ohio Scenic Byways, visit ohiobyways.com.