Ohio Life
Ohio's Frank Lloyd Wright Homes
We visited dwellings in Springfield, Oberlin and Willoughby Hills designed by the architect. Here's how you can, too.
June 2017 Issue
BY Rich Warren | Photo by Brad Feinkopf, Westcott House
June 2017 Issue
BY Rich Warren | Photo by Brad Feinkopf, Westcott House
Although Frank Lloyd Wright designed hundreds of homes, offices, churches, schools, museums and hotels across the globe, there's a great concentration of them in the Midwest, where he lived and worked. In Ohio, most of the 11 Wright-designed structures still standing are private homes, but three of them — in Springfield, Oberlin and Willoughby Hills — are open to the public, making it possible to admire the beauty of Wright's organic approach to architecture from the interiors as well as the outside.

The Westcott House | Springfield
In the 20th century's early years, Springfield's High Street was home to the city's wealthy industrialists and businessmen. Elegant Italianate and Richardsonian Romanesque homes are still found along it today, but be prepared to be startled by the structure at the far end of the street. With its cantilevers, Japanese-inspired details and rich earth tones, the Westcott House is definitely out of character with the rest of the neighborhood.
Built in 1908, the house is the only Ohio example of Frank Lloyd Wright's Prairie Style homes, which feature strong horizontal lines, low-pitched roofs with broad overhanging eaves and ribbons of windows facing the street. Wright himself was so proud of the home that he included it in a portfolio of his finest designs used to showcase his work.
"By including it, he was saying 'This is one of my best,'" explains Marta Wojcik, the home's executive director.
Tours of the home focus on its unique design elements: a magnificent skylight, a front porch with a Japanese reflecting pool and huge concrete urns, a pretty pergola in the garden and a puzzling pointed structure by the front door. "It almost looks like a rocket," Wojcik says. "Most people never guess that it's really a birdhouse."
Burton Westcott, treasurer of the Seeding Machine Co., commissioned the home after moving to Springfield in 1906. He later relocated the Westcott Motor Car Co. to Springfield from his birthplace of Richmond, Indiana. Stories that visitors to the home hear during the tour include one about how Westcott's son John saved the family from embarking on the Titanic when he suddenly fell ill.
Until this year, visitors have often been surprised by the lack of furniture inside the Westcott House. That changed this spring with the addition of Arts and Crafts furniture, custom-made rugs and Rookwood Pottery.
Few photos exist of the home's interior when the Westcotts lived there, and little is known of what happened to their belongings, so the furnishings were chosen to reflect what was typical in a Wright-designed home of that era.
The Westcott House offers lectures, concerts, walking tours and youth programs. It will also host a 150th birthday party for Wright on June 10.
As Wojcik says, "We see our mission as providing educational programming so that visitors will appreciate architecture and design in general, and Frank Lloyd Wright in particular." Tours begin on the hour between 11 a.m.–4 p.m. Tues.–Sat. and 1–4 p.m. on Sun. Call or visit website to reserve a tour time; 85 S. Greenmont Ave., Springfield 45505, 937/327-9291, westcotthouse.org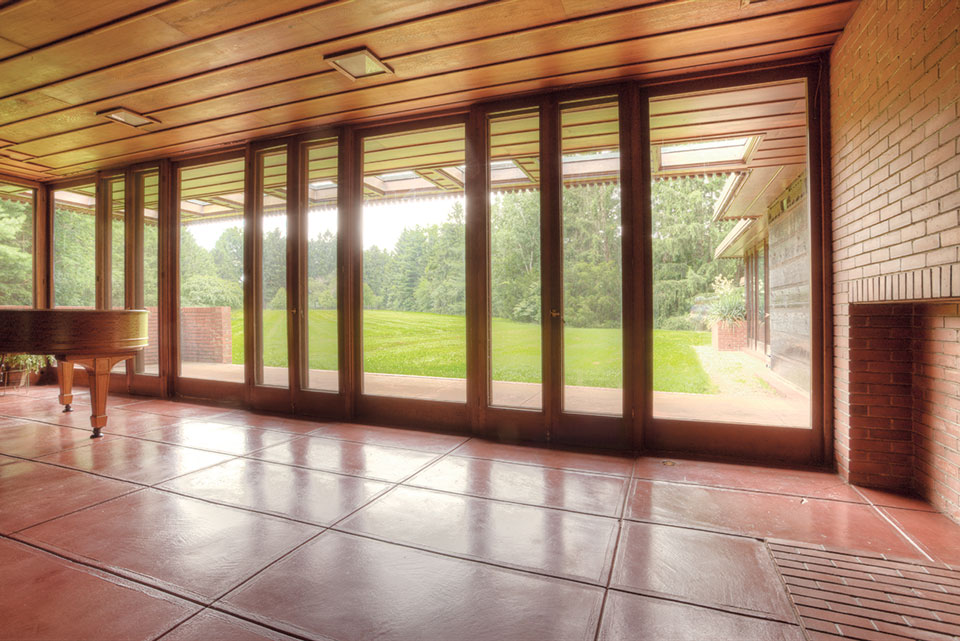 The Weltzheimer/Johnson House | Oberlin

The Weltzheimer/Johnson House is one of Frank Lloyd Wright's nine Usonian homes in Ohio. They were smaller, more affordable structures but still incorporated the architect's distinctive design elements. Now owned by Oberlin College, the home's strong horizontal lines, flat roof and floor-to-ceiling windows are immediately recognizable as embodying Wright's style. Reproductions of his designs for the house are spread out on the piano in the living room.

Visitors approaching the house often notice what appears to be hundreds of stained croquet balls lining the roof's overhang — a design element unique to the Weltzheimer/Johnson House.
"They're not really croquet balls, but they do add a rounded quality to a design that has such a strong linear focus," says Andria Derstine, director of the Allen Memorial Art Museum, which is affiliated with Oberlin College and oversees the Weltzheimer/Johnson House. She also points out the unique panels hanging in the banks of windows lining several rooms — curving, rounded carvings that Derstine says "almost resemble an onion dome."
The house was constructed in 1949 for the family of Charles Weltzheimer, who worked at a nearby farm and dairy supply company. The Weltzheimers sold the home to developers in 1963, and their remodeling efforts scarred Wright's handiwork.
When Ellen Johnson, a professor of art history at Oberlin College, purchased the home in 1968, she set out to modify the house back to its original design. She persuaded her students to help scrape paint off the brick surfaces, and a legendary story centers on the bathtub in the master bathroom. The developers had removed the tub, and Johnson found it in a nearby field being used as a feeding trough for cattle. It's now back in place due to Johnson's efforts.
"Ellen was a force of nature," Derstine says. "She was personal friends with the likes of Andy Warhol and Jasper Johns, and her modern art history courses were attended by as many as 400 students."
When Johnson died in 1992, she willed the home to Oberlin College, which has used it ever since as a guesthouse for visiting professors, for private receptions and for educational purposes. There are also monthly tours that are open to the public. Tours are offered on the first Sunday of the month April through November from noon–5 p.m.; 534 Morgan St., Oberlin 44074, 440/775-8665, oberlin.edu/amam/flwright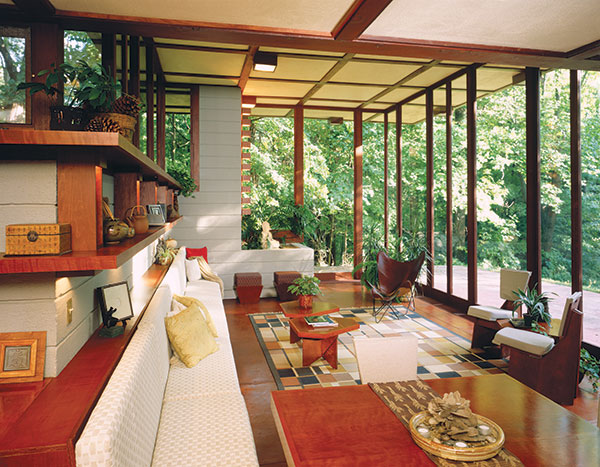 The Louis Penfield House | Willoughby Hills

Paul Penfield was only 11 at the time, but he vividly remembers the visit his family paid to Frank Lloyd Wright, then at the peak of his fame in the early 1950s.
"It was like Dorothy and her friends going down that long hallway, and then at the end of it, you're in the presence of the Wizard," he recalls with a chuckle.
When Penfield's father, Louis, asked the famed architect if a home design could be made to accommodate his height — 6 feet, 8 inches — Wright replied, "Yes, but we'll have to design a machine to tip you sideways first."
Wright nevertheless obliged, designing a spacious home with 12-foot ceilings in the living room and 8 feet elsewhere. Also unique is a narrow, floating staircase supported by ceiling beams.
In other ways, the Penfield House exemplifies Wright's principles of organic architecture with a long wall of floor-to-ceiling windows, a central fireplace, built-in furniture and rooms flowing from one to another. Wood and rocks from the property were used in the home's construction, reflecting Wright's fondness for locally sourced materials.
Penfield spent the remainder of his boyhood in the home, which is situated on 30 wooded acres along the banks of the Chagrin River. When he inherited the house, he returned from living abroad and undertook the restoration of the structure, which was then in poor shape after serving as a rental property for several years.
Penfield and his assistants sanded every wood surface, inside and out, wearing out four orbital sanders in the process. He also built the home's original furniture that was never completed using wood from trees felled within 100 yards of the home.
"Wright was obsessed with using local materials, so I'm sure he'd have approved," Penfield says. The gleaming restored structure opened to guests for overnight rentals in 2003, one of a handful of Wright homes that offer such an option.
With his children showing no interest in owning the home, Penfield put it on the market this spring. The $1.7 million asking price includes not only a one-of-a-kind Frank Lloyd Wright home and its contents, but also two other houses on the riverfront property, as well as the original furniture, now in storage.
But wait, there's more. Paul's parents had Wright design a second home for them. It was Wright's final residential commission, arriving in the mail the week after the architect died. The design for that home, which was never built, will also be passed along to the new owner. Find rental and sale information on the home's website. penfieldhouse.com

***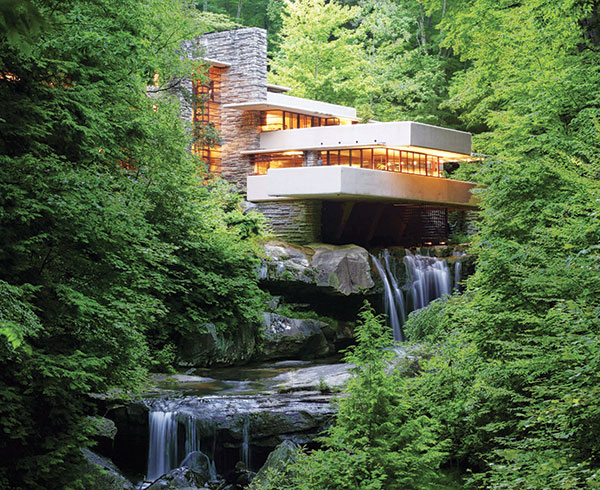 House Hunting
If you want to visit other Frank Lloyd Wright homes, you'll find these three just beyond Ohio's borders.

Ever since it appeared on the cover of Time in 1938, Fallingwater (above) has fired the imagination of architecture lovers. Few homes in the U.S. are so universally recognized. Situated in the Laurel Highlands of southwest Pennsylvania, the structure's dramatic cantilevers and broad terraces atop a 30-foot waterfall are a testament to Wright's love of blending nature with the building itself. A National Historic Landmark, Fallingwater is one of only a few Wright homes still retaining its original furniture and artwork.

Not far away are two more Wright homes, both examples of his Usonian style. Kentuck Knob, just 7 miles from Fallingwater, appears to grow out of the hillside it's built on. Its hexagonal shape and copper roof make it distinctive, not to mention the living room that appears to jut out of the house like the prow of a ship. The house is open for tours except for the few weeks per year when its owners, Lord Peter and Lady Hayat Palumbo of London, are in residence.

The other nearby home, Wright's Duncan House, is located 28 miles away from Fallingwater on more than 100 wooded acres. It was originally built in suburban Chicago, but when it was threatened with demolition in 2004, four buyers in Pennsylvania pooled their resources to purchase it and move it to the Laurel Highlands. The house was dismantled, with each piece carefully marked so the structure could be reconstructed in Polymath Park Resort, near two other homes designed by a Frank Lloyd Wright apprentice. Tours of Duncan House are available, but like Ohio's Penfield House, it is one of a half dozen Wright homes in the world that can be rented for overnight stays. For more information about these homes, visit fallingwater.org, kentuckknob.com and franklloydwrightovernight.net.

Photo Credits: The Weltzheimer/Johnson House: Dirk Bakker; The Louis Penfield House: courtesy of The Louis Penfield House; Fallingwater: courtesy of Laurel Highlands Visitors Bureau