Ohio Life
The Ohio Town Where Every Airstream Camper is Made
The shiny, aluminum travel trailers are one of the world's most recognizable ways to hit the road. Since 1952, they have been assembled by hand in Jackson Center.
June 2022
BY Jason Brill | Photo by Zoom Zoom Creative
June 2022
BY Jason Brill | Photo by Zoom Zoom Creative
On July 24, 1969, Neil Armstrong, Michael Collins and Buzz Aldrin returned from the moon.
Then, they camped out in an Airstream. Prior to launch, there was concern the astronauts might bring back unknown pathogens. So, NASA decided the trio would be held in a mobile quarantine facility upon their return.
The space agency hired Virginia-based government contractor Melpar, and they in turn subcontracted the job to Airstream. The company, which had manufacturing facilities in California and Ohio, built four modified versions of its travel-trailer models at its Jackson Center, Ohio, factory to fit NASA's specifications. With shiny all-aluminum bodies and visible rivets, the trailers' futuristic appearance looked the part, too. After spending 88 hours in the mobile unit, the astronauts were transported to Houston, where they spent the remainder of their quarantine.

"We're associated with the first man to walk on the moon," says Airstream president and CEO Bob Wheeler. "Talk about a pioneering spirit of adventure."

Airstream's space age didn't end with NASA's Apollo era. In 1983, the company modified its Excella motor home to ferry astronauts to the launch pad for space shuttle flights. (The vehicle was lovingly known as the Astrovan.) The NASA connection is just one aspect of the long history explored at Airstream's new Heritage Center, which will open inside the company's 750,000-square-foot headquarters and factory in Jackson Center in summer 2022. A display of photos includes one of President Richard Nixon talking to Armstrong, Collins and Aldrin over a microphone as they peer back through the window of their Airstream quarantine trailer. Nearby, a fun photo op allows visitors to re-create the famous scene themselves.

The museum tells the Airstream story, starting with its founding by Wally Byam in 1931, showcasing the evolution of its hand-built design by way of 15 vintage trailers and documenting the communal culture of caravan road trips, where dozens of Airstream owners travel together.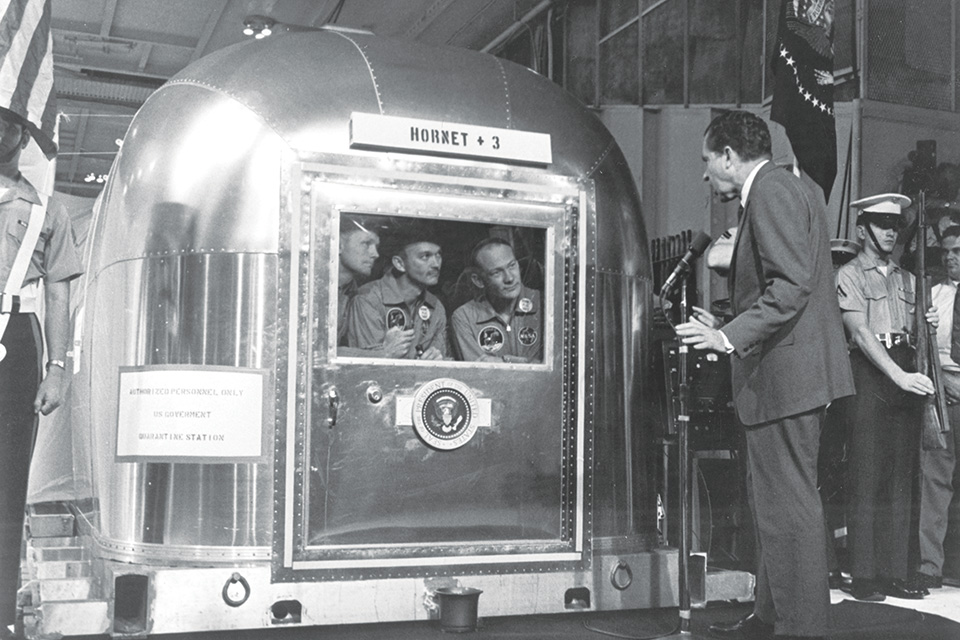 In recent years, the company has experienced the sort of surge in business it last saw during the travel boom of the 1950s. Dealer waitlists for some of its trailers, which run from the boondocking-friendly Basecamp to the glamp-worthy Globetrotter, are months long. Airstreamers — those who own one of company's travel trailers or motor homes — are a loyal bunch, too, and Wheeler expects many will make the trip to Jackson Center, trailers in tow, to see the museum.

"The ability to celebrate our history and acknowledge the milestones, the people and the trips that helped make us who we are … is very gratifying," he says. "It's just a great part of Americana."

***

The Airstream factory floor is a hive of sound, sights and activity. Depending on where you are along the L-shaped production line, you will see sheets of aluminum being hand-formed to create travel-trailer walls, hear rivets being used to secure those walls in place or smell the wood being sanded on a piece of cabinetry destined for a trailer.

What you won't see is much, if any, automation. Prebuilt chassis come into the factory at one end of the L and leave as hand-built travel trailers out the other end about four to five days later. There's a carpentry department for tables, counters and cabinets. A sewing department makes cushions, curtains and upholstery. An electrical department wires lights, TVs and heating and cooling systems.

The company's quality is legendary in recreation vehicle circles, and you can see why on the factory floor. Midway through production, every trailer travels through a sealed room to be pummeled by nearly hurricane-force winds and pounding rain (with someone inside!) to make sure there are no leaks. Near the end of the line, employees even test the TVs to make sure they're in working order.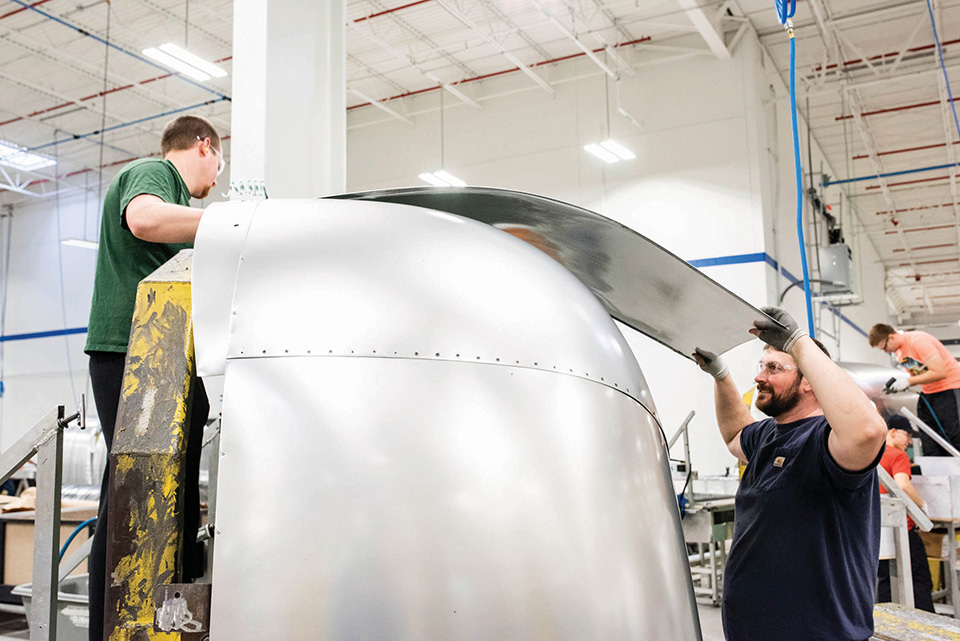 That attention to detail and doing things by hand is part of why Airstreams cost more than most other recreational vehicles. The company's trailers range from about $40,000 for the 16-foot-long Basecamp which sleeps two people, to the 33-foot-long $179,000 Classic, which sleeps five and is essentially a luxury apartment on wheels. Each Airstream model comes with a bathroom and a kitchen, making it an all-in-one wonder for people looking to get away — but not too far away from comfort.

"It's this juxtaposition of the great outdoors and all that wide-open space, and then being able to come back and have a comfortable and familiar experience back at the campsite," Wheeler says.

That experience is what Oregon native Wally Byam had in mind when he built his first travel trailer in 1929, before founding what would become Airstream two years later in Los Angeles. Byam opted for aluminum because it is lightweight and durable, and the Airstream's iconic shape, which has been nipped and tucked but never drastically altered, came from his love of aeronautics.

By the early 1950s, the company was outgrowing its West Coast plant, and Byam and some of his partners found a factory in Jackson Center while scouting locations — during a camping trip, of course — in the Midwest. In 1952, the company opened its second plant here. In the late 1970s, the company closed its California operations and Jackson Center became the only place in the world where Airstreams are made.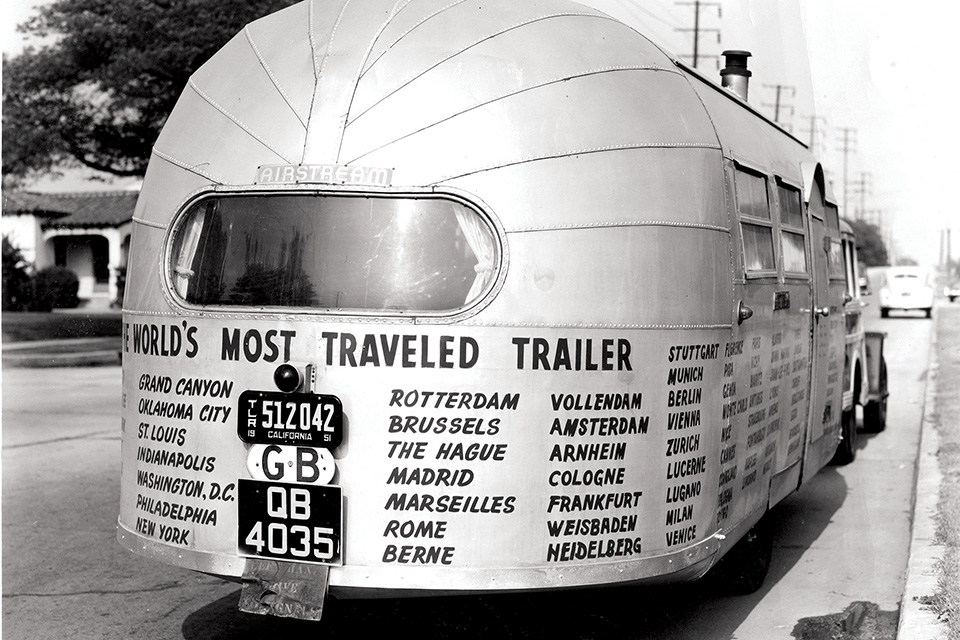 Today, the company makes eight models of travel trailers and five types of motor homes at its two Jackson Center plants. More than 1,200 people work for Airstream, making it the third-largest employer in Shelby County, where Jackson Center is located about an hour north of Dayton. It takes just a few minutes driving through town to see signs of Airstream's presence. If you arrive from the East, you'll pass the Airstream Club International headquarters and then Wally Byam Boulevard and Airstream Drive before seeing either Airstream factory.

When people get a job here, they stick around, too. The company has had multiple employees reach 50-year milestones in the last several years, and in the late 2000s, before hiring was ramped up to meet demand, the average tenure was around 20 years. (It's closer to five now.)

"We love to celebrate the fact that we're a Midwestern company," Wheeler says. "We know how to make stuff in the Midwest."

***

Welcome to the Mothership. The illuminated blue-and-white sign bearing these words is mounted to a huge curving wall of aluminum that greets visitors to Airstream's Heritage Center.

"It's the moniker that our customer base gave to us," says Samantha Martin, curator of the Heritage Center. "It's sort of a pilgrimage out to Jackson Center to come see the plant and get their [trailer] serviced."

The Heritage Center is many years in the making for Airstream, and the museum charts a path through the company's storied history. What makes the 16,000-square-foot destination possible is the abundance of artifacts that Airstream had available or was able to secure through its relationship with Airstream Club International, the owner organization that Byam started in 1955 and today has more than 16,000 members. Martin says some artifacts were donated by Byam's family members.

A huge aspect of Byam's influence on the company is the communal atmosphere that surrounds Airstream ownership. In 1951, he led the first Airstream caravan through Mexico and Central America, and 63 travel trailers showed up in El Paso, Texas, for the four-month trek. Byam led 14 Airstream caravans, through places such as Africa and Europe, shipping trailers to those locales by boat.

Martin says Byam, who died in 1962, dreamed of leading a caravan that circled the globe. While he did not see it, a 105-person caravan in his honor set off from Singapore in 1963. After 403 days and 30,000 miles, the caravan arrived in Cabo Da Roca, Portugal, having crossed more than 30 countries.

"Wally's mission was to provide all the comforts of home," says Martin. "And he promised to foster traveling all around the world together, and that fellowship is still one of our key pillars."

Museum displays feature artifacts from the years just before Byam founded the company, to reconditioned early Airstream models, souvenirs brought back from caravans, and trailers that belonged to former caravaners. Standouts include two of Byam's own: a gold-colored trailer he took on a caravan to Africa, and an all-white one that went to Europe and was featured in an issue of National Geographic.

"Wally would always kind of test [potential trailer] features out on his own first," Martin explains. "The gold trailer is a good example of that. He was toying with anodized aluminum to have different colors. But he discovered that over time it fades at different rates, so the gold one had different shades of gold all over it.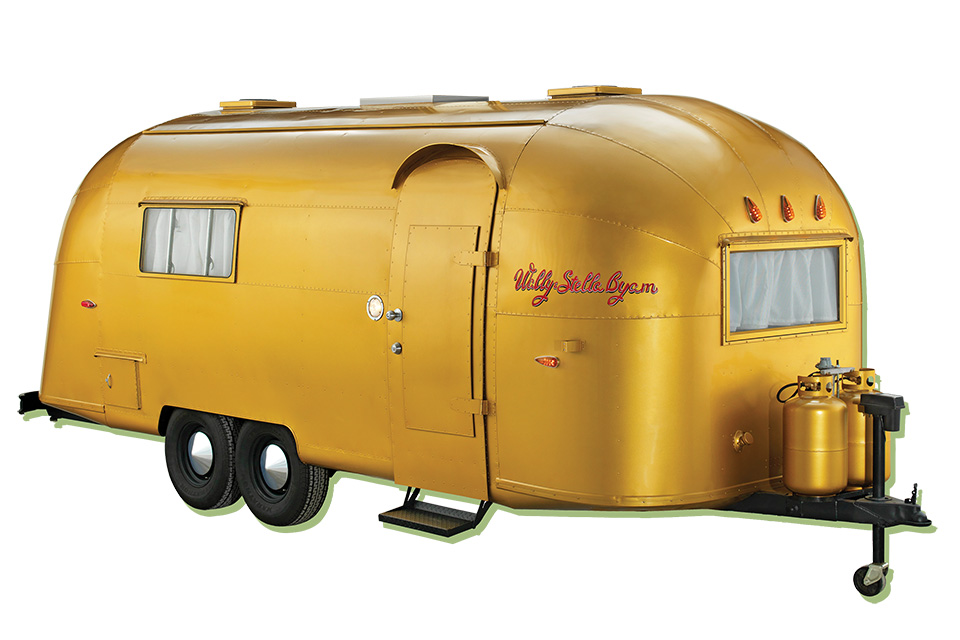 To build out the section dedicated to Airstream's role with NASA, Martin tracked down and interviewed former Airstream employees who helped build some of the NASA projects, as well as shuttle-era astronauts who were ferried to the launchpad in the Airstream-made Astrovan.
With the opening of the museum, the company is excited about restarting its public factory tours, which were paused during the pandemic. While tours are open to anyone, Wheeler says they are a special experience for Airstream owners, since there is a good chance some of the people that they see building trailers in the factory helped build theirs.

It's that aspect of community and kinship that seems to make adventuring in an Airstream so alluring — along with the luxe comforts of home, of course. Even though part of traveling is escaping from it all, we can't slip free of the gravity of finding each other while we're out on the road.

"When you pull into a campground and set up your Airstream, after a couple hours, the other Airstream owners will come wandering over," says Wheeler, who himself owns a vintage 1958 Airstream Pacer. "It makes you realize that wherever you go, you've got this support network and connection with like-minded people."

For more information about visiting Airstream's Heritage Center and taking a factory tour, go to airstream.com. 1001 West Pike St., Jackson Center 45334, 937/596-6111