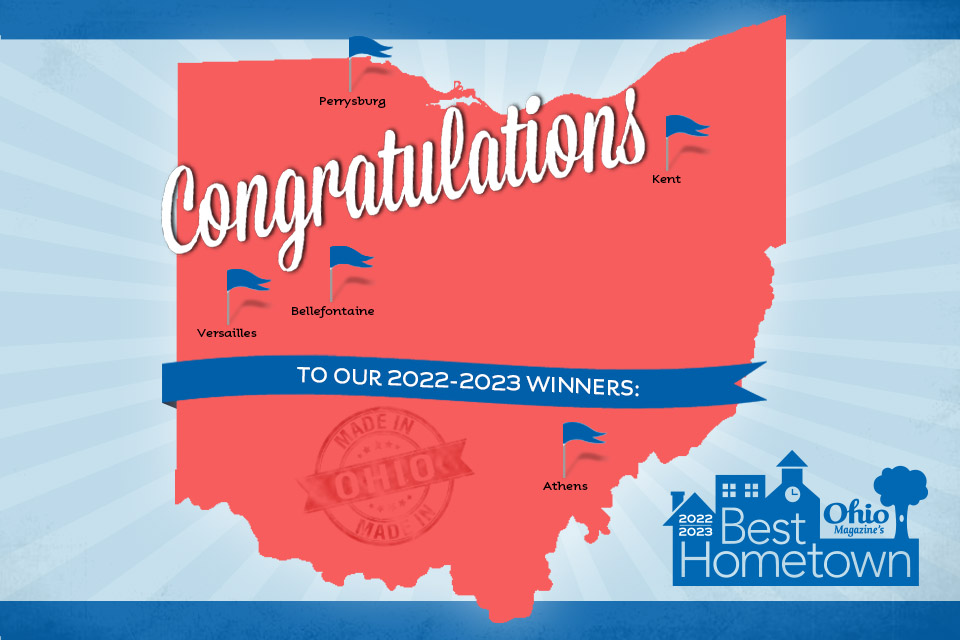 Ohio Magazine recognizes five great places to live, work and visit.
Athens, Bellefontaine, Kent, Perrysburg and Versailles are recognized as great places to live, work and visit in our 2022-23 Best Hometowns issue.
To determine the honorees, Ohio Magazine solicited nominations and conducted site visits across the state in the spring and summer. The editors evaluated the nominees in six categories — Community Spirit, Education, Entertainment, Health and Safety, Business Environment and Culture and Heritage — to help finalize their selections.
Each of Ohio Magazine's Best Hometowns will be featured in the November 2022 and July 2023 issues, showing readers unique places to visit and ways to enjoy each location.
For more information about past honorees and Ohio Magazines annual Best Hometowns honor, visit ohiomagazine.com/besthometowns.
This college town in southeast Ohio thrives with a welcoming atmosphere, appreciation of the arts and inspiring community collaboration.
This city located around 60 miles northwest of Columbus is experiencing a downtown revival that is shining a light on historic properties while reinventing them for a new generation.
The relationship between college and community is strong here, thanks to a downtown design that connects campus and city, innovative collaborations and new development.
This northwest Ohio town built on history continues to thrive with its inviting shopping districts, outstanding schools and family-friendly environment.
This rural village of 2,600 residents offers great schools, a welcoming small-town feel and a longtime local company that helps make the community an inviting place to call home.