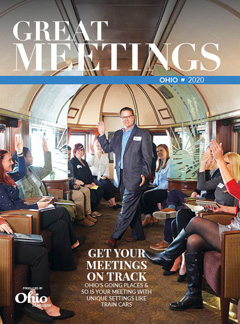 Make the most of your next business meeting or special event with the help of Great Meetings Ohio. Created annually by Ohio Magazine, this comprehensive guide features meeting and event venues throughout Ohio and the surrounding region.
Ohio Magazine has been the authority on places to visit in Ohio for nearly 40 years, so it's no surprise that the annual Great Meetings Ohio publication is the go-to resource for event planners.
In our current issue, you can read about unique meeting spaces that will attract attendees, like train cars, former presidential homes and gorgeous parks. We also share food trends — what's hot and what's not. Learn creative tips to help plan your best meeting yet.
Each listing provides information on meeting space capacity in a variety of setups and other distinguishing features. Whether you're planning a banquet for hundreds, an expo for thousands, a cocktail reception, a seminar or a theater-style event, you can find the essential information here — all in one useful guide.
Want to have your venue listed? Submit your listing.