Travel
Heritage Road Trips
Take a drive on one of the Ohio Scenic Byways for a dose of natural beauty and a glimpse into our state's past. Here are five great routes to get you started.
July/August 2020
BY Marisa Palmieri Shugrue | Photo by Mike Tewkesbury
July/August 2020
BY Marisa Palmieri Shugrue | Photo by Mike Tewkesbury
Ohio River Scenic Byway

Meandering along the banks of the Ohio River, this byway runs 452 miles through Ohio, from the Pennsylvania border in East Liverpool to the Indiana border near Cincinnati, traveling through 14 counties. (It continues into Indiana and Illinois, and the route is one of 150 National Scenic Byways.)

"A lot of people love to do this drive," says Judy Bratten, a member of the Ohio River Scenic Byway committee, estimating the river is visible for 75 percent of the trip. "It gives you such variety. Different people are attracted to different aspects of the byway."
Travelers interested in Revolutionary War history will want to visit Marietta's Mound Cemetery in the southeastern portion of the state. Ohio's connection to the Civil War draws many tourists to the southwest Ohio town of Ripley, an early stop on the Underground Railroad. Nature lovers flock to Wayne National Forest and Ohio River Islands National Wildlife Refuge. ohiobyways.com

History Lesson: In Clermont County, history buffs can tour the small, one-story home where Civil War general and President Ulysses S. Grant was born in 1822. About 25 miles down the road in Georgetown, Grant's boyhood home and the schoolhouse he attended are also open to visitors. 1551 St. Rte. 232, Point Pleasant 45153, 513/497-0492, usgrantbirthplace.org; 219 E. Grant Ave., Georgetown 45121, 877/372-8177, usgrantboyhoodhome.org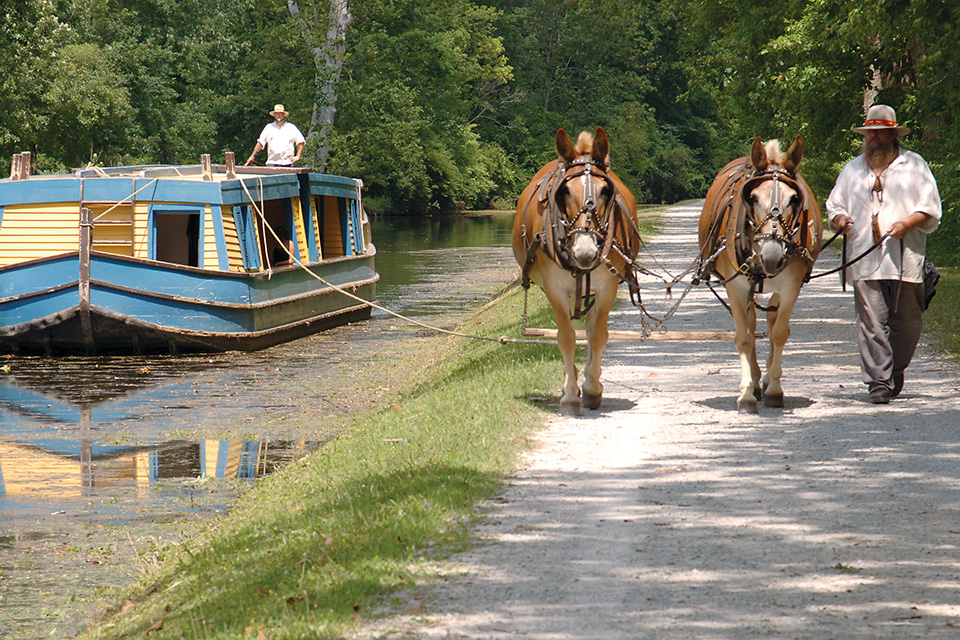 Miami & Erie Canal Corridor
Get a peek at what canal life was like in the mid-19th century by traversing the 54-mile Miami & Erie Canal Corridor. The canal once connected the Ohio River in Cincinnati to Lake Erie in Toledo. The byway runs on state Route 66 north from the Johnston Farm & Indian Agency in Piqua through the towns of Minster, New Bremen, St. Mary's and Spencerville to Delphos.

"When the canal was built, whatever course or direction it went, towns built around it," says Steve Dorsten, secretary of the Miami & Erie Canal Corridor Association. "It's kind of like pearls on a necklace. Each one of these towns had their own identity."

In Lockington, where the canal crosses over Loramie Creek, travelers can see an engineering feat: five stair-step locks, one of which was restored in 2014, are in close succession. There's also a park, a bow bridge crossing the canal, a dry dock basin for boat repair and a reconstructed lockkeepers house. ohiobyways.com

History Lesson: Located on land once owned by federal Indian agent and canal commissioner John Johnston, the Johnston Farm & Indian Agency museum features an 1800s farmhouse, barn, spring house, cider house, and a mule-drawn, 70-foot-long replica canal boat, which visitors can ride. 9845 N. Hardin Rd., Piqua 45356, 937/773-2522, johnstonfarmohio.com


Olentangy Heritage Corridor

Spanning a 10.5-mile stretch of state Route 315 from Interstate 270 in Franklin County to U.S. 23 in Delaware County, the shortest byway in Ohio runs along the Olentangy River, affording stunning views of the waterway.
"The largest draw is just the scenic river itself," says Mike Schuiling, administrator for Liberty Township, which sponsors the Olentangy Heritage Corridor. "Being able to be close to the river, as it runs in some places just feet from the highway, makes it a nice drive."
Proximity to the river was a priority for settlers as well.
"The founders came here because of the waterway to establish mills," Schuiling says. "Looking back throughout Ohio's history, waterways became the streets in many ways."
The corridor is home to many historic sites, such as the Native American Adena mounds at Highbanks Metro Park in Lewis Center and landmarks such as Liberty Presbyterian Church in Delaware, which dates back to 1820. ohiobyways.org
History Lesson: Descend more than 100 feet below ground to the limestone caves and passages in the Olentangy Indian Caverns, believed to have been used by the Wyandot tribe for refuge and ceremonies. Open seasonally for guided and self-guided tours, the site also features a museum, a petting zoo and family-friendly activities including miniature golf and gem mining. 1779 Home Rd., Delaware 43015, 740/548-7917, olentangyindiancaverns.com


Heritage Corridors of Bath
Travel this 39-mile route through Bath Township in Summit County near Akron to get a glimpse of what life was like in the early 19th-century in Ohio's rural Western Reserve.
Becky Corbett, a Bath Township trustee and chairwoman for the byway, recommends starting the drive at the Heritage Corridors of Bath Wayside Exhibit on Cleveland-Massillon Road, which has a pavilion with interpretive panels telling the story of the area's history.
Historic sites along the byway include schoolhouses, churches, mills, cemeteries, century homes and farms like the Hammond-Cranz homestead, dating back to the early 1800s. Another draw for visitors is the area's 400 acres of parks, which provide easy access to recreation.
"We're right on the edge of the Cuyahoga Valley National Park and we also have access to Summit Metro Parks," Corbett says. "It's a very beautiful area with all kinds of outdoor activities." ohiobyways.com

History Lesson: Once the farm of early Bath Township settler Jonathan Hale, Hale Farm & Village traces the region's history. The 90-acre, open-air, living history museum contains gardens and 30 historic buildings. Costumed interpreters lead period arts and crafts classes and host special events, ranging from Civil War re-enactments to harvest festivals and holiday lantern tours. 2686 Oak Hill Rd., Bath 44210, 330/666-3711, wrhs.org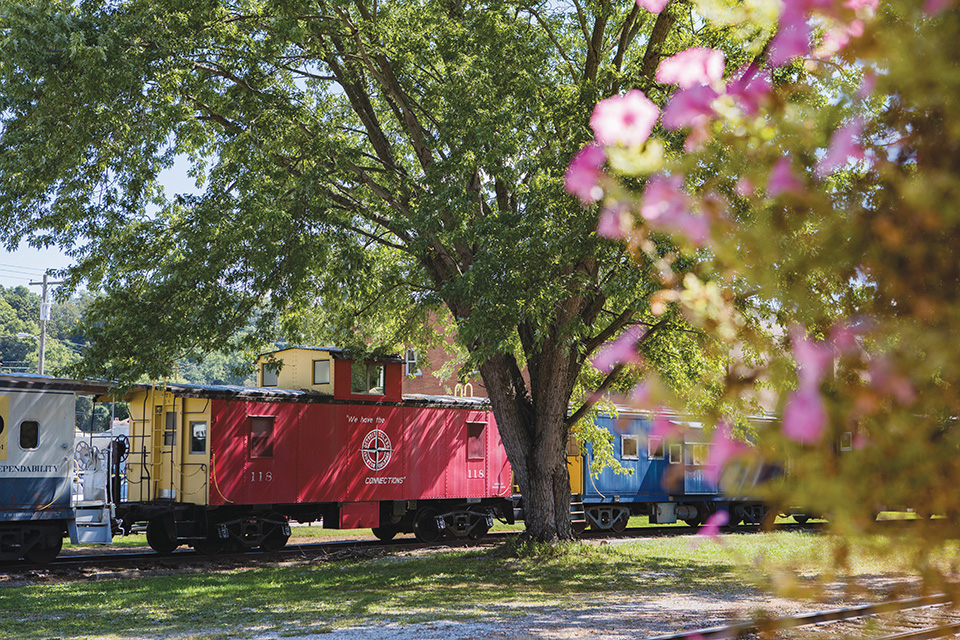 Appalachian Byway
Located along the foothills of the Appalachian Mountains, this 120-mile corridor follows state Route 78 from Clarington in Monroe County, crossing through Noble, Morgan and Athens counties to Nelsonville. It also includes a short leg north on state Route 284 to The Wilds in Guernsey County.
The natural beauty of the region appeals to travelers looking to step away from the city for a few days, explains Appalachian Byway coordinator Gwynn Stewart.
"The state routes it follows are good roads, but you don't always have cell service," she says, adding that Wayne National Forest and Burr Oak State Park are adjacent to the byway. "If you want to unplug, this is one way to do it."
Many attractions along the way, including Big Muskie's Bucket at Miner's Memorial Park in McConnelsville, symbolize southeast Ohio's history as an energy corridor. The byway connects with the Ohio River Scenic Byway in Clarington at state Route 7. ohiobyways.com
History Lesson: The Hocking Valley Scenic Railway in Nelsonville dates back to 1864, when Mineral Railroad was established to transport salt, coal and passengers from Athens to Columbus. Today's travelers are welcomed aboard to learn about historic points of interest and enjoy events such as dinner trips and fall foliage excursions. 33 W. Canal St., Nelsonville 45764, 740/753-9531, hvsry.org