Travel
Hike & Bike: Southwest Ohio
Explore Glen Helen Nature Preserve in Yellow Springs, hike the Edge of Appalachia Preserve System and ride a portion of the 78-mile Little Miami Scenic Trail.
June 2020
BY Nathan Havenner and Jim Vickers | Photo by Laura Watilo Blake
June 2020
BY Nathan Havenner and Jim Vickers | Photo by Laura Watilo Blake
GLEN HELEN NATURE PRESERVE
In 1929, Hugh Taylor Birch gifted this roughly 1,000-acre Yellow Springs property to Antioch College in memory of his daughter, Helen Birch Bartlett. A number of different trails spanning a total of 15 miles cut through the wooded preserve, but a number of interesting sights can be seen from the 1.2-mile Inman Trail, a loop that's easily accessible from the parking area. (Just be sure to bring $5 cash for the parking fee.) Highlights of this moderate and rewarding hike include The Cascades, The Grotto and the town's namesake Yellow Spring. (Note: Glen Helen remained closed during the COVID-19 pandemic. Verify access before traveling.) 405 Corry St., Yellow Springs 45387, glenhelen.org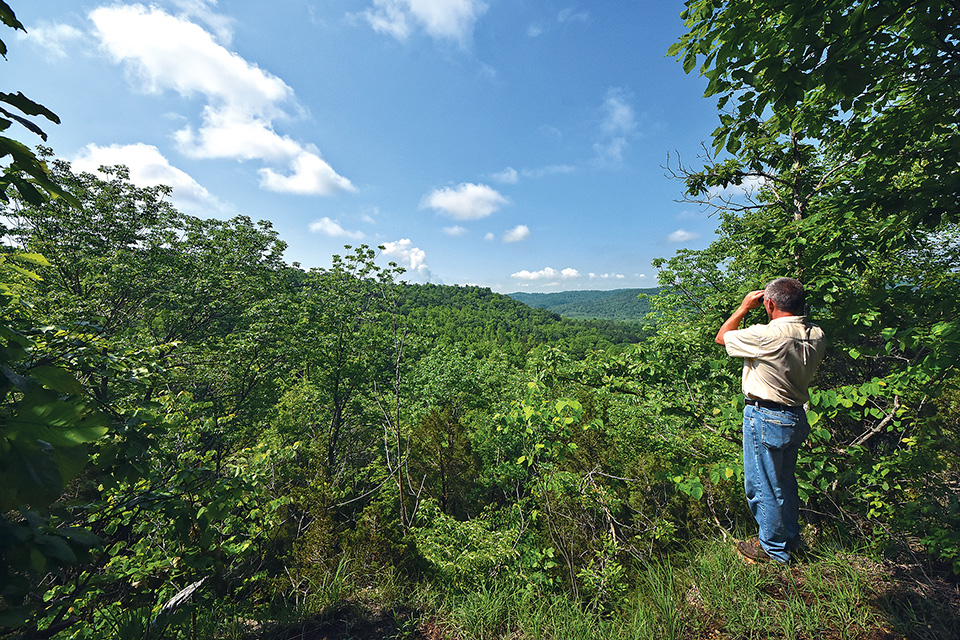 Edge of Appalachia Preserve System
The Nature Conservancy oversees these trails on 20,000 acres in Adams County

Buzzardroost Rock Trail: This is the most popular hike in the Edge of Appalachia Preserve System if not this entire region of Ohio. The rugged, 4.4-mile out-and-back round trip leads up to a panoramic overlook that offers incredible views of the rolling Appalachian foothills in the distance and Brush Creek Valley below.

Wilderness Trail: This 2.4-mile loop trail delivers on its name by providing a sense of solitude. The moderate trail guides hikers over rolling terrain and through deep woods and a half-mile of the path winds along limestone cliffs, promising plenty of interesting sights and sounds along the way.

Lynx Prairie Trail: The Lynx Prairie Preserve dates back to the founding of the Edge of Appalachia Preserve System in 1959. The easy, 1.3-mile loop trail through the preserve offers sights of the plants and animals that first led conservationists to protect this area, leading to the expansive system as it exists today.

For more information, visit nature.org/ohio.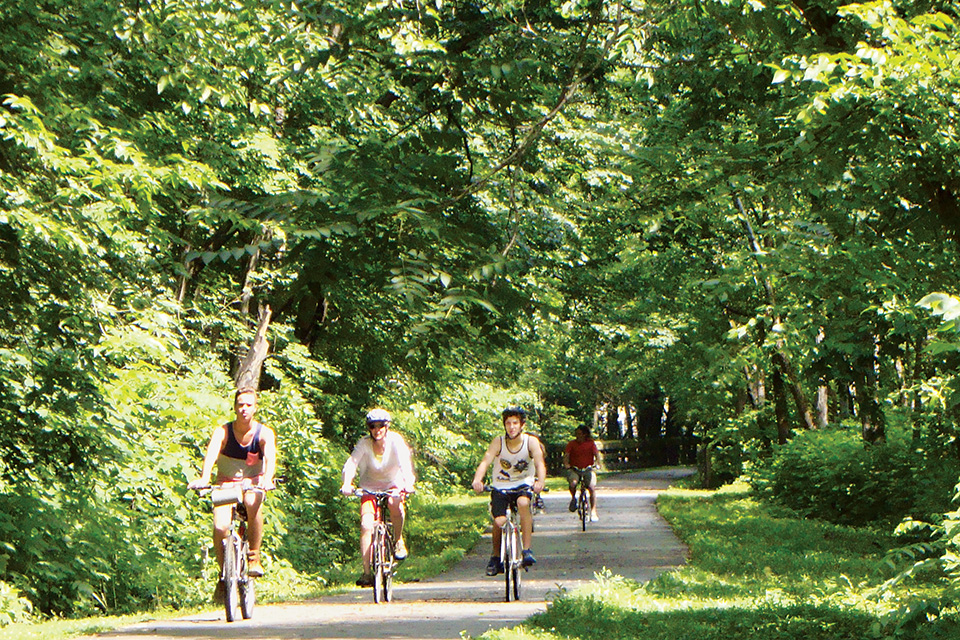 Little Miami Scenic Trail
This 78-mile trail through southwest Ohio's Miami Valley winds its way along rivers and through small towns as it stretches from rural Hamilton County to the city of Springfield in Clark County. John Bryan State Park and Caesar Creek State Park can both be reached from the trail.

Xenia to Yellow Springs
10 miles: Kyle Shriver of K&G Bike Center in Xenia says one of the most popular sections of the trail is the ride between Xenia and Yellow Springs. Once in Yellow Springs, you can grab an ice cream cone at Young's Jersey Dairy, visit the small-but-bustling community's local businesses (ranging from bakeries to an artisan distillery) or park the bike and take a hike at Glen Helen Nature Preserve. Shriver says this route is good for beginners because the paved trail offers a fairly easy ride. "It looks flat," Shriver says, "but it is slightly uphill."

South Lebanon to Oregonia
15 miles: Terry Powell of Bishop's Bicycles in Milford says another great option is a 15-mile ride from South Lebanon to Oregonia, which provides riders with beautiful views of the Miami Valley. "You get into some nice scenery, most of these trails are wooded along the way," Powell says. Bicyclists can stop at Fort Ancient to see a walled hilltop enclosure built by Native Americans who called the area home. Powell says this is a fairly busy area of the trail, which can be beneficial during longer rides. "If you run into problems or anything like that, there are people who could easily stop and help you," he says.

Milford to Kings Mills
15 miles: This ride is a favorite one for Powell. It takes riders out to a historic gunpowder factory once known as Peters Cartridge Co. "It is being renovated right now, and they are going to put in apartments and retail stores and a variety of different things like that," Powell says. "It is going to become a major stopping point on the trail." This portion of the trail also offers a safe ride. "It is a very flat trail, paved and has very few crossings with roads," Powell adds.

For more information, visit miamivalleytrails.org.

Other Regions: Hike & Bike: Northeast Ohio | Hike & Bike: Northwest Ohio | Hike & Bike: Central Ohio | Hike & Bike: Southeast Ohio