Travel
Hike & Bike: Southeast Ohio
Tackle the trail that visits Hocking Hills State Park's most famous sites, try three woodland hikes in Wayne National Forest and ride the 21-mile Adena Hockhocking Bikeway.
June 2020
BY Baylee DeMuth and Jim Vickers | Photo by Laura Watilo Blake
June 2020
BY Baylee DeMuth and Jim Vickers | Photo by Laura Watilo Blake
GRANDMA GATEWOOD TRAIL
For those who want to see some of the Hocking Hills' most iconic sites in one walk, this route made famous by Ohioan and outdoorswoman Emma Rowena Gatewood, who became known for hiking later in life, is the answer. Stretching 6 miles one way from Old Man's Cave to Ash Cave, the hike follows the Buckeye Trail and is on the longer side unless you drop a second car off at one end of the route. But the beautiful hike promises sights you can't drive to, such as the secluded Rose Lake. For more information, visit parks.ohiodnr.gov/hockinghills.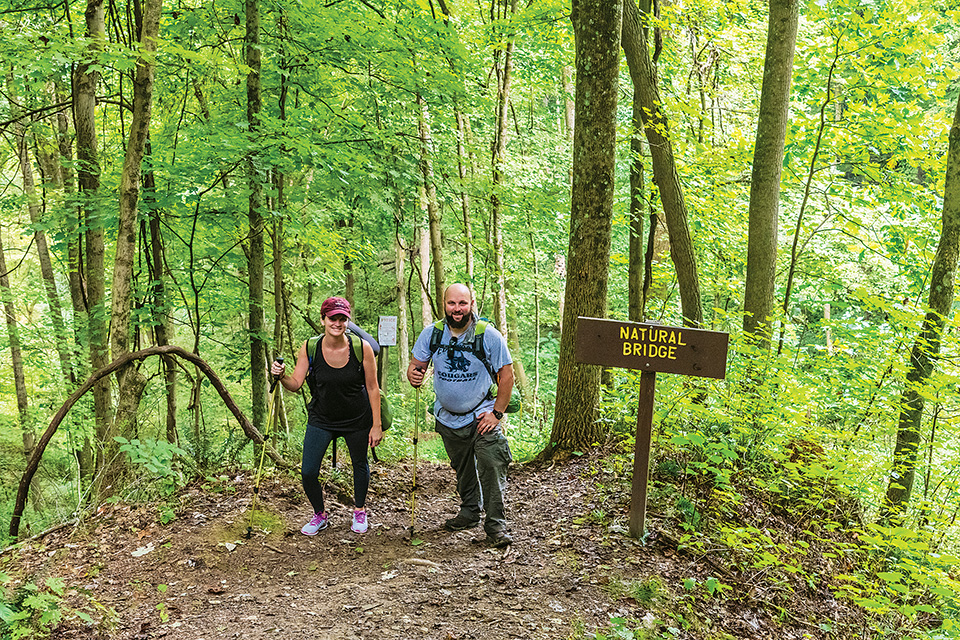 Wayne National Forest
Blanketing a large portion of southern Ohio, this more than 244,000-acre national forest offers trails for serious hikers.

Archers Fork Loop Trail: This difficult loop trail covers more than 13 miles of Ohio woodland. It's geared for those seeking a rugged and remote hiking experience but can also be tackled over the course of a long day. A natural rock bridge is among the sights along the trail.

Ohio View Trail: This difficult, point-to-point hike stretches nearly 9 miles one way, beginning near the Ohio River and heading upward into deep forest where a thick canopy creates welcome shade during the summer. The trail is also open seasonally to mountain bikes.

Symmes Creek Trail Loop: If you're looking for a slightly lower mile count, this 4.5-mile loop offers the appeal of a woodland hike in a smaller package. Those looking for a longer trek can pair this with the nearby Morgan Sisters Trail, which has loops totalling almost another 9 miles. visit fs.usda.gov/wayne.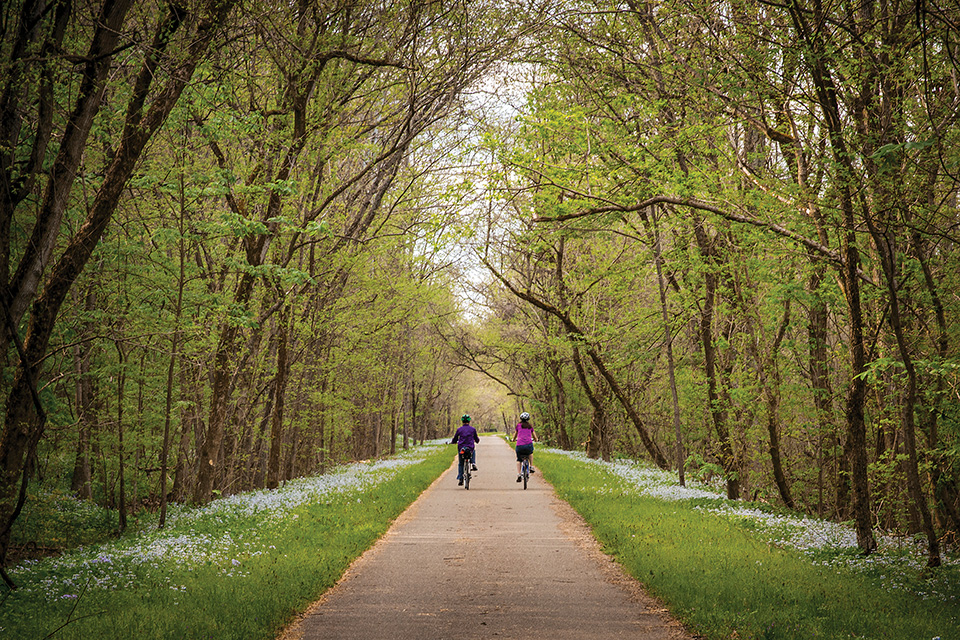 Hockhocking Adena Bikeway
Part of this 21-mile bikeway is built on a former branch of the Chesapeake and Ohio Railway — once known as the Hocking Valley Railway, which dates back to the 1860s. Today, the route provides cyclists views of wildlife, the Ohio University campus and remnants of the Hocking Canal.

Athens Community Center to Habitat for Humanity
3.5 miles: As the bikeway's original section, this ride sits between the Hocking River and the Ohio University campus. Popular among locals and university students alike, this stretch of the bikeway makes for the perfect town ride. Cherry blossom trees bloom along the route each spring, and the path connects campus, the Ohio University golf course and the Bobcats' Peden Stadium. "You have the opportunity to cut out a lot of service streets to get from point A to point B," says Peter Kotses, owner of Athens Bicycle. "It's just another great way to see Athens, just another view, another perspective."

Bluebell Preserve to Poston Preserve
1.5 miles Surrounded by masses of trilliums, Virginia bluebells and blue-eyed Mary, this short ride is an oasis for wildlife. Keep an eye out for the old railroad grade that once served the coal mines. Further along, Poston Preserve is home to a prominent rock formation clearly visible to those riding the bikeway. "Some of the richest wildflower areas in the entire county are right there," says Kotses. "It's just a beautiful section because you're really along the river on a shady path, and you see a lot of interesting habitat."

Poston Preserve to Rocky Outdoor Gear
4.9 miles This ride starts at Poston Preserve and ends in historic downtown Nelsonville, the home of footwear company Rocky Outdoor Gear. Along the way, bicyclists encounter remnants of Floodwood Station, an early 1800s coal mining town. The ride also crosses through the campus of Hocking College, where railroad cars collected by the Hocking Valley Scenic Railway reside. The ride's northern terminus of Nelsonville Public Square offers a walk through local history. "That was probably the financial center of the county over a hundred years ago," Kotses says, "and you can see it in the buildings that are around the square."

For more information, visit bikeathensohio.com.

Other Regions: Hike & Bike: Northeast Ohio | Hike & Bike: Northwest Ohio | Hike & Bike: Central Ohio | Hike & Bike: Southwest Ohio