Travel
Hike & Bike: Northwest Ohio
Explore Oak Openings in Swanton, hike the shoreline habitat of East Harbor State Park and ride a stretch of the 66-mile Wabash Cannonball Trail.
June 2020
BY Kristina Smith and Jim Vickers | Photo courtesy of Metroparks Toledo
June 2020
BY Kristina Smith and Jim Vickers | Photo courtesy of Metroparks Toledo
OAK OPENINGS
Toledo's Oak Openings Preserve Metropark covers 5,000 acres with natural areas ranging from oak savanna to wetlands to vegetative dunes and more than 50 miles of trails. During the Great Depression, pines were also planted in the area that can still be seen today. The resulting grid-like formations of trees, including one area informally known as The Spot, make for incredible photos. Maumee native Eric Shanteau first made The Spot Instagram-famous, but countless other visitors have followed his lead. Just be sure to stay on the trails. 4139 Girdham Rd., Swanton 43558, metroparkstoledo.com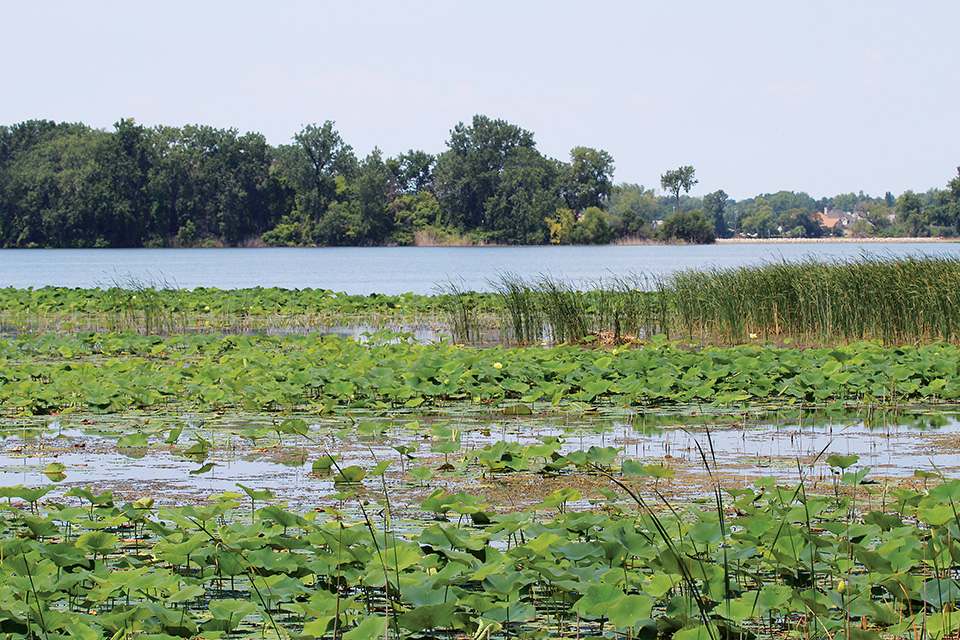 East Harbor State Park
This more than 1,800-acre park's trail system leads hikers through an interesting variety of lakeshore habitats.

Wetlands and South Beach Trail: This moderate route joins two separate trails that can be tackled together as a 3-mile loop, treating hikers to a closer look at where lake and land meet. Fair warning: that also means there are times of year when mud makes this path tougher to traverse.

Middle Harbor Trail: This easy, flat walk is appropriate for all hikers and covers a short .7-mile loop over a maintained grass trail. Best in spring and summer once the land has dried out a bit, this route is known for its wildflowers and bird-watching opportunities.

Meadow Trail: As its name implies, this easy .8-mile trail loops through a meadow just south of Middle Harbor Trail offering hikers the chance to spot birds, rabbits and deer that live along the lakeshore. The grass trail is well maintained, but there isn't a lot of tree canopy on this route.

For more information, visit parks.ohiodnr.gov/eastharbor.


Wabash Cannonball Trail
The famous Wabash Cannonball that Johnny Cash immortalized in song once chugged along this former rail route, which today offers 66 miles of pathways that pass by wild wooded areas, open farmland and charming villages. Along the way, the trail touches four counties: Lucas, Henry, Fulton and Williams.

Elmira Trailhead to Williams County Road 13 Access
15 miles: Along the wilder western edge of the trail, bicyclists will find this leg, unpaved and covered with an aggregate mix of stone and earth. Following the same railbed the train traveled from 1855 to 1968, this portion features open farmland and scenic wooded areas. It crosses five bridges: the same sturdy ones the trains used with necessary modifications for today's travelers. "It's so pretty and peaceful," says Randy Miller, Northwestern Ohio Rails to Trails Association trustee. "You really feel at one with nature. Out here, I've seen deer, foxes, sometimes a coyote. I've seen flocks of turkeys. You see all kinds of birds."

Maumee to Oak Openings Preserve Metropark
9.5 miles: The north fork of the trail starts at the Fallen Timbers monument off Jerome Road in Maumee and is fully paved. It is a more nature-oriented section that runs through Oak Openings Preserve Metropark — the largest of the Toledo metroparks and a birding and nature hot spot. The park includes numerous trails with old-growth trees, various wildflowers and wildlife. "Really the jewel on the North Fork is Oak Openings," says Tom Stiggow, vice president of Northwestern Ohio Rails to Trails Association. "It's just a beautiful metropark." On the north fork as well as the south, deer, foxes, turkeys and numerous birds often can be spotted.

Maumee to Whitehouse Train Station
6 miles: The fully paved south fork of the trail connects riders to history. It also begins at the Fallen Timbers monument remembering the 1794 battle that occurred in Maumee during the American Indian Wars. (Bicyclists can access a connecting trail — the Fallen Timbers Northwest Territory Trail — and explore the battlefield, which is managed by Metroparks Toledo.) This portion of the south fork also includes a short connector over U.S. 24 to the Shops at Fallen Timbers and runs near Side Cut Metropark. The train station in Whitehouse has restrooms, picnic areas and an ice cream stand across the street.
For more information, visit wabashcannonballtrail.org.

Other Regions: Hike & Bike: Northeast Ohio | Hike & Bike: Central Ohio | Hike & Bike: Southwest Ohio | Hike & Bike: Southeast Ohio