Travel
Hike & Bike: Northeast Ohio
Hike one of the most photogenic spots in Cuyahoga Valley National Park, try three trails at Mohican State Park and pedal a portion of the 87-mile route along the Ohio & Erie Canal.
June 2020
BY Nathan Havenner and Jim Vickers | Photo by Anthony Boarman
June 2020
BY Nathan Havenner and Jim Vickers | Photo by Anthony Boarman
RITCHIE LEDGES
Cuyahoga Valley National Park's Ledges Trail covers just 2.2 miles while tracing millions of years of geological evolution. The towering rock formations along this unpaved, rocky loop trail spur a sense of wonder and make for a rewarding hike. (Keep an eye out for the impressive stone stairway along the route constructed by the Civilian Conservation Corps during the 1930s.) No visit is complete without spending a moment at Ledges Overlook, one of the most photo-worthy and memorable spots in our state's only national park. If you're there at sunset, even better. 405 Truxell Rd., Peninsula 44264, nps.gov/cuva


3 Hikes: Mohican State Park
This 1,110-acre state park in Ashland County has long been a destination for hikers.

Lyons Falls Trail: This nearly 2-mile, point-to-point trail will challenge you a bit with its climbs, but the effort pays off as the route passes by two waterfalls: Big Lyons Falls and Little Lyons Falls. Carved stairs and a short boardwalk portion keep things interesting.

Hog Hollow Trail: This 4.5-mile route stretches from Mohican State Park's covered bridge to its historic fire tower. The trail starts easy, but it ends up being a steady climb as you progress through the forest. It's a good challenge and can add up to a lengthy trek if done as an out-and-back hike.

Hemlock Gorge Trail: This hike spans 2 miles one way and follows the curve of the Mohican River, offering an opportunity for bird-watchers to spot nesting warblers during the summer. If you're looking for solitude, the trail tends to be less busy than some of the others in the park.

For more information, visit parks.ohiodnr.gov/mohican.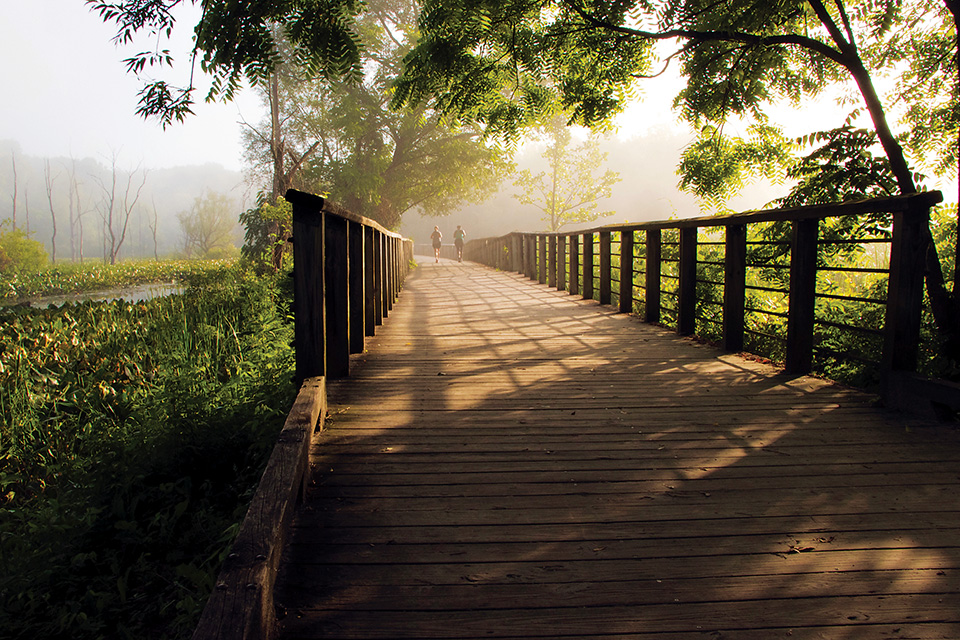 Bike the Ohio & Erie Canal Towpath Trail
Spread across four counties and stretching 87 miles between Cleveland and Bolivar, this historic path follows the route canal boats once did as they transported goods through Ohio. The trail passes by ruins of canal locks and marshes filled with wildlife, through downtown Akron and on to rural countryside.

Lock 39 Trailhead to Lock 29 Trailhead
15 miles: A pedal from Independence to Peninsula takes you into the heart of Cuyahoga Valley National Park. "You will pass by the brand-new visitors center for the national park," says Kevin Madzia, who works at Century Cycles in Peninsula. "It has a lot of information about the park itself as well as historical information about the area." In Peninsula, riders can enjoy lunch or dinner at Winking Lizard Tavern or Fisher's Cafe before heading back to Independence. This portion of the trail is covered in crushed limestone, making for a smooth and level ride.

Northside Station to Clinton
12 miles: For a more urban experience, Madzia recommends starting at Akron's Northside Station — a depot for the Cuyahoga Valley Scenic Railroad — and ride south to the Summit County village of Clinton. As you pass through downtown Akron, you'll go behind Canal Park — the home of the Akron RubberDucks Minor League Baseball club and have the opportunity to stop off and explore downtown. The trail in this section is a mix of pavement and crushed limestone, and the terrain is suitable for the intermediate cyclist. "There is one hill right when you start going into downtown Akron," Madzia says.
Lake Avenue Trailhead to Bolivar
20 miles: Those looking for a little longer ride can start at the Lake Avenue Trailhead in Massillon and ride to Bolivar. "This is probably the most remote section of the towpath, you are not going to see a lot of businesses or other services along the way," Madzia says. "It is also probably going to be the least crowded place you will see." He adds that although this part of the trail is mostly crushed limestone, the ride is a little rougher than other sections of the route.

For more information, visit ohioanderiecanalway.com.

Other Regions: Hike & Bike: Northwest Ohio | Hike & Bike: Central Ohio | Hike & Bike: Southwest Ohio | Hike & Bike: Southeast Ohio