Travel
Hike & Bike: Central Ohio
Hike the Darby Creek Greenway Trail, try three trails at Highbanks Metro Park in Lewis Center and ride through Columbus along the Olentangy Trail.
June 2020
BY Baylee DeMuth and Jim Vickers | Photo by Laura Watilo Blake
June 2020
BY Baylee DeMuth and Jim Vickers | Photo by Laura Watilo Blake
DARBY CREEK GREENWAY TRAIL
The southern portion of this trail stretches just over 5 miles one way as it leads hikers from Battelle Darby Creek Metro Park's parking lot to a lollipop loop around a small pond. (An unconnected 3.1-mile northern portion of the trail can be found in Prairie Oaks Metro Park.) The flat southern portion of the trail makes for an easy walk. But the main reason people come here is to catch a glimpse of the bison that reside within the park's two pastures and can be spotted from the trail. 1775 Darby Creek Dr., Galloway 43119, metroparks.net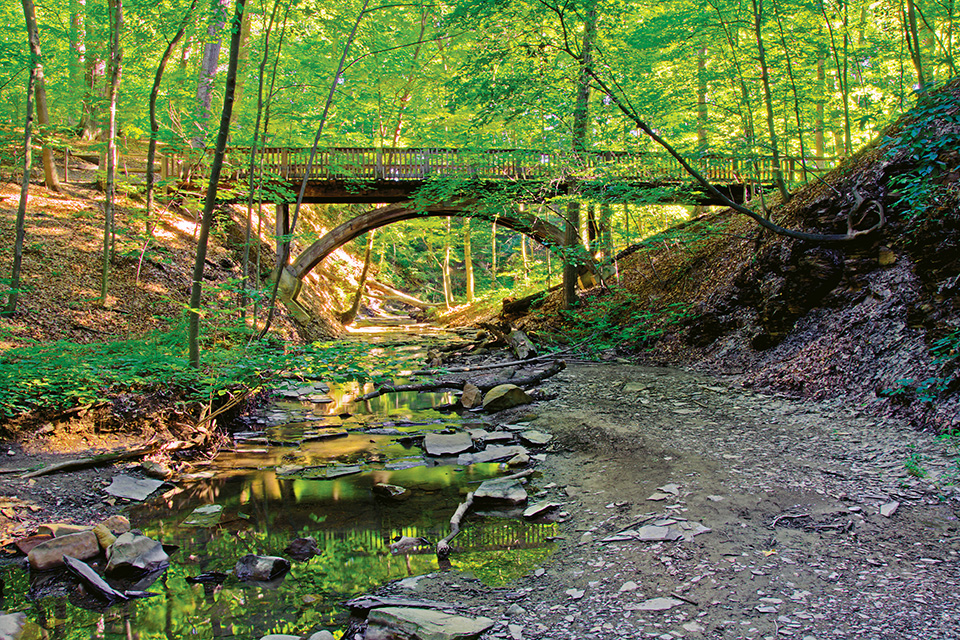 3 Hikes: Highbanks Metro Park
This 1,200-acre park in Lewis Center offers a natural escape just north of downtown Columbus.

Dripping Rock Trail: Although this hike can stretch up to 3.8 miles depending how much you want to explore the side routes detailed on the park map, Dripping Rock Trail's outermost loop covers about 2.5 miles. This scenic trek leads hikers over wooden bridges that span ravines and past two observation platforms.

Overlook Trail: This 2.1-mile trail starts as a spur off of Dripping Rock Trail before turning into a loop. A second spur at the loop's far end leads hikers to the top of a 100-foot shale bluff, where an observation deck offers great views of the Olentangy River below.

Coyote Run Trail: This hike covers 3.5 miles if you explore each of its three loops — one of which is routed around an ancient Adena mound. The trail switches from dirt to grass as it moves through the park's woodlands and prairies. During the winter, the route is reserved for cross-country skiers.

For more information, visit metroparks.net.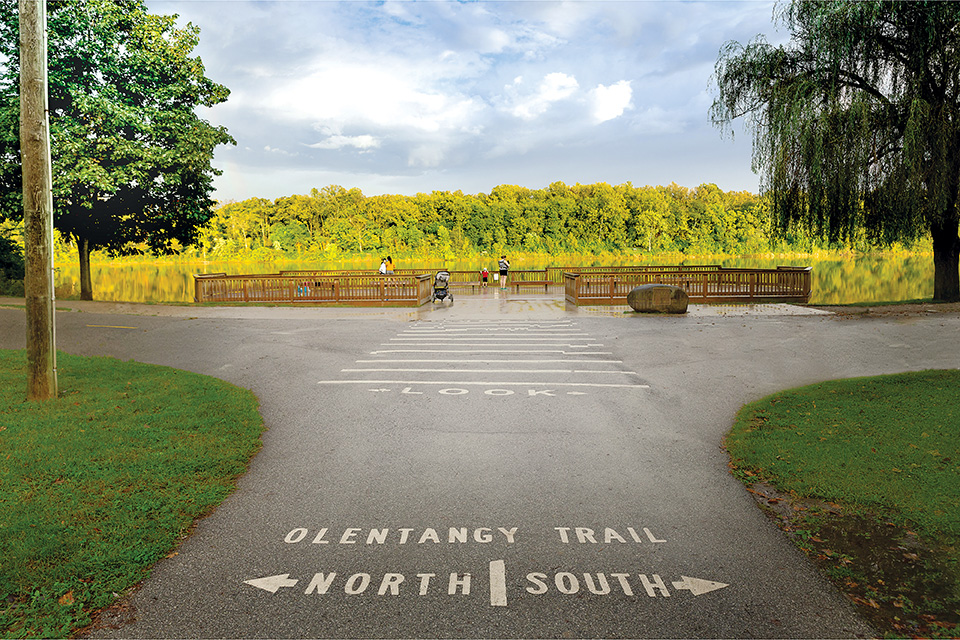 Bike the Olentangy Trail
This 14-mile route is essentially one long park that stretches from Worthington to downtown Columbus. Decades of planning and construction led to the completion of the seamless trail as it exists today. While its primary function is for recreation, the pathway has become a vital transportation corridor through our capital city.

Antrim Park to The Hills Market
3.9 miles: Along with views of the Olentangy River, this ride also offers a look at Antrim Lake. As riders head north, they pass through Olentangy Park, once home to the largest amusement park in America. Located near the end of the trail in Worthington Hills Park, The Hills Market, a locally owned specialty grocer, is a popular destination for bicyclists because of events such as $5 pancake breakfasts and wine tastings. "One of the things I love about the Olentangy Trail is it's so close to so many densely populated neighborhoods," says Catherine Girves, executive director of Columbus nonprofit Yay Bikes. "It's really easy for people who live nearby to get on it."

Whetstone Park of Roses to Ohio Stadium
4.1 miles: This ride offers a colorful start at a park with more than 11,000 roses spanning 350 varieties, before moving past vernal pools and woodlands. It's a popular route each fall as many use the scenic trail's easy access to Ohio Stadium as a way to get to home football games. "It's a really functional ride if people are trying to get to campus and want to avoid traffic jams and parking," says Girves. "It's a beautiful, short … just kind of lovely ride."

Confluence Park to Ohio Stadium
2.4 miles: Starting at the southernmost section of the trail at Confluence Park provides great views of where the Olentangy and Scioto rivers meet. As bicyclists head north, they pass by the quaint Side by Side Park Floral Garden. The ride also offers easy access to a variety of businesses located along this section of the trail that can provide a midday snack or refreshment. "It's fairly easy to get off and go get lunch, ice cream or a beer," Girves says. "So, for people who are out there for recreation, it ends up being a real recreation and transportation corridor."

For more information, visit columbus.gov.

Other Regions: Hike & Bike: Northeast Ohio | Hike & Bike: Northwest Ohio | Hike & Bike: Southwest Ohio | Hike & Bike: Southeast Ohio