Travel
Ohio State Fair Fun
Check out these not-to-miss experiences, from food and farm animals to classic rides and favorite traditions.
July 2018
BY Jordana Joy | Photo courtesy of Ohio State FAir
July 2018
BY Jordana Joy | Photo courtesy of Ohio State FAir
The Ohio State Fair runs July 25 through Aug. 5. Visit ohiostatefair.com for more information about our suggestions and other attractions.

RIDES & CONCERTS

Midway Memories
The Ohio State Fair has lots of nostalgia-inducing rides, including the iconic SkyGlider.

In 1853, the most exciting ride at the Ohio State Fair was on the back of a pony. More than a century later, during the 1960s and '70s, thrill rides as we know them today started popping up along the midway. Now, the Ohio State Fair offers more than 70 rides as well as a Kiddieland for the youngest visitors. From carousels and Ferris wheels to the Gravitron and Tilt-a-Whirl, fairgoers have plenty of options for thrill seekers and families alike. One of the most iconic is the popular SkyGlider, which provides a birds-eye view of all the action at the fair, while transporting guests from one end of it to the other. Here are a few of the numbers behind what's billed as one of the world's largest portable sky rides.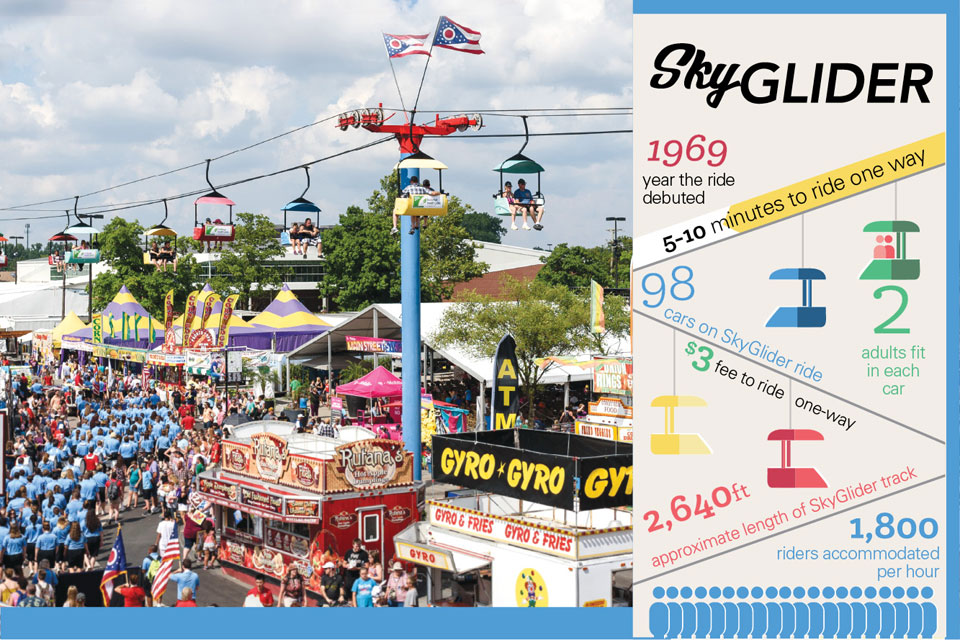 Iconic Rides:

Giant Slide: Opened in 1969, this three-story slide has become an Ohio State Fair favorites. Riders take a burlap mat up the 105 steps before sliding 144 feet down the attraction's bumps and dips.

Vertigo: An upgraded version of the traditional carnival swing, this Ohio-made ride takes fairgoers 90 feet in the air and twirls them in an 80-foot circle at 10 revolutions a minute.

SkyFall: This ride geared toward serious adrenaline junkies straps riders into a cage that is then set in a swinging motion like a pendulum that reaches higher and higher until it makes a hair-raising full loop rotation. ohiostatefair.com/rides

---

Sound Raves
From R&B to country, here are three musical acts not to miss at this year's fair.

The Commodores: July 28
This R&B and funk group that once counted Lionel Richie among its members is sure to turn any hot summer night into a cool one. The Grammy Award-winning band produced the hits "Brick House" and "Nightshift." $25

Brothers Osborne: Aug. 1
A range of musical genres, including country, bluegrass and the blues, influence this Country Music Award-winning duo. With songs like "Stay a Little Longer" and "Shoot Me Straight," these brothers make you wish you had taken those guitar lessons. $25

Styx & Cheap Trick: Aug. 4
These two popular classic rock groups are sure to unleash waves of nostalgia and plenty of singalongs during a night full of hits ranging from Styx's "Come Sail Away" and "Mr. Roboto" to Cheap Trick's "I Want You to Want Me" and "Surrender." $35

For a full concert lineup, visit ohiostatefair.com/concerts.

---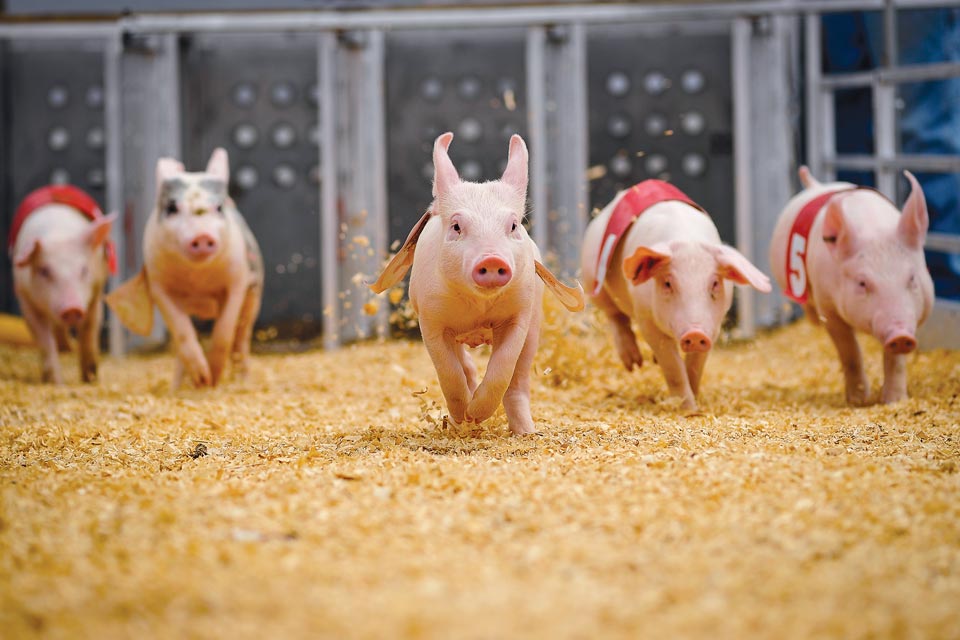 ANIMALS

Think Pig!
It's one of the cutest happenings at the Ohio State Fair. Here's how the annual pig races came to be.

With the sound of a horn, tiny piglets shoot out of the gate and race around a sawdust track. It's adorable and fun, and the feature has been a fixture of the Ohio State Fair since the 1980s thanks to Jay Phillips and his family.

Phillips' Missouri-based Show-Me Safari began when his grandfather bought a few quarter horses in the late 1970s. Soon, the family was operating an animal-show outfit that today includes pig races, camel and pony rides and an exotic-animal petting zoo.

"He bought his first llama at a sale," Phillips says of his grandfather, "and it went from there. It went from llamas to giraffes to lizards to just about everything."

Phillips added the pig races to the Ohio State Fair a few years after first bringing the Show-Me Safari Petting Zoo to Columbus. His grandfather and brother had seen the attraction at an Iowa machinery show and decided to make it part of the family's animal-show business.

Phillips' domestic pigs race at 3 months of age, while his Vietnamese potbelly pigs race once they're adults.

"Pigs are very intelligent … you can pretty much train them to do whatever you want them to do," Phillips says, adding that it only takes a few weeks to train them to run the track. "They're not like a horse that needs a jockey on their back to run around the track. [Pigs] run for essentially an oatmeal cookie."

During each show, four or five racing pigs are given a number, and Phillips picks a handful of volunteers from the crowd to choose the swine they think will win — be it Squealy Nelson, Christina Hoguilera or Hammah Montana. Whoever guesses correctly takes home a ribbon and a stuffed animal. Between 12 and 15 pigs appear at each event, but Phillips keeps and raises around 40 at his home.

"We're animal people, we're animal lovers," Phillips says. "I treat them like they're my family." Mon.–Fri. at 12:30, 2:30, 4:30 & 6:30 p.m.; Sat.–Sun. at 11:30, 1:30, 3:30, 5:30 & 7:30 p.m.


Livestock Barns: See the grand champions and talk to the young people who raised them at the livestock exhibition buildings. Meet a sow and her piglets at the O'Neill Swine Building, admire colorful fowl at the Rabbit & Poultry Pavilion or catch the livestock judging at the fair's species-specific barns. Check website for locations and hours.

OVMA Veterinary Education and Birthing Center: Where do animal babies come from? Kids can find out at this center that is home to three cows likely to give birth during the fair. Although you can pet young calves here, visitors are asked to give the expecting mothers space. Open 9 a.m.–10 p.m. daily except Aug. 5.

The Marvelous Mutts: This high-energy show features 10 rescue pooches that jump for Frisbees, dive off docks and run through agility courses. Each canine specializes in a specific skill and has a unique adoption story. After the show, you can even stop by to meet one of the dog performers. Shows at 1, 3 & 7 p.m. daily

Show-Me Safari Exotic Petting Zoo: From water buffalo and tortoises to goats and zebras, get a closer look at a range of exotic and domestic animals. Each species is found at its own pen, where visitors can pet, admire and take a picture with their favorite furry friend. Feed costs 25 cents a handful and $2 or $5 per cup. Open 10 a.m.–10 p.m.

---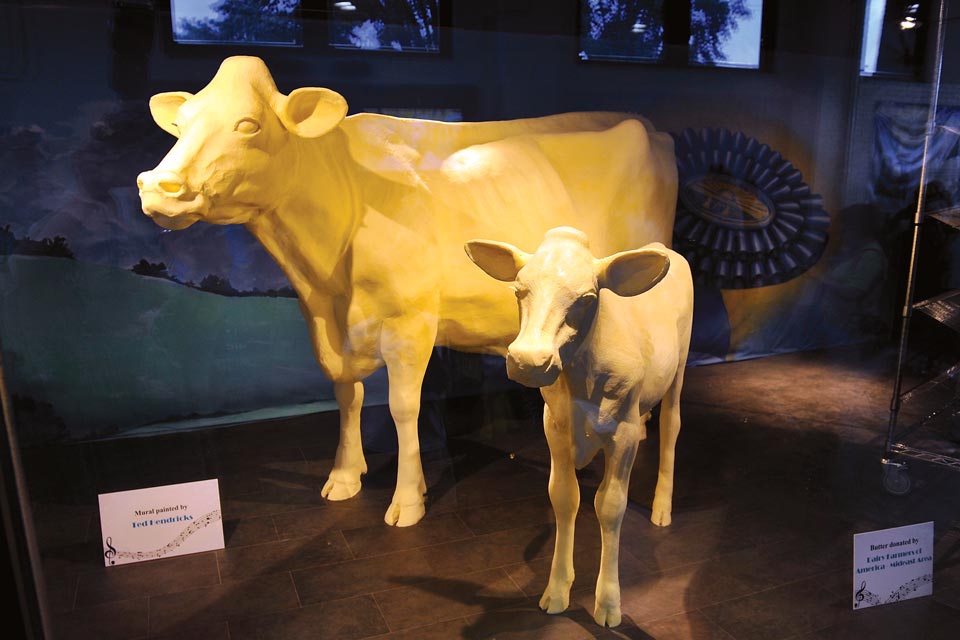 TRADITIONS & EVENTS

Cool Creations
The butter cow and calf are a longstanding fair tradition. Here's how the annual merger of art and agriculture happened.

Most anything left outside on a hot July day will melt, sometimes just not as fast as you'd like. Paul Brooke and his mentor, Bob Kling, learned that the first year they were involved with sculpting the Ohio State Fair's iconic butter cow and calf.

"We had 2,000 pounds of butter, and it was just off the truck, and it was hard as a rock," Brooke recalls. "We were trying to cut it with wires and knives."

The butter had to sit outside two days before it defrosted enough to be malleable. Nearly two decades later, Brooke — a Cincinnati-based sculptor who formerly worked on models for the Kenner and Hasbro toy lines — still works with four other artists to create the fair's famous sculptures, which now include a surprise Ohio icon along with the annual cow and calf.

Brooke's team builds a frame one week and then sculpts the next, putting in hundreds of hours of work in a 45-degree cooler. They've also learned to schedule time for the butter to soften.

"We always have them drop the butter off a couple days early," Brooke says.

The tradition began in 1903, originally conceived as a butter-sculpting competition sponsored by The Ohio State University and various Ohio dairy companies. First made by Sunbury Co-Operative Creamery's distributor, A.T. Shelton & Co., the annual cow creation was moved to the Dairy Products Building in the 1920s, accompanied by a calf.

During the 1960s, other butter sculptures were added to the display with themes changing every year. They've ranged from famous Ohioans such as Wendy's founder Dave Thomas to sports themes.

The American Dairy Association Mideast selects the topic each year, although fairgoers are encouraged to contribute their ideas in advance. The winning design is unveiled the day before the fair opens. This year's sculptures will be unveiled at noon on July 24.


Smokey Bear: Smokey Bear was brought to the fair's 8-acre Natural Resources Park in 1959 to promote forest-fire prevention. Smokey greets visitors as he shares facts about nature preservation. Redesigned in 2015, the new Smokey stands 14 feet tall and has animatronic features. Daily 11 a.m.–6 p.m.

All-Ohio State Fair Band and Youth ChoIR: When the Ohio State Fair band formed nearly 100 years ago, its performers used trains and cooked their meals over a fire. The youth choir arrived 50 years later. Today, the two groups recruit a total of 400 high school musicians to perform each summer. Performances throughout the fair's run.

Milk a Cow at the OVMA Veterinary Education Center: Fairgoers have lined up to milk a cow at the fair for several decades. From all the dairy cows on a Perrysville family's farm, two are chosen each year for their size and temperament. Veterinary students can even give you step-by-step instruction. Daily noon–4 p.m.

Baking Competitions: The baking competitions attract around 1,500 entries vying for the blue ribbon. From candies to pies to cookies, each baked good is judged on criteria such as flavor, texture and uniformity. The Family Heirloom Competition features recipes that have been passed down for generations. Visit website for more information.

--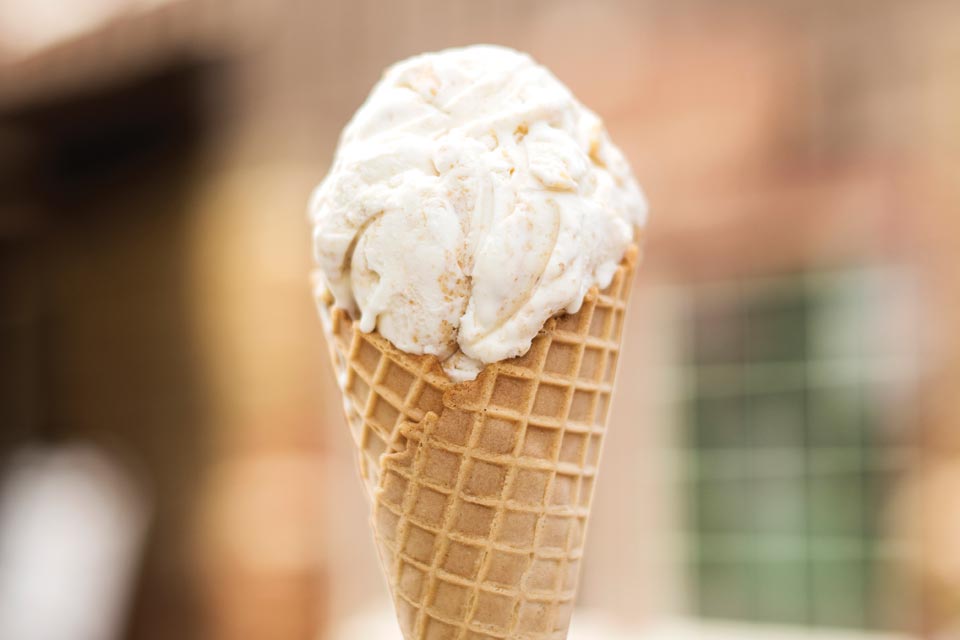 OHIO EATS

Dig In!
If you want a true flavor of the Buckeye State, look to the stands at the Taste of Ohio Cafe.

Agriculture is the backbone of Ohio, and farming has been at the core of the Ohio State Fair since its inception in 1850. But it wasn't until 1993 that the fair created the Taste of Ohio Cafe to highlight locally sourced favorites. "I think it's the best place to eat on the fairgrounds," says Jim Chakeres, executive vice president of the Ohio Poultry Association. "We wanted to create an environment where families and fairgoers could enjoy some good, wholesome, Ohio-produced food." The Taste of Ohio Cafe features six vendors that represent Ohio's core agricultural-commodity groups. We spoke with four purveyors about what they'll be serving at the fair.

Ohio Cattlemen's Association: This group has operated its small Steak Barn at the fair since the early 1980s. Today, the association operates that booth, as well as a Taste of Ohio Cafe stand that serves hamburgers, cheeseburgers, beefed-up (or regular) baked potatoes, taco salads and the fan-favorite rib-eye sandwich. You can dress the latter with ketchup, mustard, onions and pickle, but Ohio Cattlemen's Association executive director Elizabeth Harsh suggests just a dash of salt and pepper. "[It's] just starting with a great beef product," she says. "There's nothing else to it."

Ohio Poultry Association: This group serves breakfast, lunch and dinner in the cafe. Ohio-based turkey and chicken are featured in a variety dishes ranging from a Thanksgiving-style turkey dinner to chicken and noodles to shredded chicken sandwiches. A recent addition to the stand's offerings is the breakfast slider, featuring egg, turkey sausage, cheese and a sweet maple glaze. "It just gives you that hint of sweetness that Americans like in their breakfast," Chakeres says.

Ohio Sheep Improvement Association: "We'll sell, over [the fair's] 12-day period, between 3,000 and 4,000 pounds of lamb," says Roger High, executive director of the Ohio Sheep Improvement Association. Of the two or three sandwiches served at the group's cafe booth, the gyro is a favorite, served with shredded lamb, lettuce, tomato, tzatziki sauce and black olives in a panini. "It's all freshly prepared … those lamb legs are cooked within hours of when we're serving it to the public," High says.

Velvet Ice Cream: About a decade ago, Utica's Velvet Ice Cream Co. was approached about creating an Ohio State Fair exclusive flavor: hot dog. "We weren't really thrilled about [the flavor]," says vice president Joanne Dager, "but we liked the idea." Since then, the company has created limited-edition flavors such as blueberry sweet corn, maple bacon and elephant ear. This year, it'll either be pineapple upside-down cake or cayenne caramel.

Photo credits: all photos courtesy of Ohio State Fair except ice cream cone, which is courtesy of Velvet Ice Cream