Travel
Lake Erie Love: Kayaking & Water Trails
Explore the Lake Erie Islands Water Trails or get your feet wet with a shorter paddle closer to shore.
July/August 2020
BY Kristina Smith | Photo courtesy of Kelleys Island Kayak Rentals
July/August 2020
BY Kristina Smith | Photo courtesy of Kelleys Island Kayak Rentals
Water Ways
These rental spots along the shore can help you get paddling.

Kelleys Island Kayak Rentals
This business rents single and tandem kayaks and paddleboards to take out on a mile-long section along Kelleys Island State Park in a harbor protected from high winds. Enjoy views of the sand beach and island shoreline, which is a trove of wildlife, trees and plants, and get a closer look at the natural features of this laid-back island. On the way to the rental shop, be sure to stop at the Glacial Grooves near the state park. 920 Division St., Kelleys Island 43438, 419/285-7433, kelleysislandchamber.com

Portage River Paddling Co.
Rent a kayak and paddle the wide section of Portage River in Port Clinton or take a 9-mile route down the narrow, winding portion of the river in Oak Harbor. Both offer scenic views of the river and its wildlife, including bald eagles and turtles. portageriverpaddlingco.com

Lakeside Chautauqua Watercraft Rentals
Visit this charming gated community that started as a Methodist church camp and rent a kayak or paddleboard. Paddle around the outdoor pavilion, which often has live music, and take in views of Bettinger Park and historic Hotel Lakeside. lakesideohio.com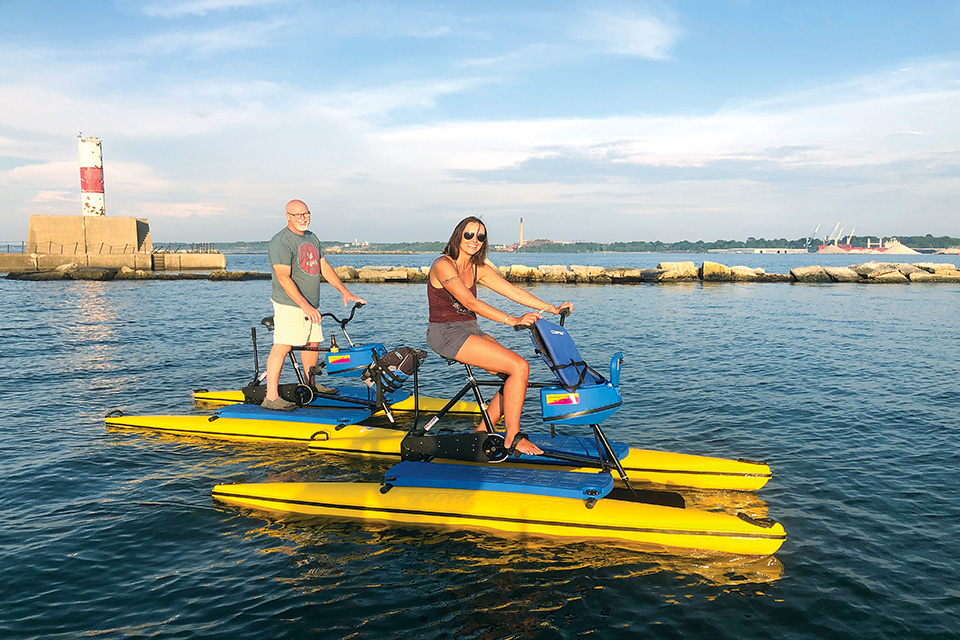 Harbor Yak
Located in a historic former Coast Guard building, Harbor Yak rents single and tandem kayaks, paddleboards, canoes and water bikes. (Kayaking and yoga on the Ashtabula breakwater is a customer favorite.) Water bikes, which Harbor Yak owner Alexa Hart describes as pontoon floats with a bike on top, are a more unusual offering that's growing in popularity. Reservations are strongly recommended on weekends. The site also offers a kayak launch for those with their own watercraft. 1 Ferry Dr., Ashtabula 44004, 440/990-0161, harboryak.com

Put-in-Bay Watercraft Rental
Rent a kayak or paddleboard for a leisurely trip around South Bass Island State Park (or go with a Jet Ski or power boat for a faster thrill). See wildlife, rock ledges, the South Bass Island Lighthouse and stately homes. pibjetski.com

West River Paddling Co.
Paddle up the Vermilion River and see eagles and rocky cliffs or go down the river toward Lake Erie and paddle a quiet lagoon, watch sailboats and pass sandy beaches. West River Paddling Co. rents kayaks, paddleboards and canoes. westriverkayak.com

---

Explore the Lake Erie Islands Water Trails
From rocky cliffs and eagle nests to Victorian homes and colorful cottages, the Lake Erie Islands Water Trails offer kayakers incredible views. The longer trails around each island are for seasoned paddlers who have their own craft, but there are spots where those new to kayaking can get their feet wet along the shore.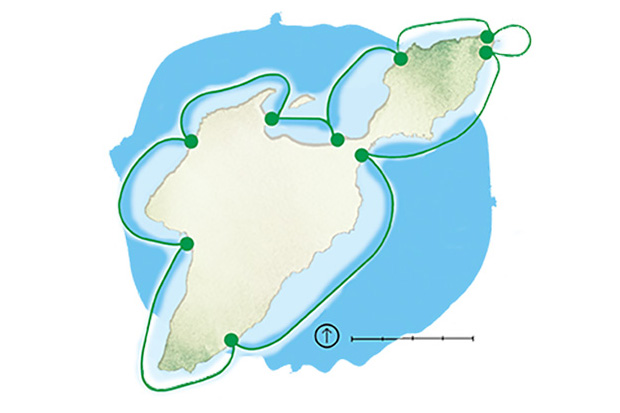 South Bass Island Trail • 10.5 miles
Starting at South Bass Island State Park's boat launch, this trail takes paddlers past Oak Point State Park and the South Bass Island Lighthouse before passing by downtown and the Perry's Victory & International Peace Memorial. A paddle around tiny Gibraltar Island offers a glimpse of Cooke's Castle. Shorter routes for rented kayaks include a mile-long stretch of shoreline at South Bass Island State Park and a paddle from Oak Point State Park through Put-in-Bay Harbor, around Gibraltar Island and to the Perry's Victory monument.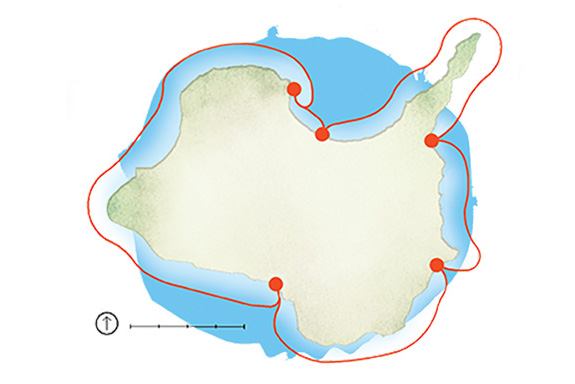 Kelleys Island Trail • 11.8 miles
This trail offers kayakers a close-up view of 100-year-old homes and the island's quaint downtown, sandy state park beach, limestone shoreline and stone alvar nature preserve, and remnants of the island's old stone quarry. Wildlife (from eagles and a trove of other birds and reptiles, including the Lake Erie water snake and a variety of turtles) are often spotted along the way. A shorter, mile-long route along Kelleys Island State Park's pristine sandy beach offers looks at wildlife and their island habitat.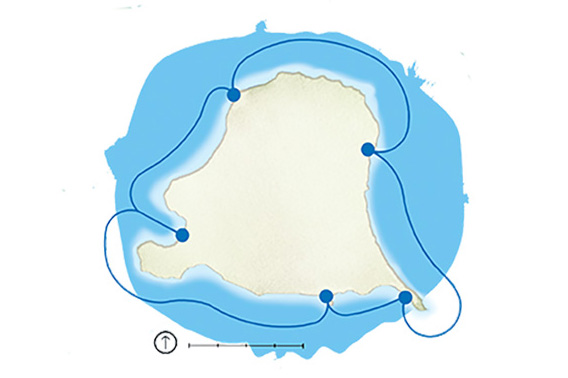 North Bass Island Trail • 5.2 Miles
To get to this remote and largely undeveloped island, you'll need your own boat (or charter one) and your own kayak. Mostly owned by the state of Ohio, North Bass has a handful of residents and is covered with vineyards and natural areas. It has less boat traffic, making it a more leisurely experience. A trip around the island takes paddlers past the state wildlife areas Fox's Marsh and Honey Point, both great spots to view birds and other animals.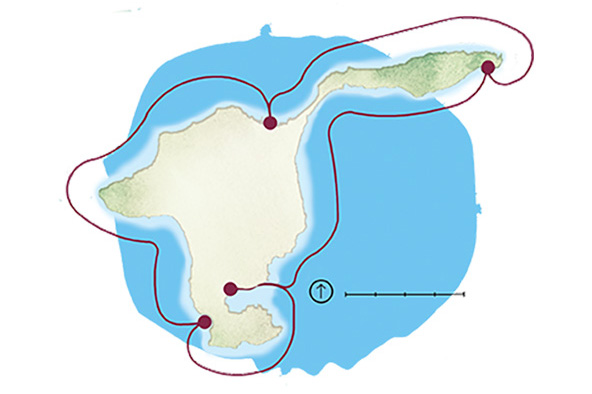 Middle Bass Island Trail • 8.5 miles
One of the more laid-back islands, Middle Bass is home to the historic and iconic Lonz Winery, which is preserved as part of Middle Bass Island State Park. Paddlers can also rent a kayak. Head 1.3 miles northeast toward the island's airport for views of a bald eagle nest visible from the water. Go on another 1.4 miles to East Point Preserve on the island's northeast tip to find a quiet spot for docking and hiking among the birds and wildflowers.
For more information about these routes and the Mainland Trail, visit go.osu.edu/LEwatertrails.

OUR GREAT LAKE: History Lessons | Ohio Lighthouses | Along the Shore | Cruises & Charters | Kayaking and Water Trails