Travel
4 Cozy Cottages in Ohio to Stay at this Winter
Our state has so many places to make a getaway as the snow flies. You'll love these four spots.
Jan./Feb. 2022
BY Kelly Powell and Tyler Saunders | Photo by Linda Carol-Spencer
Jan./Feb. 2022
BY Kelly Powell and Tyler Saunders | Photo by Linda Carol-Spencer
Stone Cottage Inn
This charming spot in the Holmes County village of Winesburg offers a taste of rural, small-town living.

Julie Rastetter and her husband, Tim, grew up near the Holmes County village of Winesburg. The town is also where you'll find the Stone Cottage Inn. Built in 1834, the property has been under the Rastetters' care since 2020. The 1,500-square-foot home has two bedrooms, a screened-in porch, a spacious living room and a sleeping loft. Guests also rave about the full kitchen, which is stocked with cooking and baking essentials.

"I love to cook, and I love to bake, so we've completely outfitted the kitchen as a chef's kitchen," says Julie Rastetter. "There's a stand mixer now, doughnut pans — a lot of things that you don't normally find in a rental stay."

Outside, there's a fenced-in dog run so guests can bring their pets. Inside, the quiet space offers a welcoming place to warm up and chill out, with the stone walls serving as both an aesthetically beautiful choice and a noise canceler.

"The charm of it is those stone walls in the living room … and the open beams," Rastetter says. "When there's a fire going, it's just extremely cozy in there."

Located along West Old Main Street, the cottage also provides the opportunity to explore Winesburg.

"It's just this really small-town vibe," Rastetter says. "It's got this beautiful, picturesque church on the corner. … There's a butcher shop, there's a general store, there's a coffee shop, there's a couple retail places. It's a pretty, quiet little place."

To learn more, visit amishcountrystonecottage.com.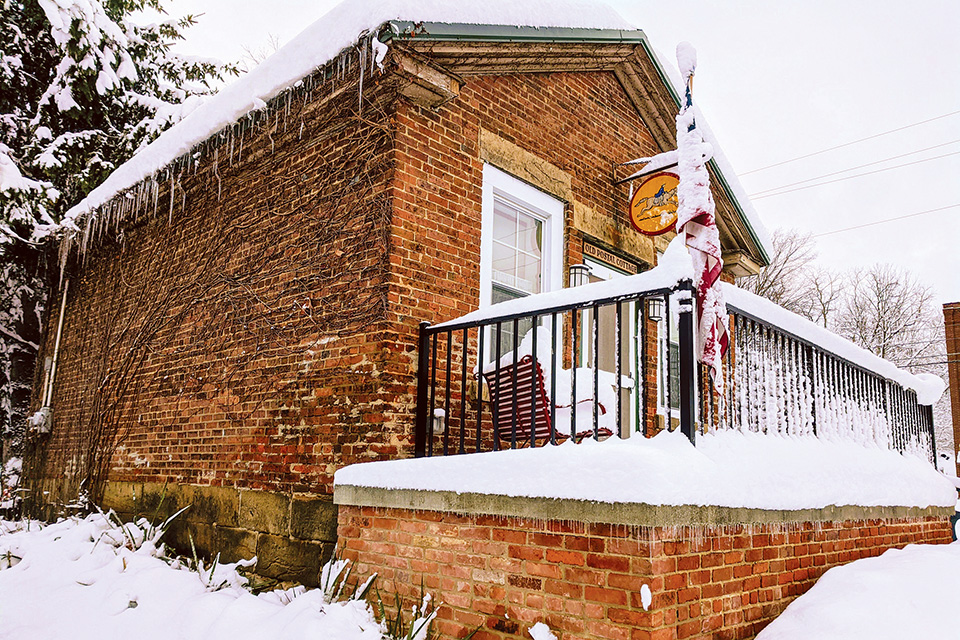 Old Postal Cottage
Originally built as the local post office, this spot offers a cozy getaway in Geauga County.

In 1848, this charming brick structure served as the local post office. The layout was designed so the postmaster could live in one portion of the property and work out of the other. In 1981, Dorrie Keough bought the building and, in 2018, she and her husband, Joe, updated the interior while keeping it as period appropriate as possible.

"[Joe] said, 'When we get this all fixed up, it would be a great Airbnb,' " Dorrie Keough recalls.

Today, the Old Postal Cottage promises a respite from city life. It's located in the rural Geauga County community of Parkman, where about half of the surrounding residents are Amish. The Keoughs stock the kitchen with milk, coffee, tea, pancake mix, syrup, cereal, energy bars and other necessities, while travelers can use the pots, pans, toaster oven, stovetop and microwave to prepare their own meals. The cozy, 336-square-foot space has one full bed and one twin sofa bed.

"We prefer to greet the people [who stay] so we know who's coming into our space and also so they know that we're not a management company," says Keough. "We're real people."

One of those guests surprised her great aunt, a former Parkman postmaster, with a stay at the cottage.

"We had the best time talking with her," Keough says. "Every guest has been special in their own way, but that one was once in a lifetime."

For more information, search for this property on airbnb.com.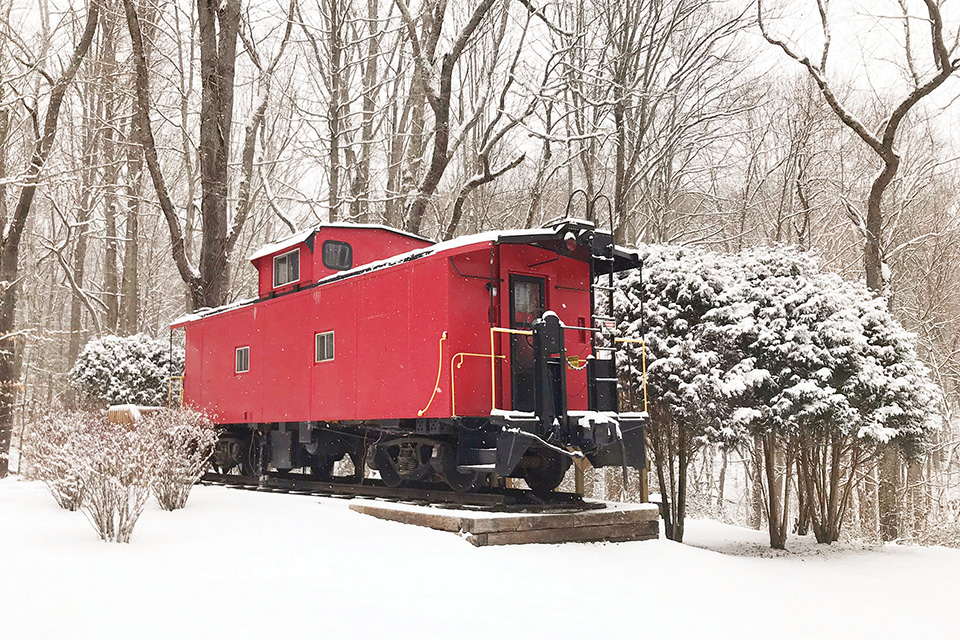 The Hocking Hills Caboose
Unplug and connect with family and friends at this 1950s train caboose located in the heart of the Hocking Hills region.

Brian Duffy knew he wanted to buy land in the Hocking Hills, but he initially wasn't sure what to do with the 1950s train caboose located on the cabin plot he purchased. After Duffy bought the property in 2015, he took a year to clean the train car up and bring it back to life.

"I always owned old houses and kind of viewed owning an older house as a stewardship," Duffy says. "You're just taking care of it for the future because you can't replicate that … the caboose is kind of the same thing."

Those who book a stay at The Hocking Hills Caboose are often surprised by how much the 250-square-foot space contains. It holds five twin beds, a full bathroom and a kitchenette. Outside, there is a deck, grill and a spot for a campfire. Duffy sees the caboose as an opportunity for families and friends to enjoy one another's company. When he was faced with the decision of whether to install Wi-Fi, he opted not to in favor of creating an oasis where visitors are inspired to interact rather than stare at their phones.

"We do get a lot of comments where people say, 'You know what, it was really nice not to have that distraction and be able to just focus on our family,' " Duffy says.

For more information, visit hockinghillscaboose.com.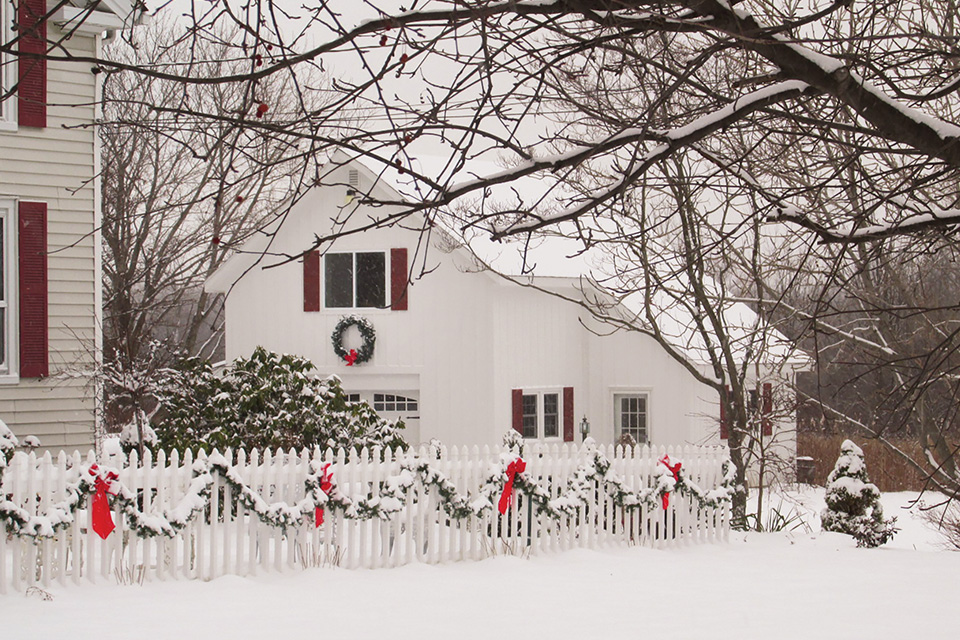 The Carriage House
Enjoy a visit to Ohio's Grand River Valley with a stay at this cottage at the Lost Pearl Bed & Breakfast.

The beginnings of The Lost Pearl reach back to the early 1820s, when 25-year-old Almeron Follett settled on 57 acres in northeast Ohio's Grand River Valley and built a one-room home. He made a major addition to it during the 1850s and constructed additional outbuildings on the property including barns and a smokehouse.

After Follett died in 1896, the home passed to his son and then to other families before it fell into disrepair. Current owner and innkeeper Daniel Wikki purchased it in 2011.

"After we bought it, we started checking the history and found one of the previous owners," he says. "She told us a little about the history."

In 2013, the home opened as The Lost Pearl, with three rooms plus The Carriage House, a small barn that has been remade as a beautiful private retreat. The 600-square-foot space has a gas fireplace, spa-styled bathroom, living area with a comfy sofa, a small kitchen and game room with pool and foosball tables and a dartboard. A gourmet breakfast upgrade features chef's choice dishes such as bacon frittata or Dutch babies. (Travelers can also book a stay in The Caboose, but it is closed during the winter.)

"In the wintertime, there are ice wine tours available at beautiful winery properties, and we're just minutes away from them," Wikki says. "We were wanting to be a place for people to get away from the world and reconnect with what's important." 419 Dayton Rd., Madison 44057, 440/299-8301, thelostpearl.com

4 Places to Ski in Ohio this Winter | 3 Waterfalls to Visit in Ohio This Winter | 3 Great Winter Hikes in Ohio | 3 Ohio Inn Getaways for Foodies