Travel
Ohio Cabin Getaways
It's the season of snuggling up. When it comes to great winter escapes, these spots offer a mix of quiet seclusion, rustic charm and fun features.
Jan./Feb. 2021
BY By Krista DeFini, Avaerie Fitzgerald, Alisha McDarris, France Killea and Lilia Sciarretti | Photo by Chris McClelland
Jan./Feb. 2021
BY By Krista DeFini, Avaerie Fitzgerald, Alisha McDarris, France Killea and Lilia Sciarretti | Photo by Chris McClelland
Old Pine Treehouse
The Mohicans in Glenmont has become a destination known for its variety of impressive treehouses.

The Mohicans cabins and treehouses are nestled among 77 wooded acres not far from Mohican State Park. There are four cabins, two farmhouses and an event center (plus a trio of tiny houses in the works), but the nine treehouses are the stars here.

"I'm from the city. I never grew up seeing things like this as a kid," says owner Kevin Mooney, who formerly owned a Cleveland consulting business. "After I retired from my business, I felt bored and wanted to start making cabins. … A friend of mine showed me a book on treehouses and I thought, This will really make it."

Built in 2015, Old Pine is one of The Mohicans' newest treehouses. Cabin-style paneling repurposed from 100-year-old barn wood covers both the structure's exterior and interior, while cherry doors and counters complement the natural brown accent colors pulled from the scenery outside.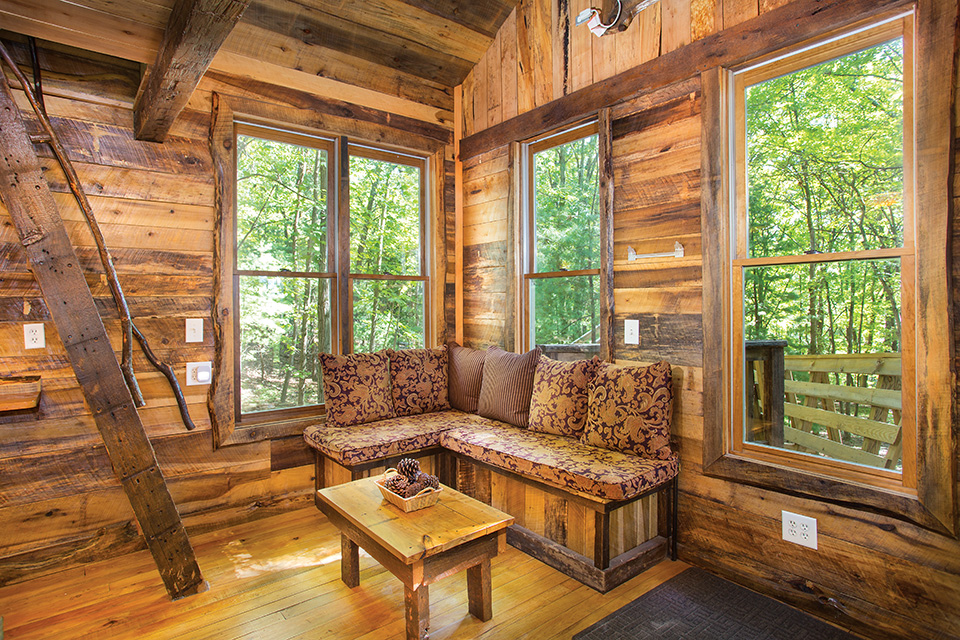 A sliding door on the treehouse's main level reveals a queen bed, and a ladder in the main area leads to a second floor, where another queen bed overlooks the forest. With modern kitchen amenities and a full bathroom, The Mohicans' treehouses promise comfort surrounded by incredible scenery and trails that wind through 8 acres of forest. (The loop trail is an 8-mile route.)

Mooney's treehouses have been a favorite of northeast Ohioans ever since The Mohicans appeared on Discovery Channel's "Treehouse Masters" in 2013.

"They went from being booked one night a week to being booked months in advance," says Mooney. "It's a chance to relive their childhood and I think that's what a lot of people are surprised by. This is not your ordinary treehouse." 23164 Vess Rd., Glenmont 44628, 740/599-9030, themohicans.net

---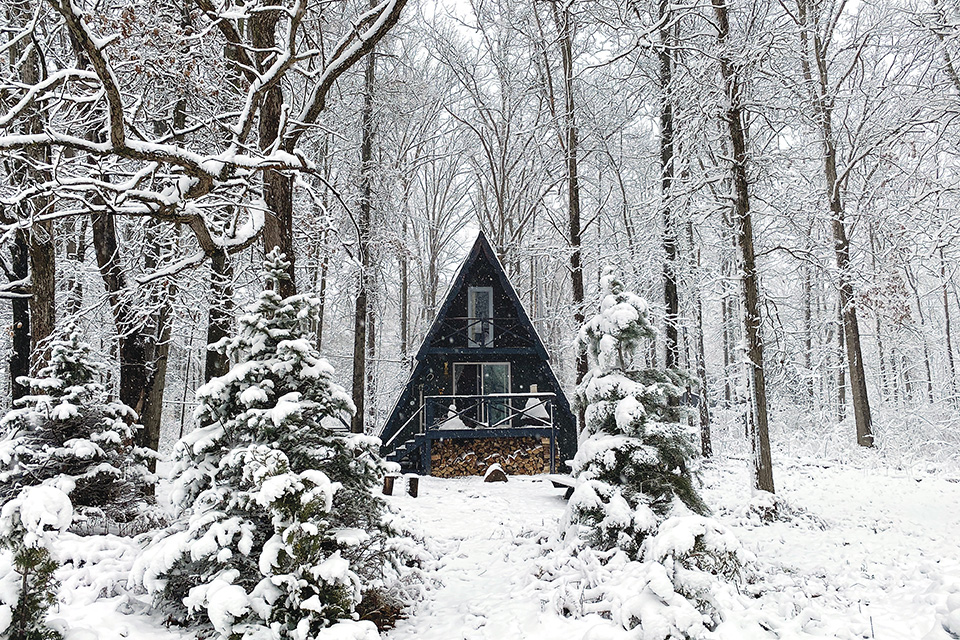 The Triangle
This distinctive cabin in the Trumbull County village of West Farmington offers access to nearby state parks.

The Triangle cabin is a 10-minute drive from Nelson-Kennedy Ledges State Park's three miles of trails. It's also about 12 miles west of Mosquito Lake State Park, which draws hikers and snowmobilers each winter. But this cozy, 400-square-foot A-frame cabin isn't hidden in the woods. You'll find it on a private street among other homes.

"I don't know a lot of people that live in an A-frame," says Elijah Bisbee, the cabin's owner. "So, it's a cool experience, because it's an interesting piece of architecture all on its own."

An A-frame structure is shaped like the letter "A," with steeply angled sides, and this one offers warm rural vibes with a touch of modern convenience. There are two bedrooms upstairs (one with a double bed and the other with two twin beds) as well as a queen-size bed on the main level. There's no Wi-Fi, making it the perfect place for a creative getaway or for those looking to simply unplug.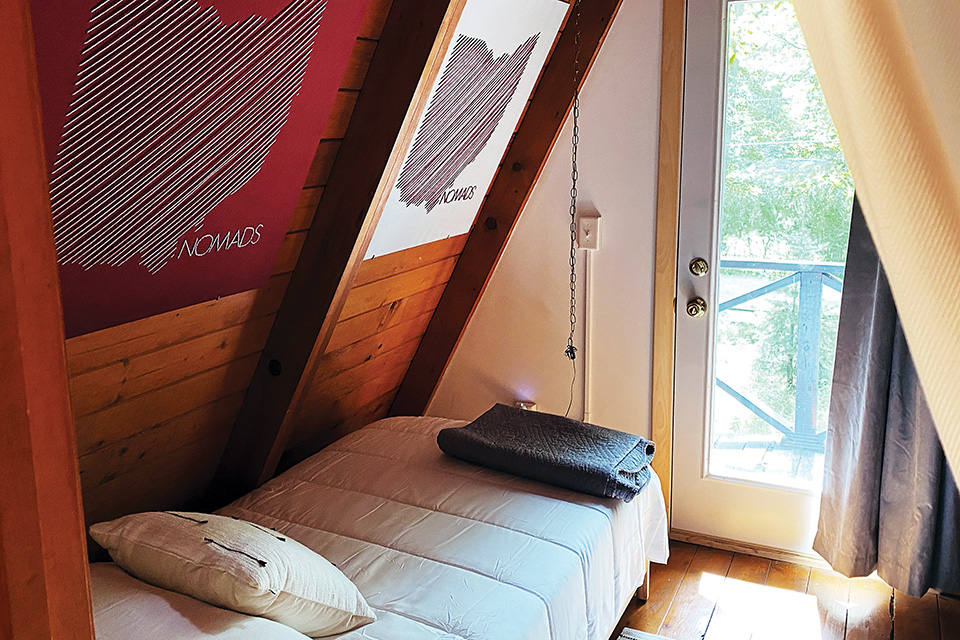 The cabin has a full bathroom and a kitchen equipped with a mini refrigerator, sink and microwave. A wood-burning stove supplies the cabin's heat, and there's a steady supply of wood outside the front door. The Triangle is also located near the Grand River Wildlife Area and just 9 miles south of the End of the Commons General Store, which got its start serving the local Amish community.

"Driving out there, you see horses and buggies all the time," Bisbee says. "You feel like you're in a different world." For more information on The Triangle, search for it on airbnb.com.

---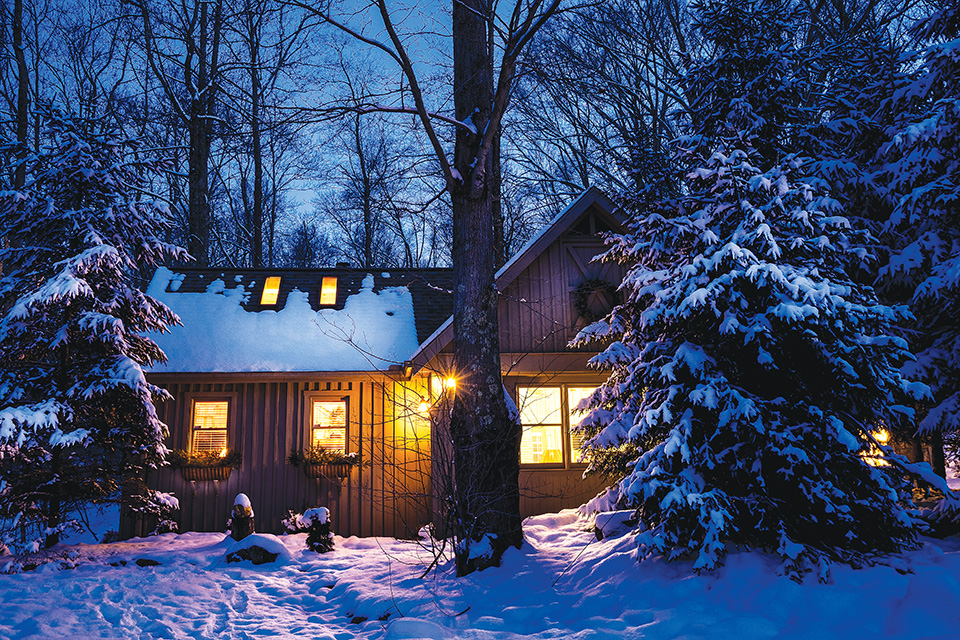 The Boat House
Those looking for a secluded escape will find it at Cherry Ridge Retreat in the Hocking Hills.

Cherry Ridge Retreat offers a quiet and woodsy sanctuary just a short drive from the Hocking Hills' most popular attractions. The 150-acre property has just eight cabins on it, meaning those who stay here are guaranteed a distanced and tranquil escape.

"The seclusion and privacy are probably the No. 1 reason people want to come stay here," says owner Keith Mondal.

The cabins themselves offer plenty of solace, and when it comes to features, The Boat House is one of Cherry Ridge Retreat's most interesting places to stay. Originally a pole barn, the cabin's exterior features rough-sawn timber and batten board accents that create a woodsy cottage vibe.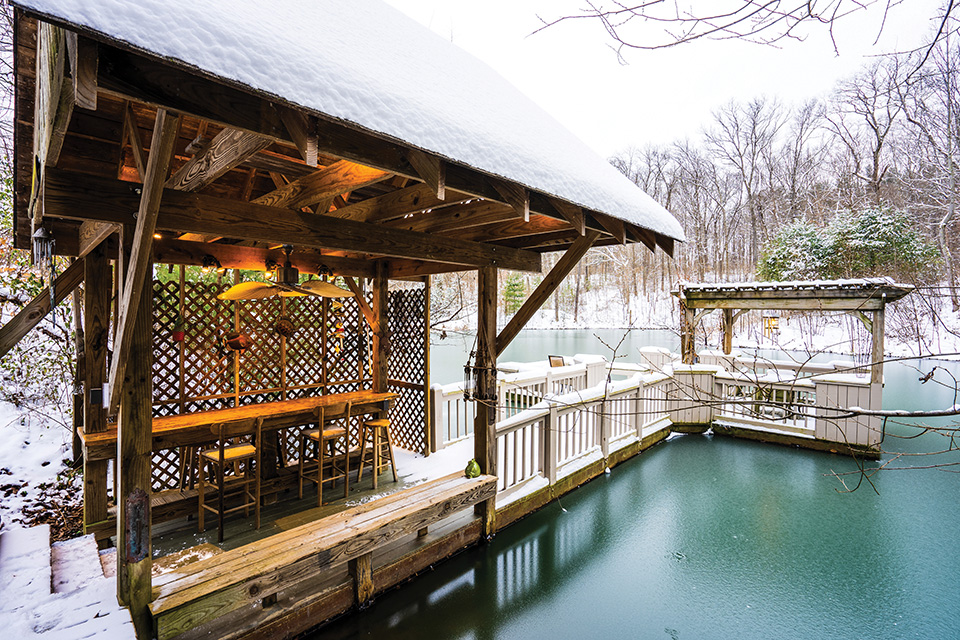 Inside, raw timber and touches of rustic luxury create an atmosphere that's perfect for relaxation. The cabin is all warmth and welcome with its high ceilings and timber crossbeams in the living room, heated tile floors in the wide-open master bathroom and a wood-burning fireplace that's perfect for snuggling next to on winter nights.

The cabin's expansive windows offers guests views of the 1.5-surface-acre pond out back. If they're lucky, they can even watch snow fall while enjoying their morning cup of coffee. Sunny afternoons invite venturing outdoors to relax on the deck that stretches out over the pond or lounge in the Adirondack chairs beside the outdoor fire pit. There's even an outdoor hot tub and waterfront sauna where those who stay here can enjoy the secluded property without feeling the chill of the season. 22097 Cherry Ridge Rd., New Plymouth 45654, 740/380-7777, cherryridgeretreat.com

---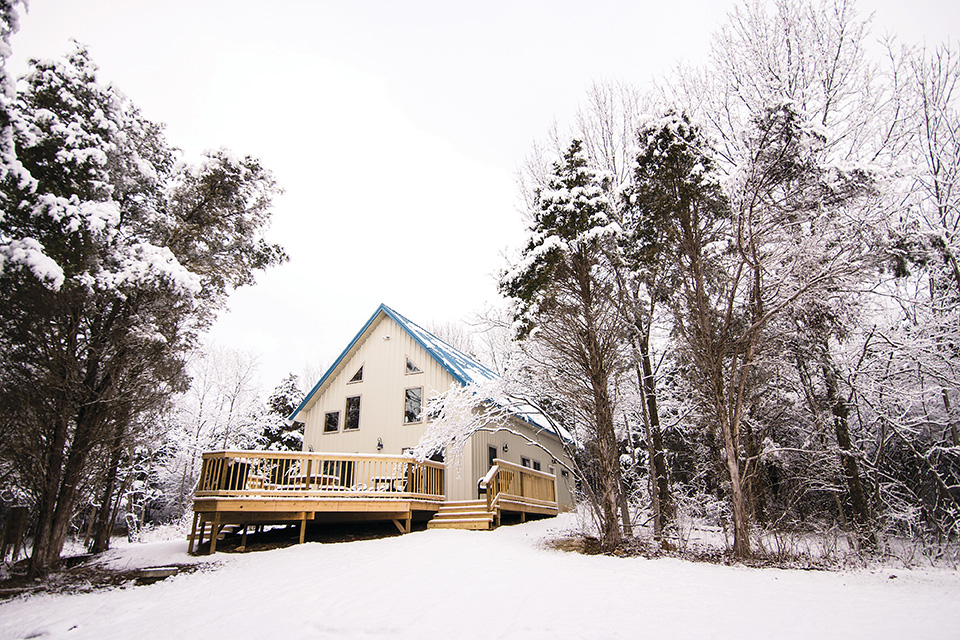 Hopewell Croft
This Adams County cabin offers a cozy space designed with the spirit of the outdoors in mind.

Deep in Adams County, about an hour from Cincinnati, a lone white cabin stands among a swath of trees. It seems simple, with its blue peaked roof and wide wooden deck, but step inside and one finds an interior infused with the soul of the woods around it.

Owner Rebecca Pace named the cabin as a nod to the Native American lands upon which the structure is built as well as to her Scottish heritage. Wood walls warm each room. Bed frames, railings and the ladder to the hideaway loft are crafted from polished logs, and a live-edge coffee table anchors the living room. The standout feature though is the tree trunk that stretches from the floor to the peak of the roof.

"The tree was from the property," Pace says. "It's a very special design feature."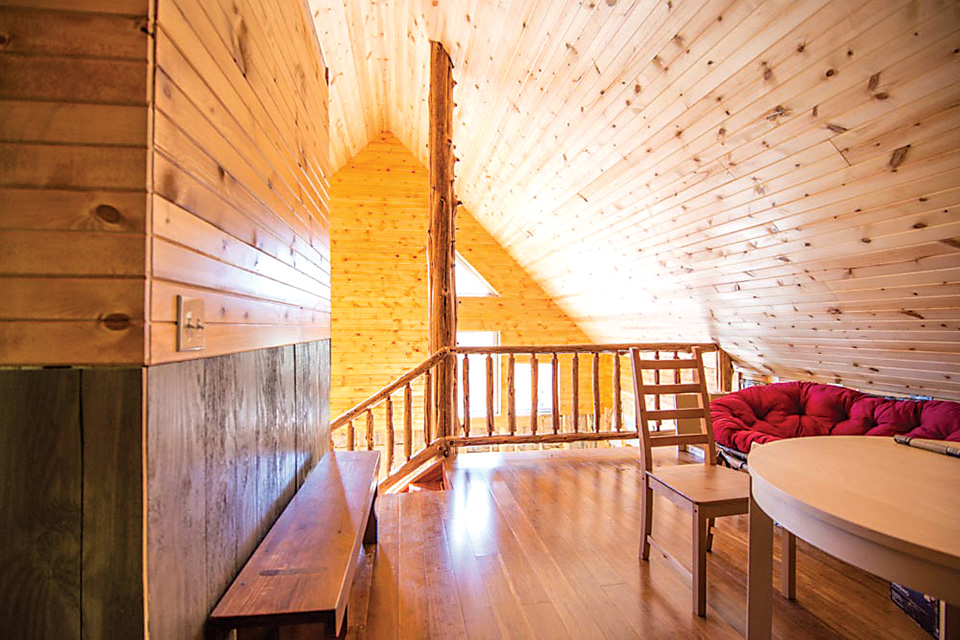 When her father left her the 70 acres where the cabin is now located, Pace only intended to build a simple dwelling for occasional family outings.

"I just needed a place to stay, so we put up a foundation and we got a roof and we stopped," she recalls. "We had dropcloth canvas walls for a little bit of privacy … and I was going to leave it there."

After a friend convinced her the home's setting was guaranteed to draw guests, Pace finished the cabin in 2014. It was designed with a family's needs in mind, from bathroom counters wide enough for changing babies to a ground-floor bed and bath.

"It sounds like it would be designed to accommodate a lot of people," Pace says, noting that although the cabin sleeps nine, it is small. "It's designed for a family." For more information, visit hopewellcroft.com.

---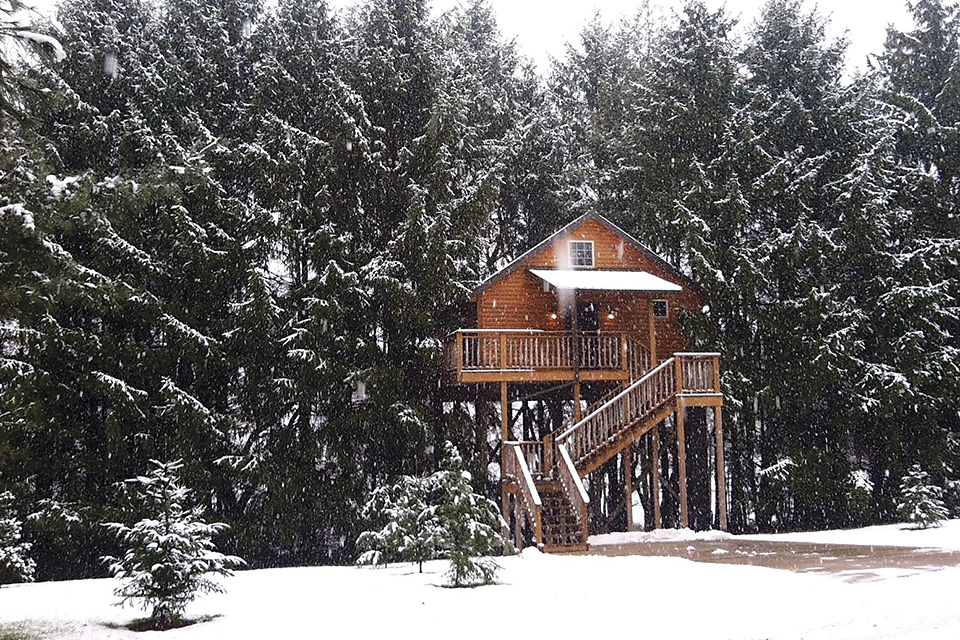 Lofty Willows Treehouse
Amish Country Lodging's treetop cabin offers a romantic winter getaway in the heart of Holmes County.

The Lofty Willows Treehouse sits perched 30 feet above the ground less than a mile from the shops of Berlin. It's one of three treehouses at Amish Country Lodging's 4-acre property known as Pine Cove. Travelers can also stay at The Evergreen, an Amish-built log cabin, or Pine Cove Farmhouse, five private suites with a mix of designs and amenities.

Opened in 2010, Pine Cove is one of several properties Amish Country Lodging manages throughout the area. The others are Premier Cottages, Berlin Cottages, Coblentz Country Cabins, Blessings Lodge, Cricket Hills Cabins and Waterview Lodge. Mike Conn and his sons, who already owned the Berlin Encore Hotel and Amish Country Theater at the time, acquired the properties in 2019.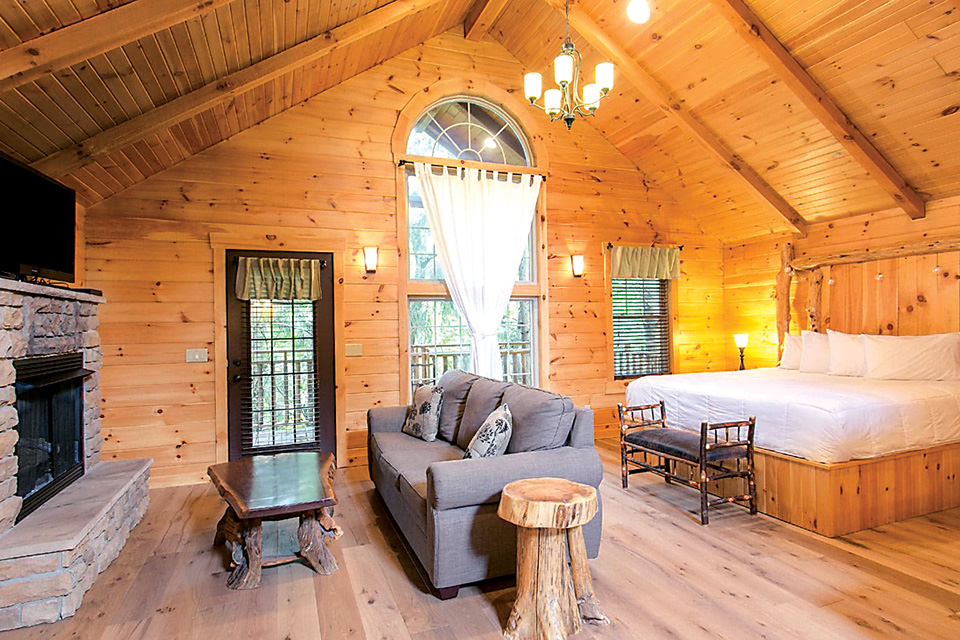 "[The Conn family] discovered their love for operating experiences in the Berlin area, which led to them acquiring the cabins," says Michael Brindley, Amish Country Lodging general manager.
Lofty Willows Treehouse's romantic vibe makes it a favorite for honeymoon or anniversary getaways. It features a stone, two-person jetted tub and a king-size bed with pillow-top mattress, along with walnut hardwood floors and Amish-made furniture. The treehouse also has a small kitchen with a refrigerator, microwave, toaster and coffee maker, so you can make the most of the rocking chairs on the wraparound porch. For those who want to cook a meal together, there's an outdoor electric grill.
"Lofty Willows is one of the most unique cabins because of its setting," says Brindley. "It sits closer to the main loop at Pine Cove, but you have a beautiful view of the Berlin countryside." 5492 County Rd. 201, Berlin 44654, 330/893-1300, amishcountrylodging.com