Travel
3 Waterfalls in Ohio to Visit this Winter
The Hocking Hills region is filled with waterfalls, and these three are particularly incredible once temperatures fall.
Jan./Feb. 2022
BY Sarah Druhan | Photo by Josh Mund
Jan./Feb. 2022
BY Sarah Druhan | Photo by Josh Mund
Cedar Falls: Cloaked in blankets of frost and ice during winter, this 50-foot waterfall is a magnificent feature of the Hocking Hills' landscape. Before the falls are completely frozen, the sound of water trickling through the layers of ice offers an added sense of tranquility. Travelers need only make their way down a half-mile trail to be rewarded by the sight of this beauty, which holds the most volume of water of any of the region's waterfalls.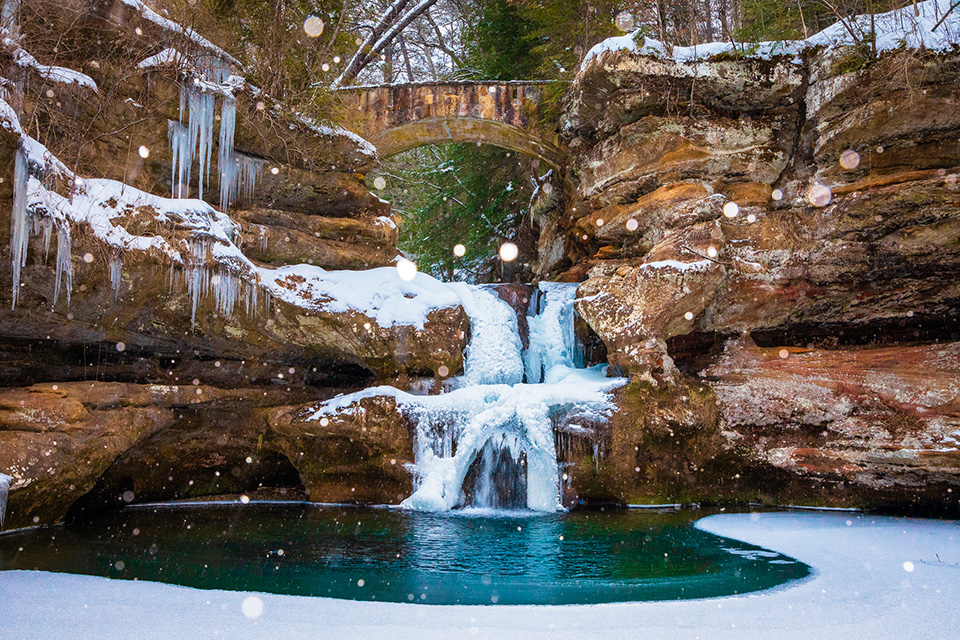 Upper Falls at Old Man's Cave: As temperatures drop, Old Man's Cave's Upper Falls turns into a sparkling ribbon of ice cascading down 30 feet of rock. Water also drips from the cliffside to form elegant ice structures that stay frozen longer in the cold of the gorge. The waterfall is surrounded by hemlock trees and located below the landmark Stone Arch Bridge. Because of the numerous waterfalls in the Old Man's Cave area, the trail can become slippery, so winter gear such as ice cleats and trekking poles are recommended when traversing this area.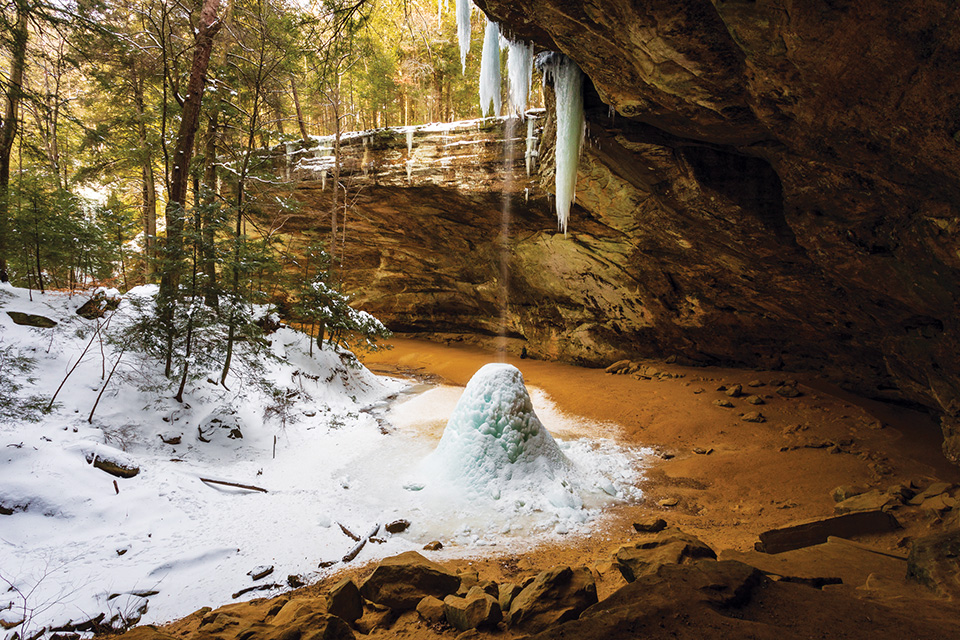 Ash Cave: The 83-foot drop of Ash Cave's waterfall makes it one of the region's most popular sights, but it is equally stunning during the coldest months of the year. (The waterfall is easy to get to as well — about one-third of a mile from Ash Cave's parking area.) In January and February, water flows over the edge of the park's largest recess cave and then freezes at the bottom to create an impressive dome of ice that grows thicker throughout the winter season.

For more information about these sites, visit explorehockinghills.com or ohiodnr.gov.

4 Places to Ski in Ohio this Winter | 4 Cozy Cottages in Ohio to Stay at this Winter | 3 Great Winter Hikes in Ohio | 3 Ohio Inn Getaways for Foodies