Ohio Life
How Modlich Monument Co. Helps Honor Veterans
Columbus' fourth-generation Modlich Monument Co. creates memorials honoring local military veterans for communities across Ohio and beyond.
Nov./Dec. 2020
BY Avaerie Fitzgerald | Photo courtesy of Modlich Monument Co.
Nov./Dec. 2020
BY Avaerie Fitzgerald | Photo courtesy of Modlich Monument Co.
The Gold Star Families Memorial Monument rests at the intersection of Broadway and Columbus streets in one of Grove City's parks. The bold, black granite tribute stands 7 feet tall and 14 feet wide, and the two benches facing its four panels are each inscribed with a different image and accompanying word: homeland, family, patriot, sacrifice. But the most striking part of the tribute is a void carved into the highest part of the granite — the shape of a saluting soldier.

Grove City unveiled the memorial in May 2016, with funding assistance from the Hershel Woody Williams Medal of Honor Foundation, a nonprofit that aims to establish permanent memorials across the United States as a way to honor the families and relatives of those who have made the ultimate sacrifice for our nation.

Columbus' Modlich Monument Co. created the Grove City memorial, and it's one of many they've done. Company founder Linus Modlich began designing, creating and engraving monuments in Germany before moving to America in 1927, eventually opening his Franklin Monument Co. in Columbus in 1936. (The business was renamed in the 1980s.)

Along with its work creating cemetery headstones and commercial architectural engravings, the fourth-generation family business has helped communities throughout Ohio and beyond honor and remember their local veterans with dozens of stone tributes. In addition to memorials in Ohio communities such as Hilliard, Pickerington, Canal Winchester and Delaware, a Modlich Monument Co. memorial stands at the National Museum of the Marine Corps in Virginia.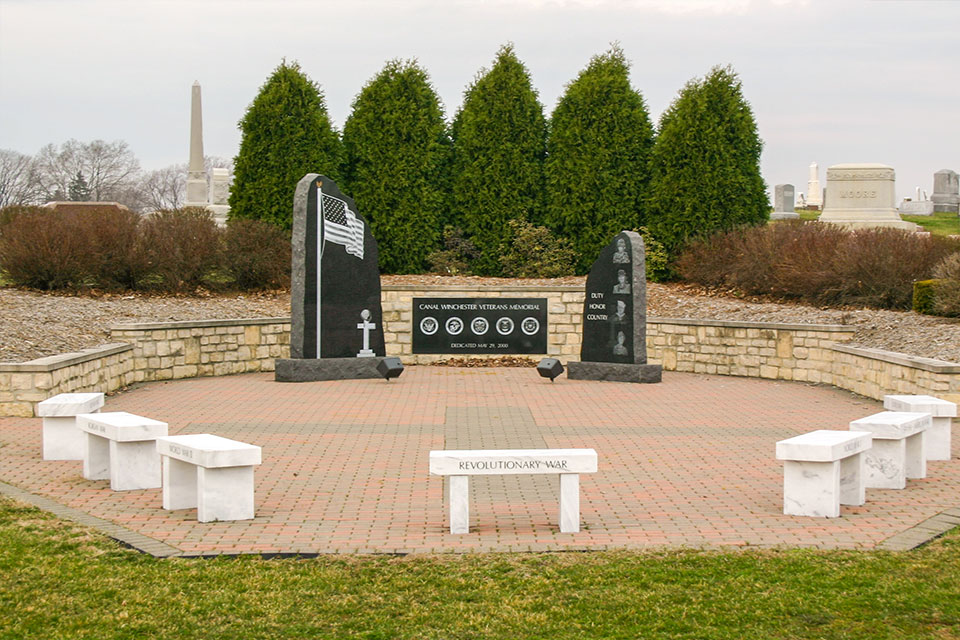 "Veterans are so critically important to who we are as a nation and why we are able to enjoy the freedoms we do," says Modlich Monument Co. president Jonathan Modlich. "Recognizing those individuals, or groups and the sacrifices that were made by these people is something that really needs to be permanently recognized as a society."

The company looks at its stone cutting as an art. Each design starts with a simple sketch and goes through changes with team discussions and 3D renderings. Production can take anywhere from months to years depending on the size and detail of a project. The city of Hilliard's octagon-shaped monument bears the words "those who served their country during time of war" and holds the names of hundreds of local veterans on its other seven sides. Canal Winchester's memorial comprises three black stones set across from seven benches — each representing a war during which those remembered here served.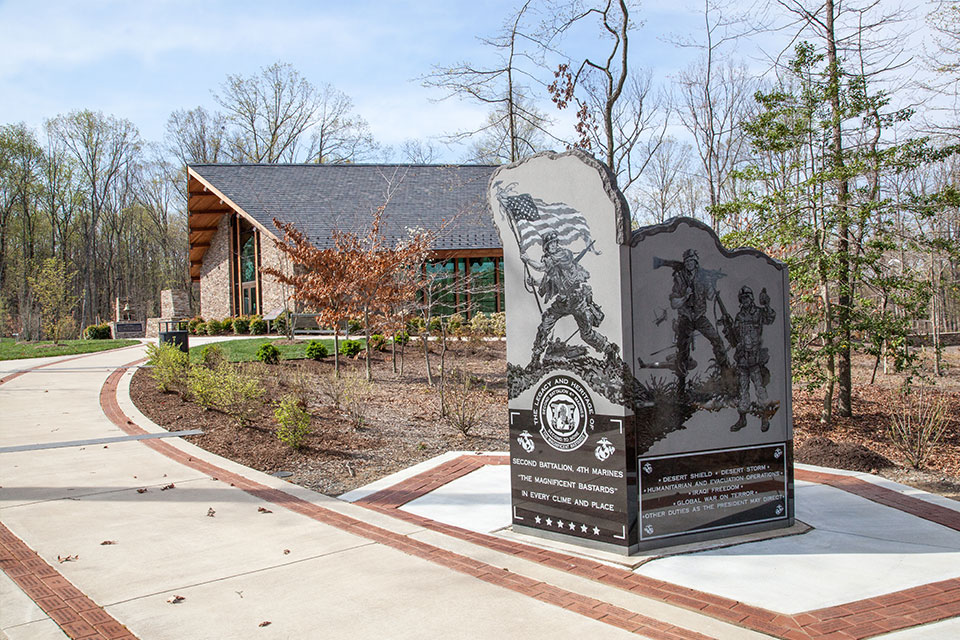 Communities have always honored their veterans, but there has been a relatively recent increase in the interest of establishing permanent monuments, says Modlich. HIs company has been crafting veteran memorials for decades, but since 2010 it has been called upon to build tributes on a larger scale. He also says a growing number of communities across Ohio have shown interest in creating public displays to honor local veterans.

"These [sacrifices] aren't things we necessarily think about in our day-to-day lives," says Modlich. "But having something there as we walk through town or drive by brings it back into more conscious thought."