Ohio Life
How Ohio Helped Make the Jeep an Icon
Between 1941 and 1945, Willys-Overland of Toledo produced more than 363,000 jeeps for the war effort. Soldiers loved the vehicle, and it grew into a popular consumer brand that today employs thousands of Ohio autoworkers.
March/April 2021
BY Vince Guerrieri | Photo courtesy of Library of Congress
March/April 2021
BY Vince Guerrieri | Photo courtesy of Library of Congress
In February 1941, the U.S. Army demonstrated its newest innovation in the unlikeliest of places, driving its small but sturdy four-wheel reconnaissance vehicle up the steps of the United States Capitol Building. The demonstration provided valuable publicity, not only for the intriguing new piece of military equipment but also for the company that made it, Willys-Overland of Toledo.

On the day of the Capitol demonstration, Willys' test driver Irving "Red" Hausmann was asked what the vehicle was called. The Toledo company referred to its prototype as the Quad, but it wasn't the only manufacturer in the running for the Army contract. Ford Motor Co. had a version called the Pygmy, and American Bantam went with BRC for Bantam Reconnaissance Car. Hausmann, though, had another name in mind.

"Why I call it a jeep," he responded. "Everybody does!"

Hausmann said he picked up the nickname from soldiers in camp, but Ford's Pygmy was referred to as a general purpose — or GP — vehicle, and there was a character in Popeye cartoons named Eugene the Jeep. Whatever its origin, the name stuck, due in no small part to Willys' efforts to popularize it. The jeep was a lifesaver for the ailing Toledo automaker, and it became an important and even beloved asset for the war effort. Gen. George Marshall, the U.S. Army chief of staff during World War II and later secretary of state and secretary of defense for President Harry Truman, called the jeep "America's greatest contribution to modern warfare."

Although the story of the jeep is closely intertwined with Toledo, it starts 230 miles away, near Pittsburgh, in the hamlet of Butler, Pennsylvania. Butler was home to the American Bantam Car Co., which began in 1930 as the American outpost of British automaker Austin. It made the Austin 7, basically the European version of Henry Ford's Model T: a small, easily constructed and affordable car that brought transportation to the masses. But the throes of the Great Depression was a bad time to start making cars, and within four years, American Austin went bankrupt. One of its dealers purchased the company's remnants and renamed it American Bantam.

As threats loomed in Europe, it became clear the next war would use the latest technology, including airplanes and motorized vehicles, and the U.S. military was looking to upgrade. Horses were outdated and motorcycles, which were also used during World War I, were untrustworthy on rough terrain and made too much noise to work as reconnaissance vehicles. A pair of soldiers at Fort Benning came up with the "Belly-flopper," a front-wheel-drive, rear-engine vehicle that used an old American Austin drivetrain and carried two men, both on their stomachs, one driving and one operating a machine gun. It was a step in the right direction, but not quite there.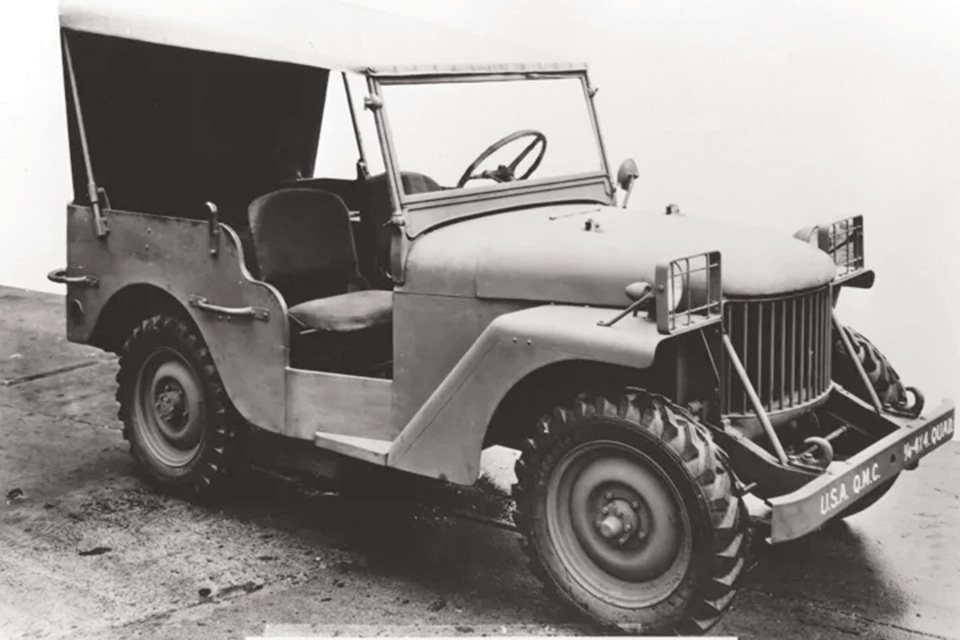 In 1940, the Army invited 135 companies to create prototypes for a quarter-ton reconnaissance vehicle. It had to be light — original specs were for only 1,275 pounds — but also able to carry at least three people and have a mount for a machine gun and payload capacity. Most companies ignored the request, but Bantam was literally created to build small cars. It was equally important to Willys, once the second-largest automaker in the nation. Like others, it had fallen on tough times during the Great Depression. Willys' prototype arrived after Bantam's, but its advantage was its engine. A vehicle as light as the one the Army wanted had to have a small engine, and Willys' Go Devil, redesigned by vice president and chief engineer Delmar "Barney" Roos, was regarded as the best four-cylinder engine of its time.

The military initially gave the vehicle contract to Ford, but Willys was added at the behest of John Biggers of the federal government's Office of Production Management. Biggers was president of Libbey Owens Ford in Toledo, and his neighbors included M. Ward Canaday, president of Willys-Overland, who impressed upon Biggers — and Biggers upon his superiors — that Willys would be able to deliver the product, freeing Ford up for other war-related projects.

Between 1941 and 1945, Willys made more than 363,000 jeeps, while Ford made around 280,000, but the Toledo automaker soon became synonymous with the product. Joseph Washington Frazer, who'd succeeded Canaday as president when Canaday became chairman of the board, saw to that. Frazer was born to wealth in Tennessee and educated in private schools on the East Coast, but he'd fallen in love with the auto industry so much that after attending Yale, he worked as a mechanic's helper in his brother's dealership in their hometown of Nashville. He'd worked his way through the auto industry, with stops at General Motors and Chrysler, before coming to Willys in 1939. Once his auto company had secured the contract, Frazer unleashed a marketing onslaught of press coverage and advertising that ensured when everyone thought of jeeps, they thought of Willys. Under Frazer's direction, the automaker applied to trademark the Jeep name.

An even better public relations campaign was happening abroad. Thousands of soldiers drove jeeps — and bonded with them. The first jeeps, built before the United States joined the war, were sent to England and the Soviet Union as part of the Lend-Lease Act. Winston Churchill reviewed troops from a jeep. Marshal Tito of Yugoslavia was a fan, as was Joseph Stalin and other Russians. A Willys ad from Life Magazine in 1943 noted "The sun never sets on the fighting jeep."

Although the vehicle delivered a rough ride — military doctors started referring to pilonidal cysts as "jeep driver's disease" — soldiers warmed to it. American cartoonist Bill Mauldin drew cartoons about it. One jeep even got a Purple Heart after being "wounded" at Guadalcanal. (That jeep, Old Faithful, transported high-ranking officers and VIPs in the South Pacific before being retired and sent stateside to support bond drives.)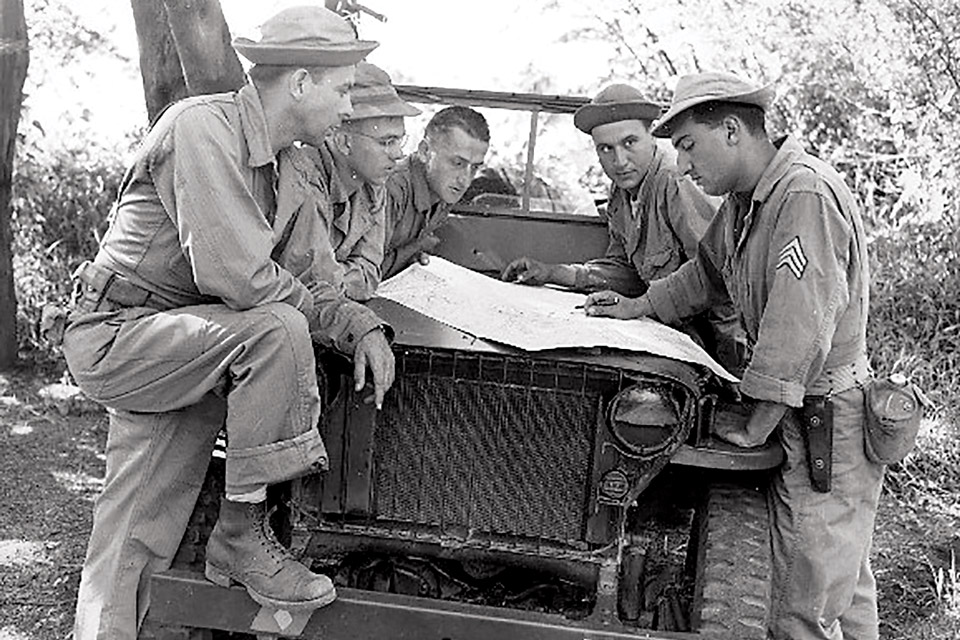 "Y'know," one soldier was quoted saying in The New York Times, "After this war is all over, I'm gonna try to buy this jeep of mine, no matter how banged-up it is — that is, if we're both still around."

Willys was depending on those warm feelings and saw the Jeep as the key to financial viability. The auto market boomed after the war. No passenger cars had been produced for the model years 1943 through 1945 (and very few for 1942), but people who had spent the war years making money were now itching to spend it.

Frazer left Willys in 1943, and after the war, connected with Henry J. Kaiser, an industrialist who had grown wealthy first with contracts for public works projects and then in the defense industry. The two started an auto company, Kaiser-Frazer. They bought Ford's Willow Run factory and started building cars.

The Japanese surrender to end World War II hadn't even been signed when Willys started making Jeeps for the public, as well as an all-steel utility wagon, an invention by Roos. Canaday had seen the Jeep as a utilitarian vehicle suitable for farm use, delivering milk and other labor purposes, but the auto-market consolidation that had started during the Depression continued. Automakers Hudson and Nash combined to form American Motors Corp. American Bantam, which only got a taste of the wartime contracts, went bankrupt and was absorbed into American Rolling Mills.

In 1953, Kaiser-Frazer bought Willys-Overland for $62.3 million. Willys was also making a small car called the Aero, but the big attraction was the Jeep. Kaiser Jeep, as the company was from then on known, expanded the Jeep line. Kaiser, now semi-retired, used a fleet of pink Jeep Surreys for his hotels in Hawaii. In 1962, the utility wagon was replaced with the Wagoneer, which is still touted by Jeep as the first luxury sport-utility vehicle.

When Kaiser died in 1967, his family wanted to get out of the auto industry, so they sold the company to American Motors Corp. two years later. AMC made cars. Kaiser Jeep made trucks. It seemed like a natural marriage, but AMC limped through the 1970s, which saw rough times in the American auto industry. The gas crisis made everyone suddenly want smaller cars and, as the 1970s ended, AMC's market share had shrunk so much nobody would loan the company money. Ultimately, French automaker Renault purchased it.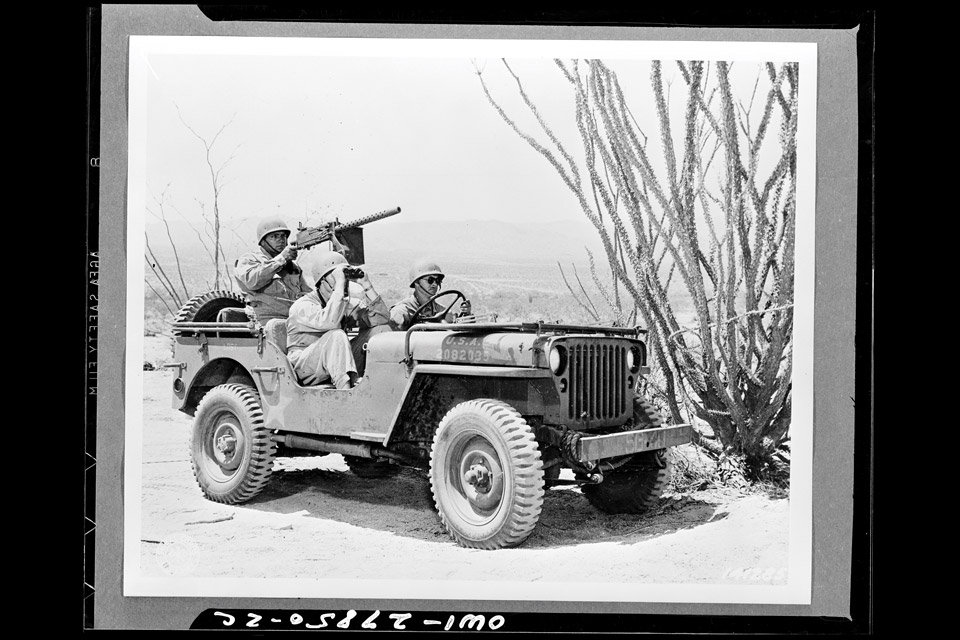 Jeep sales remained robust through the 1980s — although the Humvee replaced it as the official military vehicle in 1983 — but its parent company struggled. Fears that AMC would go under and drag Renault with it led to its sale yet again, this time to Chrysler, which was on firmer ground than it had been in the 1970s. Again, the main attraction for the deal was Jeep. People were starting to want vehicles with off-road capacity and all-wheel drive while offering the comforts of a car, not just for their functionality but for their chic.

"The Jeep is a one-of-a-kind vehicle that suddenly everyone is deciding he ought to own before he dies," said David E. Davis Jr. of Car & Driver magazine in a 1985 interview.

Chrysler entered into an ill-fated merger with Daimler-Benz in 1998 and has been in a more secure one with Fiat since 2014. Today, Jeeps are still made in Toledo. Around 6,000 employees on two shifts at the Toledo Assembly Complex build the Wrangler, which still resembles the original Jeeps that came off the Willys line nearly 80 years earlier, and the Jeep Gladiator pickup truck, introduced in 2019.

The city of Toledo celebrated the jeep's 75th anniversary in 2016 with the first of what turned out to be an annual Jeep Fest. Although the companies that originally made the iconic vehicle have fallen away, the Jeep rolls on, just like it did in the hedgerows and paths of World War II, when famed war correspondent Ernie Pyle wrote, "It did everything. It went everywhere. Was as faithful as a dog, as strong as a mule, and as agile as a goat."