Ohio Life
Cleveland, Alan Freed and the World's First Rock Concert
On March 21, 1952, thousands of people crowded into the Cleveland Arena for the Moondog Coronation Ball, which was expected to go on for hours. Instead, the show was shut down before the end of the first band's set.
March/April 2022
BY Vince Guerrieri | Illustration by Jeff Suntala
March/April 2022
BY Vince Guerrieri | Illustration by Jeff Suntala
As night fell on Friday, March 21, 1952, a large crowd gathered in anticipation outside the Cleveland Arena, spilling out onto Euclid Avenue. It was hours before the event that local disc jockey Alan Freed had been touting on the radio for weeks, and those gathered were getting more unruly by the second. Teenagers and young adults jostled for position for a chance to get inside the arena and out on the dance floor.

There had been no advance notice of the event in any of the city's three newspapers, except for a small item in The Plain Dealer. The musical acts to perform at the dance — a lineup that included Varetta Dillard, The Dominoes and Paul Williams — weren't even widely known at the time. But somewhere along the way, Freed's imaginatively titled Moondog Coronation Ball had tapped into something that even he couldn't contain.

The man formerly known as Albert Freed had first become interested in radio a little more than a decade earlier, while attending Ohio State University in the early 1940s. Once he saw the radio station on campus, "that was it," he later recalled in a 1957 interview with Pageant Magazine, after he had become one of the most famous disc jockeys in America. "I was gone."

After growing up in Salem, Ohio, Freed started out working for WKST, a radio station across the state line in New Castle, Pennsylvania, where he did a little bit of everything. From there, he went to WKBN in Youngstown, where he did news and sports. He stayed in Youngstown for a couple years before ending up at WAKR in Akron, which afforded him his first opportunity as a disc jockey.

"One night, as I finished the 11:10 sports broadcast I got a very quick call saying the disc jockey for the 11:15 show had not shown up," he recalled in a 1958 interview. "So, I did the show. The next day the sponsor called me up and said he liked the show. The owner of the station did too, so he fired the other guy and gave me the job."

From Akron, Freed ended up in Cleveland, but not on the radio at first. He ended up on WXEL-TV, hosting an afternoon movie. After his noncompete clause expired in 1951, he went back to radio on WJW (now WKNR-AM). While in Cleveland, he met Leo Mintz, owner of the city's legendary Record Rendezvous store on Prospect Avenue downtown.

Mintz was doing brisk business selling records by Black rhythm-and-blues acts. He was selling them to white kids, too. He knew there was a market and struck a partnership. Mintz would advise Freed on popular records, and Freed would play them. One of the records Freed played was Louis Hardin's "Moondog Symphony," and he started talking to the imaginary Moondog on the air. Switchboards to the radio station lit up, and Freed started referring to himself as the "King of the Moondoggers," and his show became known as "The Moondog Show."

It caught on, too, enough so that Mintz and Freed wanted to stage a public event featuring the music they referred to as rock 'n' roll. (The term had been in use before Freed's birth, sometimes as a euphemism for sex, but he popularized it to describe the music.) Plans were being made for the Moondog Coronation Ball, a spectacle that, although short-lived, would go down in history as the first rock 'n' roll concert.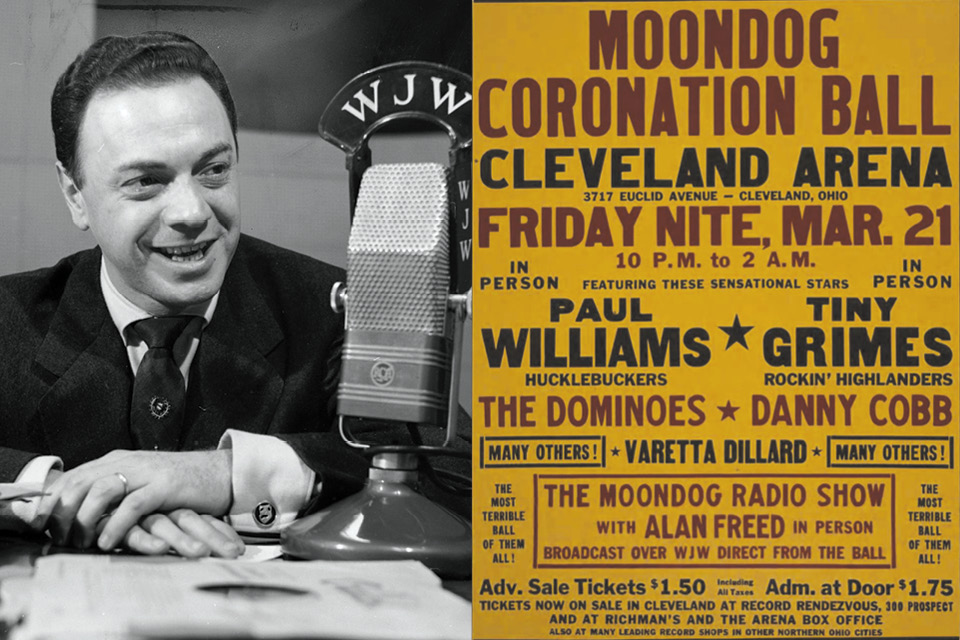 ***

Posters promoting the Moondog Coronation Ball said it would go from 10 p.m. until 2 a.m. — coinciding with Freed's radio show. In fact, the event was scheduled to be broadcast live on WJW. Five musical acts were listed on posters for the show, but "many others!" were also promised.

In a 2012 BBC interview, Jimmy Sutphin, whose father Al built the Cleveland Arena 15 years earlier for hockey, recalled being across the street. "The crowds were screaming, 'let us in', and banging on the doors," he said. "It was chaos."

Finally, at 9:30 p.m., the throng broke through the arena doors. Ushers were utterly unequipped. "You had the same ticket-takers at the door that you had for the hockey games," Freed's brother David recalled years later for The Plain Dealer. "These were older gents in black Homburg hats, union people who moved slowly. They never handled a crowd like this."

Reinforcements were called in — another 30 police officers and 40 firefighters. Newspapers the next day estimated the crowd anywhere from 20,000 to 25,000, roughly double the arena's capacity.

"It's a wonder no one was killed," Valena Minor Williams recalled during a National Public Radio story coinciding with the event's 50th anniversary. She had covered the Moondog Coronation Ball for Cleveland's Call and Post newspaper.

Peter Hastings was there with Cleveland's Hastings and Willinger and Associates Advertising Art. He'd set up in the balcony to take photos.

"It was frightening," he recalled. "I took the picture, then we got out of there as fast as we could."

"It was madness," said Bill Lemmon, who was executive vice president at WJW at the time. "I saw knives flashing."
Signs and curtains were ripped down. People jumped onto the stage. The first act of the night, Paul Williams & His Hucklebuckers, couldn't even finish its set.

The Cleveland police shut down the bar at the arena at 10:30 p.m. Freed came out and pleaded for calm. Ultimately, the live broadcast ended too. At 11:15 p.m. the Cleveland Fire Department ordered the ball stopped. The chastened crowd left. There were five arrests for drunkenness and one for fighting.

"When the dance was stopped, I went off and cried," Freed said on the radio the next day. "I'm not ashamed to admit it. Yes, I cried. I was sick at heart for what had happened."

***

The event's promoters maintained that the ball had not been oversold. Mintz said 8,600 tickets were sold in advance — well below the arena's capacity of 9,700. In his radio address the next day, Freed said a mob of 10,000 gathered outside, "7,000 of them without tickets." Years later, it was revealed that a second night had been organized and tickets printed and sold — but the tickets all had the March 21 date on them, accounting for the overflow crowd.

Freed's reputation suffered no real damage following the Moondog Coronation Ball. If anything, it burnished his image. After all, rock 'n' roll was by its nature rebellious.

Charges were considered, but never filed, and the ball was a financial success.

"Everybody had such a grand time breaking into the Arena that they didn't ask for money back," Freed said in a 1958 interview.

Instead of dances, Freed began organizing concerts (unlike the ball, they had reserved seating) both at the Cleveland Arena and Cleveland Public Hall. He maintained his frenetic pace on the radio as well, even broadcasting while convalescing from a severe car wreck while driving back to his home in Shaker Heights in 1953.

Eventually, New York City, which had previously rejected him for having a Midwestern accent that was too grating, came calling. Freed was offered $75,000 (equivalent to almost 10 times that today) to come to WINS in New York in 1954.

Soon he had become a media empire unto himself. In addition to his work on the radio, he continued to appear at rock shows up and down the East Coast and make appearances on radio and television. He was earning hundreds of thousands of dollars annually.

In 1958, he resigned from WINS following police involvement at another of his rock concerts, this time in Boston. Undaunted, he went to WABC, also in New York. But eventually, it all started to fall apart. Following Congressional hearings into the rigging of TV prime-time game shows, the Subcommittee on Legislative Oversight turned its attention to payola, the practice of gifts and money being given to disc jockeys to influence what records got played.

Freed refused to sign an affidavit that said he hadn't taken payola — because he had. (For years, he was listed as co-writer of Chuck Berry's "Maybellene" and "Sincerely" by The Moonglows — a common practice to influence disc jockeys.) He was indicted and ultimately pleaded guilty. He was fined $300 and given a suspended prison sentence, but he was ruined. Soon the IRS came around, charging him with income tax evasion.

Freed died in California in 1965 at the age of 43 and was virtually destitute by that time. The official cause of death was internal bleeding related to cirrhosis of the liver. He hadn't really taken care of himself, but after he was banished from radio he drank even more. "[Alan Freed] died of a broken heart because they took his microphone away," his brother David said in a Plain Dealer interview in 1985.

In death, Freed became almost as nomadic as his radio career. He was cremated, and his remains were initially taken to Ferncliff Cemetery, in Westchester County, New York, which is the final resting place of other notables, including John Lennon and Cab Calloway.

In 1986, Freed was a charter inductee into the Rock & Roll Hall of Fame, and in 2002, Freed's urn was brought back to Cleveland by his family and ultimately entombed at the Rock Hall before it moved again in 2014.

His final resting place — like those of many Clevelanders who made their mark on the world — is Lake View Cemetery, less than 4 miles down Euclid Avenue from the former site of the Cleveland Arena. Family, fans and musicians came to lay him to rest. Jimmy Clanton, who'd co-starred with Freed in "Go, Johnny, Go!" sang "Just a Dream," and Steven Van Zandt — a musician, actor and himself a disc jockey — emceed the event.

A black granite memorial with a rounded top marks Freed's grave. It bears an etched image of the disc jockey on one side above an epitaph that offers perspective on his role in the rise of rock 'n' roll music. The other side, the one that visitors often see first as they walk toward it, is etched to look like a jukebox.