Food + Drink
What's in Season: September
Matt Rapposelli of Kindred Spirits at The Inn at Cedar Falls in Logan and Jansen Trotman of Lily's Bistro in Dayton share how to use fall fruits and vegetables.
July 2019
BY Ruth Corradi Beach & Frances Killea | Photo by Megann Galehouse, styling by Claire Vredevoogd
July 2019
BY Ruth Corradi Beach & Frances Killea | Photo by Megann Galehouse, styling by Claire Vredevoogd
JULY
|
AUGUST
|
SEPTEMBER
What's in Season:
Apples • Beans • Beets • Blackberries • Blueberries • Broccoli • Cabbage • Cantaloupe • Carrots • Cauliflower • Collards • Cucumbers • Eggplant • Endive • Escarole • Grapes • Kale • Leeks • Leafy Lettuce • Mustard Greens • Onions • Parsnips • Peaches • Peppers • Potatoes • Pumpkins • Radishes • Raspberries • Spinach • Summer Squash • Sweet Corn • Tomatoes • Turnip Greens • Turnips • Watermelon • Winter Squash
Turnips: "Turnips have this natural saltiness to them," says Jansen Trotman, head chef at Lily's Bistro in Dayton. "It's kind of like a briny note you get when you cook it." He often roasts turnips at the restaurant and complements their salty flavor with fresh pea shoots and an earthy black garlic aioli, but Trotman is happy to use them raw as well. "When you eat it raw it has more like an apple [or] daikon taste to it — a fresh crispness," he says. He accents the brightness of shaved turnips by serving them atop local arugula with citrus vinaigrette.

Apples: A mainstay in Ohio kitchens, apples really start to come into their full flavor in the fall. For a fresh preparation, however, Trotman is all about baking them. His method is simple: core the fruit, fill the space with granola and drizzle the finished product with honey. But there's some magic in the way it comes together. "As the apple bakes, the water evaporates, the sugars get more concentrated ... which concentrates the flavor of the apple," Trotman says. "I like the Granny Smith ... just because it's tart and lemony, and once you bake it, it's really good with the granola."

Kale: "The biggest complaint I hear about kale is that the texture is so meaty," says Matt Rapposelli, executive chef at Kindred Spirits at the Inn & Spa at Cedar Falls in Logan. "That has a lot to do with getting stuff that's older. You can actually get baby kale without a whole lot of body to begin with, and different varieties of kale have different intensity levels." Kale holds up well when cooked, so Rapposelli sautees it over high heat and adds it to other dishes as a supporting ingredient. He advises tossing some in with scrambled eggs or kielbasa. Rapposelli says kale is also excellent sauteed with mushrooms. "Especially a good blend of mushrooms, a little garlic, a little red onion."

Parsnips: Like kale, parsnips can have a strong flavor. "Most people steam or roast and mash them," Rapposelli says. "That works well, but especially if you add potatoes." Potatoes diminish the strong flavor while complementing the texture, providing a balance. "I recommend a super sweet yellow variant of potato, like Yukon gold." Or, if you're a fan of parsnips' intensity, try this method Rapposelli likes to use: "I really like parsnips peeled and chunked into one-inch cubes. I toss with garlic, extra-virgin olive oil, herbs, salt and pepper, and roast [at 375 to 400 F] until tender and brown. At the end, throw a little feta on them, ever so briefly, just to warm the cheese."

Cauliflower: "Some vegetables have their own distinct flavor that you want to build on," says Trotman, "and some vegetables are kind of a blank slate that you want to put your own colorful addition to." For him, cauliflower is the latter, and he finds its mild flavor the perfect base for dishes such as cauliflower "grits" by crumbling the vegetable in a food processor and then cooking it with butter and cream. "We also do things like grill cauliflower and try to add other components, like onions and shallots and olives [and] citrus zest," he says, "just to wake the cauliflower up."

Winter Squash: Rapposelli's favorite winter squash is delicata, also known as sweet potato squash. "The beautiful thing about it is it cooks really quickly because it's a much smaller squash," he says. "The simplest way [to prepare it] is to split it lengthwise and scoop the seeds out, drizzle with olive oil and butter and roast it quickly. You can also eat the skin." If you want to dress it up a bit without adding much work, try this: Combine a little local maple syrup and reduced bourbon and glaze the squash with it as it roasts. "The smoky bourbon offers a nice complement to the natural sweetness of the syrup and the squash."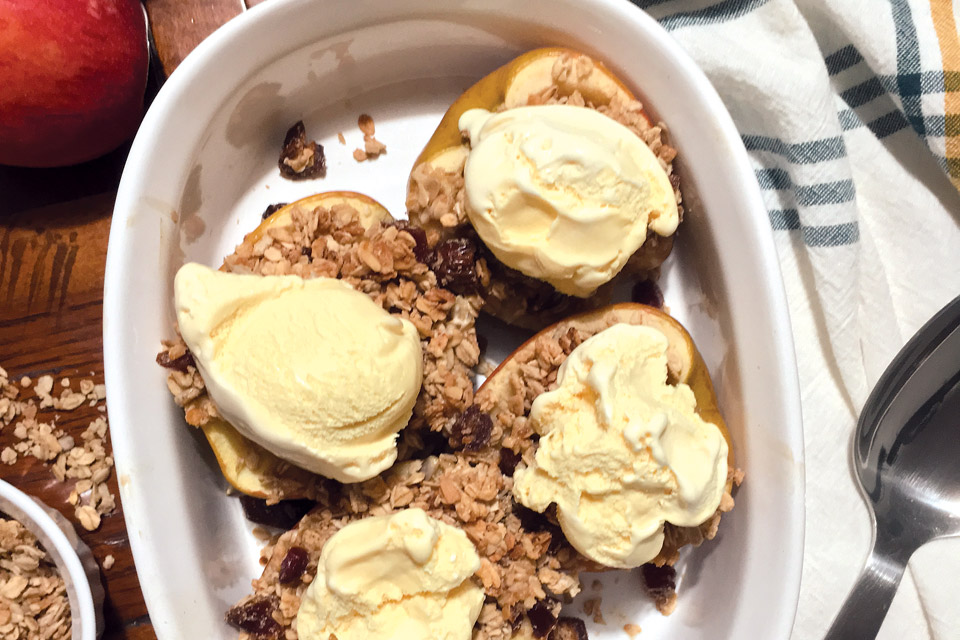 Stuffed Baked Apples | Serves 6
Courtesy of Jansen Trotman, Lily's Bistro
INGREDIENTS
3 medium/large apples (Granny Smith, Braeburn, Honey Crisp or Pink Lady recommended)
1 cup dried fruit (preferably dates, although figs, prunes and raisins also work)
3 cups high-quality granola
3 tablespoons butter
2 tablespoons brown sugar
Zest from 1 medium lemon
DIRECTIONS
Preheat oven to 350 F. Lightly butter a large glass baking dish. In a large bowl, mix dried fruit, granola, butter, brown sugar and lemon zest. Set aside. Cut apples in half, vertically. Using a melon baller, scoop out the core and roughly half of the flesh of each piece. Fill the cored apple halves with granola mixture, heaping the filling into each cavity. Bake for 20 minutes, or until apples are soft and stuffing is lightly browned. Serve with whipped cream or ice cream.