Food + Drink
What's In Season: July
Erika Rapp of Registry Bistro in Toledo and Ben Bebenroth of Spice Kitchen + Bar in Cleveland share their insight into July's prime produce.
July 2019
BY Ruth Corradi Beach & Frances Killea | Photo by Megann Galehouse, styling by Claire Vredevoogd
July 2019
BY Ruth Corradi Beach & Frances Killea | Photo by Megann Galehouse, styling by Claire Vredevoogd
JULY | AUGUST | SEPTEMBER

What's in Season: Asparagus • Beans • Beets • Blackberries • Blueberries • Broccoli • Cabbage • Cantaloupe • Carrots • Collards • Cucumbers • Eggplant • Endive • Escarole • Kale • Leeks • Leafy Lettuce • Mustard Greens • Onions • Peaches • Peas • Peppers • Potatoes • Radishes • Raspberries • Rhubarb • Spinach • Strawberries • Summer Squash • Tomatoes • Turnip Greens
Beets: When people tell Ben Bebenroth they don't like beets, he's quick to counter: "You don't like what somebody did to beets." Aversions to the sweet root (which grows in red, gold, and striped varieties) can be easily righted, and the chef and owner of Spice Kitchen + Bar in Cleveland as well as the restaurant's farm, Spice Acres, loves to change people's minds. One of Bebenroth's favorite preparations requires no cooking at all. "If you shred raw beets up into a salad with some fresh apples and shallots and hickory nuts and spinach, and then dress them with a little bit of mustard and vinegar and honey, you have no issue with beets."

Blueberries: When they take on their deep blue hue, blueberries are perfect for pies and desserts. But chef Erika Rapp of Registry Bistro in Toledo likes to incorporate greener berries into savory dishes. "When they're fresh, blueberries have a greenness to them that can walk the line between sweet and savory," she says. "I love pickling them and incorporating them into dishes like pork tenderloin or grilled duck. They hold their plump crispness." She recommends simmering a simple brine of two parts water, one part vinegar, allspice, bay leaf, coriander seed and ginger, cooling it, and pouring over clean berries that then sit overnight.

Tomatoes: As heirloom varieties become more available, uses for tomatoes have exceeded the saucepot and the salsa jar. As soon as their color deepens, Bebenroth picks cherry tomatoes for bright salads, mixing in fresh herbs for color and taste. With neon-orange, super-sweet Sungolds, he'll toss minced red onion, fresh basil and mint, and a few sprigs of lavender, all dressed with fruit or herb vinegar. "We're looking at the subtleties of accenting a Sungold, because they're so delicate and so sweet on their own," he says, adding that they can't stand up to aged balsamic or honey. "It needs that floral note."

Broccoli: There's a lot more to a head of broccoli than you think. "A broccoli plant has leaves, it has a big stalk, it has these crowns of unopened flower buds," Bebenroth explains. "The stalk is awesome. You can pickle it. You can eat it like water chestnuts in a salad. You can ferment it ... and it's killer for broccoli cheddar soup." At Spice Kitchen + Bar, he and his crew blend peeled broccoli stems into a puree with cheese, topping the bowl with a dukkah, or spiced ground nut mixture. "We like to add a puree of blanched spinach and scallions into it to brighten it up and make it green," Bebenroth says.

Blackberries: Like their blue cousins, blackberries are a summertime pie-filling standby, seeds and all. But in other uses, such as sauces, Rapp generally eschews the seeds. "Cooked blackberries have a different flavor than fresh," she says. "They become sweeter and richer and make a great sauce for venison or pork. I cook them down, then puree and push through a [strainer]. Once pureed, air gets in and makes the sauce lighter. So if you add it back to the stove and simmer slowly, that gets rid of the little bubbles and the sauce reduces and becomes rich again."
Peas: Servers and chefs at Registry Bistro all help separate these sweet green jewels from their fibrous shells. "It's become a group project, a cathartic experience. We stand around and shuck peas," says Rapp. She recommends blanching peas in boiling water (in small batches) and then plunging them into ice water as soon as their color pops (less than a minute). "It makes them more vibrant, brightens them up before you continue cooking with them." Rapp's favorite use is as a sauce alternative. "I use peas to make fresh, bright green purees, served with fish or chicken. It acts like a sauce, but it's not heavy."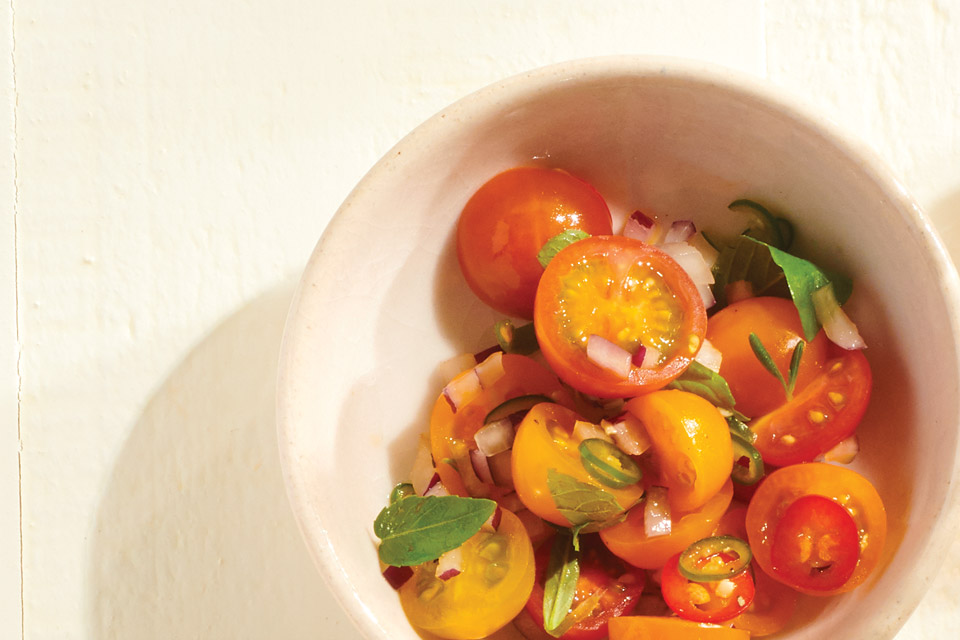 Sungold Tomato and Herb Salad | Serves 4
Courtesy of Ben Bebenroth, Spice Kitchen + Bar

INGREDIENTS
1 quart Sungold cherry tomatoes
1/4 cup red onion, minced
12 basil leaves
6 mint leaves
6 lavender leaves
1/2 teaspoon fine sea salt
1 1/2 to 2 tablespoons fruit vinegar
6 to 10 grinds black pepper
1 tablespoon sunflower oil
1 chili pepper (Thai bird or serrano), thinly sliced (include seeds for heat)
1 tablespoon honey

DIRECTIONS
Cut tomatoes in half. Tear and bruise herbs. Combine all ingredients and let sit at room temperature for 2 to 6 hours to allow flavors to marry. Do not refrigerate. Serve at room temperature.