Food + Drink
Ohio Ice Cream Guide
Check off our list of nearly two dozen Buckeye State brands, stands and landmark spots.
July 2017 Issue
BY Sierra Allen, Linda Feagler, Nathan Havenner, Taylor Johnston, Frances Killea, Sara Noakes and Hallie Rybka | Photo by BurkleHagen, Styling by Melissa McClelland
July 2017 Issue
BY Sierra Allen, Linda Feagler, Nathan Havenner, Taylor Johnston, Frances Killea, Sara Noakes and Hallie Rybka | Photo by BurkleHagen, Styling by Melissa McClelland
Graeter's Ice Cream
With 34 scoop shops across Ohio and dozens of delicious flavors, Graeter's is arguably the Buckeye State's most famous homegrown ice cream. It all began in 1868, after a young Louis Graeter moved to Cincinnati to sell the frozen treat at neighborhood street markets. When he later married Regina Berger, she introduced her Old World, French-pot process of making ice cream to the company. All these years later, Graeter's products are still made the same way. "The French-pot process gives you a really smooth, creamy texture," explains Bob Graeter, a fourth-generation owner of Graeter's Ice Cream with his brother, Chip, and cousin, Richard. "We have stuck to our recipes and our methods and the quality of our product, but we have scaled it up to reach more people." Graeter's shops dish out more than 30 flavors of ice cream at any given time, including seasonal varieties such as orange and cream and strawberry cheesecake alongside the company's signature black raspberry chocolate chip. "We're known for our melt-in-your-mouth chocolate chips," says Bob. "It's the real stuff. It's real chocolate. It's not a coating formulated for ice cream." graeters.com

***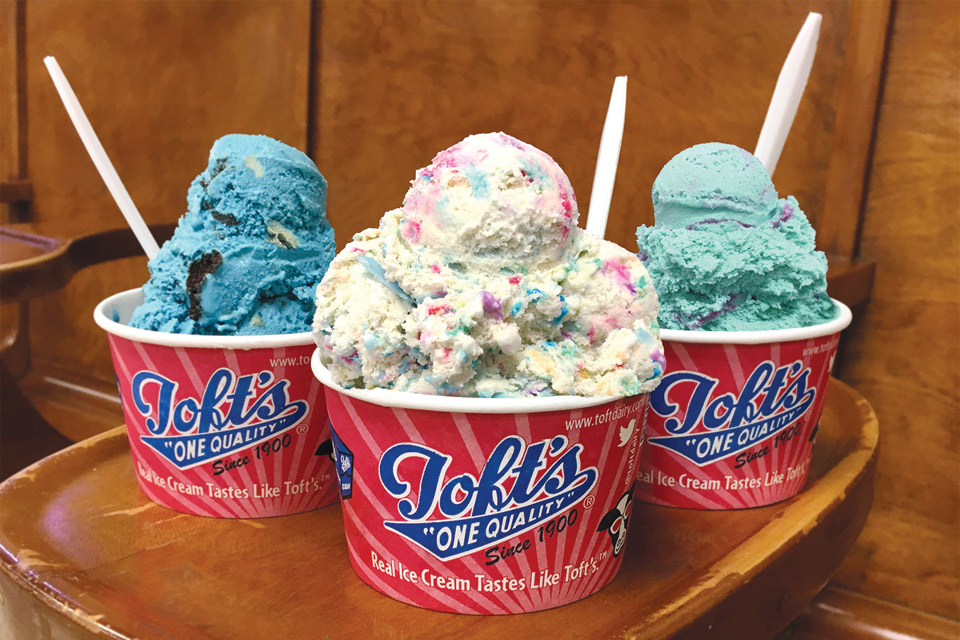 Toft Dairy
With flavors like Lake Erie Cookie Island Monster and Birthday Cake, northwest Ohio's Toft Dairy has changed a lot since its days of selling raw milk by horse-drawn wagon.
As he ticks off a few of his favorite flavors — Blueberry Waffle Cone, Campfire S'mores, Peanut Butter Pretzel — Toft Dairy president and CEO Eugene Meisler admits the business has come a long way since 1900, when its founders, Chris and Matilda Toft, were selling raw milk by a horse-drawn wagon to Sandusky residents.
"When my grandparents started the business, folks would bring their own container and fill it themselves by dipping it into a bucket of unpasteurized milk," says Meisler, marveling at the ease with which modern stainless steel machines churn out 3,000 gallons of pasteurized ice cream a day at the company's Sandusky headquarters. "They would think this is unbelievable."
Although Toft Dairy built its business on home delivery of the milk that still bears the Toft name in grocery stores today, Meisler says that the manufacture of ice cream was a natural next step.
"Our milk is provided by 20 farms within a 50-mile radius of our plant," he explains. "We had so much butterfat left over, we decided to put it to good use."
On summer weekends, it's not unusual to see upwards of 6,000 customers stop by the ice cream-maker's four Port Clinton and Sandusky shops, including the two that have been operating at Cedar Point for more than a decade.
"We've become experts at crowd control to make sure the waiting time is minimal," Meisler says with a smile.
Toft Dairy offers 51 flavors year-round. New this summer are Lake Erie Cookie Island Monster (blue vanilla cake batter ice cream blended with cookie dough chunks, chocolate chips and chocolate cookies and cream), Birthday Cake (streaks of blue frosting infused into white cake batter ice cream filled with confetti sprinkles) and Cedar Point Cotton Candy ice cream, which tastes like the real deal.
The dairy has even teamed with the Toledo Mud Hens to present Muddy Sea Salt Slam, a salty-caramel-and-chocolate-covered-peanuts concoction that is also sold at the Mud Hens' ballpark in downtown Toledo. 3717 Venice Rd., Sandusky 44870, 419/625-5490; 4016 E. Harbor Rd., Port Clinton 43452, 419/732-8857; 1 Cedar Point Dr., Sandusky 44870, 419/627-2350, toftdairy.com
***

Aglamesis Brothers
This Cincinnati ice cream-maker serves up 23 year-round varieties and plenty of Old World ambiance at its Oakley Square parlor.
The motto on Aglamesis Brothers' website proclaims that it specializes in "ice cream and candy made the sincere way." But to company president Randy Young, step-grandson of Thomas Aglamesis, who co-founded the business in Cincinnati 109 years ago, the line is much more than a slogan.
"The phrase has to do with our steadfast allegiance to the ingredients we use, many of which are the same ones the company used a century ago," he says. "We also make our ice cream in 10-gallon batches, a small amount which ensures the texture is consistent and the flavor is rich."
The family's connection to confection began in 1901, when 16-year-old Thomas Aglamesis left his hometown of Kosmas, Greece, and immigrated to Cincinnati to live with friends. A year later, his younger brother Nicholas joined him, and the two began honing their ice cream-making skills while working at a local sweets shop. The siblings established their own store in 1908.
The Old World ambiance the brothers embraced back then has been lovingly preserved in the family's Oakley Square parlor, where counters are made from white marble imported from Portugal and illuminated by Tiffany lamps.
But clearly it's the ice cream that's the draw for the 2,000 or so customers who drop by or order online from the company's website each week. Every batch is made from a litany of ingredients, which includes 40 percent heavy cream to ensure a high butterfat content and creamy consistency.
Although French vanilla is the top seller among the 23 varieties available year-round, Aglamesis Brothers is known for its chocolate chip flavors, which include mint, mocha and double chocolate. During the summer, banana chocolate chip (a combination of fresh bananas and swirled semisweet chocolate) and red raspberry chocolate chip (made with fresh red raspberry puree and swirled milk chocolate) are favorites.
"Customers love it when they find a treasure of an extra big chunk of chocolate in their scoop," Young says. "Like snowflakes, no two pieces are ever the same in shape or size."Oakley Square, 3046 Madison Rd., Cincinnati 45209, 513/531-5196; Montgomery Square Shopping Center, 9899 Montgomery Rd., Cincinnati 45242, 513/791-7082, aglamesis.com

***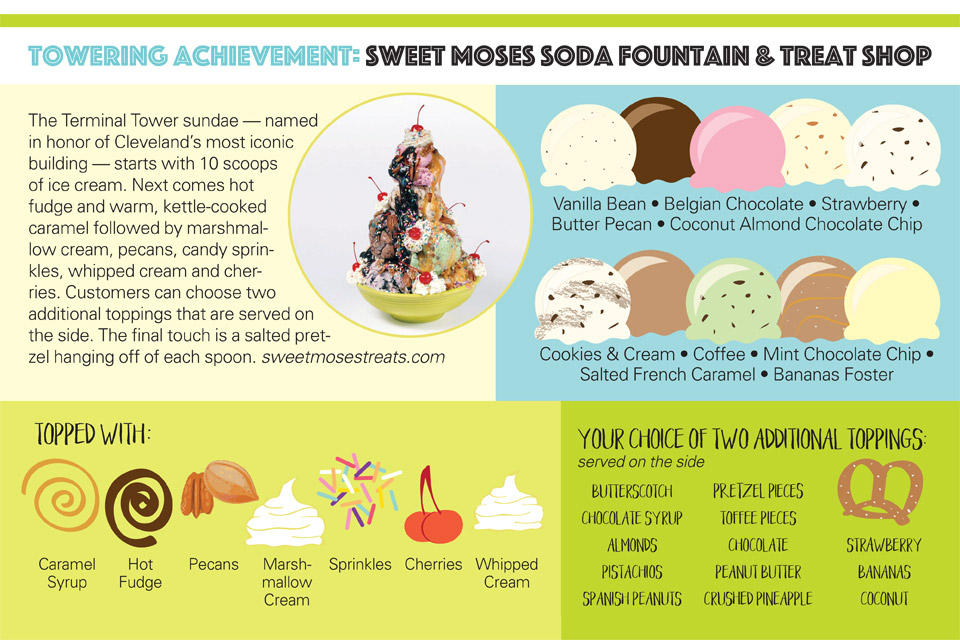 For more information, visit
sweetmosestreats.com
.
***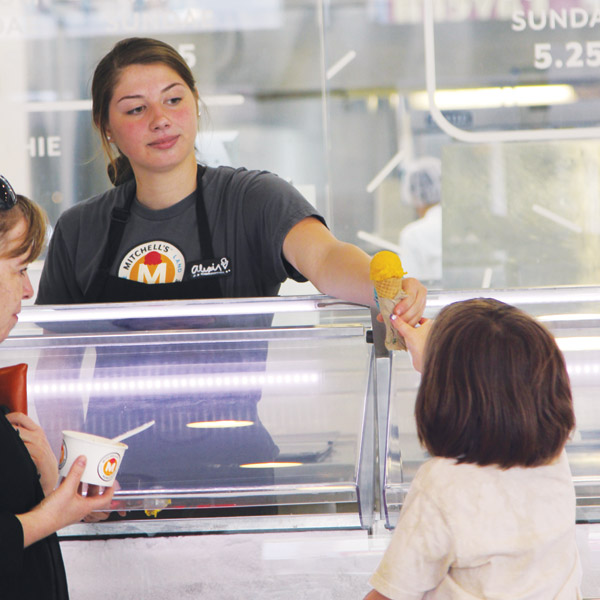 Mitchell's Ice Cream

Browse the menu boards at any of Mitchell's Ice Cream's eight northeast Ohio locations, and you'll notice "M100" written next to a number of the flavors. It's a small detail, but one that co-owner Pete Mitchell says makes an enormous difference in the quality of the ice cream he serves. "It represents that a primary ingredient to make that flavor is grown or made within 100 miles of Cleveland," explains Mitchell, who opened the first Mitchell's Ice Cream shop in Westlake with his brother, Mike, in 1999. That commitment to local farmers and food producers is ingrained in the ice cream-maker's approach, be it using milk from small farms' pasture-fed cows or incorporating organic and fair trade ingredients into recipes. "One of the small farms my brother and I have enjoyed working closely with for many years is our herb farmer," Mitchell says of Mulberry Creek Herb Farm in Huron, which provides the organic peppermint for Mitchell's mint flavors. "That ice cream is flavored by steeping organic mint in the milk and cream."
mitchellshomemade.com
***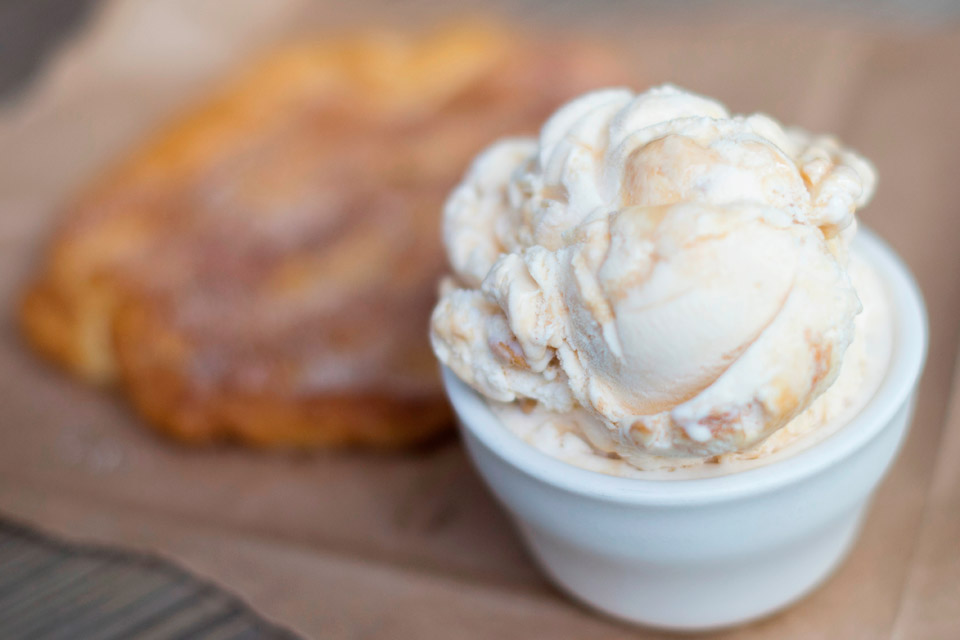 Velvet Ice Cream
The Dager family converted a former gristmill in Utica into a destination where its customers can get a scoop and a glimpse into the ice cream-making process.
In 1914, Joseph Dager began churning ice cream's three most classic flavors — vanilla, chocolate and strawberry — in downtown Utica and selling scoops at the confectionery located above his basement kitchen.
With the help of family, Dager grew the small creamery, first filling local grocery freezers and then dessert cases across Ohio. More than a century later, Velvet Ice Cream has moved from its original location to a 25-acre campus outside of town.
"We were fortunate that, when we bought these 25 acres, there was this old gristmill on the property," says company president Luconda Dager.
Velvet Ice Cream renovated the mill and built its first parlor inside, creating not only a dessert hot spot but also a social hub for connecting with customers.
"Today, more than ever, consumers want to know the origin of their products, and they want to watch it being made, and they want to ask a lot of questions," says Dager. "That's what we're able to do here at Ye Olde Mill."
Although the original stone walls remain, new wooden beams and stainless steel appliances lend a contemporary sheen to the interior of the mill where guests can take a guided tour of the facilities and learn a bit of company history along the way.
"It's great research and development for us," says Dager. "We can try certain flavors, and [because] we have 150,000 people coming in here over six months, we pick their brains while they're here."
That proved especially helpful as Dager and her team deliberated over the 2017 Ohio State Fair commemorative ice cream flavor. In past years, Elephant Ear was one of the fun flavors unveiled during the annual event.
"But this year we had a tough time," Dager says, so the company invited suggestions from customers. "We had about 694 entries. It was excellent. We narrowed it down to three for the pick."
In May, Ye Olde Mill held an open house to choose a winner, with Cereal and Milk besting Dutch Apple Pie and Scotcheroo.
"We had about 50 people come in, from Licking, Franklin and Knox counties," Dager recalls. "We had all three flavors set up and they got to pick." 11324 Mount Vernon Rd., Utica 43080, 800/589-5000, velveticecream.com

***

Hartzler Family Dairy
Creative flavors and a longstanding environmentally conscious approach to milk production make this Wooster dairy's ice cream shop a regional favorite.

With 26 flavors, including fun options such as Trip to the Dentist (chocolate ice cream filled with peanut butter cups) and Chicken Feed (vanilla ice cream filled with almonds, butterscotch and chunks of brownies), it's easy to see why the Hartzler Family Dairy Ice Cream Shop is a Wooster landmark.
But company president Paul Sommers says it's the ingredients left out of the delicious confections that are just as important to Hartzler Family Dairy's legions of ice cream lovers, who scoop up more than 12,000 gallons at the shop each year.
"In 1964, after seeing the negative effects chemicals were having on his soil, dairy farmer Harold Hartzler, the company's founder, decided to stop using herbicides, pesticides and artificial growth hormones, opting instead to begin farming as nature intended," Sommers says. "Thus began a 10-year process of returning the land to its natural state with gentle farming practices and minimal processing. As a result, the ice cream we make is made with natural milk and cream, which makes it richer and creamier."
Summer provides the ideal backdrop for showcasing Hartzler Family Dairy's seasonal favorites, including Purple Cow (Barney-colored, grape-flavored ice cream that kids love), Peach Fuzz (peach ice cream with a twist of French vanilla and crushed vanilla wafers) and Strawberry Shortcake (strawberry ice cream with a twist of French vanilla and crushed vanilla wafers.)
But no matter the season, Hartzler's Heifer Trails, a delectable mixture of peanut butter ice cream, chocolate swirls and peanut butter cups, is the favorite. Last year, customers consumed 1,600 gallons of the signature flavor, including the 32,000 ice cream cones it topped.
"If you love peanut butter like me," Sommers says, "this one's for you." 5454 Cleveland Rd., Wooster 44691, 330/345-8190, hartzlerfamilydairy.com

***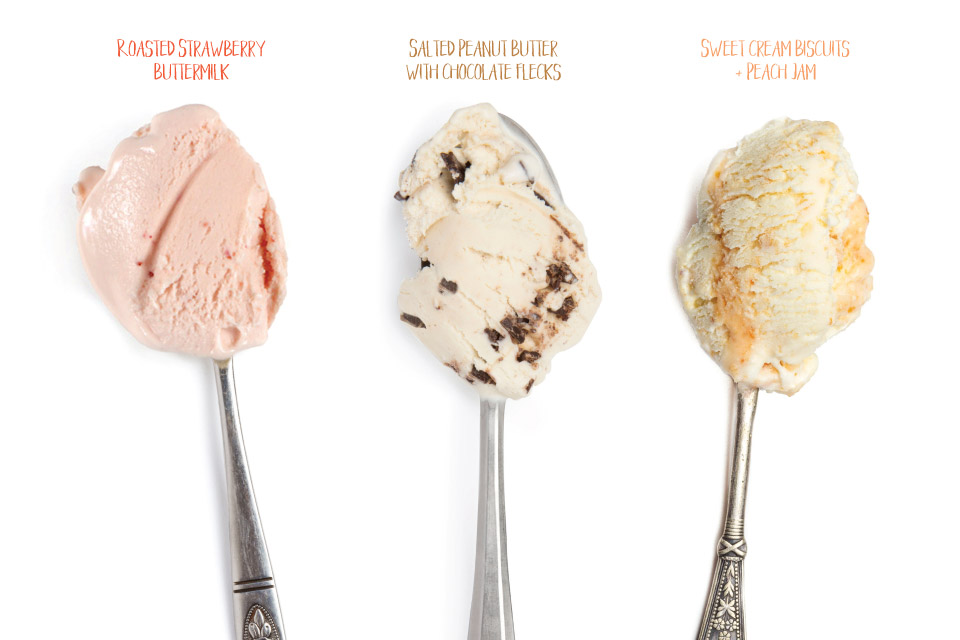 Jeni's Splendid Ice Creams
Since 2002, Jeni Britton Bauer has been making ice cream differently. "I think of it as taking raw milk apart and putting it back together," says the founder of Columbus-based Jeni's Splendid Ice Creams. "We build body and texture in the ice cream naturally with the proteins that are present in milk. … I always say ice cream is where art, science and agriculture meet." Known for her far-out flavors, Britton Bauer shared some insight into her company's creative process. jenis.com
Roasted Strawberry Buttermilk:Two fields at Chillicothe's Hirsch Fruit Farm are dedicated exclusively to strawberries for Jeni's ice cream. Fourth-generation owner Mike Hirsch grows multiple varieties so he can vary the harvest dates of the fruit. Jeni's then roasts them just for a second to help evaporate a bit of the water. "We roast them and puree them with sugar," Britton Bauer says. "Then they go right to the dairy where they're blended with milk and cream that was on the farm 12 hours ago."

Salted Peanut Butter with Chocolate Flecks: This flavor uses peanut butter from Columbus' Krema Nut Co., which roasts and purees peanuts specifically for Jeni's. "It's so intensely smooth, which a lot of times natural peanut butters aren't," says Britton Bauer. The flecks are made with a semisweet chocolate. "They take a long time to develop flavor in your mouth," she says. "I always thought it was a negative, and I now find it to be a positive as I've evolved as an ice cream-maker."

Sweet Cream Biscuits + Peach Jam: Sweet-and-tart jam meets tangy buttermilk ice cream in this creative concoction. The peaches come from Nashville's The Peach Truck, and a typical sweet-cream-and-buttermilk recipe is used for the biscuits that are cooked on sheet pans, crumbled and swirled into the mix. "What happens in the ice cream is that the dry biscuit will absorb some of the sugar syrup from the ice cream," says Britton Bauer, "so it kind of softens as it's in there."

***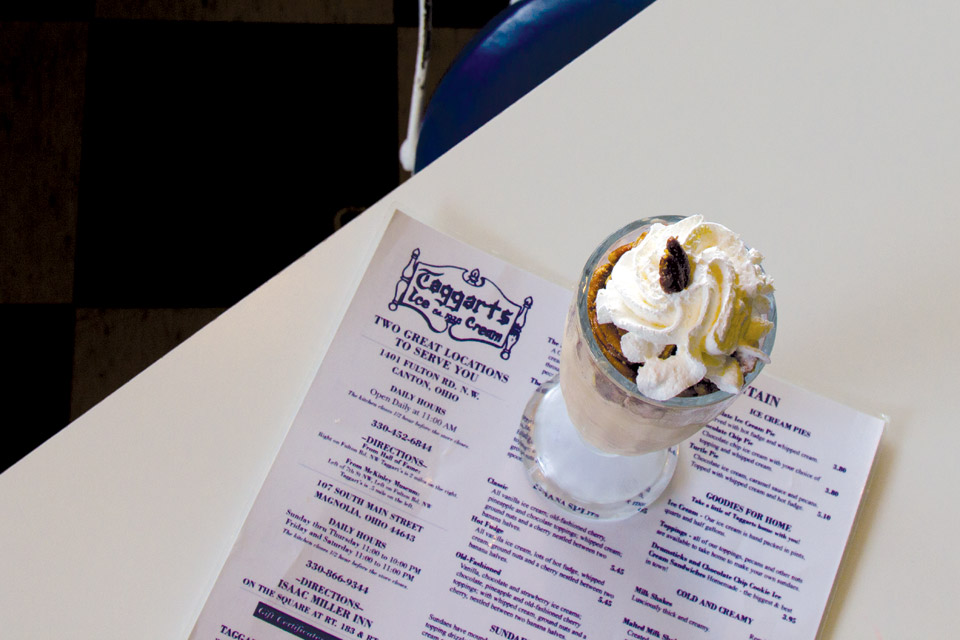 Taggarts Ice Cream Parlor
For an unforgettable treat, head to this ice cream-maker's Canton emporium and order The Bittner, a delicious sundae that weighs in at three-fourths of a pound.
The signature dish at Taggarts Ice Cream Parlor is clearly no slouch. Weighing in at three-quarters of a pound, The Bittner is an irresistible blend of vanilla ice cream smothered in homemade chocolate syrup and sprinkled with roasted pecans. A meal unto itself, it's definitely not for calorie counters.
"When people see it, they say 'Wow,' " says Ernie Schott, who has co-owned the Canton emporium with his wife, Patti, since 1998. "Although it's served in a glass, it's not a milkshake. But it's so thick that the long-handled spoon people use to eat it with stands straight up in the glass. The Bittner's reputation has spread so much that many of the athletes who come to town for Pro Football Hall of Fame events make it a point to stop by for one."
The creation, which was named in honor of a local delivery boy and added to the menu in 1931, is just one of the traditions that makes Taggarts' Fulton Road location a destination for tourists and locals alike. The high-backed maple booths and soda fountain are the same ones Canton resident Joe Taggart installed when he opened his shop in 1926. (Taggarts other ice cream parlor is inside the Isaac Miller Inn, a restored 1812 stagecoach stop in Magnolia.)
The menu at both establishments features 16 varieties of ice cream made on-site year-round, which can be enjoyed as sundaes, on top of waffle or sugar cones, in ice-cream pies or milkshakes or served banana-split style. In addition to the always-popular Bittner, the most requested summer fare includes ice cream sandwiches made with cookies and brownies baked by the Schotts' daughter, Mindy Mullaly. Mindy's husband, Doug, invented the newest item on the menu: Birthday Cake, which consists of freshly baked chocolate or vanilla cake crumbs mixed into a choice of chocolate, vanilla or strawberry ice cream.
"We have couples in their 80s and 90s who come in and say, 'This is where I had my first date,' then point to the initials they carved in one of the booths so many years ago," Schott says. "It warms your heart." 1401 Fulton Rd. NW, Canton 44703, 330/452-6844; 107 S. Main St., Magnolia 44643, 330/866-9344, taggartsicecream.com

***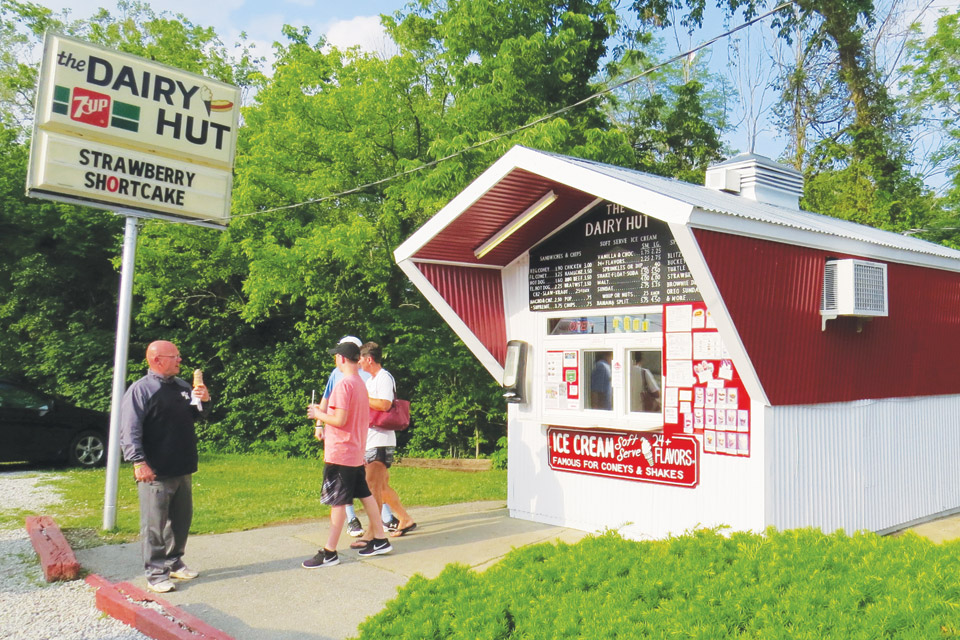 ROADSIDE FINDS: These nostalgic ice cream stands are sure to bring out the kid in all of us. Read more about Ohio Ice Cream Stands.

***
Dietsch Brothers
Since 1937, this Findlay-based maker of candy and ice cream has stayed small while offering a creative and delicious lineup of flavors.

Growing up in a confectionery sounds like a dream, a Willy Wonka paradise of chocolate, sweets and maybe a little magic. But for Jeff Dietsch, who co-owns Dietsch Brothers Fine Chocolates & Ice Cream with his brother Tom, the experience also has a pinch of practicality amid the sprinkles.
"We were in the back room more than out front," Dietsch says, recalling his years growing up in the business. "You ended up starting early — you'd wash dishes, clean tables, and I started making ice cream when I was 13."
The business was born of a collaborative venture between Dietsch's father and uncles, and it has been serving sweet treats since 1937. All the while it's had a family-focused approach and an eye on using only quality ingredients. Dietsch and his family have made it a point to keep the business small, selling its ice cream only at two locations, both in Findlay.
"We don't do any wholesaling," he says, "although we do have [ice cream] in half gallons and to dip, and a full soda fountain."
Dietsch Brothers also makes its own hand-dipped chocolates with some of them finding their way into the ice cream flavors, such as the chocolate-covered pretzel pieces found in the Chocolate Pretzel Caramel Swirl.
"Sometimes I roast the pecans in the morning, and they're in the ice cream by the afternoon," Dietsch says.
With around 40 flavors available at any given time, there's room to get creative, and Dietsch knows customers look forward to seasonal flavors such as Red Hot Cinnamon, Eggnog and Southern Apple Pie.
"Coconut is one we do in the spring when people are coming back from Florida," he says. "As we get further into the spring, peach ice cream is the one they look forward to."
No matter the season, Dietsch says the business never compromises flavor for speed or cost. "We're still making it 10 gallons at a time," he says. "It's single batch rather than some mass-produced product, and it just seems to all come together." 400 W. Main Cross St., Findlay 45840, 419/422-4474; 1217 Tiffin Ave., Findlay 45840, 419/423-3221, dietschs.com

***


For more information, visit youngsdairy.com.
Photo credits: All photographs courtesy of businesses listed except Taggarts and Mitchell's Ice Cream, by Samantha Karam