Travel
| Long Weekends
West Virginia: Hiking, Rafting & Camping
Whether you're looking to hike, camp or raft, a trip to West Virginia promises a wealth of experiences for all ages and skill levels.
April 2020
BY Frances Killea | Photo courtesy of USDA Forest Service, by Kelly Bridges
April 2020
BY Frances Killea | Photo courtesy of USDA Forest Service, by Kelly Bridges
HIKING

Allegheny Trail

Through-hiking has a growing following, with 2,000-plus-mile treks on both U.S. coasts and up the continental divide drawing hikers each year. Regionally, shorter long trails require less investment, while delivering a great reward. The nearly 288-mile Allegheny Trail carries through-hikers across West Virginia, but for those seeking a shorter trip, it's tough to beat the sections north and south of Cass.

"The Allegheny Trail going south from Cass is on the Greenbrier River Trail," explains Douglas Wood, a trail-section coordinator with the West Virginia Scenic Trails Association, which maintains the Allegheny Trail. For afternoon moseying, he's convinced this section can't be beat. "It's level, but there's a lot of exploration of the river and the woods surrounding the river," he says.

For elevation without the effort, the Cass Scenic Railroad carries passengers to West Virginia's second-highest point, where they can walk the trails — and take in views — around Bald Knob. If that sounds too easy, Wood also likes the trek north from Cass.

"[It's] quite a bit rougher than the Greenbrier River Trail, but not severe," he says. "It's not like North Fork Mountain." For more information, visit fs.usda.gov/mnf.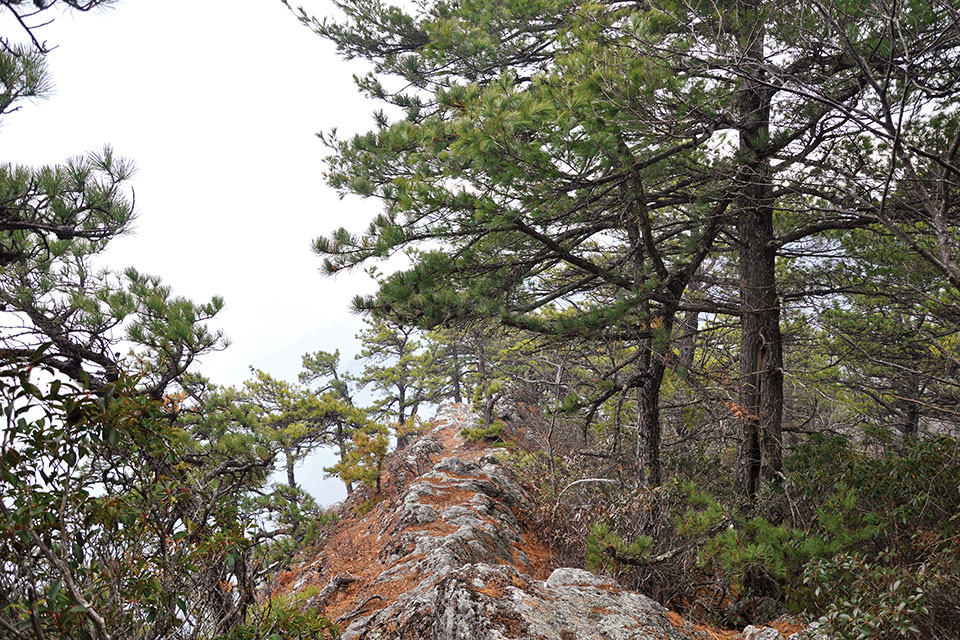 North Fork Mountain Trail

With more than 40 peaks above 4,500 feet and 78 percent of the state's 15.4 million acres blanketed in forest, West Virginia is wild. Trail systems wrap the mountains and valleys, weaving in and out of parks and wilderness. Routes like the North Fork Mountain Trail — an up-to-24-mile trek along the mountain's backbone — offer as many challenges as they do incredible views.

"There are quite a few spots where you can look out and see the entire ridgeline running north to south," says Brooke Andrew, the trails, volunteers and partnerships program manager in the Monongahela National Forest's Cheat-Potomac ranger district. "I've [also] just gone in a mile, sat down and [watched] monarch butterflies floating on the breeze."

Ascending the trail via the north leads to the peak of Chimney Top within 3 1/2 miles. Several side trails open the possibility of longer routes. For those seeking a multiday experience, a point-to-point backpacking trip is in order. The trail's southern terminus begins on private land, although hikers are permitted to use the trailhead as long as they are respectful. From there, it's a two-day hike to the northern end. For more information, visit fs.usda.gov/mnf.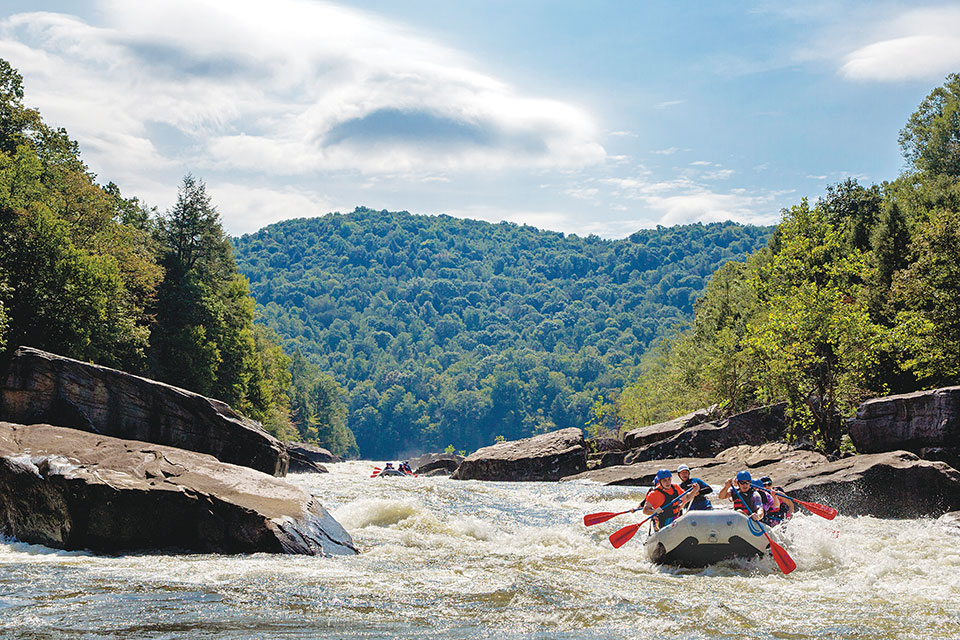 RIVER RAFTING

The Gauley River

"The first time a wave hits your face, it's like an addiction: You're in or you're out. I was definitely in," says Roger Wilson, who first jumped in a raft in college. Today, he is the CEO of Adventures on the Gorge: a company based in Lansing, West Virginia. Throughout September and October, the outfitter navigates the Gauley River, a dam-controlled waterway with world-renowned rapids. Two sections — the Upper and Lower Gauley — have their own personalities, but similar scenery.

"When you're on the Gauley River, you would think you're in Idaho, Montana or Colorado," says Wilson. "The landscape there, the way the gorge is shaped is different … [It] feels different."

There's more time to gawk on the Lower Gauley, although it's certainly no easy float. The Upper Gauley, however, is a pure adrenaline rush. That doesn't mean rafters need to be elite athletes, but Wilson recommends being in shape and running another river before trying this challenging trip. After that, the experience is unbeatable.

"The Upper Gauley is just a beautiful, beautiful beast," Wilson adds. For more information, visit adventuresonthegorge.com.


The Cheat River

If the Gauley River is West Virginia's spring and autumn thrill, the Cheat River — specifically the section known as the Narrows — plays its easygoing alternative in summer and fall. After snowmelt or thunderstorms, there are some Class II and III runs, but even during a swell, Patrick McCann insists that it's a family-friendly spot.

"We take 7-year-olds down it," says McCann, the owner of Blackwater Outdoors, a rafting service based just outside of Parsons.

With flow in mind, guests pile into whitewater rafts or "duckies" — inflatable kayaks meant for calm conditions.

"We'll take people down in either of those, depending on the water level," says McCann. "It's a great big river, but it does drop out as the summer progresses."

The Cheat is a natural-flow river, meaning it doesn't rely on planned dam releases for bigger water. Blackwater Outdoors is also always happy to facilitate kayak, canoe and inner tube trips.
"As I've gotten older and I have small kids, I'm pretty happy in a canoe," says McCann. "Just going down the flat water and stopping and swimming and splashing around and taking a cooler ... That's kind of my ideal day." For more information, visit blackwateroutdoors.com.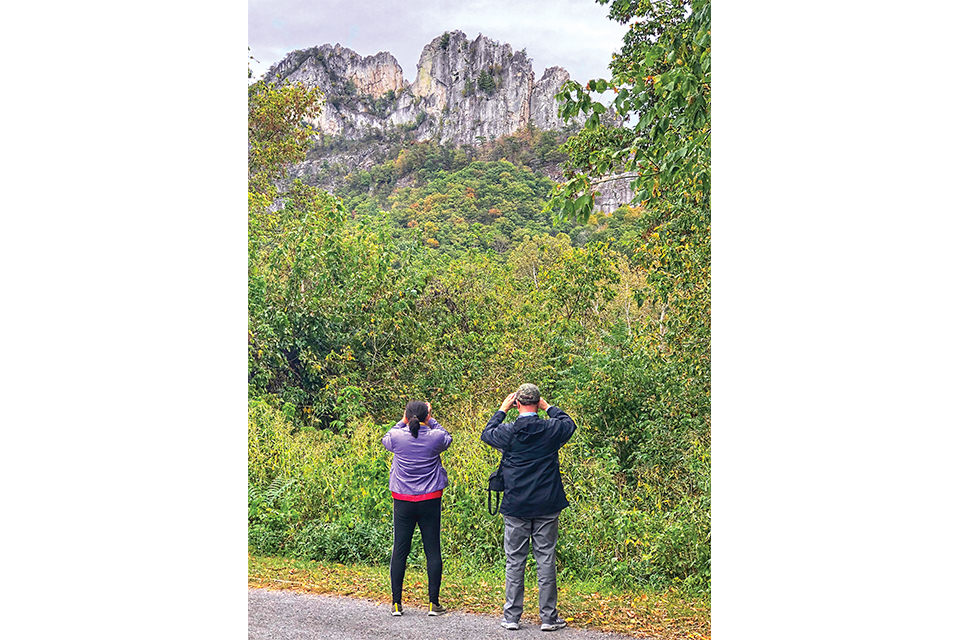 CAMPING

Seneca Shadows Campground

For adventurers with their heart set on Seneca Rocks, no base camp comes closer than Seneca Shadows.

"Seneca Shadows is one of our, if not our most popular, campground on the northern half of the forest," says Zachary Adkins, developed recreation manager for the Monongahela National Forest. "There's something for everybody there."

Electrical hookups, drinking water, a dump station, hot showers and both vault and flush toilets offer varied comforts throughout the 80 campsites, and a renovated amphitheater promises summer programs. Seneca Shadows' real draw, though, is its location.

"Within a 40-minute drive, you can be on pretty much any trail in the northern half of the forest," says Adkins. "You've got Blackwater Falls and Canaan Valley state parks close by. Going south towards Durbin, you've got the Cass Scenic Railroad that way, on top of the good fishing and water-sport type of activities that are close by."

And Seneca Rocks, with its hiking and rock climbing (and the Seneca Rocks Discovery Center), is just over a mile's walk from the campground.

"That's one of our premier locations in the forest," says Adkins, "just because of its proximity to all kinds of different activities and other places to go once you get there." U.S. Route 33 (34 miles east of Elkins), Seneca Rocks, West Virginia 26884, 304/567-3082, fs.usda.gov/mnf


Spruce Knob Lake Campground

Accessed by forest road and tucked into the trees near Laurel Fork Wilderness, Spruce Knob Lake campground is the sleepy hamlet to Seneca Shadows' busy hub. With half as many sites (a quarter of which are walk-in only), no showers, and vault toilets, it draws a crowd that likes to rough it.

"Most of the people that camp up there seem to stay there for the secludedness and getting away from noise, getting away from the major highways," says Adkins.

A short walk or drive from Spruce Knob Lake, the campground is a favorite for fishing and birding as well as for paddlers looking for calm water (the park doesn't permit gas-powered watercraft).

Adkins recommends a hike to the top of nearby Spruce Knob, West Virginia's highest point, followed by an afternoon nap in the shade of the campground. When the valleys begin to feel summer highs in the 80s and 90s, Spruce Knob Lake campground — at a higher elevation and protected by tree cover — can be 10 or 15 degrees cooler.

"Spruce Knob Lake is full forest, so you're under canopy," Adkins explains. "There are a lot of people who'll go up there and camp that time of year just to get away from the heat for a couple days." Call or visit website for specific directions. Whitmer, West Virginia 26286, 304/567-3082, fs.usda.gov/mnf