Travel
| Long Weekends
Kentucky: Bluegrass State Trail Towns
These five trail towns offer the perfect home base for outdoor getaways, from hiking to climbing to horseback riding.
October 2019
BY Frances Killea | Photo courtesy of Mammoth Cave National Park
October 2019
BY Frances Killea | Photo courtesy of Mammoth Cave National Park
Cave City

Just 10 minutes from Cave City's hobby shops, hotels and restaurants lies the 52,000-acre Mammoth Cave National Park, complete with a welcome center, campgrounds and full-service lodge. But the biggest draw here is underground. Mammoth Cave is the world's longest known cave system, with more than 400 miles of tunnels and passageways explored to date.

"The cave has been toured since 1816," says Jennifer Shackelford, the park's education specialist and a Cave City native.

Since she was a kid, Shackelford has been enchanted by the world under our feet. Now, she shares that passion with visitors by way of various ranger-led tours through the caverns.

"I love the historic tour," she says, describing the 2-mile, two-hour excursion. "It's just fascinating to me to hear about the history and to learn about the early visitors in the 1800s, and even beyond that. Thousands of years ago, there were Paleoindians [here], so you learn about that history as well."

Outside of the national park boundaries, several smaller caves in towns such as Horse Cave, Cave City and Park City beckon for exploration.

"There are all kinds of beautiful caves within a 30-minute drive of the park," Shackelford says.

Above ground, visitors will find plenty to enjoy. The Green River cuts through the park, with nearby places to rent canoes, and scenic trails crisscrossing the forest.

"I love Cedar Sink Trail," says Shackelford. "It's a beautiful place for fall." For more information about outdoor adventures in Cave City, visit cavecity.com.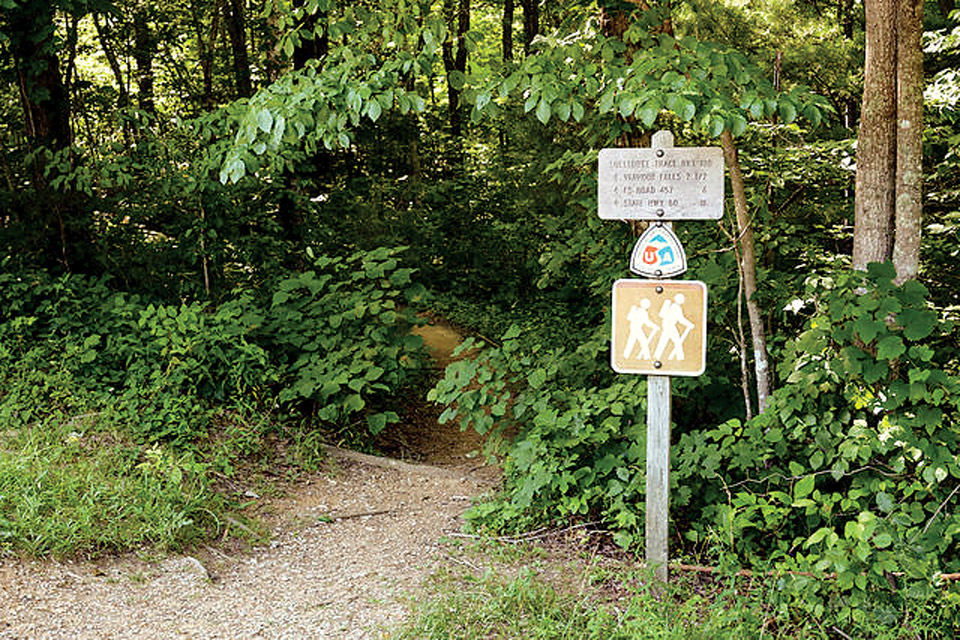 London

Whether you seek a long trek or a short day hike, you'll find it in London, Kentucky. The Sheltowee Trace — a 323-mile-long trail that dips into Tennessee — is accessible just 20 minutes from downtown. Even closer is Levi Jackson State Park, with 8 1/2 miles of trails suited for shorter adventures. Mountain bikers can kick up dirt on the Laurel Lake Trail, while bicyclists who opt for skinny tires visit London for the draw of the open road.

"One of our regular Saturday [rides] is a 54-mile route. It's kind of a game," says Rodney Hendrickson, local cyclist and former organizer of the annual Redbud Ride, which draws more than 1,000 athletes. "We'll count moving cars, and maybe at the end of 50 miles, we'll have seen six cars. It's just very scenic."

Visitors come to London for these roadways that travel through farmland and forest — sometimes for a dose of quiet and other times to pedal alongside other cyclists. The Redbud Ride offers four routes ranging from 26 to 100 miles. October's Thriller Ride has even more ways to enjoy the scenery.

"It's a Halloween-themed ride that's right in the midst of Kentucky's fall-color season," says Hendrickson. "We'll have five routes. One of them is only 13 miles, and it's just as flat as anything you could find in [Ohio]." For more information about outdoor adventures in London, go to visitlondonky.com.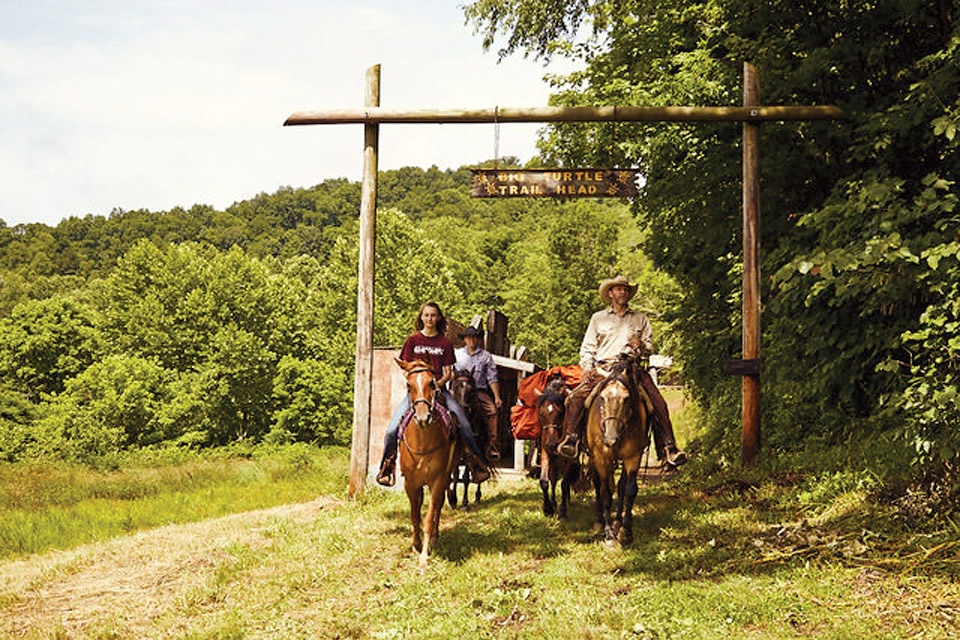 McKee

The Daniel Boone National Forest is a brushstroke of green across the eastern side of the Bluegrass State, with rural highways and hundreds of miles of trails. In McKee, hikers will find access to the 323-mile Sheltowee Trace. Nearby, shorter walks offer big rewards with trips to spots like Flat Lick Falls or Resurgence Cave. For Kim Hornsby, who co-owns and -operates Triple R Ranch with her husband Brad, the woods are best seen from horseback.

"I've been training horses since I was 9 years old. That's kind of my passion," she says. It's also how she shares her forest experience: saddling some of the ranch's 15 horses for day or overnight rides. The overnights especially give guests a taste of adventure. Custom-built excursions can either revolve around a basecamp or jockey from point to point. Think of it like backpacking, only in the saddle.

"We've ridden five days in a row without ever going on the same trail. If you just really think about that, that's a lot of trails," Hornsby says.

While she's a huge proponent of offering riding for those of any skill level, she recommends those who have little experience take a lesson or two before embarking on a weekend through the Daniel Boone National Forest. That escape from daily life, however, is what makes the rides so appealing to her customers.

"I get to know people that way, and they can see our way of life," she says. "I can walk through the woods. … Being up on a horse, it feels so much more free." For more information about outdoor adventures in McKee, go to visitjacksoncountyky.org.



Elkhorn City

The Russell Fork cuts through Elkhorn City — an Appalachian town located near the Virginia border — and the river treats paddlers to some of the best whitewater rafting in the country. A classification system ranks river rapids from I to VI and, according to Jason Foley, owner and guide with Kentucky Whitewater, the waters found in Elkhorn City are top notch.

"The classification system is based on navigability, the volume of water that goes through the rapids and any kind of hazards that exist," he says. "Those things compounded are what gives Class V rivers [their classification]. Russell Fork has all of those, especially in October."

That's one of the months when scheduled dam releases swell the river and create more dramatic rapids to navigate. Rafters of all skill levels, however, can find a little piece of the Russell Fork to enjoy. In fact, the most accessible part of the river is the section that runs through Elkhorn City. Off the water, there's even more to explore.

"The epicenter of this whole area in central Appalachia is Breaks Interstate Park," says Foley.

The park straddles the Virginia and Kentucky border, encompassing a 1,600-foot-deep gorge, which, yes, the Russell Fork cuts through. But the recent relaxation of rock-climbing restrictions has opened up the cliff walls, too.

"For me, it's home," explains Foley. "So many people just come in and are amazed at how beautiful this gorge and the river are. I'm pretty proud of it." For more information about outdoor adventures in Elkhorn City, visit kentuckytourism.com/elkhorn-city or breakspark.com.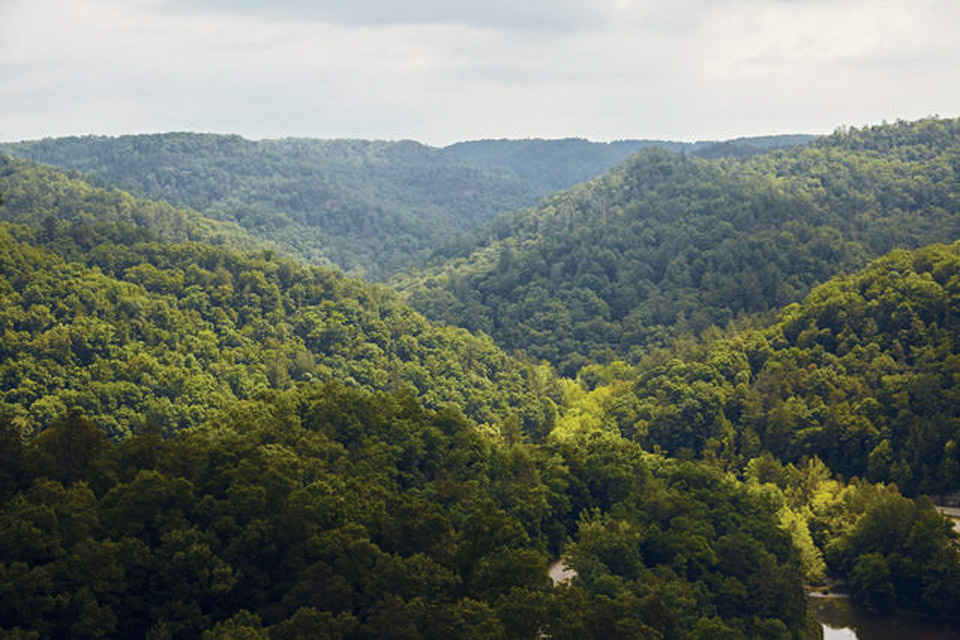 Slade

Located in the middle of Daniel Boone National Forest, the town of Slade is the go-to spot for adventurers coming in off the trails, rocks and waters of the Red River Gorge.

"It's a sleepy little busy place," says Craig Bentley, co-owner and guide with Red River Outdoors, a guide service and cabin rental company in the area. "The Red River is a designated National Scenic River, so there's quite a bit of canoe and kayak liveries there."

Eighty miles of trails in the gorge keep hikers (who make up most of the area's visitors) busy. Natural Bridge State Resort Park is nearby and offers additional hiking opportunities.

"[It's] a little gem of its own," says Bentley. "It's got one of the largest sandstone arches east of the Mississippi."

Bentley says climbers will be particularly enamored of the Red River Gorge. The canyon is world renowned for the number, variety and quality of its climbs.

In addition to bolted routes, Bentley points adventurers to the Via Ferrata challenge course, which offers a fun outdoor experience. The course traverses three-fourths of a mile of rugged sandstone cliffs and has iron hand and foot rungs just where you need them. (It's open to climbers 10 years and older.)

"It's based on a European climbing mode," Bentley explains. "It's a series of cables and iron rungs driven into the rock." For more information about outdoor adventures in Slade, visit kentuckytourism.com/slade or redrivergorge.com.