Travel
Ohio Beach Towns
Waterfront eats, history and fun in the sand — these four spots along the Lake Erie shore should be part of your travel plans between now and the end of summer.
August 2018
BY Megan Ayscue, Cameron Hoover & Sally Kershner | Photo by Kristen Jones
August 2018
BY Megan Ayscue, Cameron Hoover & Sally Kershner | Photo by Kristen Jones
Fairport Harbor
Home to a bustling Lake Erie port during the 19th century, today this quiet village offers an inviting sand beach, waterfront recreation and plenty of history.

Walking the beach at Fairport Harbor Lakefront Park, it's easy to see the appeal. Over your shoulder stands the town's historic lighthouse, a constant for more than 190 years. In the distance, its replacement, the West Breakwater Lighthouse, beckons with its square white exterior and red roof. Children and dogs play on the beach, kayakers paddle in the harbor, and fishermen cast their lines.

The park is the main draw, but a short walk south gives you a clearer picture of the town. Its neighborhoods — arranged along a gridded, 1-square-mile street layout — offer evidence of this village's role in settling the Connecticut Western Reserve that once stretched across what today is northern Ohio.

The land here was surveyed at the end of the 18th century, and over the 100 years that followed the harbor became one of the most popular ports on Lake Erie. Many Finnish, Hungarian and Slovak immigrants settled here, evidenced today by the local churches and memorials in the public park. History buffs can visit the Finnish Heritage Museum and Marine Museum and Lighthouse. Because everything in town is close by, you can hit the beach, check out the museums and enjoy a lunch along the water in just a few hours. When it comes to lakeside dining, head to Sunset Harbor Bar and Grille, with its picnic tables perched along a dock that has water on three sides.

"There's nowhere you can go [in the area] and get a view like this," says owner Tom Moore. "Everywhere else is in a shopping mall or looking at a parking lot or a street." For directions and more information, visit fairportharbor.org.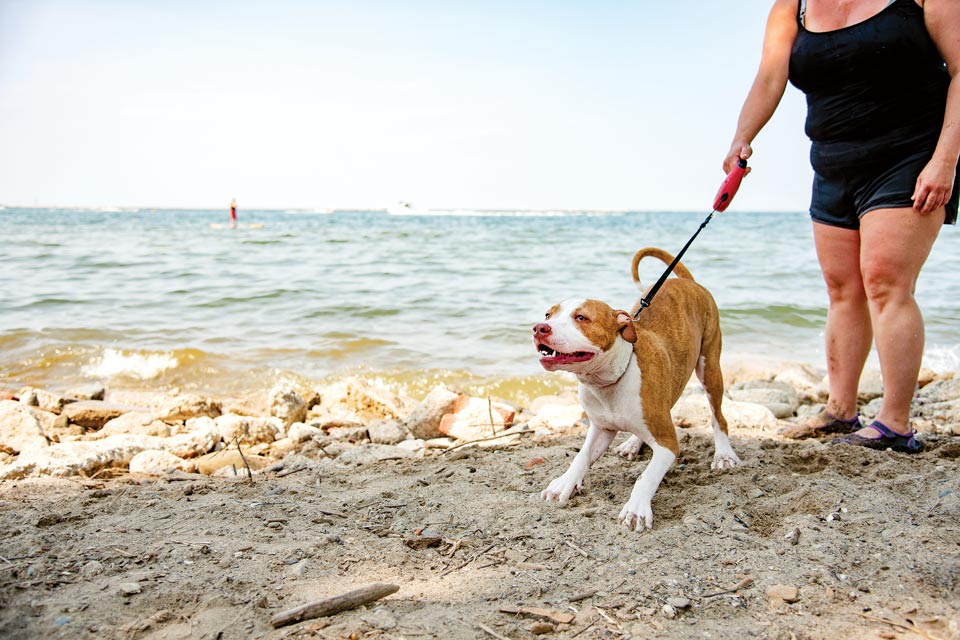 Fairport Harbor Lakefront Park: Managed by Lake Metroparks, this well-maintained sand beach, which is staffed Memorial Day weekend through Labor Day, has become a destination for locals and travelers alike. Beachgoers can swim and boat on Lake Erie, and adapted programming is offered for visitors with special needs. Park amenities include two fire rings, picnic areas and two volleyball courts, as well as kayak and paddleboard rentals. 301 Huntington Beach Dr., Fairport Harbor 44077, 440/639-9972, lakemetroparks.com

Finnish Heritage Museum: Linda Katila and Veikko Malkamaki founded this museum in 2002 to preserve items reflecting Finnish heritage. It's home to a collection of Finnish artifacts including photographs, kitchenware and textiles. Weaving demonstrations and group tours are offered. "You can learn about Finnish culture, but also experience the friendliness of the people in Fairport Harbor," says Anne Pohto, a member of the museum's genealogy team. 301 High St., Fairport Harbor 44077, 440/352-8301, finnishheritagemuseum.org

Fairport Harbor Marine Museum and Lighthouse: Even though this lighthouse was decommissioned in 1925, it still serves as a local beacon. Since 1945, visitors here have learned about the port's history and enjoyed views from the lighthouse, which was a stop on the Underground Railroad. "If you look at how much history has occurred in this little corner of Ohio, you'd be shocked," says museum trustee Dan Maxson. 129 Second St., Fairport Harbor 44077, 440/354-4825, fairportharborlighthouse.org

The Pompadour: Named for the owner's favorite 1960s hairdo, this restaurant specializes in small plates inspired by traditional Spanish tapas and other Latin flavors. Chef and owner Rusty Phillips says the turkey albondigas (Mexican meatballs) and barbecue short ribs are two of the most popular dishes on his menu. "There wasn't anything like it around the area," he says. "We thought it would be a good idea to be different." 320 High St., Fairport Harbor 44077, 440/639-0263, thepompadourbar.com

---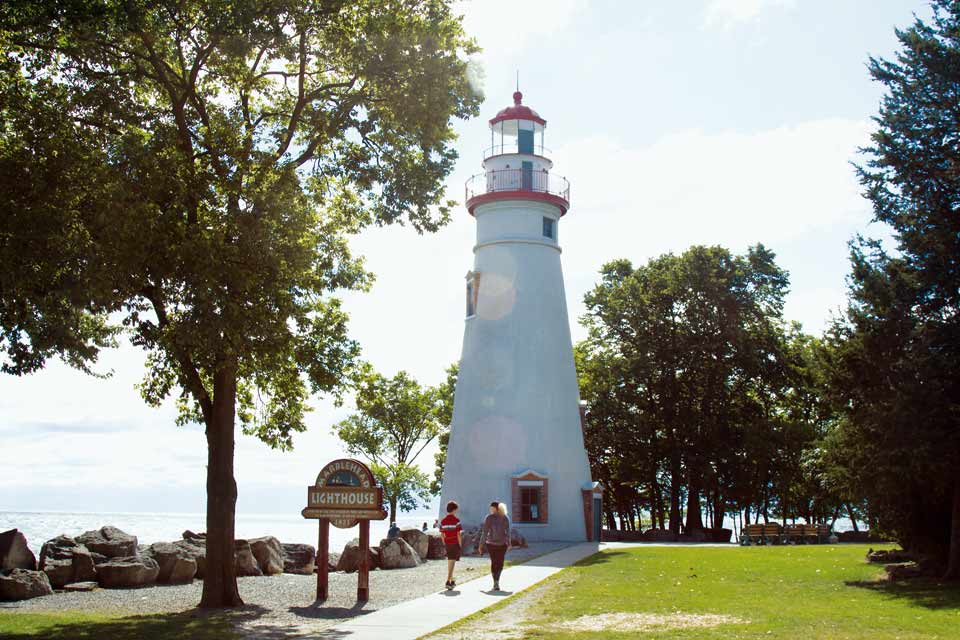 Marblehead
This small town just a short drive from Cedar Point offers specialty shops and casual restaurants in addition to its iconic lighthouse.

Heading east into Marblehead, it's impossible to miss the limestone that hugs the shoreline, particularly near the village's famous white lighthouse. One tale asserts that the town's name came about after early settlers mistook the rock for marble. The high-quality limestone led to quarrying, which still continues here today.

To outsiders, this lakeshore town is most known as home to the oldest continuously operating lighthouse on the Great Lakes. The Marblehead Lighthouse is a frequent first stop for travelers, thanks to daily summer-season tours from noon to 4 p.m. and the chance to peek inside the Keeper's House and Lifesaving Station, which now operate as museums.

What's most surprising is the relaxed atmosphere, despite the town's proximity to Cedar Point and the boat lines that ferry travelers back and forth from the Lake Erie islands.

"We have been coming here several times a year for 15 years," says LuAnn Jones. She and her husband, Rick, live in the Columbus suburb of Mount Gilead, located less than two hours away. "It's like being at the ocean."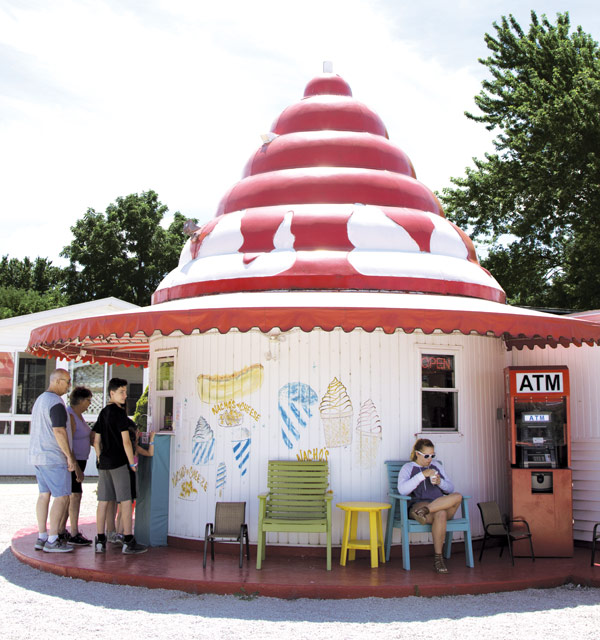 That loyalty resonates among those who regularly return to this town that Jones says never feels touristy. That's in part due to the small population of fewer than 1,000 residents and the country-like roads that lead to specialty stores, casual restaurants, art galleries and boat docks.
"This location is super unique for Ohio," says Cary Ferguson, a resident of Marblehead for 22 years and the owner of Ferguson Gallery & Studio. "There's a lot of people who don't even know it exists."
Just one word of caution when visiting Marblehead for the first time: Be prepared to come back for the next 20 years like everyone else does.
For directions and more information, visit themarbleheadpeninsula.com.


Ferguson Gallery & Studio:
Owner and artist Cary Ferguson's gallery is filled with a mix of antiques, collectibles and artwork, as well as glass pieces and paintings made by Ferguson himself. Shopping is a breeze thanks to the many nautical-themed works, but Ferguson also offers glass-blowing classes. "I've tried to create more than just a retail establishment," he says. "I try to make it more of an experience for people."
5890 East Harbor Rd., Marblehead 43440, 419/734-0600, fergusongallery.com


Rocky Point Winery:
Co-owners Kim and Chris Redfern have turned this former schoolhouse into a cozy destination for wine lovers. The Redferns locally source five out of the six wines they serve, and visitors enjoy live music all weekend long on the winery's patio. "We make kids and families feel just as welcome," adds Kim. "We do kids' craft night, and every week we have tons of things to do for everybody."
111 W. Main St., Marblehead 43440, 419/515-1494, rockypointwinery.com


Crabby Joe's:
Those wanting a fresh catch need look no farther than this waterfront spot. Request a seat on the dockside patio and try one of Crabby Joe's signature steampots: your choice of seafood with corn on the cob and roasted red potatoes served in a metal pot filled with butter-and-garlic broth. "People call it our liquid gold," co-owner John Skweres says of the broth. "You don't even need additional butter for the seafood."
5927 E. Saylor St., Marblehead 43440, 419/734-0558


East Harbor State Park:
In addition to its 2-mile sand beach, this state park offers nearly 10 miles of hiking trails within its more than 1,800 acres. Keep an eye out for birds and other wildlife while you're exploring. "The hiking trails are multiuse for biking as well," says park manager Mike Monnett, "and we have an 18-hole disc golf course for older and younger folks to enjoy."
1169 N. Buck Rd., Marblehead 43440, 419/734-4424, parks.ohiodnr.gov/eastharbor


---
Geneva-on-the-Lake

Billed as "Ohio's first summer resort," this shore town lives up to its reputation with its 1950s feel, fun atmosphere and fantastic lake views.


Ashtabula County's summer playground sports a distinctly retro vibe, from the old firehouse that's now a winery to the rides from a former local amusement along the main drag.
"For over a century, Geneva-on-the-Lake has been a destination," explains Susan Hill, a member of the Ashtabula County Historical Society. "[It's known as] Ohio's first summer resort."
On July 4, 1869, Cullen Spencer and Edwin Pratt opened a public picnic grounds on a bluff overlooking Lake Erie and called it Sturgeon Point. A few years later, they added a horse-powered carousel, giving life to Geneva-on-the-Lake's identity as a summer destination. The 1940s brought an amusement park, later known as Erieview Park. A Ferris wheel and updated carousel arrived in the 1950s.
Then, in 2006, Erieview Park closed and the rides were auctioned off, but some of those memories remain in town. Today, the Ferris wheel is next door to the Old Firehouse Winery, and the carousel from the 1950s has a new home at Adventure Zone, a family entertainment center.
"Amazingly, the town itself has retained that 1950s feel," says Carl Feather, a Geneva-on-the-Lake native, author and photographer.
Madsen Donuts, which dates back to 1938, uses the same recipes from when the place opened, while Pucker Up! Candy Shoppe near the end of the strip offers traditional amusement park treats such as cotton candy and container after container of saltwater taffy.
For directions and more information, go to visitgenevaonthelake.com.


Geneva State Park:
In the beginning, Geneva-on-the-Lake was all about the beach. "There used to be 2,000 feet [of it]," says Susan Hill of the Ashtabula County Historical Society. It's no longer there, but you can still have some fun in the sand at Geneva State Park's small, 300-foot Breakwater Beach, which is complemented by 6 miles of hiking trails and a campground. The area is a little rocky, so water shoes are recommended.
4499 Padanarum Rd., Geneva 44041, 440/466-8400, parks.ohiodnr.gov/geneva


Eddie's Grill:
Opened in 1950, Eddie's Grill serves American fare such as burgers, hot dogs and root beer out of a barrel with a side of Elvis Presley from the jukebox. "Some of these people have been coming 50 years, maybe more," says owner Eddie Sezon, who can be found working every day from 1 p.m. until close with family members alongside him. "It's been a family business all the way through."
5377 Lake Rd. E., Geneva-on-the-Lake 44041, 440/466-8720, eddiesgrill.com


Allison's Mini Golf:
"This one has been open every summer since 1924," says co-owner Georgette Allison, who bought the miniature golf course in 1981. Each hole offers fun and unique obstacles, from bowling pins bobbing at hole 11 to a clown cracking a smile at hole 17. Hole 12 is right along the main drag, which allows for passersby to catch a glimpse of whether your putting is up to par.
5456 Lake Rd., Geneva 44041, 440/466-7922, allisonsminigolf.com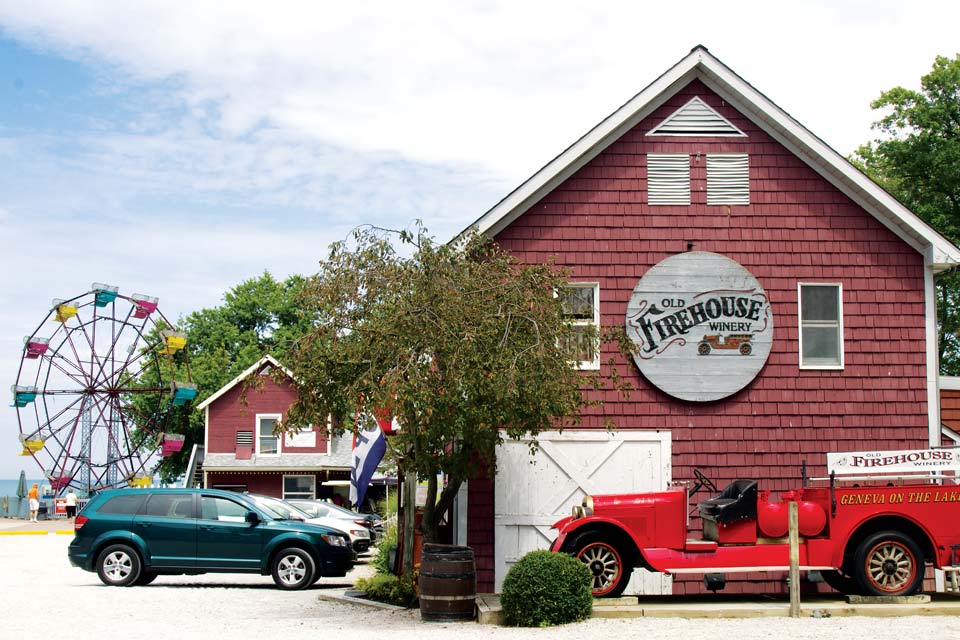 Old Firehouse Winery:
Built in 1924 to house the town's fire truck, this property opened as the Old Firehouse Winery in 1988. It offers more than 20 varieties as well as burgers, wings and fries, and the rafters are covered in firefighter patches. "Coming here is just a completely different experience than other wineries, other restaurants, because of the people and the atmosphere," says manager Mike Porcello.
5499 Lake Rd. E., Geneva-on-the-Lake 44041, 440/466-9300, oldfirehousewinery.com


---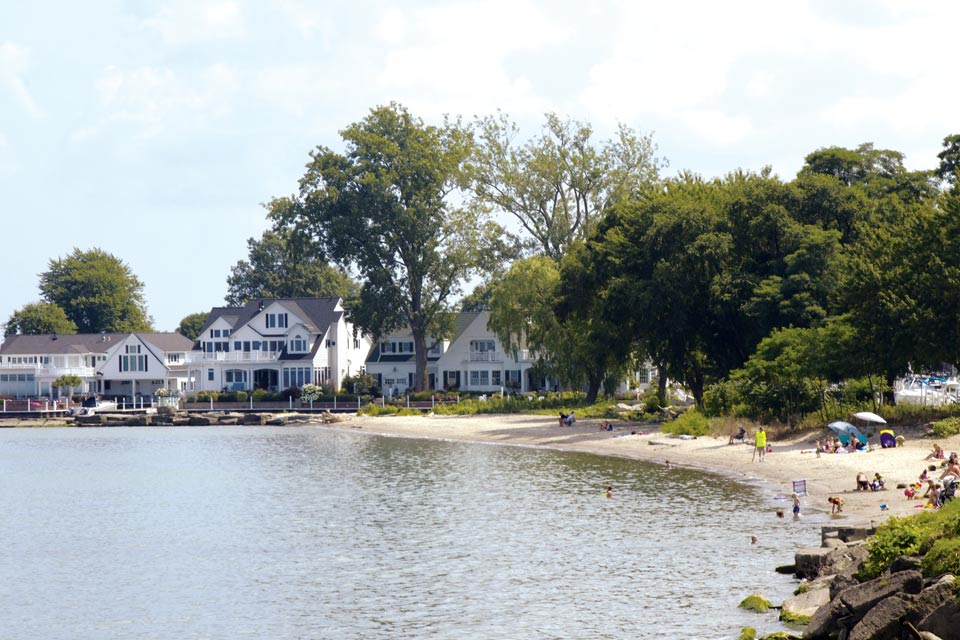 Vermilion

This town's rich nautical history is reflected in its vibrant downtown and inviting Main Street Beach.


Long known as a "village of lake captains," this lakeshore town that straddles the border of Lorain and Erie counties has grown up around its namesake river, which snakes through the community. It provides a connection to Lake Erie, with canals running right up to the backyards of many of the homes here.
These days, the town, which was incorporated as a village in 1837, is a family-friendly beach community known for its historic downtown and slow-paced atmosphere.
"It's like walking into a Norman Rockwell painting," says Sandy Coe, executive director of the Vermilion Chamber of Commerce. "You feel like you went back in time and it's so relaxing … you can just slow down and have an ice cream cone and watch the sunset."
A stroll through town takes you past storefronts such as Lee's Landing Nautical Gift Shop & Art Gallery and the third-generation family candy shop Brummer's Chocolates. Antique signs adorn many storefronts, and the old Coca-Cola ads and comic book collectibles at Big Ed's Soda Grill spur waves of nostalgia.
A sidewalk connects Vermilion's walkable downtown to Main Street Beach, beckoning travelers to slow down and spend a little time along the water during their visit. Adirondack chairs are lazily spread out on the wooden boardwalk so you can kick back and take in the view.
"People are fast-paced, but when you come here, you're just relaxed and calm and listening to the waves of the water hitting the shore," says Coe. "It's a whole different world here."
For directions and more information, visit vermilionoh.us.


Lee's Landing Nautical Gift Shop & Art Gallery
: Since 1971, owner Leona Shattuck and her family have sold custom-designed shirts, mugs, signs and other keepsakes in their nautical-themed gift shop. "A lot of our items are handcrafted ourselves," says Art Shattuck, the owner's son. "We create our own signs, do our own mugs with our own designs and all of our shirts are our own designs." Add a personal touch by asking the Shattucks to print your custom design on a range of store items for an additional cost.
652 Main St., Vermilion 44089, 440/967-0750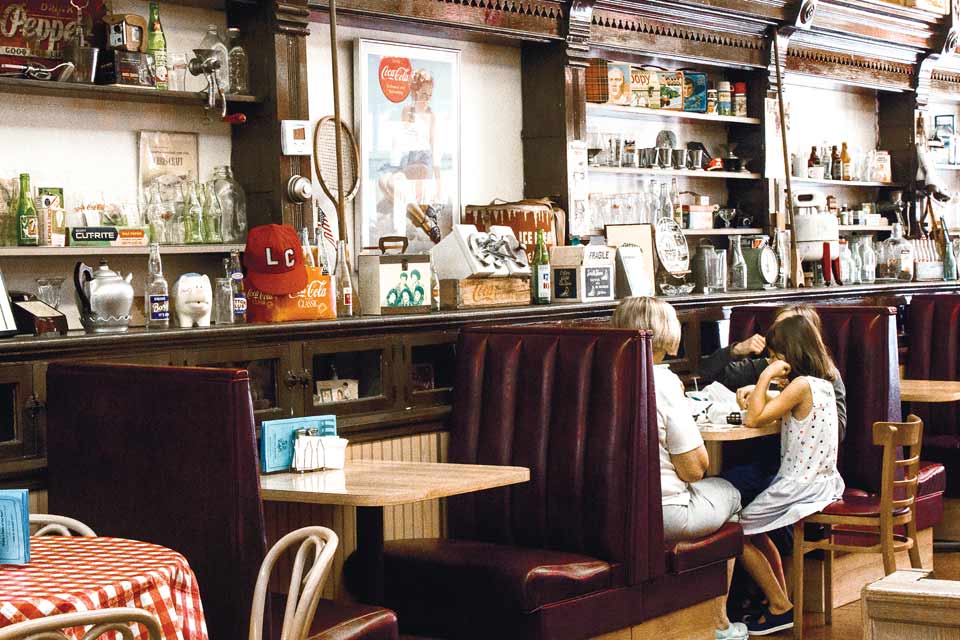 Big Ed's Soda Grill:
This 1930s-themed restaurant serves up phosphates and ice cream sodas at the same counter owner Mike Tomshack visited as a kid. Order a basket of fries with one of the eatery's popular burgers, known for their classic diner style and friendly prices. "Even though the younger people didn't grow up with a soda fountain, they still think it's neat to belly up to the bar and watch [someone] make a soda-fountain treat," says Tomshack.
5502 Liberty Ave., Vermilion 44089, 440/967-4002


Paper Moon Vineyards:
Choose from 16 varieties ranging from dry reds to sweet ice wines, and order from the small menu of panini sandwiches, pizzas and more. Since 2009, the Cawrse family has hosted live music at the 50-acre property on weekends. "We have always tried to make music an extra fun thing that we do," says owner Adam Cawrse.
2008 State Rd., Vermilion 44089, 440/967-2500, papermoonvineyards.com


Main Street Beach:
With its well-known red-and-white lighthouse and handicapped accessible beach, Vermilion's main lakeshore attraction draws everyone to the water. "A lot of people take wedding, graduation, family photos," says Sandy Coe of the Vermilion Chamber of Commerce. Head to the Shore Thing shop near the beach to rent umbrellas and beach chairs or to buy a keepsake to remember your visit.
400 Main St., Vermilion 44089, 440/204-2490, mainstreetvermilion.org