Travel
| Lake Erie Islands
Lake Erie Beaches: 12 to Visit this Summer
Summer on Lake Erie means spending some quality time at one of these 12 spots along the northwest Ohio shoreline.
April 2020
BY Sarah Arnold | South Bass Island photo courtesy of Lake Erie Shores & Islands
April 2020
BY Sarah Arnold | South Bass Island photo courtesy of Lake Erie Shores & Islands
Ottawa County

1. Camp Perry Beach: Covering 600 acres, Camp Perry was originally created as an Ohio National Guard training site during the early 1900s. Today, it is also available for public use, with a swimming beach, fishing pier and restrooms near the Camp Perry Lodging & Conference Center facility. Photo ID is required at the gate. 1000 N. Lawrence Rd., Port Clinton 43452, 614/336-6214, cplcc.com

2. Port Clinton City Beach: This park along the north side of state Route 163 is home to a 2,180-foot-long beach that offers great views of South Bass Island. A picnic shelter and restrooms can be found in Lakeview Park on the south side of state Route 163. This beach is closed for the start of the 2020 season as erosion issues are addressed. 1100 E. Perry St., Port Clinton 43452, 419/734-5522, portclinton.com

3. South Bass Island State Park: This 33-acre park perched atop the cliffs of South Bass Island provides exceptional Lake Erie views. A small stone beach offers access to the water, and the park has a fishing pier and cleaning house so anglers can properly clean their catch. The seasonal campground has 128 sites (58 are tent only) with electric hookups with the first reservable date being May 1. (Flush toilets, showers and a dump station are available on-site.) A public boat ramp offers access to Lake Erie and boat rentals, including power boats, fishing boats, kayaks and personal watercraft, are available nearby. "South Bass is a quiet, secluded beach that is a nice place to relax," says Heidi Hetzel-Evans, South Bass Island State Park communications manager. "You can escape the party scene of downtown Put-in-Bay, or vice versa, and take a short bike ride from the beach to [downtown]." 1523 Catawba Ave., Put-in-Bay 43452, 419/285-2112, parks.ohiodnr.gov/southbassisland

4. Catawba Island State Park: This small, 10-acre, day-use park mostly offers a place to put your boat in the water. (You can also launch kayaks and canoes from the cobblestone beach.) But there's also a large fishing pier for anglers and two picnic areas with restrooms. 4049 E. Moores Dock Rd., Port Clinton 43452, 419/734-4424, parks.ohiodnr.gov/catawbaisland

5. East Harbor State Park: Covering 1,831 acres, this park has plenty of opportunities for outdoor recreation and an abundance of wildlife, including waterfowl and shorebirds. Nearly a dozen short hiking trails cut through the park, and a 1,500-foot sand beach welcomes swimmers (lifeguards are on duty weekends only). On-site amenities include changing rooms, restrooms, showers and a picnic area with grills. 1169 N. Buck Rd., Lakeside-Marblehead 43440, 419/734-4424, parks.ohiodnr.gov/eastharbor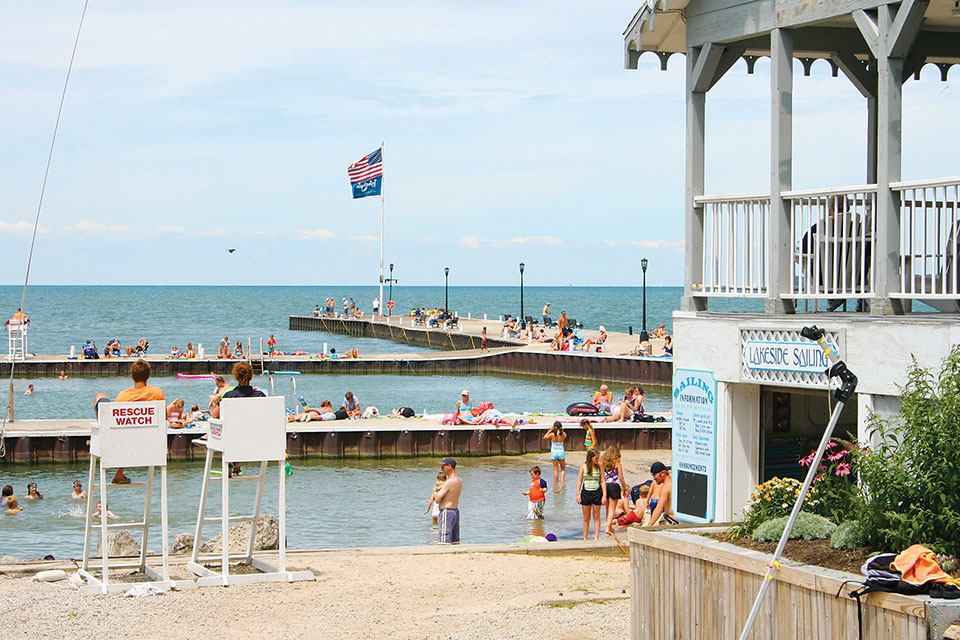 6. Lakeside Beach: Lakeside has been a Lake Erie summer destination for generations, and its beach is a great place to cool off or soak in the rays on a summer day. A gate fee is required to use the beach, which has lifeguards on duty during posted hours, as well as on-site restrooms, showers and a picnic area with grills. 236 Walnut Ave., Lakeside 43440, 419/798-4461, lakesideohio.com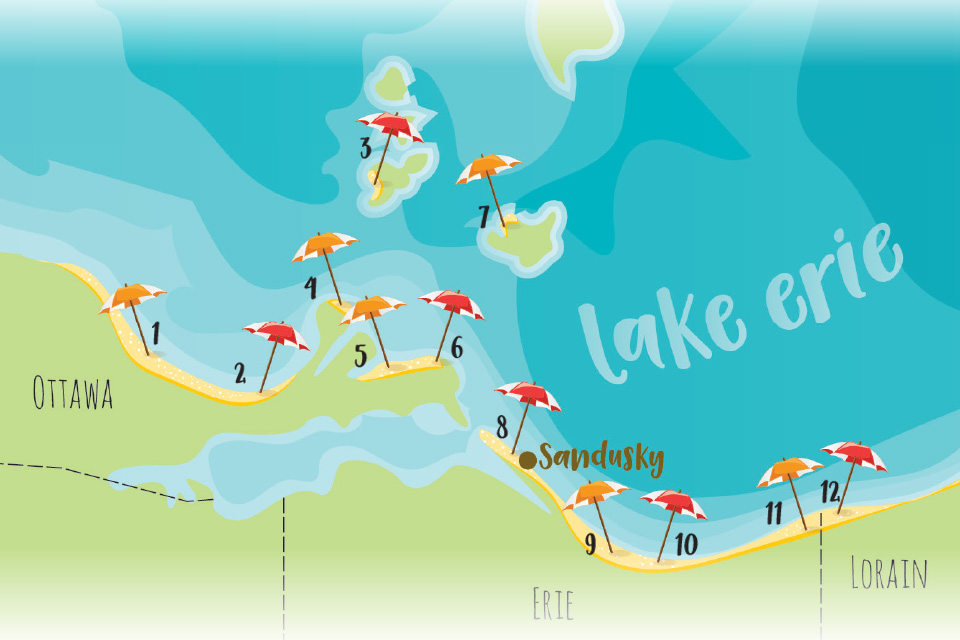 Erie County

7. Kelleys Island State Park: This 100-foot public swimming beach is within easy walking distance from Kelleys Island State Park's campground. The beach is kid friendly due to the gradual water depth, but there are no lifeguards on duty. The 677-acre state park has two picnic areas and 1-mile, 2-mile and 5-mile hiking trails. 920 Division St., Kelleys Island 43438, 419/746-2546, parks.ohiodnr.gov/kelleysisland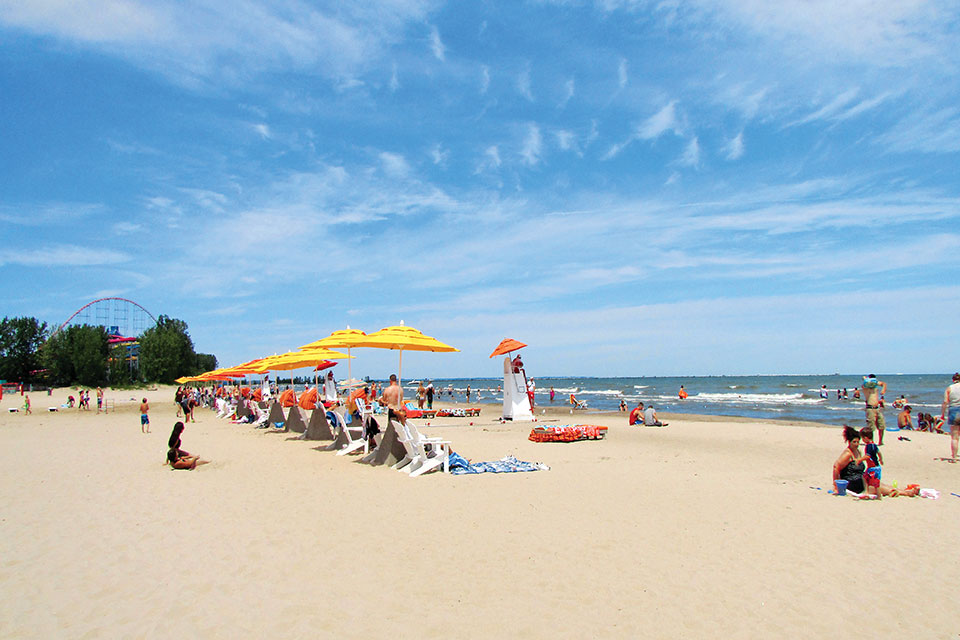 8. Cedar Point Beach: Pay to park at Cedar Point and you have access to the Sandusky amusement park's beautiful sand beach. It's a must-visit spot along the Lake Erie shore and a perfect place to lounge away a summer day. Visitors can also take in views of the park's towering roller coasters from the water via personal watercraft rentals or get a look from high above by way of parasailing experiences. 1 Cedar Point Dr., Sandusky 44870, 419/627-2350, cedarpoint.com

9. Lake Front Park: Enjoy more than 500 feet of dog-friendly beach at this 3-acre park with picnic tables, grills, a gazebo and restrooms. There is no lifeguard on duty. 310 Park St., Huron 44839, 419/433-8487, cityofhuron.org

10. Nickel Plate Beach: Spanning more than 12 acres, this spot is Erie County's largest public swimming beach. The quality of the beach is what has made this destination a summertime favorite, according to Doug Steinwart, parks and recreation operations manager for the city of Huron. "What attracts people the most is the content of the sand and the gradual slope entrance into the water," he says. "It is very soft — hardly any rocks in it — which is good for little kids and people to walk barefoot on." The beach's amenities are geared toward encouraging travelers to make a day of it. Visit one of the local restaurants or listen to music at the nearby amphitheater. Nickel Plate Beach also rents out paddleboards and kayaks and has a four-lane public boat ramp. 1 Nickel Plate Dr., Huron 44839, 419/433-8487, cityofhuron.org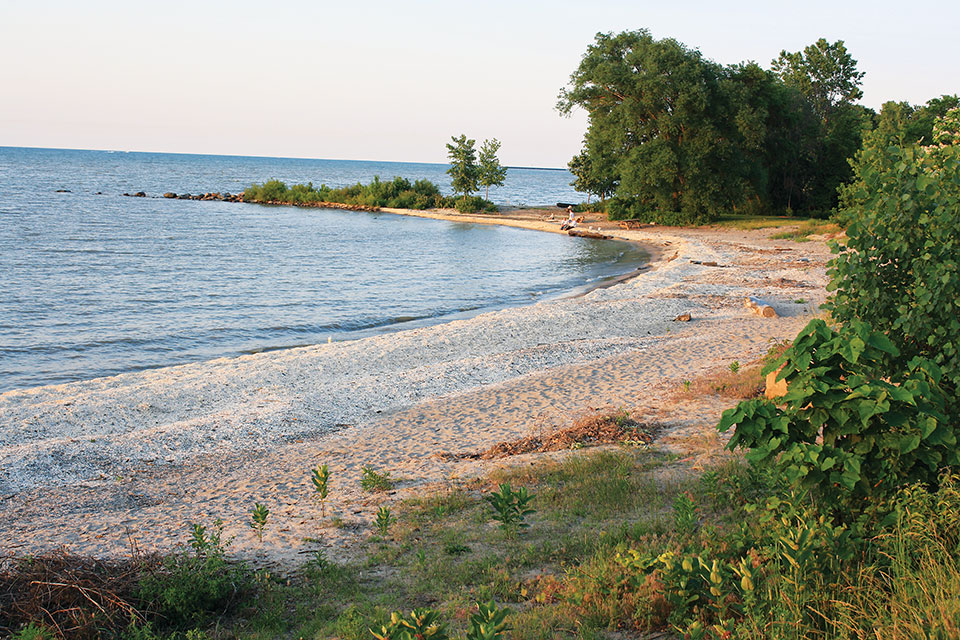 11. Sherod Park Beach: Visitors to this 24-acre park will find nearly a quarter mile of Lake Erie access. An exercise trail winds through the park, which mostly serves as a passive park with plenty of open green space, but it does have playground equipment as well as picnic areas with grills. U.S. Route 6 and Coen Road, Vermilion 44089, 440/204-2490, vermilion.net


Lorain County

12. Main Street Beach: This small-yet-popular, less-than-1-acre swimming beach in the Town of Sea Captains is close to the city of Vermilion's downtown shops and restaurants and has an observation deck where travelers can take in lake views. The Vermilion Lighthouse next to the beach is a replica of the original structure. 480 Main St., Vermilion 44089, 440/204-2490, vermilion.net

For more information about the Lake Erie Shores & Islands region, visit shoresandislands.com.