Travel
8 Great Inland Lakes
Soak in summer with our guide to Ohio parks where you can get on the water this weekend.
July 2017 Issue
BY Nathan Havenner | Photo by Sharon Norman
July 2017 Issue
BY Nathan Havenner | Photo by Sharon Norman
Tappan Lake | Harrison County
Surrounded by the rolling hills of Appalachia, Tappan Lake Park lets its visitors enjoy the beauty of this rugged, rural and remote corner of the state.
"We're really wooded and hilly and you would swear you were in West Virginia, really," says park manager Jeremy Hoffer.
With activities ranging from swimming to fishing to stand-up paddleboarding, the 2,350-surface-acre lake offers an option for all ages and skill levels. "We have inflatable attractions out on the beach and the kids love those," Hoffer adds.
Although swimming at the sand beach is available from Memorial Day through Labor Day every year, Hoffer says the most popular activity on Tappan Lake is fishing.
"We are a big crappie lake," Hoffer says. "We are a pretty big bass lake, too. There's a tournament almost every weekend."
The lake's 399-horsepower limit makes it a welcome spot for a range of boat sizes. Pontoon and fishing boats are among the rentals available through the park, which is managed by the Muskingum Watershed Conservancy District. The privately owned Tappan Lake Marina rents kayaks as well as fishing and pontoon boats.
Tappan Lake Park is home to 14 miles of trails that take hikers along the lake and into wooded areas of the park. The more than 1,400-mile Buckeye Trail also passes through the property, making it a good starting point for a longer hike. Other activities available at the park include basketball, horseshoe pits and a nature center with interpretative programs.
Where to Stay: Although parts of the campground are currently undergoing construction, Hoffer says there are still plenty of campsites for tent and RV camping. "We still have 510 sites. We have 180 that are reservable," he says. In addition to the campsites, Tappan Lake Park also has 11 vacation cabins. "They are like two-bedroom apartments — everything you need for six people to be there for a week," Hoffer says.
Where to Eat: Due to its rural location, those looking for a bite to eat beyond the on-site concessions can drive a mile up the road to the Deersville General Store. Originally built and operated as a church before it was converted into a store in 1898, this spot offers a selection of deli sandwiches and pizzas, but it is best known for its homemade ice cream. Campers can even pick up essentials, such as firewood, fishing licenses and groceries for some over-the-fire cooking back at the park. Tappan Lake Park, 84000 Mallarnee Rd., Deersville 44693, 740/ 922-3649, tappanparkohio.org

***

Mosquito Lake | Trumbull County

Created in 1944 to combat flooding along the Ohio, Beaver and Mahoning rivers, Mosquito Lake State Park has been a beacon of summer entertainment for more than 70 years, even with its rather itchy-sounding name.
In fact, the 7,850-surface-acre Mosquito Lake is the second-largest inland body of water located entirely in Ohio, and park manager Josie McKenna says it draws fishermen and water-skiers as well as kayakers and those just looking for a quiet afternoon on the water. "It's an unlimited horsepower lake," McKenna adds, "so the possibilities really are endless."
Rentals are available at the privately owned Mosquito Lake Marina and range from self-propelled options such as kayaks and stand-up paddleboards to fishing and pontoon boats. For those who want to stay close to shore, there's a 600-foot swimming beach and 25 miles of shoreline from which to cast a line. "We are really well known for our walleye and crappie fishing," McKenna says.
Although the lake is the main draw, the park's 2,483 acres of land are home to mature woodlands perfect for nature lovers. Along with hiking and bridle trails, guests can enjoy an archery range, disc golf course and on-site dog park.
Where to Stay: Mosquito Lake State Park's campground offers 218 sites with electrical hookups for campers and RVs, as well as 16 nonelectric sites for primitive tent camping. Two canvas yurts are also available for overnight stays from April through October. "They are sitting on a deck platform," McKenna says. "It makes it a little nicer for those that don't have the resources for an RV but don't want to rough it in a tent." The yurts are furnished with two sets of bunk beds, a table with four chairs, a microwave, a refrigerator and a propane grill. "They are extremely popular and they are right on the water," McKenna adds. "It's just beautiful."
Where to Eat: Casual lunch and dinner options are available at Mosquito Lake Marina. Those looking for some off-site dining options can check out The Country Porch Winery. Located near the southern end of the lake, the winery serves delicate crepes, loaded nachos and flatbread pizza in a cozy, country environment. For family favorites such as chicken Parmesan and country-fried pork chops, visit the 4-Star Diner, another nearby spot that also serves breakfast, lunch and dinner. Mosquito Lake State Park, 1439 St. Rte. 305, Cortland 44410, 330/637-2856, parks.ohiodnr.gov/mosquitolake
***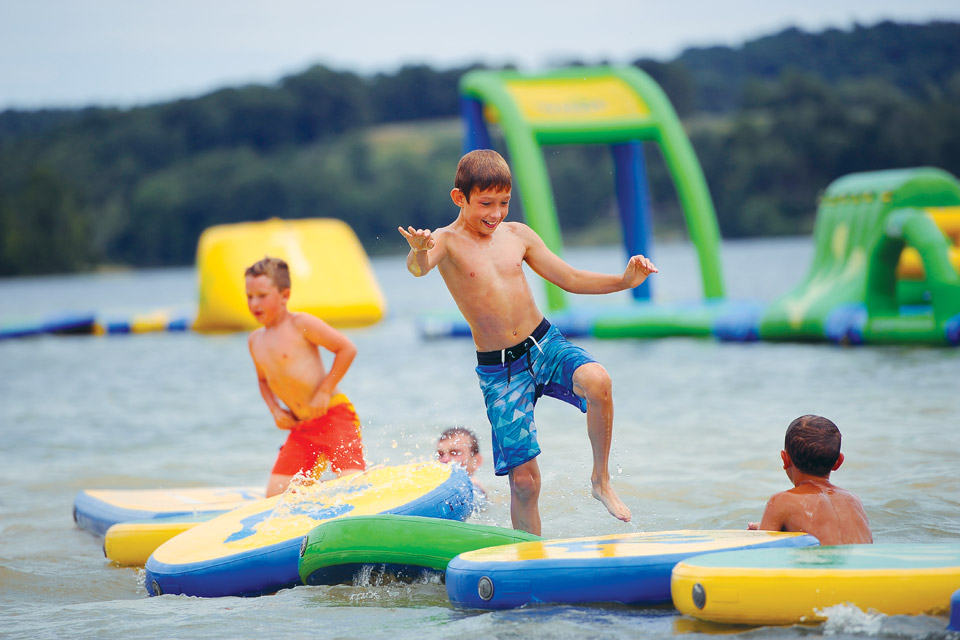 Atwood Lake | Tuscarawas/Carroll Counties
Named for the ghost town that once stood in its place, the 1,540-surface-acre Atwood Lake was created by the Muskingum Watershed Conservancy District in the 1930s and has become a popular summertime destination that offers activities ranging from boating and fishing to hiking and swimming. "We will see a lot of people who bring family, they'll go cruising [in a boat] for a while and stop at the beach," says park manager Aaron Stump, adding that the 360-foot swimming beach featuring inflatable water toys is one of the most popular areas at the lake. "The thing we really try to push here at the lake is all these different experiences and what you can enjoy." Tent, camper and RV camping, as well as vacation cabins for those seeking some of the comforts of home, are available on-site at Atwood Lake Park. Those looking for a meal can find it at the privately operated The Atwood Dock Marina and Grill, which offers lakeside dining and a menu that ranges from grilled flatbreads to barbecue pork sandwiches.Atwood Lake Park, 9500 Lakeview Rd. NE, Mineral City 44656, 330/343-6780, atwoodparkohio.org
***

Lake Logan | Hocking County
Located near the Hocking Hills, Lake Logan State Park's 400-surface-acre lake serves as one of the region's popular fishing spots, with anglers regularly reeling in catfish, bluegill and northern pike.
The privately owned Lake Logan Marina Boat Rentals offers kayaks and canoes, as well as small fishing and pontoon boats. Although boating is the main attraction on the 10-horsepower-limit lake, there's also a 527-foot public swimming beach at the day-use park covering 318 acres.
"It is a quiet place," says park manager Mark Hoffhines. "It is a very family-oriented park — just a great place to sit under a tree and read a book."
Where to Stay: Because Lake Logan State Park is a day-use facility, there is no on-site camping, but there are many options in the area. The privately owned Lake Logan Country Cottages offers four cabins with lakeside or wooded views. Those looking to rough it can opt for Campbell Cove, a campground located a little more than a mile from the park entrance. It accommodates tents, campers and RVs, but due to the Hocking Hills' popularity, be sure to check availability before traveling.
Where to Eat: While Lake Logan has a snack bar that sells concession-stand classics such as hot dogs and nachos, those looking for a little heartier dining can find it less than 2 miles away in Logan at Millstone Restaurant Smoked BBQ, which serves up ribs, pulled pork and slow-smoked beef brisket. Lake Logan State Park, 30443 Lake Logan Rd., Logan 43138, 740/385-6842, parks.ohiodnr.gov/lakelogan

***

Charles Mill Lake | Richland County
Created in the 1930s to control flooding in the area, the 1,350-surface-acre Charles Mill Lake Park in Mansfield is perfectly suited for a quiet day on the water. "With a 10-horsepower lake you normally get pontoon boats, kayaking and canoeing," says park manager Steven Rice. The privately operated Charles Mill Marina offers boat rentals, sales and service, and a public beach makes Charles Mill Lake a destination for swimmers and sunbathers as well. There's also an on-site swimming pool, horseshoe pits and a nine-hole Frisbee golf course, as well as basketball, bocce ball and shuffleboard courts. Tents, campers and RVs are welcome at the park's two campgrounds, which have a total of more than 450 campsites. Although electricity is available in more than 200 of them, Rice cautions there are no full-service hookups for RVs. When it comes time for dinner, check out the Oak Park Tavern, located just 2 miles from the park entrance in Mansfield. Open since 1940, the restaurant serves steak and seafood dishes, as well as a lineup of appetizers that range from walleye bites to the house-favorite hand-breaded mushrooms. Charles Mill Lake Park, 1277 A St. Rte. 430, Mansfield 44903, 419/368-6885, charlesmillparkohio.org
***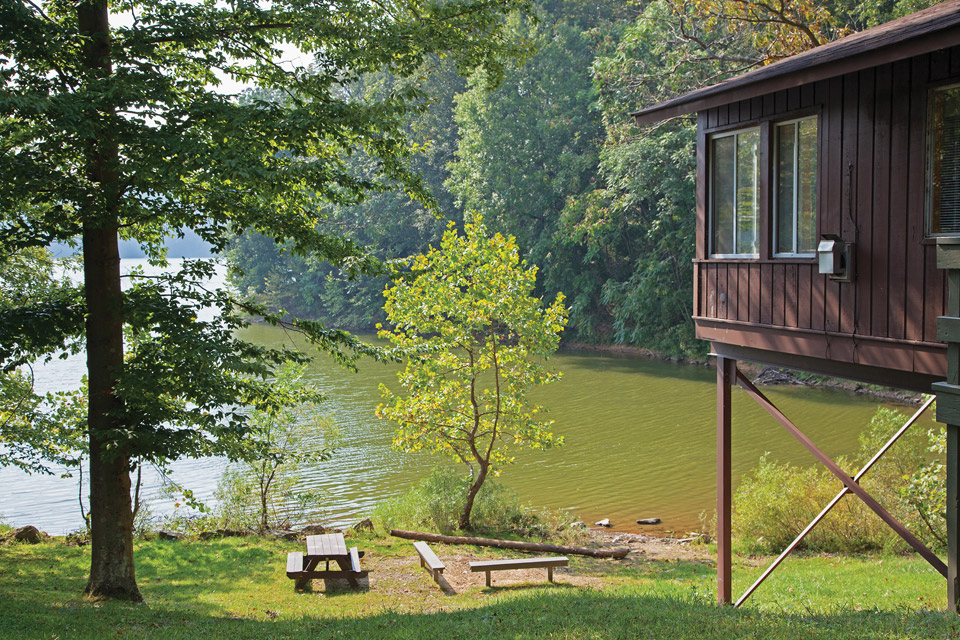 Salt Fork Lake | Guernsey County

Covering more than 17,000 acres, Salt Fork State Park is the largest in the Ohio State Park system, and its crown jewel is the 2,952-surface-acre Salt Fork Lake. Known for its incredible fishing and boating, the lake is the perfect destination for anglers, water-skiers and afternoon pleasure cruisers.
The lake is home to two marinas, with boat rentals available at the privately operated Sugartree Marina, which is located on-site. Choices range from one-man kayaks to 20-person pontoons to sport boats for water skiing. (The lake's other arena is operated by the state and serves as a fueling station and dock.)
Salt Fork Lake's main beach spans 2,500 feet and offers a place for boaters to pull over. (A second private beach is available only to those camping at the state park.)
"You can anchor out there in the water, and you have a safe and clean area where our boaters can get out and cool themselves off without being in danger of boat traffic," says park manager Adam Sikora.
Other park activities include 14 hiking trails, ranging from the three-tenths-of-a-mile Forest Crest Nature Trail to the mile-long Valley Brook Loop Trail to the 2-mile Shadbrush Trail. History buffs will want to check out the 1837 Kennedy Stone House located within the park, which was built by Ohio settler and Irish immigrant Benjamin Kennedy.
Where to Stay: The 148-room Salt Fork State Park Lodge & Conference Center provides a rugged-but-comfortable ambiance with its pine-beam-and-stone construction and host of modern amenities. Located next to the lake, the lodge offers a fitness center, outdoor pool and an 18-hole championship course. Fifty-three two-room cabins are available for rental at the park, with options ranging from chalet to lakeside to hillside units. Sikora says the chalet cabins make for a great couple's getaway. "That is probably the most popular accommodation, with a hot tub and a beautiful view of the lake," he adds. The 212-site campground features electric hookups for tents and campers and includes 40 full-service sites for RVs.
Where to Eat: Timbers Restaurant, located inside Salt Fork Lodge & Conference Center, serves breakfast, lunch and dinner alongside picturesque lake views. Entrees include hearty options such as Guinness meatloaf and Cajun chicken Alfredo, but lighter fare, such as sandwiches and salads, is also available. Salt Fork State Park, 14755 Cadiz Rd., Lore City 43755, 740/439-3521, parks.ohiodnr.gov/saltfork
***

Indian Lake | Logan County

Billed as "The Midwest's Million Dollar Playground" when it was home to an amusement park and a dance hall during the 1920s, Indian Lake has provided generations of visitors with old-fashioned lake vacations since just before the turn of the 20th century.
The lake covers 5,000 surface acres, offering plenty of space for tubing, water skiing or cruising on a pontoon boat. Indian Lake State Park provides five launch ramps for boat owners, and the privately owned Spend A Day Marina offers rentals for easier exploration of the chain of islands that stretches into the lake. There are also three swimming beaches within the park, with two open to the public and one for campers only.
"Oldfield Beach is our largest," says park manager George Sholtis. "It is about 1,200 feet long. There is a smaller beach called Fox Island that is located just off Orchard Island."
Those looking to spend some time on land can choose from a 3.5-mile bike trail that takes riders along the lake, as well as two hiking trials: the 1.4-mile Cherokee Trail and nearly 1-mile Pew Island Trail.
Where To Stay: Indian Lake State Park is home to a campground featuring more than 500 sites with electricity and 43 full-service locations designed to accommodate RVs. Three vacation cabins outfitted with all the comforts of home are also available for those looking to stay within the park.
Where To Eat: Sholtis suggests checking out the Tilton Hilton for a memorable bite to eat along the water. Open since 1977, this family-owned restaurant is known for its tilted floors. "It's really kind of famous," Sholtis says. Boaters can even pull right up to the waterside eatery's private dock and order one of the spot's popular half-pound cheeseburgers. Indian Lake State Park, 12774 St. Rte. 235 N., Lakeview 43331, 937/843-2717, parks.ohiodnr.gov/indianlake

***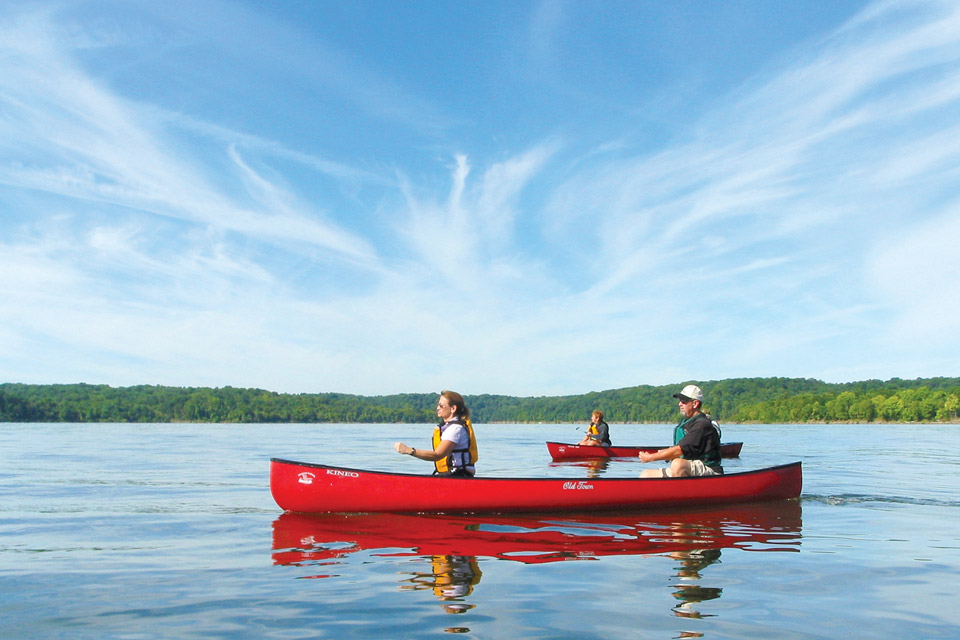 Harsha Lake | Clermont County
Located 25 miles east of Cincinnati and just a short drive from the Point Pleasant birthplace of President Ulysses S. Grant, the 2,610-surface-acre Harsha Lake offers an oasis for both land and water adventurers at East Fork State Park.
Originally built by the U.S. Army Corps of Engineers in 1978 to control flooding in the area, the lake has become a center of summer recreation for boaters who wish to spend a day on a lake that has no horsepower restrictions.
"There are six boat ramps, and they are all routinely very busy with boaters and fishermen," says East Fork State Park manager Chad Smith.
Boat rentals are not available here, but a 32-mile perimeter trail encircling Harsha Lake promises great water views. There are also 46 miles of backcountry trails within the 4,870-acre East Fork State Park, including a 16-mile backpacking trail. Smith says the lake's south side is a good spot to begin a trek.
"That is the access point for the mountain bike trail as well as the backpack trail and the perimeter trail," he says. "[It] is enjoyed by a lot of people."
Equally attractive is the 1,200-foot sand beach that beckons swimmers and sunbathers alike. "It's a beautiful view of Harsha Lake," Smith says, "and it's a nice large beach."
Where to Stay: East Fork State Park is home to a 416-site campground open to tents, campers and RVs, but travelers can also opt to stay at the 1861 Inn bed-and-breakfast, located about 5 miles away. The inn is known for its gourmet breakfasts that include fresh fruit, hot-out-of-the-oven scones and entrees that range from pancakes to soft-boiled eggs and toast. "We have one of the best breakfasts on the east side of Cincinnati," says owner Tom Cottrill. Those who want to hit the lake early can even opt for a bagged breakfast to go.
Where to Eat: Just a 5-minute drive from East Fork State Park, Mama's Grill in Williamsburg serves up classic American fare ranging from double-decker cheeseburgers to fried fish sandwiches to fresh wraps, and the breakfast menu is available all day. For a shot of nostalgia, hit the Frisch's Big Boy in Bethel. Dave Frisch launched the Ohio-based chain in the 1940s with the blessing of Bob's Big Boy founder Bob Wian. East Fork State Park, 3294 Elklick Rd., Bethel 45106, 513/734-4323, parks.ohiodnr.gov/eastfork