Travel
Chill to Thrill: 9 On-the-Water Adventures
Whether you want to kick back and relax or gear up for an adrenaline spike, these experiences will help you stay cool this season.
June 2023
BY Brett Price | Photo by Surf Dayton
June 2023
BY Brett Price | Photo by Surf Dayton
CHILL MODE

Clay's Resort Jellystone Park

Tucked away in Stark County, just outside the town of North Lawrence, this 500-acre summer resort is known for its kid-focused waterpark. Open since Memorial Day 1948, Clay's Resort Jellystone Park underwent an ownership change in 2020, but it continues to offer a family camping experience, whether that be in a tent, RV or one of the 90 cabins built at the park since Northgate Resorts of Grand Rapids, Michigan, purchased it.

Clay's Resort is widely known for its swimming lake with waterslides and inflatable obstacles for kids to climb, but 2023 brings with it the addition of an arcade and a new Adventure Park waterpark that will provide more ways to help visitors stay cool on hot days.

"It's just a massive splash pad," says Britani Eaton, who handles promotion of Clay's Resort Jellystone Park for Northgate Resorts. "It's got waterslides and a hydro storm bucket."

As far as camping accommodations, the park offers lakefront and private RV sites, tent sites and cabin lodging that ranges from a deluxe lakeside suite to the pet-friendly Ranger Smith Cottage. Clay's Resort also has an 18-hole mini golf course, beach volleyball leagues and a kids zone for families to enjoy. For those looking for more thrills, check out the barrel rolls, ring swings over the lake and the 150-foot Wet Willie Water Slide.

"Whether you're splashing in the pool or you're hanging out with a [Yogi Bear mascot]," Eaton says, "there's something going on every hour of the day." 12951 Patterson St. NW, North Lawrence 44666, 330/854-6691, clayspark.com



Pontoon Boat Rentals on Ashtabula Harbor: Harbor Yak provides a way for those who don't own a boat to get out on the calm waters of Ashtabula Harbor. Pontoon Boat rentals run from two to six hours and can fit up to six or nine passengers, depending on which model you choose. It's a great option for those who want to cruise out on to the harbor for a leisurely afternoon. There's even a sandbar where you can anchor to swim or have lunch. Both pontoon boat options have a Bluetooth audio system, swim deck and top to protect the cockpit from the sun's rays when it's time for a little shade. Harbor Yak also offers rentals of single and tandem kayaks, stand-up paddleboards and even hydrobikes. For those who want to make a weekend of it, Harbor Yak has lodging options ranging from townhouses on Ashtabula's Bridge Street to cozy cottages along the water. 1 Ferry Dr., Ashtabula 44004, 440/990-0161, harboryak.com

Tubing on the Hocking River: The Hocking Hills region has long been an outdoor draw for Ohioans looking for an accessible adventure in their own backyard, complete with waterfalls, caves and scenic overlooks. Another fun summer outing in the region is to rent an inner tube from Hocking Hills Adventures and enjoy a leisurely afternoon float down the Hocking River. The trip stretches 5 miles and how long it takes depends on water levels. When the river is higher, a trip lasts two to three hours, while lower water levels can stretch your float up to five hours. (Current river conditions are always posted on the livery's website.) A tubing excursion runs over two different portions of the river. In spring and early summer, the trip usually starts at Crockett's Run and concludes at the canoe livery. Later in the season, the trip typically starts at Riverside Campground and concludes at Crockett's Run. 31251 Chieftain Dr., Logan 43138, 740/385-8685, hockinghillscanoeing.com

---

ADVENTURE ZONE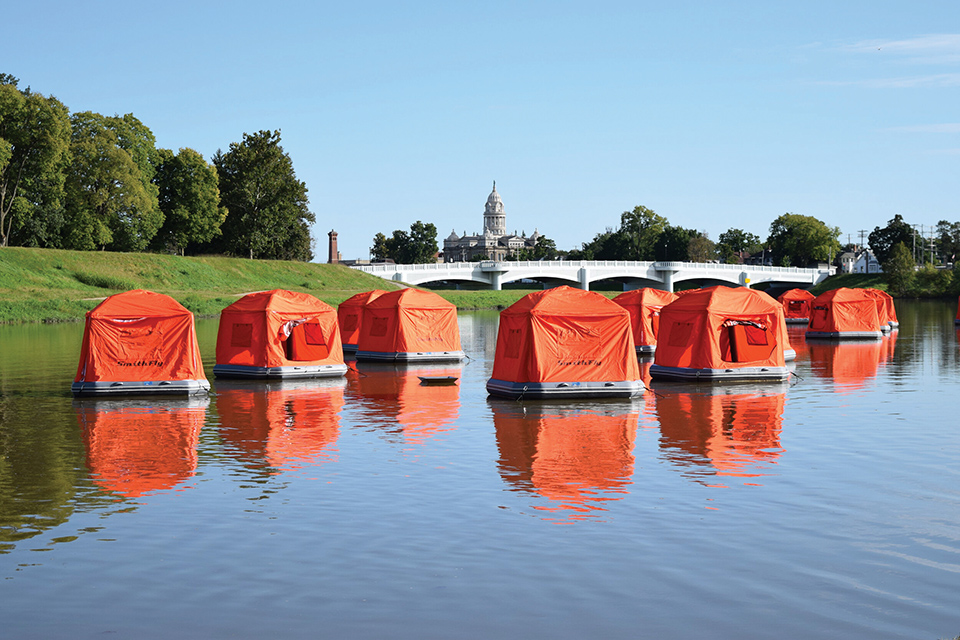 Float Troy

The city of Troy's outdoorsy overnight excursion gives new meaning to the term waterbed. In 2020, Float Troy launched the only public tent-floating experience in the United States. Located on the Great Miami River in the Miami County city of Troy, the attraction welcomes travelers to spend the night in an inflatable floating tent that is anchored in place.

The tents, which were designed by local business owner and entrepreneur Ethan Smith of SmithFly, can fit up to four people and have windows that let in the breeze or allow campers to take in the sunset. A stay is made complete with access to canoes and kayaks as well as an onshore picnic shelter with charcoal grills.

During check-in, Float Troy walks guests through how to get into the raft and provides a brief orientation, which also includes a paddling course for anyone who needs it. For those who want to grab a bite on land, Smiths' Boathouse Restaurant is along the river, as is the Treasure Island Park amphitheater, which hosts food trucks and live music in the summer.

Matt Clifton, the city's on-site coordinator for Float Troy, says what has struck him most about running the program is the range of ages that seek out these unique overnight stays.

"Year one … the oldest person I had was 94 years old, four weeks post hip replacement. … and she came back the second year we did it, too." he says. "So, we don't have [a specific audience] to market this to. It's literally anyone and everyone that wants a unique experience." For more information, visit float-troy.com.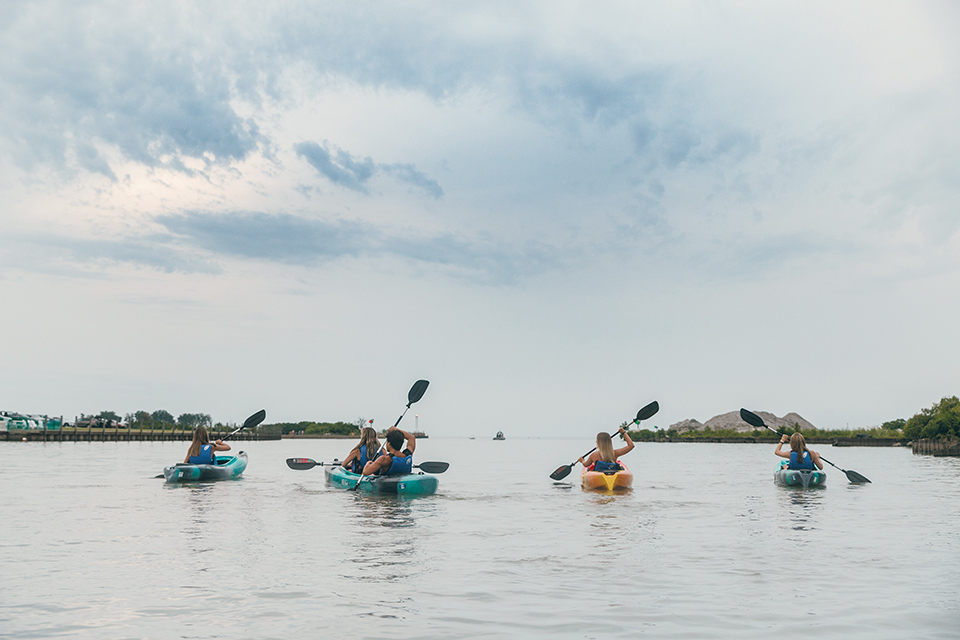 Kayak the Huron River and Sandusky Bay: Inspired by its owners' tradition of visiting national parks and their affection for wildlife, Lake Erie Adventure Co. in Huron helps its customers enjoy an outdoors-focused lifestyle. Although the business started with selling kayaks, stand-up paddleboards and merchandise, it now focuses on the rental and group-tour side of its operation. Lake Erie Adventure Co. offers two locations for those who want to get paddling. The Huron River paddle launches from the operation's River Road headquarters with the option of heading north toward the lake. Lake Erie Adventure Co.'s other location on Sandusky Bay offers a paddle with sights of Cedar Point. Both spots are good for beginners because they feature calm water, and staffers are happy to provide a tutorial for those who need it. (Family season passes and group-outing prices are also available.) Special events offered during the summer include sunset and full-moon paddles. 507 River Rd., Huron 44839, 419/366-3830, lakeerieadventure.com

Stand−Up Paddleboarding on the Scioto River: The Scioto River winds through downtown Columbus, and Windrose Outdoor helps locals and travelers alike get a peaceful perspective on our bustling capital city. Renting a stand-up paddleboard is one way to take to the water, but Windrose Outdoor also offers rentals of single and tandem kayaks for those who want to go the seated route. (Of course, you can sit or kneel on the paddleboard, too.) The typical trip lasts one hour and takes paddlers 1 mile upriver and back, preceded by 15 minutes of instruction to review the route, conditions and equipment. There is also a 2.5-hour excursion available for those who want to take it slow, but most people find an hour of paddling a good length of time. No matter the method you choose to take to the water, Windrose Outdoor will meet you at downtown's Bicentennial Park with your equipment of choice. For more information, visit windroseoutdoor.com.

THRILL SEEKER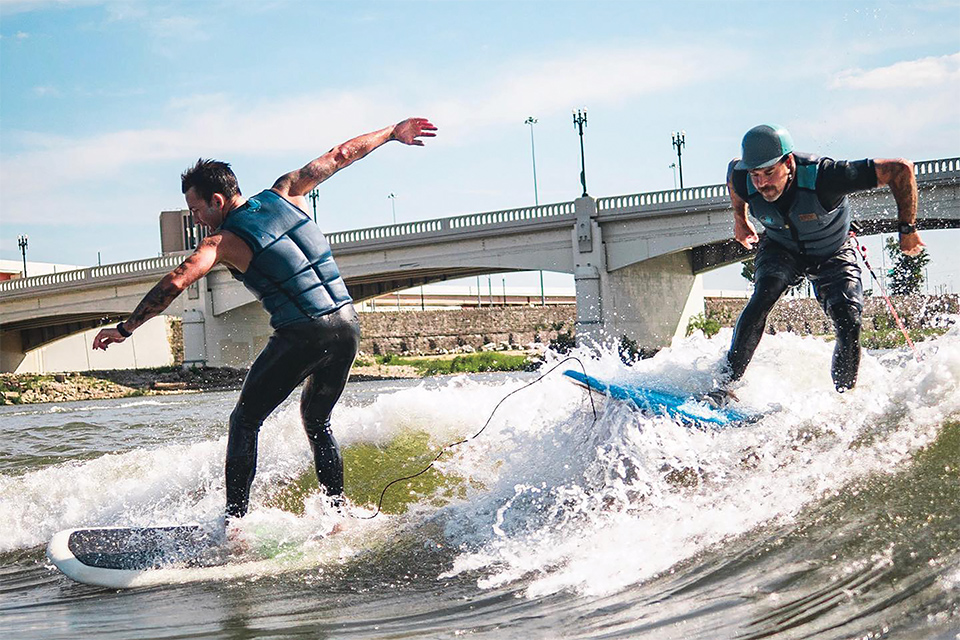 Surf Dayton

Catching a wave in the middle of Ohio may seem far-fetched, but Shannon Thomas' Surf Dayton has helped adventurers do just that on portions of three different waterways since 2019. Surf Dayton's guides take river surfers out on the Mad River and Great Miami River — both of which have multiple drop-in spots that offer access to whitewater features with varying levels of difficulty.

After spending some time in Florida, Thomas, who is a native of Dayton, founded surfdayton.com as an outgrowth of his surfing.com community website. The idea was to launch a clinic business that would teach people how to river surf and paddleboard on both whitewater and flatwater.

Beginners should start with the flatwater stand-up paddleboard clinic and gain proficiency before booking a whitewater lesson. The surfing clinics are more demanding, and participants should be strong swimmers and confident in their physical abilities. Each lesson starts by outfitting surfers with boards, life jackets and helmets. There's then 30 minutes of on-land instruction, followed by 90 minutes of surfing.

Lessons begin in the middle of June and run through September, but some of the best water for surfing comes in August due to a lower flow. Thomas says Surf Dayton has a roughly 95% success rate of visitors standing on a wave by the end of their lesson.

"That's part of our reward," he says, "seeing someone stand up for the first time and the absolute joy on their face of riding a wave." For more information, visit surfdayton.com.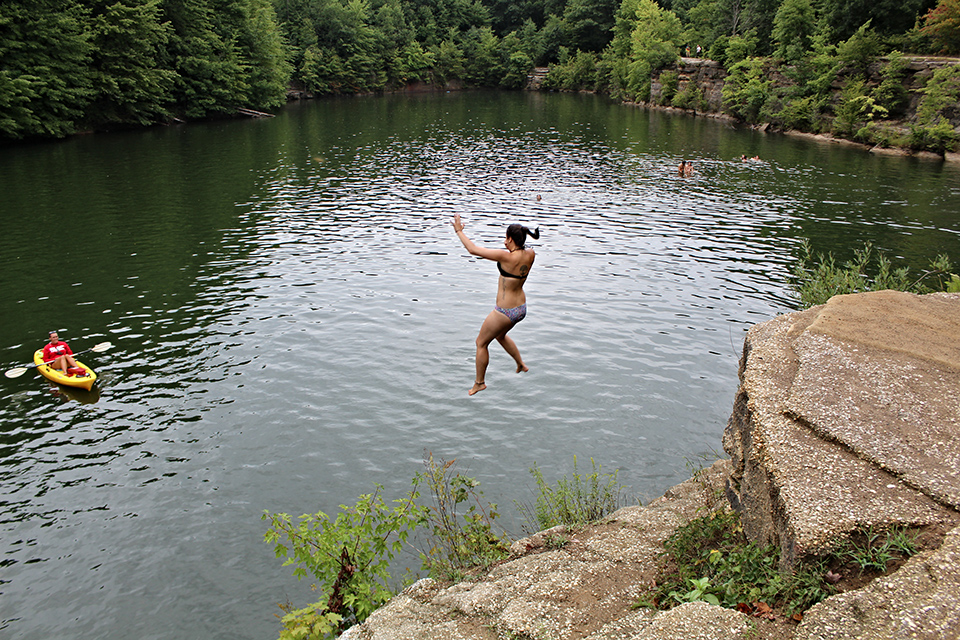 Take the Plunge at Nelson Ledges Quarry Park: We have the work of the Ice Age to thank for the sprawling sandstone and quartz cliffs of Nelson Ledges Quarry Park. And what goes great with cliffs that tower over a deep body of water? Cliff diving! The adrenaline-packed plunge is just one of the fun adventures visitors can pursue at this privately owned park in the Portage County village of Garrettsville. Nelson Ledges Quarry Park is also a popular scuba diving spot for those who have the gear and the certification. But even those who want to peek beneath the surface with just a mask and snorkel will be rewarded. Visibility on a clear day can reach 15 feet or more, and with an average water depth of 30 feet, there are plenty of rock formations, fish and plant life to check out. For those who want to stay longer, the park has over 800 campsites. 12001 Nelson Ledge Rd., Garrettsville 44231, 440/548-2716, nlqp.com

Soar Above the Water in Lancaster: Since 2012, one of the most thrilling water sports has been offered on a lake 3 miles from downtown Lancaster. Jet Pack Water Adventures is aimed at those who want to soar above the water. Although the experience seems at the top end of extreme, the company prides itself on providing a safe experience that will earn a rightful spot on your adventure bucket list. Customers are greeted by certified instructors who provide a flotation vest, wet suit and helmet, as well as a training session that teaches the basics. From there, participants learn how to move comfortably in the air with a jetpack strapped on or a flyboard underfoot. The experience is offered on a private lake, and helmet intercoms keep customers connected to their instructor. Offerings range from a basic 25-minute introductory flight to an all-day excursion for six. Reservations are required. 2715 Sugar Grove Rd. SE, Lancaster 43130, 740/359-8463, jetpackwateradventures.com