Ohio Life
Travel
Best of the Best Hometowns 2015–2016
We celebrate this year's honorees by sharing more of the discoveries we made during our visits.
January 2016 Issue
BY Staff & Contributors | Photo by Lesley Blake
January 2016 Issue
BY Staff & Contributors | Photo by Lesley Blake
COSHOCTON

Leatherworker: As home to a weaver, a blacksmith and a broom-maker, Coshocton's Roscoe Village offers a window into another time. Dennis Knight is there too, making a living as a leatherworker after 44 years in the trade. "I apprenticed for four years in Williamsburg, Virginia, and then worked for 25 years in Ohio Village," says Knight. The 1847 building his River Ridge Leather Co. calls home is brimming with hand-stitched goods ranging from sturdy shoulder bags to Knight's leather flyswatters. "I make anywhere from 3,000 to 4,000 of those flyswatters per year," he says. 355 N. Whitewoman St., Coshocton 43812, 740/295-0284, riverridgeleather.com

Local Eats: Food sold at Local Bounty Coshocton travels an average of 13 miles from where it originates. Offerings include produce from Warsaw's Circle the Sun Farm and pork roasts from Coshocton's own Keene Creek Farm. Monthly events cover the art of canning and cooking, and one class even tackles how to make creative grilled cheese sandwiches. "We [use] the local cheese here in town, which is Pearl Valley, and then put some fun stuff out," says market manager Kristie Henderson. "[Like] apples, Muenster cheese and spinach — all of those items are phenomenal." 22951 St. Rte. 83 N., Coshocton 43812, 740/622-1400

Rediscovered Art: In the winter of 2014, an interior restoration of the 140-year-old Coshocton County Courthouse uncovered artistic details that had been hidden for decades. "In the 1950s, there was some remodeling done," says Jon Mosier, bailiff with the Coshocton County Common Pleas Court. "The balcony was closed off and simply used for storage." When the ceiling and balcony wall were removed, a hand-painted seal of Ohio, seal of Coshocton and federal emblem were rediscovered. "These were probably done between 1900 and 1920," says Mosier. They now join an already present 30-foot-long mural painted by noted artist Arthur William Woelfle in 1908. 318 Main St., Coshocton 43812, 740/622-1456

***

HUDSON

Southern Specialty: The batter used in Peachtree Southern Kitchen's chicken and waffles sports a distinctly orange hue. That's because it's made with sweet potatoes, which chef and co-owner Matt Mathlage says, "adds a little zing" to the dish. "People love that it's different than the average buttermilk waffle," he adds. Mathlage infuses his Southern specialty with a taste for every palate. "It's sweet, it's salty — we use Sriracha butter, so it's a little bit spicy." It's also a permanent fixture on Peachtree's menu. "If we took it off, there'd be a revolt," Mathlage says. 200 N. Main St., Hudson 44236, 234/380-1789, peachtreesouthernkitchen.com

Kitchen Helper: Karen Marks opened her emporium of hot sauces, spices, teas and kitchen gifts more than a decade ago, following a trip her son and daughter-in-law took to India. Today, Heather's Heat and Flavor stocks 200 whole spices and blends, dried chilis, salts, 80 sauces and 26 varieties of dried tea. Marks' bestseller, however, is a blend of salt, pepper, paprika, garlic and onion bearing the rather cheeky name Heather's Butt Rub. Created specifically as a dry rub for pork, Marks says it can also be used to dress vegetables and season steaks. "It's got a secret ingredient, which I don't tell anybody." 94 First St., Hudson 44236, 330/653-5131, heatandflavor.com

Popcorn for a Cause: Crazy But True Popcorn owners David Krise and Garrett Chapman offer more than 50 popcorn flavors, ranging from birthday cake to coconut curry to loaded potato. Then there's Spirit Mountain Mocha — popcorn with a tender chocolate coating and tasty coffee flavor that also supports a good cause. Krise and Chapman buy the coffee beans used to make it from a Dominican Republic ecological preserve and plantation that donates a portion of its proceeds to fund projects and scholarships there. "[Our church has] sent missionary teams down there on five or six different trips," Chapman says. 72 N. Main St. #6, Hudson 44236, 330/342-0300, cbtpopcorn.com

***

POWELL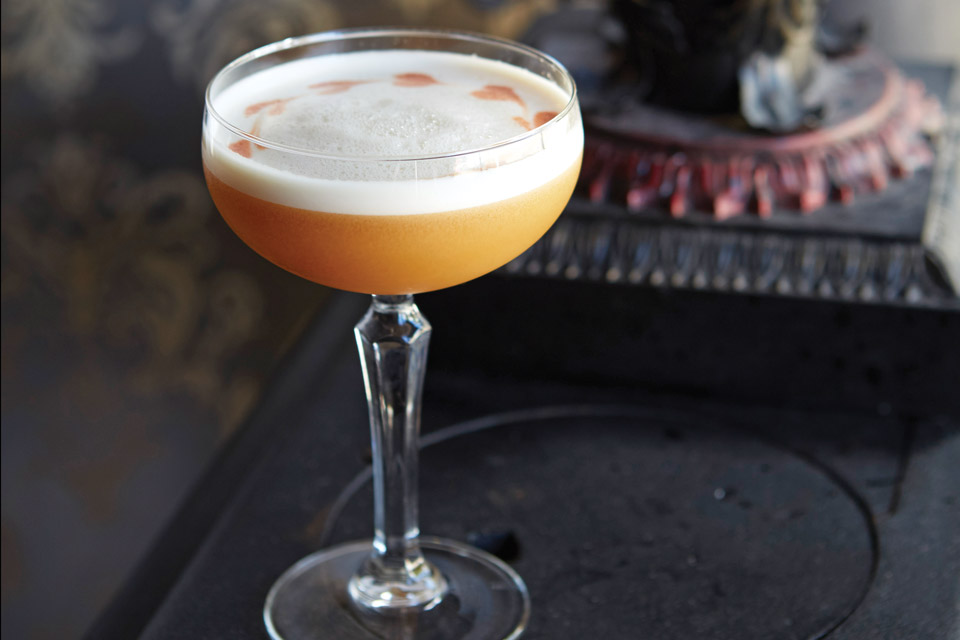 Creative Cocktails: The classic whiskey sour meets a bittersweet twist at Prohibition Gastro Lounge. Created by M at Miranova head bartender Cris Dehlavi, the Cynar Sour features Woodford Reserve and Cynar — a bitter herbal liqueur distilled from different herbs and flavors, including artichokes — along with agave, lemon and egg whites. "It hits all the senses," says Dehlavi, who often consults with restaurants and bars to create original cocktails. "Because it's called Prohibition, I wanted there to be classic recipes that came from that era," she says, "but I also wanted there to be some originals." 21 W. Olentangy St., Powell 43065, 614/840-9100, prohibitiongastrolounge.com

Kids' Party: The Glass Slipper takes on the role of birthday party planner for the little ones in your life: Tea is set in the dining room, coloring pages are ready to go and the closet is stocked with boas, tiaras and other dress-up essentials. Party themes here range from princesses to pirates, making the place appealing to both boys and girls. "It's nice, because moms and dads can enjoy themselves and take pictures," says owner Stacey Haney. "You're trying to put on a party, but you also want to remember it." 77 W. Olentangy St., Powell 43065, 614/433-9171, glassslipperteas.com

Music Machine: The 7,000-square-foot Liberty Antique Mall is home to five working nickelodeons. One of the wooden cabinets holds eight colorful horses, which spin around a track once the music begins to play. "The concept was that in a bar or tavern, a lot of times they maybe would pick a horse and bet a beer on it," owner Chris Freiheit says of the coin-operated music player made by Western Electric in the late 1800s. "The kids always go crazy. They've never seen anything like that." 18 N. Liberty St., Powell 43065, 614/885-5588, libertyantiquemall.com

***

HURON

Arboretum: The James H. McBride Arboretum is a favorite of nature lovers for its lake, meadow, restored prairie, savanna and 1-mile scenic trail that passes through the woods and beside a creek. But it also has another claim to fame: It's home to one of the largest collections of crabapple trees in Ohio, boasting 52 varieties. "This is one of the few places you will see this many varieties in mass," says Erie Metroparks program manager Beki Catri. Stunning blooms arrive each spring in white, pink and deep red, and the trees boost winter bird-watching by providing a food source. 1600 Boos Rd., Huron 44839, 419/625-7783, eriemetroparks.org

Repurposed Furniture: We all want shabby-chic, vintage furniture to make our summer three-season rooms look and feel like the lake cottage we remember as kids. Vicki Myers, the owner of Refresh with Style, finds old dressers, mirrors and cupboards at estate and garage sales and transforms them into slightly distressed, functional works of art. Myers will also custom-paint your old dresser with chalk or milk paint. "I was repurposing from home and just got more and more requests until someone said I should get someplace to sell this stuff," says Myers, who opened her shop in May. 519 Main St., Huron 44839, 419/656-0595.

Community Playhouse: Recent updates that eliminated the light fixtures that once hindered sight lines on the far ends of the Huron Playhouse's theater now make great stage views possible from all of the venue's 500 seats. Hosting dramas, comedies and musicals throughout the summer, the theater has been a fixture and source of community pride for nearly seven decades. "[It] is the longest continuously operating summer stock theater in Ohio, with a production quality usually only found in large metropolitan areas," says the theater's former artistic director Jennifer Wertz. McCormick School, 325 Ohio St., Huron 44839, 419/433-4744, huronplayhouse.org

***

TIPP CITY

Spirited Reads: Browse Awhile Books is home to more than just 150,000 used books. According to store manager Amanda Carl, founder of Tipp City Paranormal, there are 19 spirits — three kids, 13 adults, two cats and a dog — that roam the building. "You hear the kids playing all of the time, you see shadow figures, books fly off shelves," she says. More than 100 groups have investigated the property, and the store has been featured on "Haunted Collector" and "My Ghost Story." If that's not convincing enough, you can brave one of the shop's overnight events. 118 E. Main St., Tipp City 45371, 937/667-7200, browseawhilebookshop.com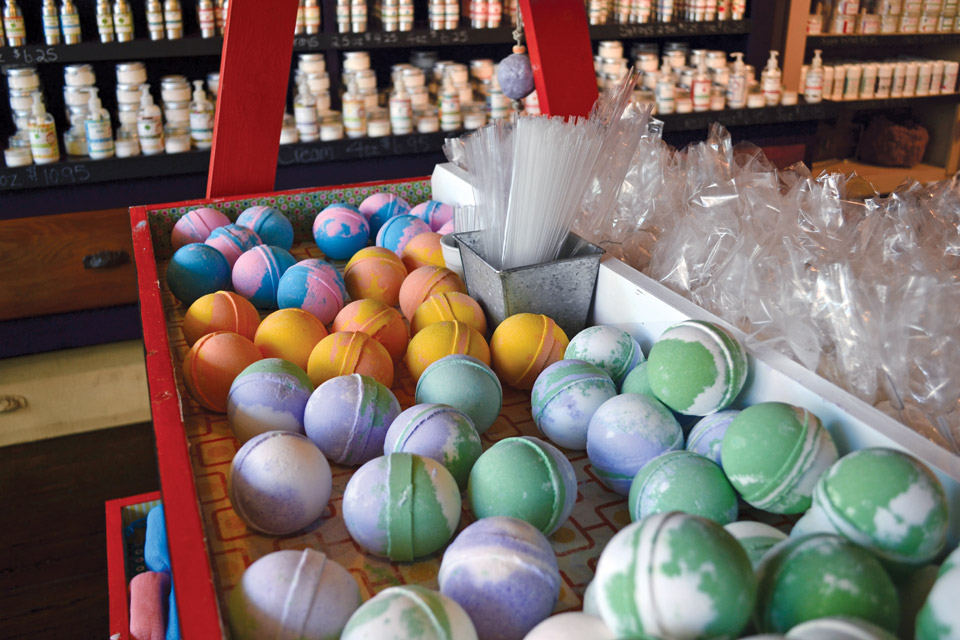 Handmade Soaps: Rows of colorful and lightly scented bath bombs line the entryway of Living Simply Soap in downtown Tipp City. Infused with coconut oil, baking soda, fragrances and a specially formulated cocoa butter nugget, the orbs dissolve in water to create a calming bath that soothes even the most sensitive skin. "It's a fast-paced world, and people don't take the time to soak in a bath," says Living Simply Soap owner Tanya Brown. "When you do, it needs to be a special experience, so the bath bombs were designed to really make it special and relaxing." 112 E. Main St., Tipp City 45371, 937/667-1000, livingsimplysoap.com

Vintage Finds: Scrap the salvage yard and head straight to Terri Bessler's two antiques shops on Tipp City's Main Street. The Iron Dog sells recycled creations and raw materials lovingly selected from older homes and industrial buildings. Midwest Memories Antiques Ltd. is a vintage marketplace with everyday items. "I just wanted to bring something different to town," Bessler says of The Iron Dog. "I love old stuff. … Everything has a story. Everything has a background and a past." 14 E. Main St., Tipp City 45371, 937/524-1409, irondogsalvage.com; 20 & 24 W. Main St., Tipp City 45371, 937/669-0316, midwestmemoriesantiques.com
Photo of Prohibition Gastro Lounge by Kevin Kopanski; photo of Living Simply Soap by Lesley Blake.