Food + Drink
Top Dog
Chef Daniel Wright opened Cincinnati's Senate in 2010. He still has people lining up for his gourmet hot dogs.
June 2016 Issue
BY Michelle Sullivan | Photo By Kelly Wilt
June 2016 Issue
BY Michelle Sullivan | Photo By Kelly Wilt
Chef Daniel Wright strolls into the dining room at Abigail Street, one of his three Cincinnati restaurants, about an hour before it opens for dinner service. Dressed comfortably in jeans, a hoodie and a baseball cap, his sandy-blond beard neatly trimmed, he's looking forward to a rare night off.

"I'm going to a baseball game tonight," he announces, taking a sip of his energy drink.

"Reds game?" he's asked.

"Nah," he responds, pointing to the bright red C on his royal-blue cap. "Cubs game."

The Cubs are the visiting team tonight at Great American Ball Park, but they have Wright's loyalty. He was born and raised in Chicago, and that heritage is what inspired
Wright's first restaurant, Senate, which he opened in 2010 with his wife, Lana, in Cincinnati's Over-the-Rhine neighborhood.

The high-energy, bustling gastropub has become a local favorite, drawing hordes of patrons eager to chow on Wright's inventive gourmet hot dogs — and willing to wait for one of 60 coveted seats.

In the spring and summer, especially, when a warm breeze dances through open windows and sunlight floods the rustic brick-walled space, Senate is positively buzzing. An impressive selection of craft beers and thoughtful house-made cocktails help guests wash down the colossal dogs.

Fan favorites include the Trailer Park, a bacon-wrapped beef frank smothered in American cheese and coleslaw and topped with crushed Grippo's potato chips, and the Lindsay Lohan, adorned in goat cheese, caramelized onions, bacon, arugula, balsamic and "tons of drama," as the menu states.

Wright's dogs of the day, typically named for trending celebrities, further express both his culinary creativity and his sense of humor. Notable offerings have included the Okra Winfrey and the Brat Michaels. His recent Hillary Clinton, a hot dog "served over a bed of shredded emails" was a smash.

A year after debuting Senate, the Wrights opened their second restaurant, Abigail Street, in the vacant space adjacent to Senate. Its Mediterranean-leaning menu is a nod to the couple's history. The two met working at a Middle Eastern restaurant in Chicago. Dan was head chef; Lana, whose parents are from Jordan, was the manager.

In January 2015, the couple opened Pontiac, a no-fuss barbecue joint just two blocks from its sister restaurants. This winter they plan to open a new Senate location in the Cincinnati suburb of Blue Ash. Wright expects the 170-seat restaurant to more than double business.

As a kid, Wright loved being in the kitchen, participating in cooking competitions during high school and preparing meals for his mom and older brother. After graduation, he enrolled in culinary school , but he only made it a year.

"It was too regimented. I felt like I wasn't learning anything," he says. "When I do something, I dive in head first. I want to learn as much as I can as fast as I can," he continues. "That's what I love about this industry, that it's so fast-paced."

Chef's school moved too slowly for him, so he dropped out. Three days later, he took a job working for Wolfgang Puck. Over the next 12 years, Wright cooked his way through kitchens in Chicago and Los Angeles. When he and Lana moved to her hometown of Cincinnati in 2007, they were ready to start a place of their own.

"We were tired of working our asses off for somebody else," Wright says. "If we were going to be working this hard, it might as well be for ourselves."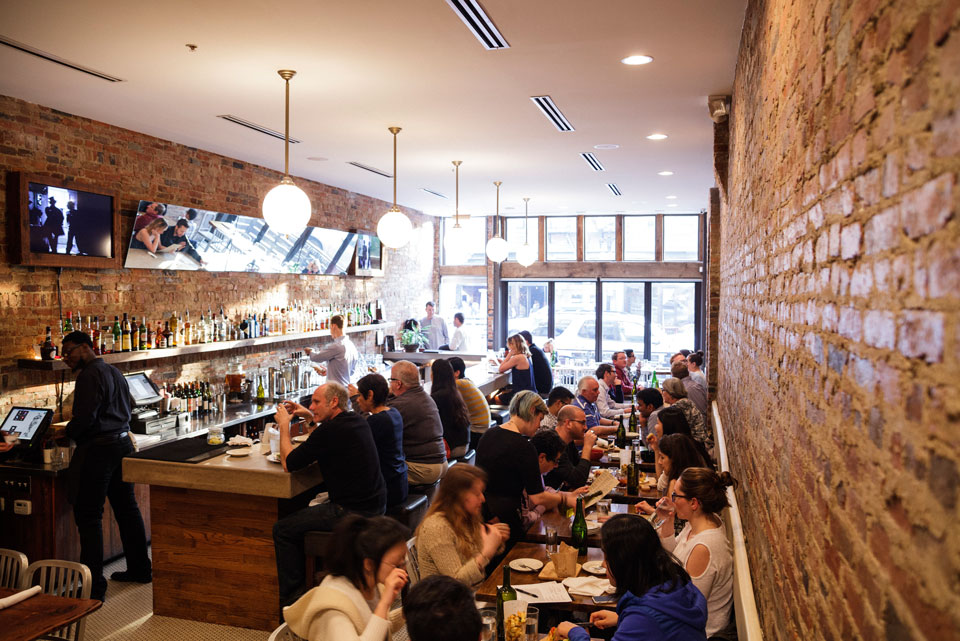 Hot dogs are as ubiquitous in Chicago as chili is in Cincinnati, and Wright quickly realized his new city was lacking the thing he missed most about home.

"There was such a need for hot dogs in [Cincinnati]," he says. "I looked around and saw that nobody was doing the gourmet street food thing."

He had the concept; he just needed the space. He found it in Over-the-Rhine, a historic working-class neighborhood teetering on the brink of dilapidation. Now the hippest spot in town, Over-the-Rhine's bright renaissance was merely a dim possibility in 2010. Wright had faith in the neighborhood's imminent turnaround. Lana needed some convincing.

"She said, 'You think you're going to do a gourmet hot dog restaurant in OTR and people are going to come to it?'" Dan recalls.

But after seeing the narrow 140-year-old space with original brick and hardwood floors, she was easily swayed. They got a loan from a local nonprofit development corporation and held their breath as they opened for business.

"We had $200 in our bank account when we opened," Lana says. "We hoped for the best but expected the worst."

They exhaled when, on their first night, a line formed out the door.

Each week, Senate's small kitchen serves between 1,200 and 1,500 all-beef hot dogs, which are made at a local butcher shop with Wright's original recipe. But as his businesses flourish, he's spending less time behind the stove.

"It went from me being Chef Dan to more of a restaurateur role," he says. "I don't spend nearly as much time in the kitchen as I'd like to these days."

At home, he has another, more important, role to fill: father to 4-year-old twin boys.

When Wright is in his chef's apron, he makes it count. He still crafts the menus for all three restaurants, incorporating dishes like crispy braised pig tails and herby, saffron-infused mussels into Senate's street-food repertoire and changing Abigail Street's seasonal menu eight times a year. On busy Saturday nights, you'll find him plating food tableside, shaving a leg of lamb here or depositing a hunk of prime rib there.

Lately, he's enjoyed experimenting with wood-fired grills, imparting vegetables and more with nothing but natural, roasted flavor.

"I love keeping things really simple," Wright says. "How do I take this ingredient and elevate it without really doing anything to it?"

Simplicity. That's the element that holds true across each of Wright's varied concepts. It's all simple food, done exceedingly well.

"It's approachable," Lana says.

So, too, is Wright. He's a regular — albeit extraordinarily talented — guy who takes his Chicago dogs with neon relish and prefers drinking Miller Lite over craft beer. Success has cemented his confidence, but he doesn't let an inflated ego cloud his cooking.

"Dan is the person who knows exactly who he is and what he wants," Lana says. "It's a very clear picture for him. Our success has a lot to do with that."

For those who crave authenticity, Wright delivers it with both his food and his presence. The chef who elevated hot dogs is the same guy you're apt to see chowing on them at a baseball game. He might even be wearing his Cubs hat.

***

How To: Build the Perfect Hot Dog
When it comes to crafting flavor-packed hot dogs at home, Daniel Wright has but one rule: Don't take yourself too seriously. "The most important thing is to have fun with it," says Wright, whose cookbook Senate: Street & Savory features hundreds of original recipes, from hot dogs and burgers to sauces, toppings and sides. Just in time for barbecue season, Wright gave us a few pointers on how to grill and build the perfect dog in your own backyard.

Good Dog, Bad Dog:
Not all hot dogs are made the same, and the fewer chemicals and preservatives, the better. "Where you source your dog is really important," Wright says. At Senate, he serves fresh all-beef hot dogs made using his own recipe. But for backyard grilling, Wright has a few go-to brands: Vienna Beef, Nathan's Famous Hot Dogs and Hebrew National.
Keep it Rolling:
Before you throw your hot dog on the grill, score each end with an X. This helps give the dog a nice crispy finish. Then, roll it as it cooks — just 5 minutes over medium heat — to make sure it's done evenly throughout.

Experiment with Condiments:
Wright says you'd be surprised how much you can make with what you already have in your house. For a creamy beer cheese, just mix melted American cheese with a hoppy IPA, or combine mayo and Sriracha for a spicy aioli. "Get creative," he says.
Add a Little Crunch:
"Every dog needs some texture," Wright says. Whether it's crushed potato chips, wontons, fried onions or salsa made with raw fruit and veggies, a little crunch goes a long way.

Hold the Ketchup:
"We don't put ketchup on hot dogs," Wright says. "Unless you're under the age of 10, you shouldn't be putting ketchup on your hot dog."
***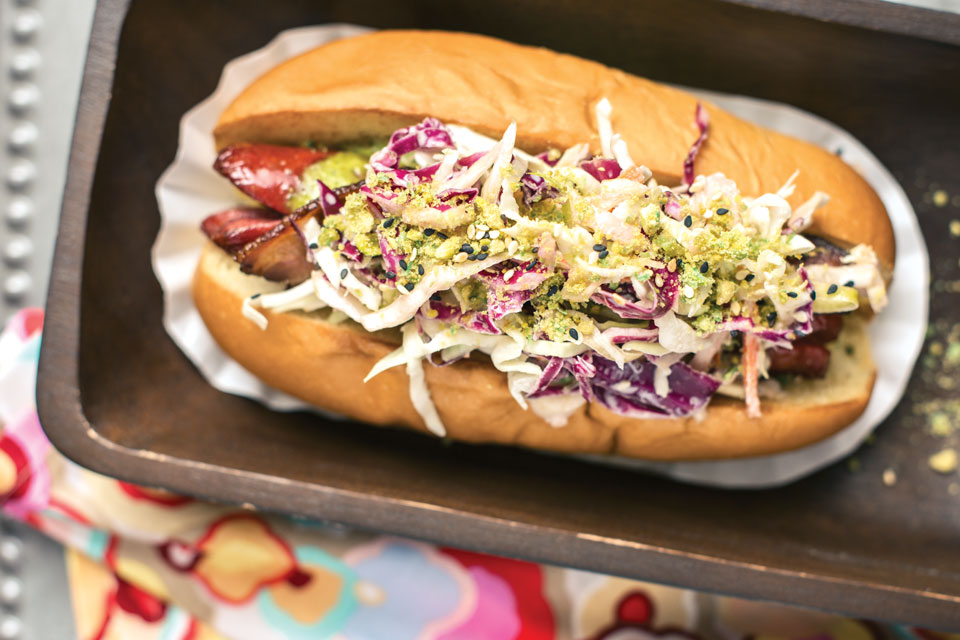 RECIPE: Hello Kitty Dog
Excerpted from Daniel Wright's
Senate: Street & Savory
INGREDIENTS
6 hot dog buns, buttered and toasted
6 all-beef hot dogs, grilled
1/2 cup wasabi mayonnaise (recipe below)
6 slices crisp bacon
3 cups ponzu-wasabi slaw (recipe below)
1/4 cup wasabi peas, crushed
1 tablespoon toasted sesame seeds
Wasabi Mayonnaise
Yield: 2 cups
2 cups mayonnaise
1 tablespoon powered wasabi or
2 tablespoons freshly grated wasabi
1/2 cup water
Juice of 1 lime
Salt to taste
Puree ingredients in blender. Season to taste. Refrigerate.
***
Ponzu-Wasabi Slaw
Yield: 4 cups

2 cups cabbage, shredded
2 cups purple cabbage, shredded
1 cup carrots, shredded
1 cup wasabi mayonnaise
1/4 cup ponzu
1 tablespoon black sesame seeds
1 tablespoon white sesame seeds
Salt to taste
Combine shredded cabbages and carrots in a bowl. Thoroughly mix in mayonnaise, ponzu and sesame seeds. Season with salt. Refrigerate.
Assemble in Order: Bun + Dog + Wasabi Mayonnaise + Bacon + Ponzu-Wasabi Slaw + Crushed Wasabi Peas + Sesame Seeds