Food + Drink
5 Root Vegetable Recipes You'll Love
Ohio chefs share creative recipes — ranging from salad to soup to dessert — that feature some of our favorite subterranean vegetables.
October 2014 Issue
BY Kara Kissell | Photo By Kevin Kopanski
October 2014 Issue
BY Kara Kissell | Photo By Kevin Kopanski
Warm Root Salad with Pomegranate Maple Dressing
Explorers Club, Columbus | Tracy Studer, owner

Adventurous flavors are at the core of Tracy Studer's Explorers Club menu. Each January, he and his staff make a list of countries and food regions they'd like to feature throughout the year. Then, they get to work crafting concise menus that showcase various cultures.

"My whole idea behind the restaurant was just to explore different foods and give people something a little bit different but made from local, fresh things," he says.

While the specialty menus change monthly (October's focus is Germany), Studer also maintains an everyday menu that varies ever so slightly throughout the year. Salads are an easy place to make seasonal swaps, and Studer's warm root vegetable salad arrives each autumn. "This salad is meant for fall and winter," he says.

Studer embraces the restaurant's "simple, pioneering flavor" motto by pairing the salad's root vegetable base with a pomegranate maple dressing.

"That's the kind of thing that we want to do, we want to make it different," he says. "[Finding] the pomegranate syrup is a little bit tricky, but specialty stores will have it. Pomegranate juice is just too thin.

Although rounding up the ingredients requires a little additional legwork, Studer attests that the end result is worth the search. "This dressing is good to use on almost anything," he says. 1586 S. High St., Columbus 43207, 614/725-0155, explorersclubmv.com

INGREDIENTS
2 large beets
3 large carrots
3 large parsnips
1 large turnip or 4 baby turnips
2 tablespoons pomegranate syrup
2 tablespoons maple syrup
2 tablespoons extra-virgin olive oil, plus more for roasting
2 cups baby spinach
2 cups arugula
3 ounces soft goat cheese

DIRECTIONS
Place two racks in the center and upper third of the oven. Preheat oven to 375 F. Wash beets and trim their leaves, leaving about 1/2 inch of the stem. Place beets on individual pieces of foil and drizzle with olive oil. Seal up the foil packets and place on a rimmed baking sheet. Slice carrots, parsnips and turnips into 1/4-inch thick coins. Place on a second rimmed baking sheet. Drizzle with olive oil and season with salt and pepper. Toss to coat. Spread in an even layer on sheet to bake. Place both rimmed baking sheets in the oven. Roast carrots, parsnips and turnips until browned and softened (about 30 minutes). Roast beets until a knife easily pierces the skin (about 45 minutes). Rotate pans halfway through roasting time. Let beets cool before handling, then peel with a pairing knife or rub skins off with fingers. Slice into 1/4-inch thick rounds. Whisk together pomegranate and maple syrups. Whisk in oil, adding more for a lighter flavor. On a large platter, lay out spinach and arugula. Spoon warm vegetables on top of the greens then crumble goat cheese on top. Drizzle with the pomegranate maple dressing, serving the remaining dressing at the table. Yield: Serves 4


***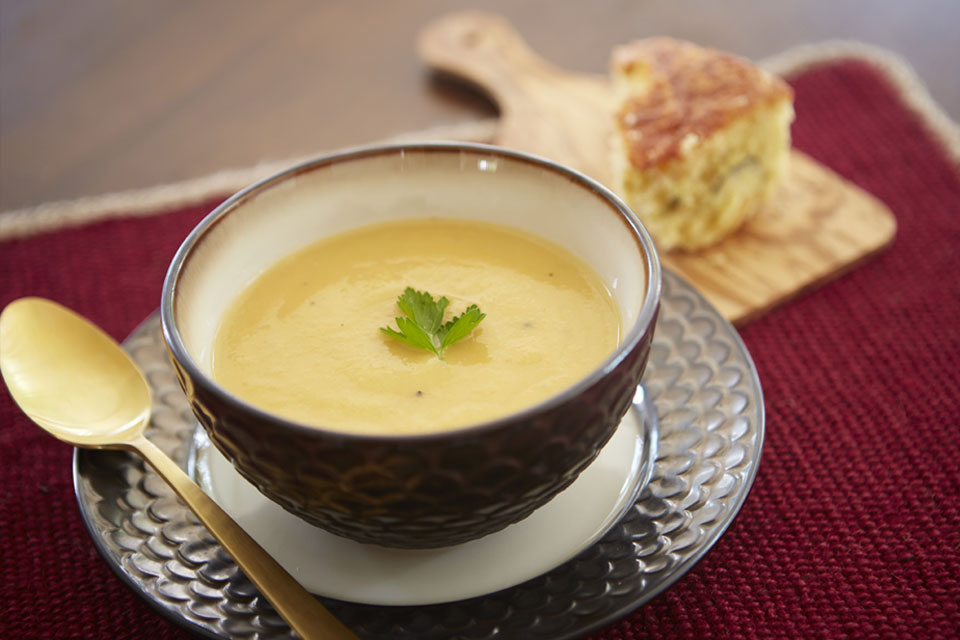 Savory Sweet Potato Turnip Soup
Stockport Mill Inn, Stockport | Dottie Singer, owner

Morgan County celebrates autumn with pumpkin festivals and apple picking, and this quaint, uncomplicated feel is a hallmark of Stockport Mill Inn owner Dottie Singer's menu.
"So many people have gotten away from just good, fresh vegetables," she says. "Many of [our guests] are at the age that they're thrilled to find someone who is cooking like we used to, so to speak."
Singer travels two miles from her inn multiple times a week to pick up the vegetables she bases so much of her menu around, and she is purposeful in her choices. The inn owner knows what she's looking for in a root vegetable, choosing to select them herself rather than simply having a farmer deliver them.
"Just solid," Singer says, when asked what she looks for. "You don't want to squeeze them and have them be soft, because that means that they would be pithy. You want them to be firm, and then you want to keep them cool."
Singer's hearty sweet potato turnip soup recipe, which originates from one of her local farmers, allows each root vegetable to work on its own without the need for heavy-handed spicing or intense cooking methods. All they require is a quick boil, followed by a simmer to meld the flavors.
"The spiciness of the turnip adds a little zip to the sweet potato and then the sweet potato calms the turnip," Singer explains. "Sort of like the salt and pepper thing — they're totally opposite, but they are so good together."
1995 Broadway St., Stockport 43787, 740/559-2822, stockportmill.com

INGREDIENTS
1 tablespoon vegetable oil
4 large garlic cloves
1 medium onion
1 large sweet potato
1 small turnip
2 small white potatoes
32 ounces chicken broth
Salt and pepper
1/2 cup milk
DIRECTIONS
Heat oil in a large saute pan over medium heat. Chop onion and finely chop garlic, then add to saute pan. Cook until onion is translucent, being careful not to burn the garlic. Remove from heat. Chop sweet potato, turnip and white potato into 1/2-inch cubes. Place in large stockpot with the garlic and onion and cover with broth (just enough to cover the vegetables). Season with salt and pepper. Bring to a boil then lower the flame and simmer, covered, for about 25 minutes, or until veggies are soft/easily pierced with a knife. Remove soup from heat and blend with a hand blender until thick and creamy. Pour in the milk and blend for a few more minutes. Serve immediately.
Yield: Serves 4
***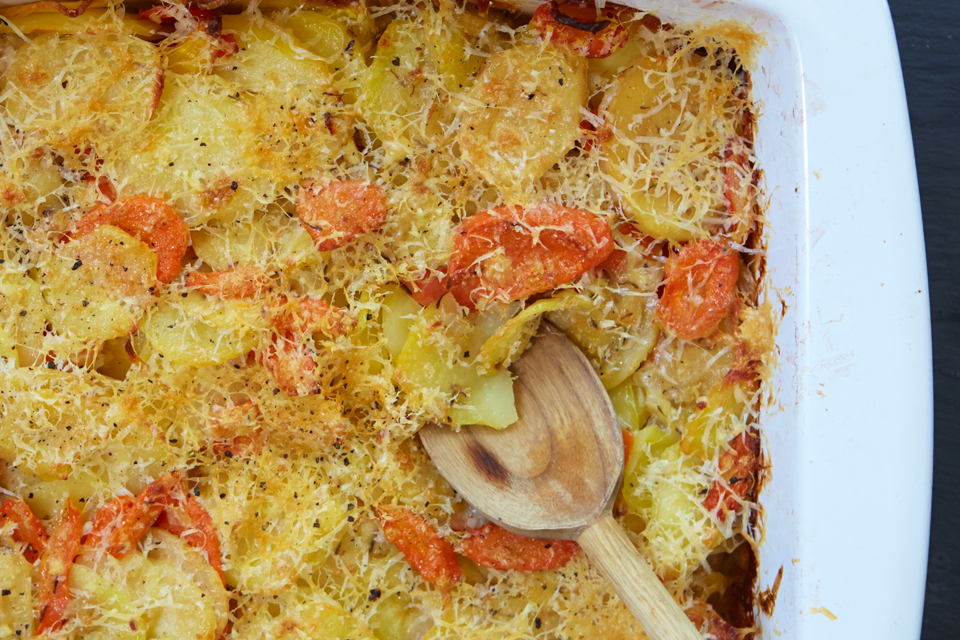 Potato, Parsnip and Carrot Au Gratin
Phoebe's Healthier Options, Tiffin | Michael Pinkston, chef and owner
Aptly named after the quirky yet lovable vegetarian character on the television series "Friends," Phoebe's Healthier Options in Tiffin is devoted to meat-free dishes. Owner and chef Michael Pinkston shows off a variety of root vegetables in his vegan and vegetarian options.
"There are loads of tastes hiding," he says. "When you roast a parsnip it gets so much sweeter and just changes the complexity of the vegetable."
In his luscious au gratin, a recipe that can easily be whipped up on a weeknight, Pinkston combines ingredients readily found in pantries and refrigerators. As the ingredients slowly meld in the oven they create a delightfully flavorful dish.
"The herbs stand out, and the creaminess is in there," he says. "There's the sweetness of the parsnips, and the potato helps the whole mix stay together. And the carrots — if you use really nice, locally grown carrots — they offer this wonderful softness and color so the dish ends up being this beautiful mix of cream and orange."
Pinkston's focus on flavor starts at the shopping stage. "I really encourage people to buy vegetables from … a local farm if they can find them or a local produce stand," he says.
To prove the benefits of local ingredients, a few years ago Pinkston conducted a carrot taste test with bagged baby carrots, an organic supermarket carrot and a locally grown carrot.
"The locally grown carrot actually tasted like a carrot," he recalls. "There was such a dramatic difference in the taste and the flavor, the sweetness, the texture was so much better. It was a revelation to me."
138 S. Washington St., Tiffin 44883, 419/448-7733, facebook.com/phoebestiffin
INGREDIENTS
2 large Yukon Gold potatoes
4 parsnips
4 carrots
2 cloves garlic,
minced
2 shallots,
minced
2 tablespoons butter
1 tablespoon flour
1/2 cup vegetable broth
1 cup heavy cream
1 teaspoon dried thyme
Pinch ground cayenne pepper
Pinch ground nutmeg
1/2 cup Parmesan-Reggiano cheese,
grated
DIRECTIONS
Fill a large pot with water and bring to a boil. Thinly slice potatoes, parsnips and carrots, then add to pot. Cook for 5 minutes, remove from heat, drain and pat dry. Arrange in a 13-by-9-inch baking dish, evenly distributing vegetables. In a medium-size saute pan, melt butter. Add garlic and shallots and saute over medium-low heat for 2 minutes, being careful not to burn. Add flour, whisking constantly for one minute. Add broth and heavy cream and whisk until combined. Season with thyme, cayenne and nutmeg. Pour over potatoes in baking dish. Sprinkle 1/4 cup of cheese over top. Cover with foil and bake at 375 F for 40 minutes. Remove foil and bake another 30 minutes until golden brown. Remove from oven, sprinkle remaining cheese over top and let rest for 10 minutes.
Yield: Serves 6
***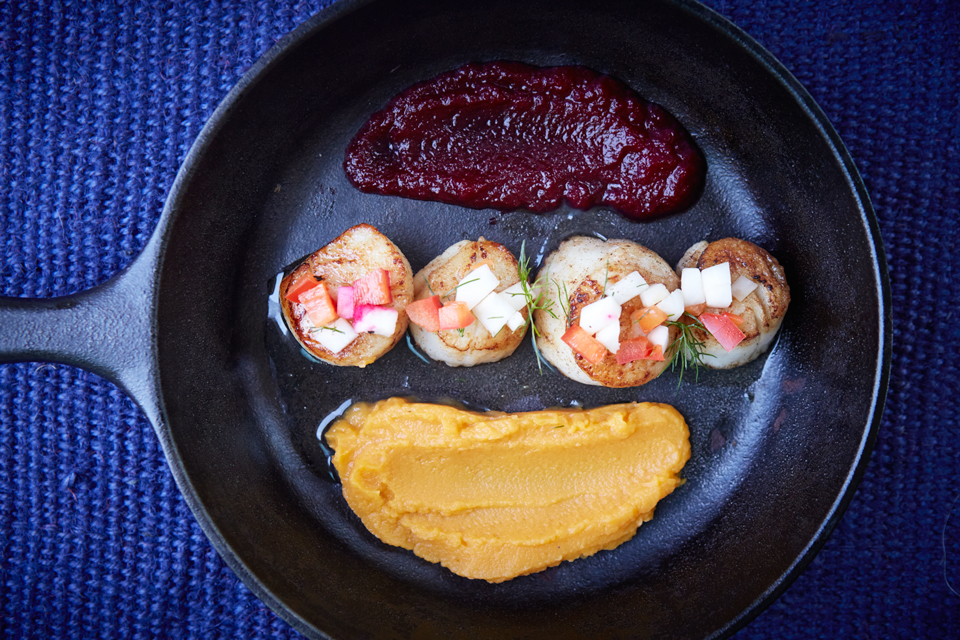 Seared Scallops with Root Vegetable Purees and Turnip-Dill Salad
Sunrise Cafe, Yellow Springs | Brian Rainey, chef and owner

Sunrise Cafe has been a mainstay in Yellow Springs since the mid-1970s, but owner Brian Rainey took it over 10 years ago, offering eclectic breakfast, lunch and dinner menus that show off what he finds at the local farmers market each week.
"My whole approach is, if you can fit sweet, spicy, salty, savory, smoky all into one dish, then you've got something magical," he says.
Each fall, that means root vegetables appear as a complement to Rainey's seared scallops. "Beets, sweet potatoes and turnips are all in season at the same time, so it all works well together," he explains.
To get the flavors he wants, Rainey adds herbs and red peppers. "You've got the sweet from the pepper, you've got the freshness of dill and you've got the crunchy spiciness of turnips along with the lemon juice."
The earthy beets get a little warmth from the bay leaf, while the sweet potatoes are made even sweeter with brown sugar. Rainey points out that it's about the look and texture of the dish as well as the taste.
"You've got the red and the orange contrasting," he says. "You've got the purees and the crunchiness of the salad and then the soft texture of the scallops."
Rainey also has shopping advice from all those days spent at the farmers market. "[Root vegetables] are usually better smaller," he says. "They have more flavor."
That's why he also frequently enjoys them as a spontaneous snack. "I think fall turnips are one of the best veggies. You can eat them like an apple, you know."
259 Xenia Ave., Yellow Springs 45387, 937/767-7211, sunrisecafe.net

INGREDIENTS
1 pound sweet potatoes
1 pound beets
1 bay leaf
2 tablespoons fresh dill,
chopped
2 medium turnips, peeled,
diced small
1/2 cup red bell pepper,
diced small
2 tablespoons extra virgin olive oil
1 lemon
1 pound or 16 large sea scallops
3 tablespoons butter or olive oil
Sprig of rosemary
1 tablespoon brown sugar
DIRECTIONS
Purees:
Peel and chop the beets and sweet potatoes. Bring two large pots of salted water to boil. Add bay leaf to water for beets. Cook each separately, 10 minutes or until soft. Strain separately, reserving two cups of liquid from each. Remove bay leaf and puree beets in food processor, adding enough reserved liquid to make a smooth but not runny puree. Season with salt and pepper to taste. Repeat for sweet potatoes, adding the brown sugar. Set purees aside and keep warm.
Turnip salad:
Add dill, diced pepper and turnips to mixing bowl. Toss with olive oil and juice from 1 lemon. Season with salt and pepper to taste. Set aside.
Scallops:
Heat butter or oil in large skillet over medium-high heat. Add scallops and sear each side until golden brown and the middle is opaque, about 1 1/2 minutes per side. Swirl rosemary sprig in as they cook to infuse flavor. Season with salt and pepper when done cooking.
ASSEMBLY
Spread sweet potato puree on side of plate and beet puree on other side. Line four scallops down the middle and top scallops with turnip salad. Garnish with any remaining dill (optional).
Yield: Serves 4

***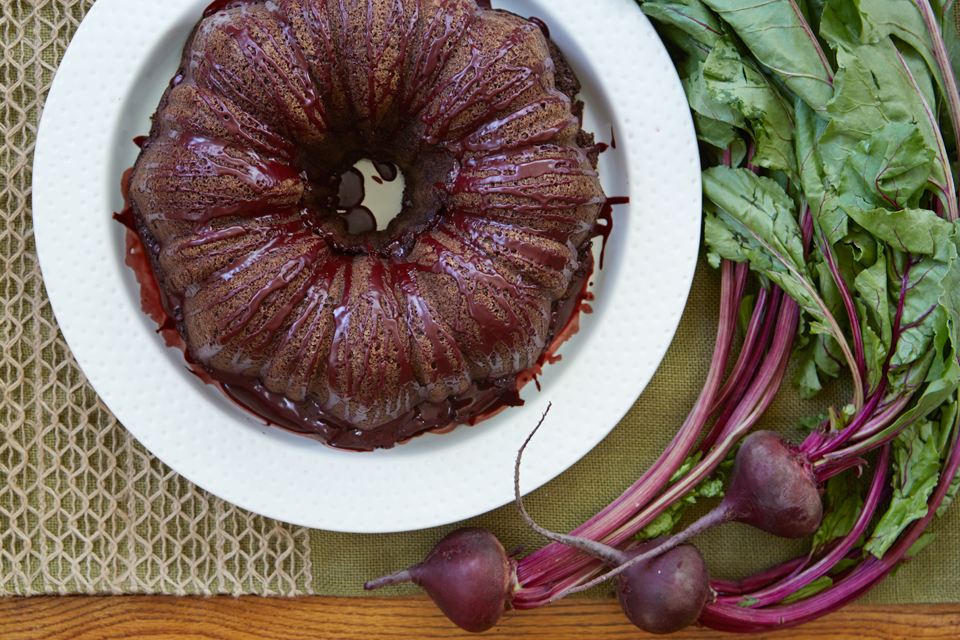 Chocolate Fudge Beet Cake
Ms. Julie's Kitchen, Akron | Julie Costell, owner
Pickled and roasted, we get. But baked? It turns out the beet is far more talented than we've given it credit for all these years.
"You can make desserts, you can make soups, you can come to a lot of different conclusions with the same root vegetable," says Julie Costell, owner of Ms. Julie's Kitchen in Akron.
That's precisely what Costell does at her lunch spot and take-out restaurant that focuses on vegan dishes and desserts made with whole grain, organic and locally sourced ingredients. But just because the ingredients are healthy doesn't mean Costell gives up on taste. "I like to eat, so my biggest challenge was figuring out how to make the stuff I was supposed to eat taste like something that I wanted to eat," she says.
One of the results was her chocolate fudge beet cake. The dessert's namesake root vegetable is key to the cake's texture and toothsome flavor. "The beets will sweeten the cake so you don't have to add a boatload of sugar," says Costell. "They also create this great, moist texture … It's going to look kind of like a red velvet cake but without dye and all that bad-for-you stuff."
The addition of spelt flour, which is high in iron and flax seed, offers a nutty, earthy flavor to balance the sweetness of the hefty Bundt cake. "If you didn't tell somebody that it was beets they wouldn't have a clue," says Costell. "And there are so many beets in there."
1809 S. Main St., Akron 44301, 330/819-3834

INGREDIENTS
6 large red beets (5 for the cake, 1 to juice)
2 cups canola oil, plus more for roasting beets and oiling pan
3 cups cane sugar
6 tablespoons ground flax seed
1 cup semisweet chocolate chips
2 tablespoons pure vanilla extract
5 cups spelt flour,
plus more for dusting
4 teaspoons baking soda
1/2 teaspoon salt
For the glaze
1/2 cup powdered sugar
2 tablespoons raw beet juice
2 tablespoons cocoa powder
DIRECTIONS
Cake:
Preheat oven to 375 F. Wash beets and trim their leaves, leaving about 1/2 inch of the stem. Drizzle with canola oil, then wrap and seal beets in foil. Place on a rimmed baking sheet. Roast beets for about an hour or until a knife easily pierces the skin.
Remove beets from the oven. Open up the foil packet and allow the beets to cool completely. Peel or rub skins off with fingers. Chop beets into bite-size cubes. Measure 4 cups of beet cubes and place into a food processor and puree until smooth. Set aside.
Reduce the oven temperature to 350 F. Grease a Bundt pan with canola oil. Dust with flour to coat the bottom and sides. Place chocolate chips in a small glass bowl. Bring 2 inches of water to a boil in a small saucepan then reduce to a simmer. Place glass bowl of chocolate chips over pan of simmering water and melt chips, stirring constantly with a silicone spatula. Remove from heat immediately, as chocolate can quickly burn. Set aside.
Using an electric mixer, mix together oil and sugar on medium speed for two minutes. Beat in ground flax seed until mixture thickens, about 2 minutes. Add in melted chocolate and vanilla and beat until smooth. Add in beet puree and mix until fully combined, scraping sides and bottom of bowl as necessary. In a medium bowl, whisk together flour, baking soda and salt. Add flour mixture to chocolate puree mixture. Beat on low speed with electric mixer, just until incorporated, being careful not to over mix. If needed, gently fold in any remaining flour mixture with a silicone spatula. Pour the batter into prepared Bundt cake pan and bake for 45–60 minutes or until a toothpick inserted in the center comes out clean. Remove cake from the oven and let stand for 20 minutes. Invert onto a cooling rack, leaving pan around cake until it cools completely.

Beet juice:
Juice beet with a juicer. Strain pulp. Set juice aside.
(No juicer? Roast the extra beet alongside the five beets for the cake batter. Puree separately and strain out 2 tablespoons of juice.)

Glaze:
Using an electric mixer, mix powdered sugar and cocoa powder at low speed. Add beet juice and increase speed to medium, scraping down sides of bowl as necessary. Pour glaze over cooled cake, spooning it on to the cake often as the glaze dries. Cake will keep 2–3 days covered tightly.