Food + Drink
Smashdawgz, Toledo
Darryl and Nina Robinson's food truck serves a lineup of creatively constructed hot dogs at breweries, wineries and farmers markets across northern Ohio.
June 2021
BY Nicholas Dekker | Photo by Jonathan Miksanek
June 2021
BY Nicholas Dekker | Photo by Jonathan Miksanek
Darryl Robinson was first inspired to start a hot dog-focused food truck after watching a PBS special about hot dog restaurants across the country.

"I watched it again, and I watched it again," he says. "I started sketching out a drive-in restaurant with carhops and started doing the math on the cost."

Deterred at first by the expense of such an operation, Robinson was later inspired when he helped build a food truck for a couple different clients. His training in engineering, drafting and design, plus his licensing as a contractor, gave him the skills to build out the truck himself.

Finally, in 2013, he and his wife, Nina, found a truck for sale in Detroit. They hopped on their motorcycle and headed north to look at it. With the help of a good friend, Robinson patched up the truck enough to get it back to Toledo, then continued to work on it over the next few years, delayed by a knee injury in 2014, but finally nearing completion in 2017.

"Nina asked me, 'Are we going to get this thing done?' " Robinson recalls with a laugh, "but I finally built the entire truck and painted it with family and friends."

The truck hit the streets in April of 2018 and found success quickly. That August, Toledo City Paper named Smashdawgz best food truck.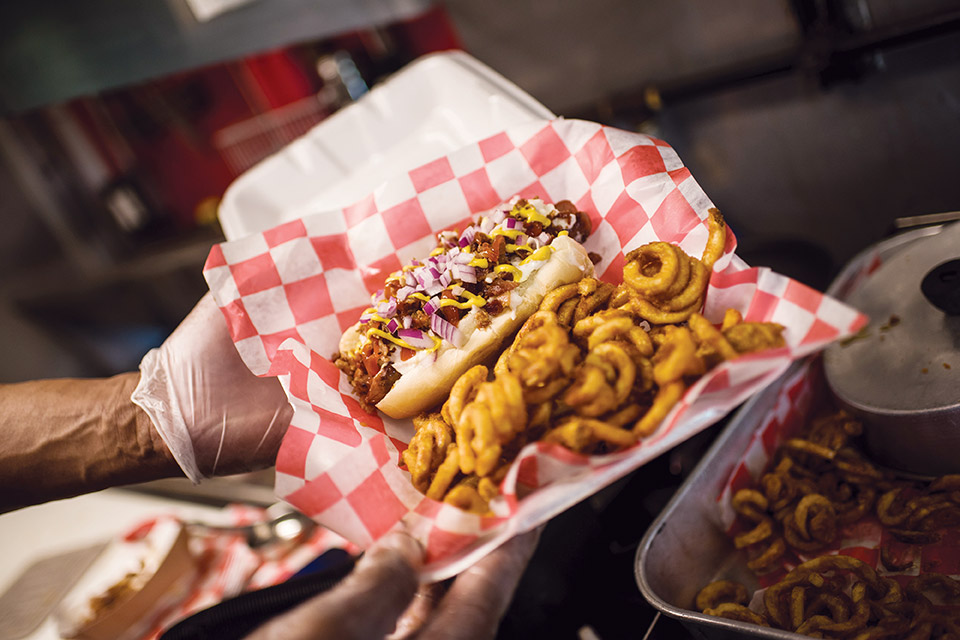 The Smashdawg blends a classic hot dog with the stylings of a Cuban sandwich: a jumbo Hebrew National dog, sliced deli ham, Swiss cheese, bread and butter pickles and mustard on a buttered and griddled bolillo bun. Robinson also recommends the Chili Dawg with house-made chorizo and beef chili, sharp cheddar cheese and diced onions.

"My wife is a genius," Robinson says. "She designed our chili sauce, our homemade teriyaki mayo. The flavors she puts in that chili is deep. It's layers and layers and layers of flavor."

Other favorites include the Slaw Dawg with diced bacon and the Ay Chihuahua with salsa, diced jalapeno and sharp cheddar cheese. Prefer it plain? Robinson recommends the Dawgonit. "It's a regular bun with a dog on it," he laughs.

Smashdawgz's popularity has it traveling all over northern Ohio and even into Michigan. The truck appears at the Perrysburg Farmers Market every Thursday in season. Area breweries and wineries are consistently hosting the truck, too, including Ernest Brew Works in Toledo, Twin Oast Brewing in Port Clinton, Majestic Oak Winery in Grand Rapids and Stoney Ridge Winery in Bryan.

Hot dogs may seem like a simple concept, but Robinson sees his mission as something larger: "To serve good food to good people."

"It goes beyond just eating," he says. "I want it to be an experience. I talk to them, joke with them. ... They know they're going to eat good. If you eat at our truck, your life's going to change, I guarantee. You're going to smile, you'll leave feeling better." facebook.com/smashdawgz

Food Trucks: Mahope | Ray Ray's Hog Pit | Little Ladies Soft Serve