Food + Drink
Little Ladies Soft Serve, Columbus
Will and Lydia Chambers' central Ohio soft serve truck offers a fun lineup of ice cream cones and sundaes, with a couple inspired by the distinctive personalities of their young daughters.
June 2021
BY Nicholas Dekker | Photo courtesy of Little Ladies Soft Serve
June 2021
BY Nicholas Dekker | Photo courtesy of Little Ladies Soft Serve
Central Ohio sports some heavy hitters when it comes to ice cream, so it says something when a humble, family-run soft serve truck becomes one of the region's sought-after delicacies. Pretty much anywhere Lydia and Will Chambers' Little Ladies Soft Serve appears, crowds line up for ice cream cones and sundaes from their small white truck decorated with pastel-colored sprinkles.

The couple opened the truck out of a desire to support their growing family. Will worked in carpentry and Lydia had a background in cooking.

"I had so many ideas," says Lydia Chambers. "I thought of a canned-good line, a jam company, a doughnut truck. My sister owns one of those mom-and-pop ice cream shops in our hometown in northeast Ohio. I thought, We should do an ice cream truck. We have family in this business, so we can pick their brains. We knew my husband could build it, and we knew I could make the toppings. It's this simple idea that combined both of our skill sets."

After some searching, the couple found an old postal service truck on a government auction website in Michigan. They purchased it and traveled up north to bring it home. Despite an initially dead battery and some seizing brakes, the truck made it safely back to central Ohio, and with the addition of proper equipment, it was ready to roll in June of 2018.

Bookings started slowly, but eventually Little Ladies Soft Serve found its rhythm, appearing every Friday evening on Galena Square and doing a regular rotation throughout greater Columbus. Each season has been busier and busier. In late April 2021, Lydia took to social media to say that the truck was booked through August.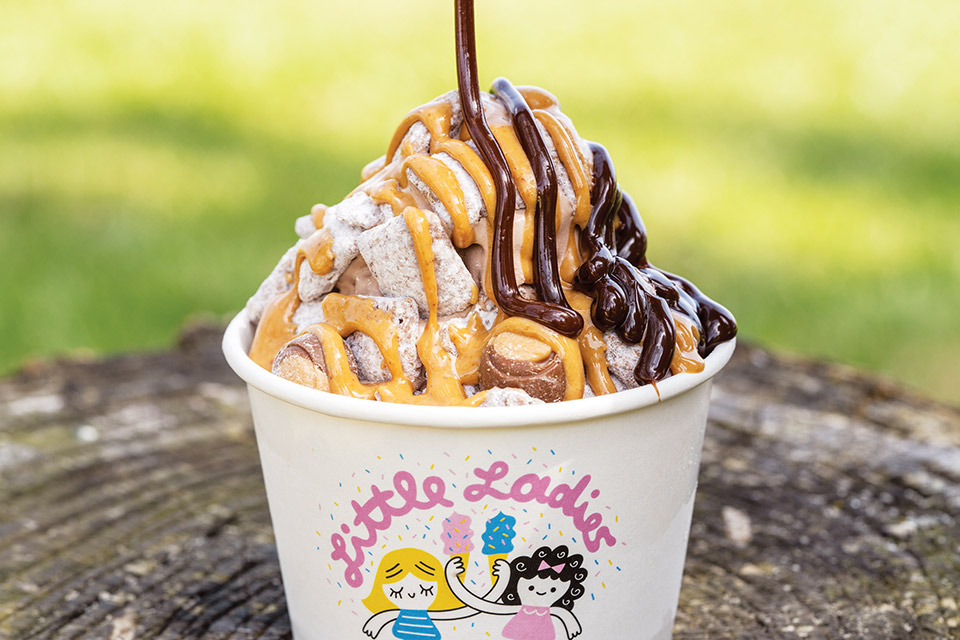 The reason why is easy to see: Little Ladies serves wonderfully creamy soft serve in its cones and sundaes. Lydia attributes the draw to the expertly sourced soft serve and her fun — and very Instagrammable — homemade toppings.

True to the name, some sundaes are named after the resident little ladies: the Chambers' daughters. The Mabel, for instance, is soft serve covered with sprinkles. It's named after their oldest daughter, a "classic, mature old soul," Lydia says.

The colorful Ida, by contrast, layers Fruity Pebbles, white chocolate crumble, a strawberry cookie stick and marshmallow sauce. It's named after their secondborn, "our unpredictable spitfire," Lydia jokes. (The youngest, Flannery, does not have a sundae named for her … yet.)

Lydia names the other sundaes by feeling out their personality. There's the Luella, with brown butter crumble, Nutella and a giant toasted marshmallow ("very sultry, super feminine," says Lydia). Or the seasonal Lola ("a fun, carefree name," Lydia adds) made with Key lime curd. Each sundae — from the Aggie with crushed "puppy chow" snack mix to the Thelma with pretzels and salted caramel sauce to the Oreo-rich Margot — offers customers reason after reason to visit over the summer. littleladiessoftserve.com

Food Trucks: Mahope | Ray Ray's Hog Pit | Smashdawgz