Food + Drink
Mahope, Cincinnati
Vy Sok and Mike Laguna's food truck features tacos, burgers and coney dogs that deliver a fusion of Cambodian and Latin flavors.
June 2021
BY Nicholas Dekker | Photo by Matthew Allen
June 2021
BY Nicholas Dekker | Photo by Matthew Allen
Mahope got its start as a food cart in 2017 and has since grown into a Cincinnati-region staple, appearing regularly at local breweries like Fibonnaci Brewing Co., Humble Monk Brewing Co. and Woodburn Brewing and serving lunch most Tuesdays through Thursdays at Northside Express.

Owners Vy Sok and her partner Mike Laguna blend their personal backgrounds to create a unique fusion of dishes on the truck. Sok, who immigrated from Cambodia with her family as a child, highlights many signature Cambodian flavors in unique forms.

"We started on Cinco de Mayo at Urban Artifact in 2017," Sok says. "That's how our tacos came about. It was Cinco and I wanted to make a special. I thought, How can I incorporate Cinco de Mayo with Cambodian food? All we did was add tortillas."

"Mahope" means "food" in Khmer, the official language of Cambodia. Sok drew the inspiration from her mother, who would regularly ask, "What kind of mahope are we doing today?" Sok also likes the play on "Ma's hope," representing the new life her family has forged in the U.S. over the past decades. "For me it was important to stay with tradition but also incorporate my life and fuse that all together. I wanted to bring Mike's culture and my culture together," Sok says.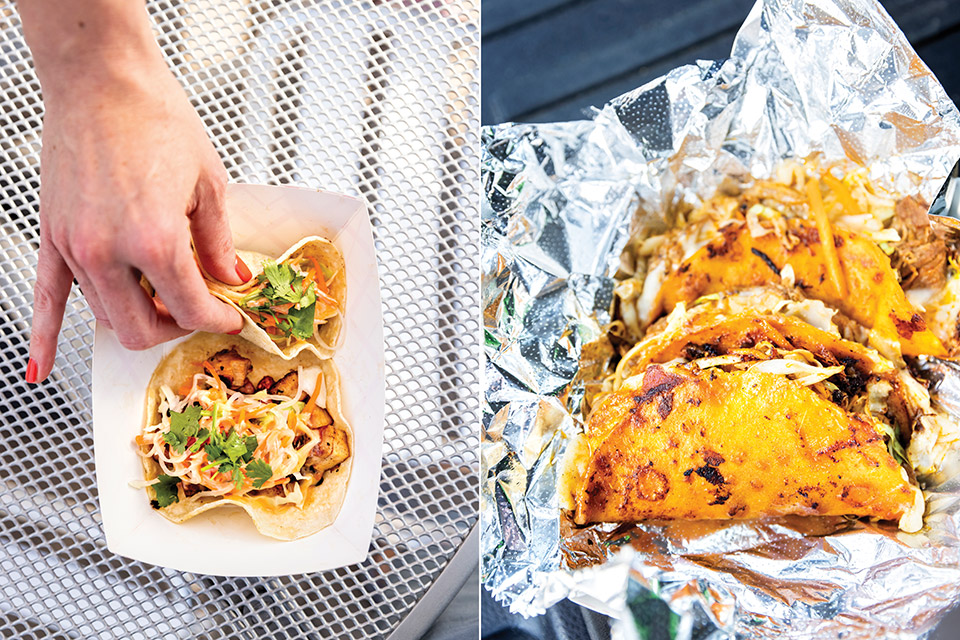 The menu features tacos, burgers and coney dogs filled and topped with a fusion of Cambodian and Latin flavors and ingredients. For instance, Sok recently crafted posole tacos filled with stewed pulled pork, shredded cabbage, mozzarella and provolone cheese, plus a lemongrass aioli for dipping. Likewise, her nom pang (a classic Cambodian sandwich) is filled with savory pulled pork, lemongrass aioli and a crispy layer of pickled papaya and red cabbage, cucumber, jalapeno and cilantro on a toasted hoagie bun.

Many of Sok's dishes are based on kroeung, a rich and fragrant Cambodian paste built on lemongrass, kaffir lime leaves, galangal and other ingredients. The paste is incorporated throughout the menu: the burger sauce, in steak marinades, in soups and stews, stir fries and the aioli.
To start Mahope, Sok attended Cincinnati's Mortar entrepreneurship program in 2016. The nonprofit organization is designed to help historically marginalized communities develop and run successful businesses through classes, mentorship and other resources. As she completed the program, she partnered with a friend who owns the nightclub Mixwells to appear there with the truck. Accolades quickly followed, with Mahope winning awards for its cheesecake tacos at the 2017 Taco Festival, and then first place for its chicken and portobello tacos at Taste of Cincinnati in 2019.

Sok has always wanted to open a Cambodian restaurant in Cincinnati. She and Laguna operated a brick-and-mortar location for about 11 months in 2019, but shut it down, sold the equipment and bought the food truck instead. Sok attributes the move to her desire to bring her food directly to the public.

"We liked going out and meeting people," she says, "being where people are, instead of people coming to us." facebook.com/vysmahope

Food Trucks: Ray Ray's Hog Pit | Little Ladies Soft Serve | Smashdawgz