Food + Drink
Get a Taste of History at Ashtabula's Rennick Meat Market
The building that housed Ashtabula's Rennick Meat Market for decades fueled the creation of this butcher-inspired restaurant.
January 2018
BY Ruth Corradi Beach | Photo by Casey Rearick
January 2018
BY Ruth Corradi Beach | Photo by Casey Rearick
If there's one thing Jennifer Pociask and Alex Asteinza have learned in their culinary careers, it's this: Sometimes you design the restaurant space, and sometimes the restaurant space designs you.

The classically trained chefs learned the first part of that lesson in Nicaragua in 2009. Asteinza, a 1998 graduate of New York Restaurant School, was executive chef at Miami's Canyon Ranch and had hired Pociask as a line cook after her graduation from Johnson and Wales. Their move to Central America promised an adventure: opening a brand-new eco-luxury resort, Aqua Nicaragua.

"We built the restaurant, from the ground up, in a rainforest," Pociask recalls. "It wasn't easy. We were used to having everything in a kitchen readily available to us and now we were designing the kitchen.

"But," she adds with a laugh, "they probably have the best kitchen in Nicaragua now."

The pair stayed for a year — just as long as Asteinza, who discovered he was allergic to something in the environment and endured constant itchiness, could stand. Then it was on to New York City, where Asteinza was born and lived until his late 20s. Upon returning, he worked as executive chef at Cafe Luxembourg, and Pociask took a job as the first female cook and sous chef at the Waverly Inn before moving on to Lincoln Ristorante at Lincoln Center.

The couple toyed with the idea of opening their own restaurant in Brooklyn, but costs were prohibitive. Then Pociask's dad bought a house along Lake Erie, about 75 miles north of Poland, where the chef was born and raised.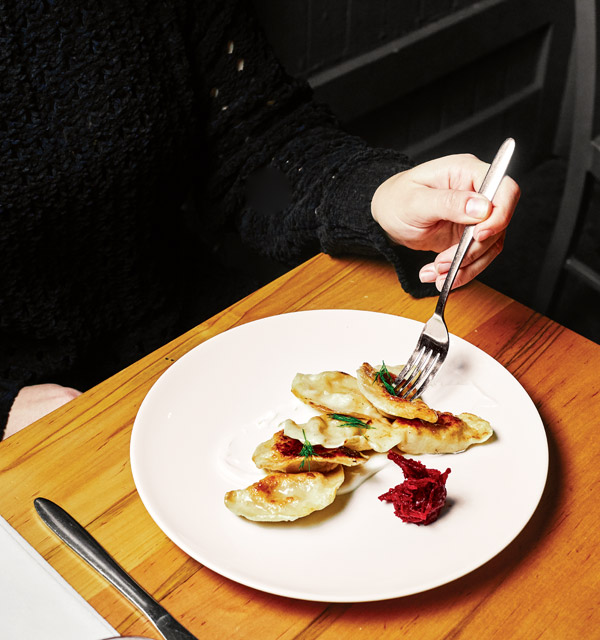 "I walked up and down Bridge Street," Pociask recalls of visiting Ashtabula during 2013, "and saw a coffee roaster and a chocolate shop."

In addition to these signs of a culinary community in the lakeside town, she also noticed the building that had most recently housed Briquettes Smokehouse was available. Once Pociask returned to New York, she and Asteinza decided it couldn't hurt to look at the space, and on the drive back, the couple tossed around restaurant ideas.

"We were thinking, maybe something lake-related? Italian? High-end white tablecloth?" Asteinza recalls.

And here's the second part of the couple's culinary lesson: Sometimes the space designs you. The Ashtabula building had a long history stretching back to 1889, when Thomas Rennick opened his butcher shop. In the years after Rennick Meat Market closed in 1962, the intervening owners did an admirable job preserving the bones of the building.

"We came here, walked inside and saw the butcher cooler and the Rennick sign, and the decision was made for us," Asteinza says of the space. "We thought butcher-inspired American food immediately."

While local lore holds that the building has been an ice store, camera shop, surf shop, candy shop and (twice) a barbecue restaurant, its origin was unmistakable. The intricate floor tiles stopped where the butcher counter had stood. One room still had the 12-inch-thick cork walls that served as insulation. The windowed office with the original T.J. Rennick sign over the door was intact, and tools of the craft remained: an original butcher block, two enormous hanging rods resembling whale harpoons and a variety of meat hooks.

After buying the space, the duo converted the office into a wine cellar, tore up the floors in the front dining room to add water lines and drains, and found a company that could re-create the missing and broken floor tiles. They even kept the Rennick Meat Market name for their new venture.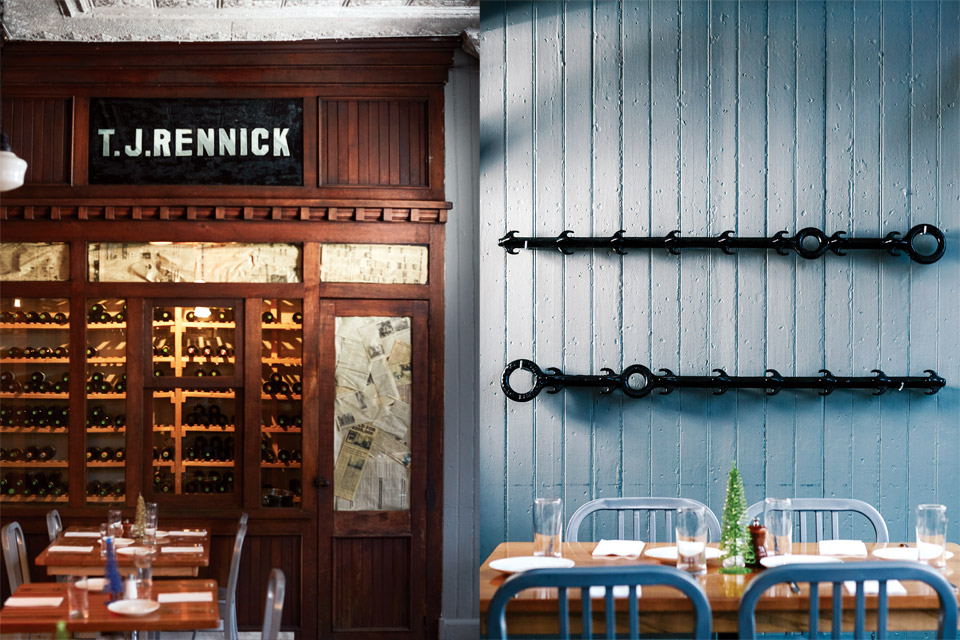 Along the way, descendants of Thomas Rennick stopped in to see the place and contribute old photos. In keeping with the rules of the Ashtabula County Historical Society, Pociask and Asteinza restored the building with accuracy. For example, only one side of the street is allowed to have awnings, because only one side needed them to block out the sun in an era when they served a purely functional purpose.

In a nod to the contemporary art scene of Asteinza's native New York City, the chefs covered one interior wall in bright green wallpaper with a crowded, line-drawn cow print. The paper is from the United Kingdom, and though Pociask was at first skeptical, it works perfectly in the space, adding an eclectic note that lets diners know what to expect. Asteinza and Pociask aim to create a restaurant that embraces its butcher-shop past while helping expand the palates of its customers.

"Once you go to a certain level with technical training, changing the cuisine is just changing flavorings and items," Asteinza explains. "I read a lot about the science of cooking, and that applies a lot to what we are doing."

That means Asteinza and Pociask serve familiar foods, like strip steak, rib-eye and porterhouse, but done their way, including sous vide and using hydrocolloids like gelatin, agar-agar and xanthan gum to suspend water and make different sauces and textures.

"These techniques result in beautiful, clean, fresh sauces without reducing, using things like olive oil and bacon fat powder," Asteinza says. "And everything here is homemade, including the pasta and the Worcestershire sauce. Everything but the ketchup. We tried that, but people just love their Heinz."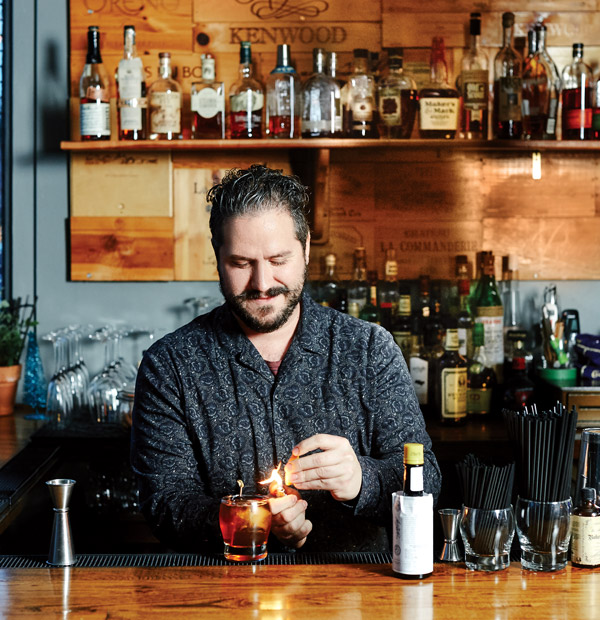 Don't let the customers' resolute love of the familiar condiment fool you. Locals and weekend visitors alike have embraced the place and been willing to give new things a try.
"Once people come in one or two times, they trust us," Pociask says. "They'll try something new and different," like the steak tartare, diced morsels of earthy hanger steak and milder sirloin, prepared tableside, where the server mixes the tangy Dijon sauce up perfectly fresh. "We weren't sure if people would be into it, but they are."

Another best-seller is the pierogi, a feature that's one of a number of vegetarian items available at the meat-centric restaurant. (Vegan options are available, too.) The homemade dough has an unmistakable freshness that's enhanced by the aromatic fresh dill sprinkled on top, and the potatoes in the filling are neither too smooth nor too cheesy. The dish is finished with a small relish of finely julienned beets that turns out to be just enough to offer a brilliant sharpness that amplifies the flavor of the potatoes in a way salt never could.

The decor also influences the drink menu featuring classic cocktails like the Rennick Manhattan and the Old Fashioned Butcher, which incorporates bacon-washed bourbon.

Since opening on June 6, 2013, Rennick Meat Market has carved out an important place for itself on Bridge Street. As for Pociask and Asteinza, they are now business partners only, their romantic partnership a casualty of the all-consuming nature of running a restaurant, Pociask explains.

Asteinza says they've developed a loyal following with lots of late-night customers in an area where most places close by 7 p.m. The restaurant operates until 10 or 11 p.m. and is also open on Mondays, while most other places on Bridge Street are not. That's not to say that Rennick Meat Market is some sort of hipster anomaly in Ashtabula.

"Things are changing here, and it's pushing everyone to do more," Asteinza notes. "It could be like the Hamptons of New York. Erie, Cleveland and Youngstown are all under an hour away. It's the perfect getaway for the weekend or a short trip, and we have the water."

Asteinza's reference to the Hamptons makes clear he hasn't forgotten his own roots, but he's already started to put down new ones. He's on the board of directors of the Ashtabula Arts Center and the Lift Bridge Community Association that is working to revitalize downtown.

"There's a ton of potential down here," he says. "What's special about Ashtabula is that this isn't a re-creation. This is real."

1104 Bridge St., Ashtabula 44004, 440/964-6328, rennickmeatmarket.com

Note: This article originally appeared in our January 2018 issue. For updates about the menu and hours, visit the website.