Food + Drink
3 Picnic-Perfect Recipes
We asked three chefs to share recipes that put a fresh spin on cookout and potluck favorites.
May 2015 Issue
BY Kara Kissell | Photos by Casey Rearick
May 2015 Issue
BY Kara Kissell | Photos by Casey Rearick
Fresh Green Beans & Heirloom Tomatoes with Pickled Red Onion
Angry Barbeque, Canton

Executive chef William Boyd likes to add a little glamour to his slow-smoked fare. Take, for example, his 14-hour smoked brisket served with a red wine reduction barbecue sauce, or his whole-beef brisket and chuck sausages that are ground, stuffed and smoked in-house. To contrast the heaviness of such dishes, Boyd makes a side of fresh green beans and heirloom tomatoes with pickled red onion.

"It is very clean. It is refreshing but still satisfying," says Boyd, who is also Angry Barbeque's general manager. "It is a healthier alternative to some of our heavy, cheesy and rich side dishes."

The fresh beans and heirloom tomatoes are sauteed with butter and olive oil and then married with homemade pickled red onion, which cuts through the fat and brightens the dish with a sweet tang.

This salad makes a grand entrance for a few reasons. Sure, the fresh flavors are bountiful, but amateur cooks also get high marks for pickling their own onions. While it sounds like a tricky job, Boyd assures it's an easy task. He also makes his own seasoning salt in-house.

"We put it on our fries," says Boyd. "We season our dressings with it, and we season all of our side dishes with it." 4640 Belden Village St. NW, Canton 44718, 330/493-0388, angrybarbeque.com


Fresh Green Beans & Heirloom Tomatoes with Pickled Red Onion | Serves 8

INGREDIENTS
2 pounds fresh green beans, cleaned and ends snipped
4 medium-sized heirloom tomatoes, rough chop medium dice
4 tablespoons unsalted butter
2 tablespoons olive oil
5 cloves garlic, finely minced
1 cup pickled red onions (recipe follows)
Seasoning salt
Kosher salt

DIRECTIONS
Bring a medium-sized stockpot of salted water to a boil (about 3 tablespoons of salt to every 4 quarts of water). Add cleaned and snipped green beans to boiling water and blanch for 3–4 minutes or until just tender.

After the green beans have finished blanching, immediately submerge into a large bowl of ice water. After the green beans have cooled, drain and set aside.

Preheat a large saute pan over medium heat. Add butter and olive oil. Add green beans and saute for 1 minute. Add tomatoes and continue to cook for an additional 2 minutes. Add garlic and saute until fragrant. Add pickled red onion and season to taste with seasoning salt. Serve at room temperature.

Serving Tips: If making a day ahead, store in refrigerator. Salad can be gently reheated, being careful not to overcook the beans or red onion. Try it chilled topped with toasted almonds or blue cheese, feta cheese or Parmesan cheese.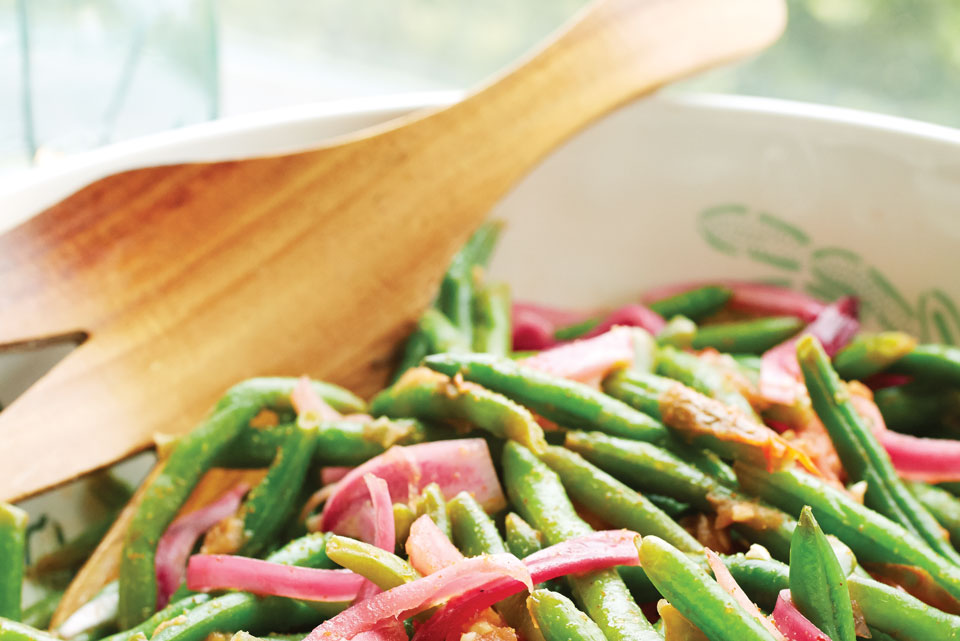 ***


Quick-Pickled Red Onions
INGREDIENTS
3 large, firm red onions
1 cup granulated sugar
1/2 cup kosher salt
1 cup apple cider vinegar
1/2 cup red wine vinegar
1 cup water
3 cloves fresh garlic
2 teaspoons black peppercorns
3 small sprigs of thyme
2 teaspoons allspice berries
(optional)
1/4 teaspoon dried chili flakes
(optional)
DIRECTIONS
In a nonreactive saucepan, combine sugar, salt, vinegars, water and flavorings. Bring to a simmer. While the pickling liquid is cooking, peel and thinly slice the red onions vertically into approx. 1/4-inch slices. Put them in the container you will use to store the onions. Once the pickling liquid has come to a simmer, pour over the onions, stir gently and cover. The onions will be ready in 1 hour, but are better after a few hours. Store, covered, in refrigerator. They will keep for several weeks, but are best in the first week.
Yield: 1 quart


*WEB EXTRA*

Executive chef William Boyd uses Angry Barbeque's house seasoning salt on all kinds of dishes he serves. Now, you can, too.

House Seasoning Salt
INGREDIENTS
1/2 cup kosher salt
1/2 granulated sugar
1 tablespoon paprika
1 teaspoon tumeric
1 teaspoon onion powder
1 teaspoon garlic powder
1 teaspoon corn starch, to prevent caking
DIRECTIONS
Combine all ingredients. Store in an airtight container for up to 1 month. This is a versatile seasoning that can be used on any meat or vegetable.
Yield: 2 1/4 cups
***


Lemon Blackberry Shortcakes
Mustard Seed Cafe at the Depot, Bluffton
Rhonda Moor aims to evoke favorite food memories with each menu item she crafts. "I have to go back to those experiences for myself," says the executive chef of Mustard Seed Cafe at the Depot. "I am sent right back to my grandparents' house and so many of the delicious meals and the incredibly loving environment they were provided in."
Her grandparents' backyard berry patch inspired the fresh fruit she uses to create the sweet compote that spills out from between two layers of a rustic shortcake. (Moor says frozen berries will also work.) Each is topped with a soft pillow of whipped cream lightly sweetened and gently flavored with vanilla.
Each of the dessert's components can be made in advance, but Moor says it shouldn't be assembled until you arrive at your cookout.
"Allow everyone the opportunity to assemble their own creations ... and even provide more than one type of compote for options and creativity," she says.
Moor suggests garnishing the assembled shortcakes with fresh blackberries, mint leaves, lemon zest, a dusting of powdered sugar or toasted almonds.
562 N. Main St., Bluffton 45817, 567/226-1120, mustardseedcafebluffton.com
Lemon Blackberry Shortcakes
| Serves 18
INGREDIENTS
4 cups fresh or frozen blackberries,
divided
4 cups granulated sugar,
divided
2 teaspoons cinnamon,
divided
3 lemons, zested and juiced,
divided
1 quart plus 1 cup heavy cream,
divided
2 tablespoons vanilla
6 cups all-purpose flour
2 heaping tablespoons baking powder
2 teaspoons salt
3 tablespoons dried thyme
2 cups buttermilk
Raw sugar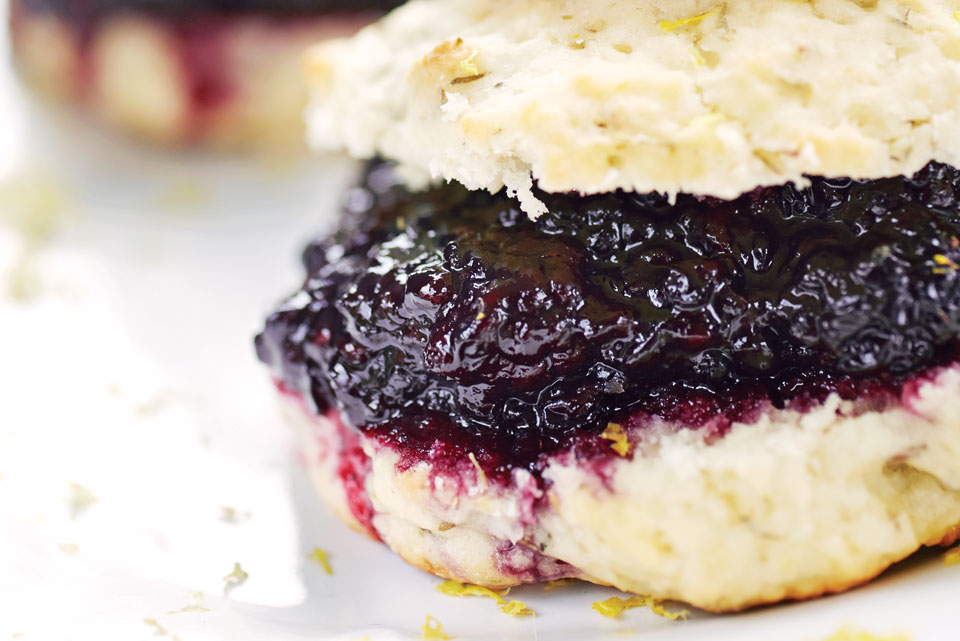 DIRECTIONS
For the blackberry compote:
In a medium saucepan, combine 2 cups blackberries, 1 cup sugar, 1 teaspoon cinnamon and 3 tablespoons lemon juice. Cook slowly over low heat until blackberries are soft. If mixture seems runny, let simmer for an additional 3–5 minutes until slightly thickened. Add the remaining 2 cups of reserved blackberries. Stir well until combined and remove from heat. Set aside. Can be made ahead and stored, covered, in refrigerator for up to one week. Bring to room temperature before serving.
For the whipped cream
: Combine 1 quart heavy whipping cream, 2 cups sugar, 1 teaspoon cinnamon and 2 tablespoons vanilla in a medium-sized mixing bowl and beat until stiff peaks form. (Do not rush this as cream will break down quickly if not mixed well.) Can be made up to 3 days ahead and kept covered in refrigerator.
For the shortcakes:
Preheat oven to 400 F. Line two baking sheets with parchment paper and set aside. In a medium bowl, whisk together flour, baking powder, salt, thyme, lemon zest and remaining cup of sugar. Mix in buttermilk 1 cup at a time, remaining cup of heavy cream and remaining lemon juice (about 6 tablespoons) and combine with your hands, until dough forms. Create a 2-inch ball for each cake and place on the parchment-lined baking sheet. Once all balls are formed, sprinkle tops with raw sugar and bake for 18–20 minutes. Remove to a rack and let cool completely. Can be made 24 hours ahead and left covered at room temperature.

To assemble:
Cut shortcake in half lengthwise and place bottom in a small serving dish. Spoon compote over bottom half and top with other half of shortcake. Spoon whipped cream over top of assembled shortcake. Serve immediately.
***


Slow-Cooked Pulled Pork
Blacksmith Barbecue, Marietta
A bone-in pork shoulder, slow-smoked over low heat for 14 hours, would yield a masterpiece that would guarantee a standing invite for all future cookouts. But the reality is most people don't have the time or the smoker to attempt it.
Kevin Black, owner of Blacksmith Barbecue in Marietta, offers up an alternate preparation to the freshly smoked pulled pork he sells at his takeout spot. This version is, for the most part, hands off and takes about half the time. "It's going to be more of a braised pork shoulder," says Black. "[This is] when you are looking for that really rich gooey pulled pork sandwich with the sauce already on it."
The key to this dish is prepping the meat to Black's specifications and letting the slow cooker work its magic. Choose a boneless cut and start with Black's homemade rub, which can be customized. "A lot of people like more black pepper, a lot of people like ancho, cumin or Chimayo chili in theirs," he says.
The rub should sit on the shoulder for an hour before the meat is put in the slow cooker to simmer. Because it won't be surrounded by smoke, adding a liquid such as chicken stock will keep it from drying out, explains Black.
After the meat has simmered for its 6-to-8-hour cook time, add the barbecue sauce of your choice. Then, just pack up the slow cooker and don't forget to grab a bag of buns.
106 Greene St., Marietta 45750, 740/371-5022, blacksmithbarbecue.com
Slow-Cooked Pulled Pork
| Serves 10
INGREDIENTS
1 5-pound boneless pork shoulder
Spice rub
(recipe follows)
2 cups chicken stock
1 1/2 to 2 cups barbecue sauce
Spice Rub:
3/4 cup light brown sugar
2 tablespoons garlic salt
2 tablespoons onion salt
1/4 cup paprika
2 tablespoons chili powder
1/4 cup salt
2 tablespoons black pepper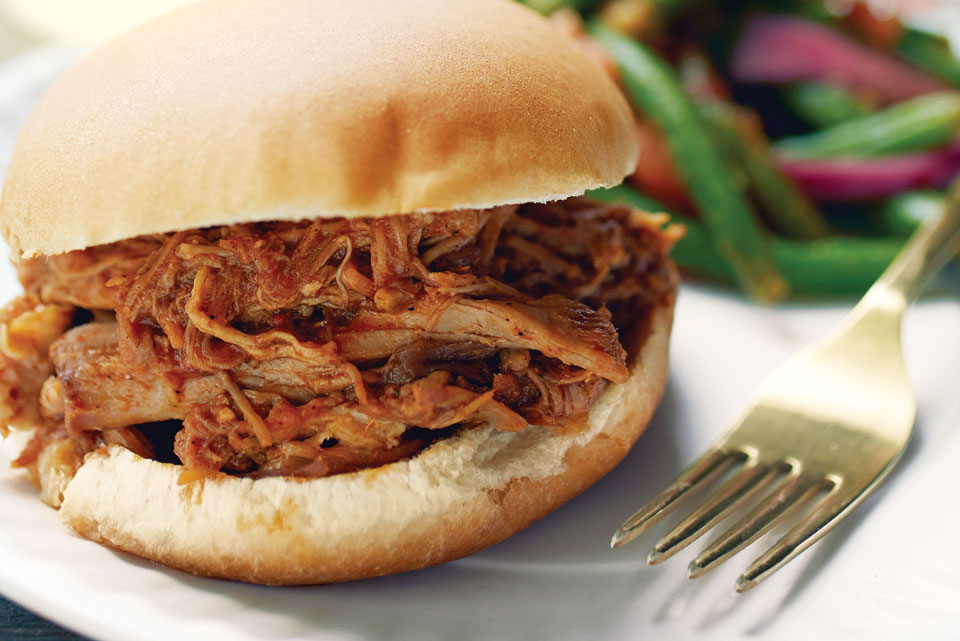 DIRECTIONS
Combine ingredients for rub mixture in a small bowl. Sprinkle the rub mixture liberally over the pork shoulder, then gently massage into the meat. Let rest for one hour at room temperature.
Transfer shoulder to slow cooker and add chicken stock. Set to high heat and bring stock to a boil. Reduce heat to low and let the stock cook for 6 to 8 hours, until meat is fork tender.
Turn off slow cooker and remove the pork to a cutting board. Reserve one inch of cooking liquid in slow cooker and discard the rest.
Using two forks, shred the meat into bite-sized pieces. Discard large bits of fat. Return the shredded meat to the slow cooker and stir in barbecue sauce until meat is moist, but not overly coated. Turn slow cooker back on to low heat and let flavors simmer for 1 hour. Serve with additional barbecue sauce on bun and with your choice of toppings.
*WEB EXT
RA*
For adding a spicy kick to your favorite barbecue sauce, try Kevin Black's three-ingredient addition. Ancho chili powder brings smokiness while green chilies add heat. The apple jelly balances them both with a sweet tartness.

Spicy Barbecue Sauce

INGREDIENTS
1 10 ounce jar apple jelly
1 small can diced green chilies
1 cup barbecue sauce
1 tablespoon ancho chili powder
DIRECTIONS
Combine ingredients in a small bowl. Yield: Approximately 2 cups