Food + Drink
Go Greens
Three Ohio chefs share recipes for getting creative with baby kale, arugula and dandelion greens.
April 2015 Issue
BY Kara Kissell | Photos by Kevin Kopanski
April 2015 Issue
BY Kara Kissell | Photos by Kevin Kopanski
Kung Pao Baby Kale Salad
Till, Columbus

Magdiale Wolmark approaches food with a holistic mindset at his Columbus eatery Till, a rebirth of his and his wife Cristin Austin's vegan restaurant Dragonfly Neo-V. Wolmark no longer deals exclusively with vegetables and instead turns his attention to ingredients from farms that focus on ecological, social and economic sustainability. "Biodynamic agriculture is considered to be the most rigorous farm standard in the world," he says. "Biodynamics really struck a chord with us because for us it was a quality standard."

Wolmark regularly visits some of the farms, but he also enjoys the role he can play in making sure ingredients are available. For example, it is often difficult to consistently get baby kale from a biodynamic farmer for his sweet and spicy Kung Pao Baby Kale Salad, so Wolmark has taken the tilling into his own hands. This spring, baby kale and radishes will grow in the restaurant's 600-square-foot garden. "Full-grown kale is a possibility [for this salad] but it doesn't work as well," he says. "The baby kale is tender. It is just nicely, lightly wilted in the sauce."

He also carefully considers the toppings that create texture for the dish while also ensuring they meet the guidelines of particular diets. Wolmark keeps the dish gluten free by frying tofu in corn starch, and he substitutes cashews for the peanuts traditionally found in sweet and sour sauce to avoid a common allergen.

"When I think of my guests in the restaurant," says Wolmark, "I am thinking of their well-being." Note: Till is now closed.


Kung Pao Baby Kale Salad
Courtesy of Till | Serves 2

INGREDIENTS
1/2 cup canola oil*
1 tablespoon toasted sesame oil
1/4 cup corn starch*
1/2 package extra firm tofu, drained and carefully cut into 6 cubes
1/8 cup wheat-free tamari
1/8 cup rice wine vinegar
1/8 cup sugar
Pinch of cayenne pepper
4 ounces baby kale
1 shiitake mushroom, sliced
1 tablespoon cashews, toasted and chopped
2 medium-size radishes, diced small

DIRECTIONS
Place corn starch in a small mixing bowl and gently roll the cubes of tofu in it. In a wok, heat oils until they just begin to smoke. Immediately transfer tofu cubes to the oil and cook 30 seconds, turn and cook an additional 30 seconds. Remove and set aside, then drain the oil from the wok. Add tamari, vinegar, sugar and cayenne to the wok. Bring to a boil, then add mushrooms. Remove from heat and let cool for 1 minute. Add kale and toss. Divide the kale evenly between two plates. Top with tofu, radishes and cashews then serve.

*Wolmark uses expeller-pressed canola oil and non-GMO corn starch.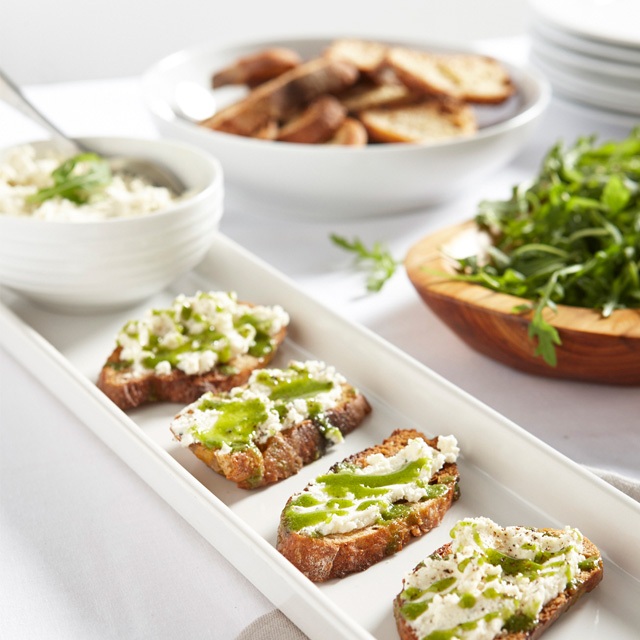 Arugula Pesto & Boursin Crostini
Rhapsody Music & Dining, Nelsonville

Rhapsody Music and Dining brings in culinary students from Hocking College to spend a semester under the supervision of executive chef and general manager Anthony Schulz, offering them valuable lessons in kitchen creativity and spontaneity.

"They are learning things on the fly," says Schulz. "We are changing the menu every three months or so. So, depending on the semester ... they could see three different menus."

The exposure to a variety of dishes and seasonal ingredients means the students learn to see possibilities beyond the traditional approaches, such as when one of Schulz's sous chefs suggested using arugula rather than basil for a pesto sauce.

Schulz thought the idea was great but didn't have pine nuts, which are used in traditional basil pesto sauce. He did, however, have macadamia nuts, and with that a new appetizer was born.

"I love arugula," says Schulz of the switch. "I love that it is peppery, it has a little bit of bite, it is fresh and it holds its color better compared to basil, which can turn black from oxidation really fast."

A slice of toasted baguette is topped with buttery Boursin cheese and then finished with a drizzle of the zesty pesto sauce. "It all works really well. It's like the [vegetarian's] idea of bone marrow on toast." 18 Public Square, Nelsonville 45764, 740/753-5741, rhapsody.hocking.edu


Arugula Pesto & Boursin Crostini
Courtesy of Rhapsody Music & Dining | Serves 6

INGREDIENTS
1 cup extra virgin olive oil
2 cups baby arugula
1/4 cup macadamia nuts, toasted
1/3 cups Parmesan, shredded
Kosher salt
Black pepper
1 5-ounce package Boursin
1 baguette, sliced 1/4- to 1/2-inch thick and toasted

DIRECTIONS
Place the first four ingredients in a blender and blend on high speed. Mix until completely pureed. Add more olive oil if a thinner pesto is preferred. Season to taste with salt and pepper. Spread a layer of Boursin cheese on each toasted baguette slice and finish with a drizzle of the pesto sauce.

***

Steelhead Trout with Dandelion Greens and Romesco Sauce
Oak Grove Eatery, Wooster

Cooking with local ingredients may not be a new idea, but it takes creativity to keep the concept fresh. At Oak Grove Eatery, husband-and-wife team Eric and Elizabeth Lloyd offer a menu that showcases their resourcefulness. For example, when the often-loathed dandelion weed arrives each spring, Eric jumps at the chance to stock up on the green.

"Dandelion greens are somewhat bitter but they do have an underlying sweetness that comes out when they are heated," he says. Stuffed inside trout with roasted vegetables, the greens' sweetness appears once the dish is broiled.

"It goes well with the Ohio steelhead because the trout has some real good fats in it, which complement the richness of the roasted vegetables," Eric adds. (Those who aren't avid fishermen can sub in rainbow trout or arctic char.)

While dandelion greens now make a frequent and often year-round appearance at grocery stores, Eric says you can easily forage the weed's bright green leaves this time of year.

"In the early spring they are going to be all over the place," he says. "If people know the area and they don't spray their grass, they can just go out and get them." Note: Oak Grove Eatery is now closed.


Steelhead Trout with Dandelion Greens & Romesco Sauce
Courtesy of Oak Grove Eatery | Serves 2

INGREDIENTS
5 shallots, skin on
2 red bell peppers
1 poblano pepper
2 Fresno peppers
5 Roma tomatoes
2 garlic cloves, minced
1/2 cup whole almonds, chopped and toasted, plus more for garnish
1/4 cup of balsamic vinegar
3 organic lemons, juiced
1/2 cup extra virgin olive oil
1/4 pound dandelion greens, chopped, thick stems removed
2 18–22 ounce whole steelhead trout or other high-fat fish, gutted

DIRECTIONS
Set oven to broil with rack in center of oven. Toss whole peppers with light coating of olive oil and salt, and place on a sheet tray with whole shallots. Cook in oven, rotating often, to achieve a dark, even char (3–5 minutes per side). Set aside to cool.

Quarter tomatoes and toss with 4 tablespoons salt and 1/2 tablespoon cracked black pepper. Put tomatoes in a strainer and set over a bowl for 30–45 minutes to leach out liquid. (A large amount of liquid should be in the bowl when finished.)

Remove tomatoes to a sheet pan and roast in oven until tops begin to char (7–10 minutes). While tomatoes are roasting, peel charred skin from peppers and shallots and remove seeds from peppers. Rough chop the peppers and shallots.

Add half of the roast shallots and peppers mixture as well as half of the tomatoes, minced garlic, almonds, balsamic vinegar and lemon juice to the bowl of a food processor and puree. While machine is running, slowly pour in olive oil until emulsified. Set aside.

Heat saute pan on stovetop over medium heat. Coat bottom of hot pan with oil and saute the rest of the garlic and almonds for 15–20 seconds. Add chopped dandelion greens until lightly wilted, then add remaining chopped shallots, peppers and tomatoes. Add remaining lemon juice and balsamic vinegar and deglaze bottom of pan while ingredients are still in it.

Lightly oil outside of trout then salt whole fish inside and out. Lightly score outside of fish three to four times on each side. Fill fish with the sauteed dandelion and peppers filling.

Broil fish on a sheet tray or an ovenproof saute pan for approximately 4 minutes on each side, or until a deep char is achieved. Turn off broiler and set oven to 350 F and cook fish to an internal temperature of 145 F.

Remove fish from oven and let rest for at least 5 minutes. Any filling that falls out during cooking should be put on the plate as a bed for fish. Place stuffed fish on plate and coat with Romesco sauce. Garnish with remaining chopped almonds.