Food + Drink
Bourbon-Braised Turkey Legs and Other Fall Recipes
How three chefs put their own spin on some of the season's signature flavors.
November 2015 Issue
BY Kara Kissell | Photos by Casey Rearick
November 2015 Issue
BY Kara Kissell | Photos by Casey Rearick
This time of year, earthy root vegetables, sweet, buttery squash and rich meats are calling out to be slow-cooked with herbs and spices, yielding comforting dishes that warm the cool autumn days. We asked three Ohio chefs to share one of their favorite fall-flavored dishes with us — each a tempting twist on a satisfying standby. Even more heartwarming are the minimal pots and pans used to cook these laid-back meals, making them fitting choices for the parties and family gatherings ahead.

Bourbon-Braised Turkey Legs
Revolution Grille boosted Toledo's fine dining scene when it opened in 2012. Steak, chicken and salmon all appeared on the menu, but often in creative ways with surprising ingredients. Atlantic salmon was rubbed with sweet chili and served with cumin maple cream, while a dry-aged rib-eye steak received an Asian adornment with garlic-sake demi-glace, sesame seeds and a side of edamame.
"[Our menu] was eclectic American cuisine with ethnic influences," says chef Ashley Loader, who was in charge of the kitchen until early October, when the Mainstreet Ventures restaurant group sold the property.
When it came to one of the most venerable of all autumn flavors — the turkey — Loader and her team gave the bird a toasty twist. She dressed turkey legs with a healthy dose of Old Forester bourbon and left them to simmer in chicken stock until the meat was nearly fall-off-the-bone tender.
"The bourbon gives it a smoky and warming flavor," explains Loader. "It also adds a little honey sweetness to it."
The individual turkey legs make serving easy, and the one-pot approach to cooking makes it an attainable dish for a party or gathering.
"Braising is just an easy and awesome technique because you sear [the meat] and you create flavor from the caramelization of either the skin or the meat rocking in those juices," says Loader. "Adding your cooking liquid to it creates even more flavor, and then you set it and forget it."
To round out the dish, Loader served her turkey legs over dirty rice, drizzled with corn milk gravy and with sauteed kale on the side. Even when the dish is spruced up with new flavors, the turkey entree still hits close to home.
"When I think of fall, I think homey, hearty dinners that are just really easy to make," says Loader. "This is still very homey. I think about my mom making this, and it feels very family oriented."
Mainstreet Ventures owns four restaurants in Ohio. mainstreetventuresinc.com
Recipe: Bourbon-Braised Turkey Legs
| Serves 4
Courtesy of chef Ashley Loader
INGREDIENTS
1/4 cup canola oil
4 turkey legs,
patted dry
1 carrot, peeled,
loosely chopped
3 onions, peeled,
loosely chopped
1 celery stalk,
loosely chopped
1 shallot, diced
3 garlic cloves
1 teaspoon black peppercorns
2 sprigs fresh thyme
1/2 cup Old Forester bourbon
8 cups chicken stock
DIRECTIONS
Preheat oven to 300 F. Add canola oil to a Dutch oven and heat gently over medium heat. Add turkey legs and brown on all sides. Remove legs and set aside. Add carrots, onion and celery, and cook over medium heat until soft (about 7 minutes). Add thyme sprigs and saute until leaves start to pop (about 2 minutes). Add shallots and garlic and saute until browned (about 3 minutes). Carefully add bourbon to the pot and cook until bourbon is almost dissolved. (You will have some flames as the alcohol cooks off.) Add chicken stock and bring to a simmer. Add turkey legs, making sure they are fully submerged in liquid. Cover and place in oven for 3 hours or until the meat is just shy of falling off the bone.
Remove turkey legs from braising liquid and transfer to a serving platter. Strain braising liquid and keep for au jus or to make gravy.
***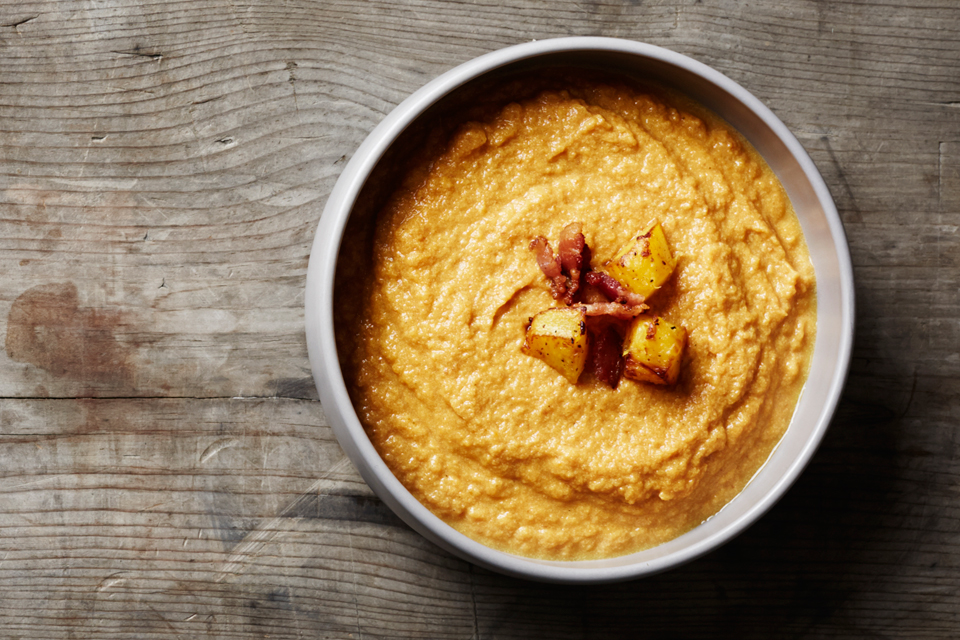 Pumpkin Bacon Soup

Nine years at home with his kids provided Scott Malensek with some newfound expertise. "All I had really taken the time to do was to learn how to cook and to garden and to change diapers," he says. "Basically [those are what] I had for marketable skills."

So, when his youngest headed off to kindergarten, Malensek decided to cash in on his cooking capabilities. In 2010, he opened his 40-seat cafe, The Stew Pot Kitchen, in downtown Akron.

Malensek says he was drawn to soup because of its affordability and the seemingly endless opportunities for creativity. His home-cook style shapes his menu of eight to nine soups and stews, which change weekly. He balances tried-and-true favorites with seasonally appropriate selections.

"We have the run-home-to-mama soups — the chicken noodle, the baked potato, the chili. They are soups that are flat out comfort food for people and that is what they want," says Malensek. "But we also have soups that are a little more interesting. Comfort food ingredients used in an unusual way."

One of Malensek's fall favorites is his pumpkin bacon soup. He simmers thick and creamy sweetened condensed milk with smooth and savory pumpkin puree and seasonal spices of cinnamon and clove. It is a luscious base for the final additions: salty bits of crisp bacon and soft chunks of pan-fried pumpkin.

"It tastes almost exactly like pumpkin pie," says Malensek, "with bacon on top of it." 23 S. Main St., Akron 44308, 330/376-7839, thestewpotkitchen.com


Recipe: Pumpkin Bacon Soup | Serves 6 to 8
Courtesy of The Stew Pot Kitchen

INGREDIENTS
3 1-pound cans pumpkin puree
2 14-ounce cans sweetened condensed milk
3 pounds bacon (hickory-smoked preferred), diced
2 cups diced pumpkin, peeled and seeded
Pinch of salt
Pinch of ground cloves
Pinch of ground cinnamon

DIRECTIONS
Add the pumpkin puree and the sweetened condensed milk to a slow cooker and set at high heat. Add in salt, cloves and cinnamon. Stir, cover with lid and let flavors mingle for 2 hours. Shortly before serving the soup, heat a frying pan to medium heat and add diced bacon. Fry until crispy. Remove with a slotted spoon and stir into the slow cooker. Reserve some of the bacon fat in pan. Add diced pumpkin and fry at medium heat until edges are brown. Remove from pan and add to the soup. Stir and serve.

***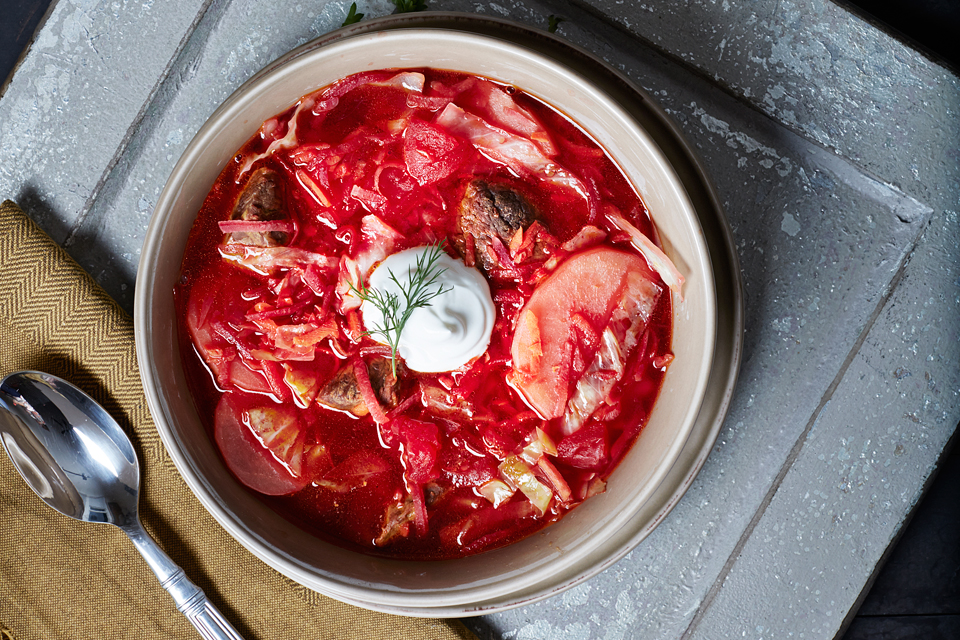 Sirloin & Beet Stew

Patrons who happen upon Food by Jane — a lone spot situated along the National Road in Belmont County — are always surprised by what they find inside.

Owner Jane Miric scooped up the 1950s roadhouse, which is one of the last few remaining on Ohio's stretch of U.S. Route 40, to start serving dishes like cider-brined pork lollipops for dinner and crab cake Benedict for Sunday brunch.

Miric's bar is respectably stocked, too. Although drink specials change as often as the seasonally inspired menu, French martinis and Manhattans are staples. "[People] don't realize that we can mix a drink around here," says Miric.

She keeps her menu fresh for locals who visit regularly and intriguing for those stopping in for the first time. Miric offers a base of diner essentials, such as Angus steak burgers and grilled chicken sandwiches, but her themed evenings throughout the week bring new flavors to the table.

One of those surprises is Miric's play on borscht, a Russian beet soup. Full of sirloin tips, her version is thickened up, which makes for a hearty stew.

"In southeastern Ohio, we really are a mishmash of Eastern European backgrounds," explains Miric. "I love beets … but I make [the stew] for that reason as well."

The key to this warming dish, Miric says, is to start with a homemade beef stock. "It can be time-consuming, but it just makes all the difference."

As it simmers, the only work is keeping an occasional eye on it to skim the foam that rises to the surface in order to produce a clear stock. Then, ingredients are added until the stock is brimming with color and flavor.

"[It] is sweet and tangy, with an earthiness from the beet," says Miric. "A dollop of sour cream swirled in at the end doesn't hurt either." 41010 National Rd., Belmont 43718, 740/782-0001, foodbyjane.com


Recipe: Sirloin & Beet Stew | Serves 6
Courtesy of Food by Jane

INGREDIENTS
1 pound beef sirloin tips
1 tablespoon salt, plus more to taste
2 large or 3 medium beets, washed and peeled
4 tablespoons olive oil
1 tablespoon vinegar
1 tablespoon sugar
2 tablespoons tomato sauce or tomato paste
1 tablespoon butter
1 medium onion, finely diced
2 carrots, grated
2 large or 3 medium potatoes, peeled and sliced into bite-size pieces
1/2 head of small cabbage, sliced
2 tomatoes, peeled and diced
1/4 cup chopped fresh parsley, plus more for garnish
2 cloves garlic, minced
2 bay leaves
Sour cream, for serving
1/4 teaspoon freshly ground pepper, for garnish
Fresh sprigs of dill, for garnish

DIRECTIONS
Rinse meat in cold water. Pat dry. Cut into 1-inch pieces and place in a large soup pot or Dutch oven with 14 cups of cold water and 1 tablespoon of salt. Bring to a boil and remove the foam as soon as it boils. Lower the heat, partially cover and cook at a low boil for 45 minutes to 1 hour, skimming off any foam that rises to the top.

Grate beets on the large holes of a box grater or with a food processor. Place the grated beets in a large, heavy-bottomed skillet with 4 tablespoons of olive oil and 1 tablespoon of vinegar. Saute for 5 minutes, then reduce the heat to medium-low and add 1 tablespoon sugar and 2 tablespoons of tomato sauce or tomato paste. Mix thoroughly. Saute until grated beets start to soften (about 10 minutes), stirring occasionally. Remove from pan and set aside.

In the same pan, saute onion in 1 tablespoon of butter for 2 minutes. Add grated carrot and saute for another 5 minutes or until softened, adding more oil if it seems too dry.

Once the meat has been cooking for at least 45 minutes, place sliced potatoes into the soup pot and cook 10 minutes, then add cabbage, sauteed beets, onion, carrot and chopped tomatoes. Cook for another 10 minutes or until potatoes can be easily pierced with a fork.

Add bay leaves, 1/4 teaspoon pepper and more salt to taste. Stir parsley and garlic into the soup pot. Immediately cover and remove from heat. Let the pot rest covered for 20 minutes for the flavors to meld.

Serve with a dollop of sour cream, and garnish with sprigs of parsley or dill.