Food + Drink
4 Fun Picnic Recipes
Three chefs that focus on seasonal and local ingredients share recipes that are a great fit for al fresco dining.
May 2014 Issue
BY Chuck Bowen | Photography by Jason Miller
May 2014 Issue
BY Chuck Bowen | Photography by Jason Miller
After so many meals cooped up at the kitchen table, it's time to bust out a picnic basket and a blanket, and find a welcoming patch of green grass. When dining outdoors this summer, why not work some local ingredients into your feast? We asked three Ohio restaurants that embrace farm-to-table approaches to share recipes for picnic basket-friendly creations.

Caribbean-Spiced Rhubarb-Strawberry Salsa | Casa Nueva, Athens

Casa Nueva stands out, even in a quirky college town like Athens. The place is a testament to how a few dedicated foodies can turn southeastern Ohio farm produce and livestock into great Mexican cuisine.

Al Schmidt started as a worker-owner at the co-op restaurant in the 1990s. He came to Ohio University as a major in international studies and ultimately put down roots in Athens with his wife, Jennifer Childers.

"I have an affinity for picante cuisines," Schmidt says. "I guess I am using my degree."

He's now Casa Nueva's food coordinator, a manager in charge of procuring the vast amounts of chicken, pork, tomatoes, bok choy and other ingredients the restaurant needs to produce its quesadillas, tacos and dozens of celebrated salsas.

The restaurant focuses on local and organic food, in that order. That can make menu planning difficult during colder months, and Schmidt says the restaurant's commitment to serving as many seasonal and local ingredients as it can requires creativity.

"Our challenge, especially through the winter months, is picking out delicious combinations of local products that we can use as fillings for our menu: burritos, enchiladas, quesadillas, stuff like that," Schmidt says.

Take, for example, this quesadilla combination: sweet potatoes, boiled and mashed with locally grown jalapeno and wax peppers and spread on tortillas with Gruyere cheese from the nearby Laurel Valley Creamery.

What Schmidt loves most about the restaurant's focus on local food is the connection it builds between diners and producers.
"If you like these tomatoes, you can buy some yourself at the farmers market," he says. "It's a personalized product [from] real people you might be sitting behind at the restaurant." 6 W. State St., Athens 45701, 740/592-9724, casanueva.com

Caribbean-Spiced Rhubarb-Strawberry Salsa | Makes 2 pints
Courtesy of Casa Nueva

Casa Nueva food manager Al Schmidt says rhubarb and strawberry work better together than one might think. "The sweetness of the berries balances out the tartness of the rhubarb," he says.

INGREDIENTS
1 cup onions, diced
1 cup strawberries, fresh or frozen
1 1/4 cup rhubarb, diced
1 tablespoon jalapeno, freshly sliced (add more to taste for spicier salsa)
1 tablespoon + 3/4 additional teaspoon red wine vinegar
4 cloves fresh garlic, minced (about 2 tablespoons)
1/4 cup + 2 additional teaspoons honey
3 1/2 tablespoons orange juice
3 1/2 tablespoons balsamic vinegar
1/2 teaspoon cardamom
1/2 teaspoon salt

DIRECTIONS
Combine all ingredients in a non-aluminum pot. Bring to a boil and turn down to simmer. Cover the pot, leaving a little room for steam to escape, and continue to simmer for 20 minutes, stirring occasionally. Uncover pot and simmer for 15 more minutes, stirring to prevent scorching. (Note: Casa Nueva uses an immersion blender to create a uniform consistency to its salsa.) Refrigerate overnight before enjoying. Will keep for a week.


***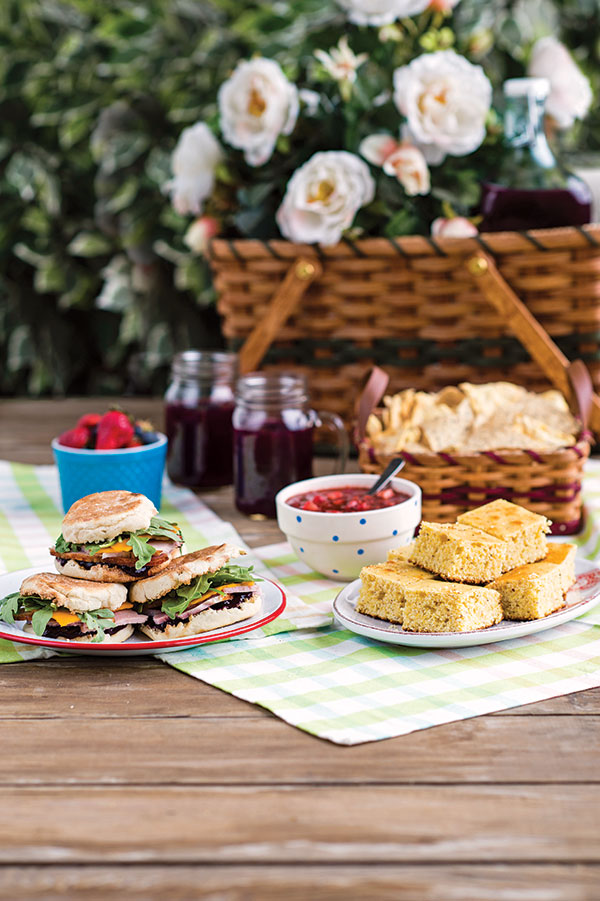 Country Ham Sandwich with Blueberry Jam
|
41 North, Vermilion
Chef William Skinner couldn't afford culinary school, so at age 19 he learned his trade by working internships in kitchens throughout the country. They got free labor, and he got free training. "I did that for a year," he recalls, "annoying the hell out of chefs."
After that, the Lorain County native spent time working in Louisville, Lexington, Chicago, Memphis, Knoxville, Pittsburgh and Indianapolis. Now, coming off a stint as executive chef at Bar North in Huron, the 29-year-old is helming the kitchen at 41 North in Vermilion this spring, where he'll give workaday Ohio ingredients the big-city treatment.
"I'm trying to change the way people eat and think about food. You can have Ohio produce, Ohio meats and Ohio everything … but just because it looks nice on the plate doesn't mean it has to cost $20 a plate."
He takes walleye out of the frying pan and instead sears and roasts it for a crispy skin. It's served atop a mixture of carrots, celery root, parsnips and Jerusalem artichokes wrapped in caul fat. It's then garnished with crispy leeks and served atop a lemony tartar sauce. "The only thing in that dish not local is citrus," he says. "In every bite, you get this instant explosion of vegetables.
His roasted radish puts a new spin on the spicy root vegetable by serving it with a truffle yogurt dip for a light summer snack. "Great produce like radish has a bad name," he says. "[It] isn't only meant to be sliced raw and put in coleslaw."
4503 Liberty Ave., Vermilion 44089, 440/967-4141, (At press time, the restaurant was set to open April 16, but call for more information.)
Country Ham Sandwich with Blueberry Jam
Courtesy of chef William Skinner
Chef William Skinner gets many of his products from ultra-local sources, and with a little legwork, you can do the same. "The biggest thing you can do is go to farmers markets," he says. "There's [one] in every community. Talk to these farmers and build a relationship with them. Once you do that, it's an automatic connection."
Blueberry Jam | Makes 1/2 quart
INGREDIENTS
2 cups fresh blueberries (
he gets his from Baumhart Berry Farm in Vermilion
)
3 tablespoons water
1/4 cup sugar
2 teaspoons fresh lemon juice
DIRECTIONS
Combine one cup of blueberries, water, sugar and lemon juice in a small saucepan. Cook over medium heat for about 10 minutes. Add the rest of the blueberries and cook for 8 more minutes, stirring frequently. Then set aside to cool. Can be refrigerated or not. Can hold up to two months when refrigerated. Yt
Country Ham Sandwich
Country Ham Sandwich
|
Makes 4 sandwiches
INGREDIENTS
4 English muffins
8 ounces of sliced country ham
(he gets his at Timberlane Organic Farms in Bellevue)
4 slices of smoked cheddar cheese
(he gets his at Great Lakes Cheese Co.
in Hiram)
1 1/2 cup of arugula
(he gets his from Stuart Farms in Fremont)
1/2 cup of blueberry jam
DIRECTIONS
Toast English muffin and spread a layer of the jam on the top and bottom of the English muffin. Layer three slices of Timberlane Farms country ham then a slice of Great Lakes smoked cheddar cheese. Top with Stewart Farms organic arugula.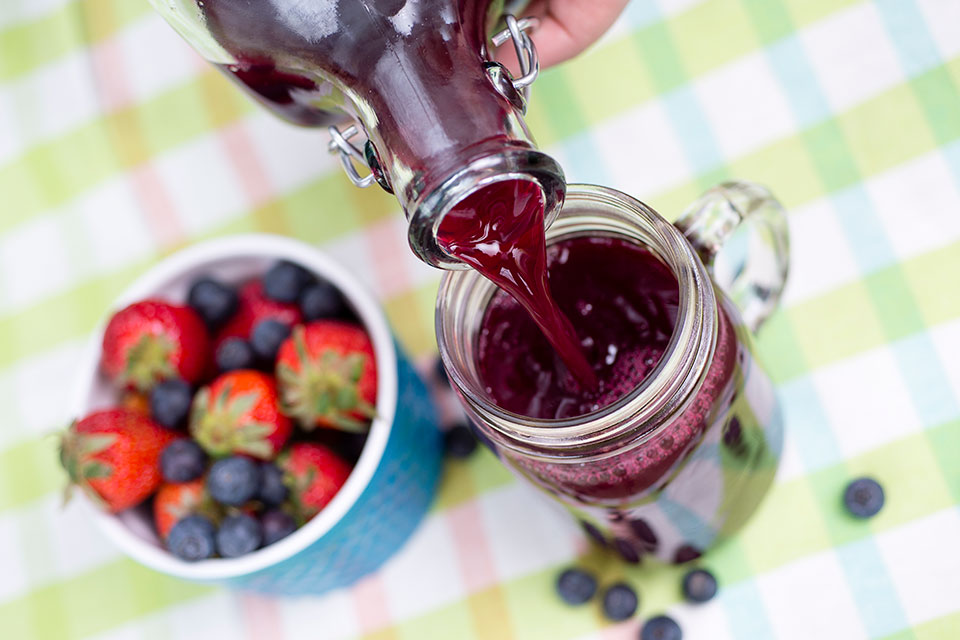 Lavender and Blueberry Sweet Tea
| Makes 1 gallon

Courtesy of chef William Skinne
r
INGREDIENTS
1 gallon of water
13 tea bags
1 1/2 cups of sugar (
or more to taste
)
4 cups blueberries (
he gets his from Baumhart Berry Farm in Vermilion
)
1/4 cup lavender (
he gets his from Mulberry Creek Herb Farm in Huron
)
DIRECTIONS
In a large pot, steep the lavender in the gallon of water for about 15 minutes over medium heat. Remove from heat and strain out the lavender. Place the tea bags and the blueberries into the water for 45 minutes on low heat. Remove tea bags and stir in sugar. Puree the tea in a blender to break up blueberries. (
Or, you can remove the berries and strain the tea, whichever you prefer for the look and texture of the drink.
) Transfer to a gallon jug or pitcher and chill tea in the refrigerator before serving.
***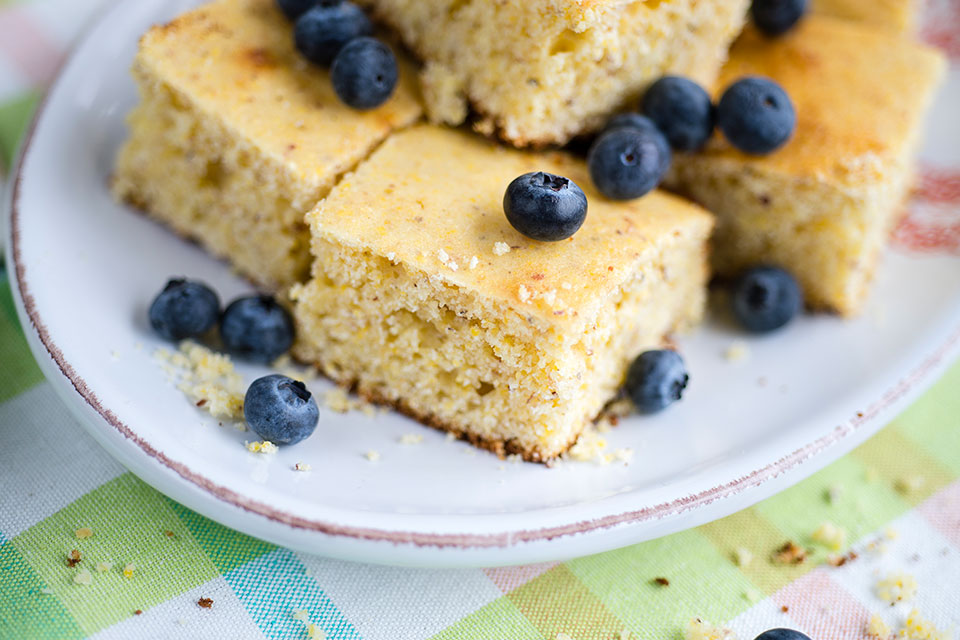 Cornbread
|
Local 127, Cincinnati
Kyle Johnson, executive chef at Cincinnati's Local 127, is a transplant from Las Vegas who worked in the kitchen at acclaimed French restaurant Alize. After the economy took a dive in 2008, he decided to try opening a restaurant in the Midwest. A year later, he unveiled Local 127 with a focus on Americana and responsibly sourced food prepared with attention to detail.
Johnson has a specific definition of farm to table. He works to find producers that align with his approach to food.
"We're looking for producers who have integrity. Farm-to-table to me is about community and not focused on a certain radius of where you live," Johnson says. "It's looking for beef that is treated with respect … Produce that's not sprayed with chemicals."
The idea behind Local 127 is to have a sophisticated yet approachable restaurant. You can get a burger or opt for a full tasting menu. A signature dish is Chicken Two Ways. He takes a bird from a Xenia farm and confits the legs, and then cooks the breast meat in a
sous vide
process — slow-cooking it in airtight bags at a low temperature for hours to make it very tender. He then combines the two meats and mixes them with smoked local wheat berries. They're served with mushrooms sauteed in Kentucky Bourbon Barrel soy sauce. The dish is then garnished with pea tendrils.
"I want good product; I'm a chef," Johnson says. "I want to know the person who's producing it."
413 Vine St., Cincinnati 45202, 513/721-1345,
mylocal127.com
Cornbread
Adapted from a recipe courtesy of chef Kyle Johnson
Kyle Johnson serves a version of this from-scratch cornbread to patrons at his restaurant (his is made in large batches and cooked in cupcake tins). "To me, it's a classic thing; break bread," he says. "It's something that reminds you of being a kid at a picnic during a beautiful summer day. It's comforting, simple bread."
INGREDIENTS
1/4 pound unsalted butter, room temperature (
one stick
)
3/4 cup sugar
2 farm-fresh eggs, room temperature
1 cup all-purpose flour (
Johnson gets his from Weisenberger Mill in Midway, Ky.
)
1 cup cornmeal (
Johnson gets his from Carriage House Farm in North Bend
)
1 teaspoon kosher salt
1 tablespoon baking powder
1 cup buttermilk, room temperature
DIRECTIONS
Cream butter and sugar by hand or with a mixer until fluffy. Continue mixing while slowly adding eggs. Stop mixing and scrape bowl. Add the cornmeal and half of the buttermilk and mix again until just incorporated.
Then, in a separate bowl, combine the all-purpose flour, salt and baking powder. Slowly add those dry ingredients and the other half of the buttermilk to the cornmeal mixture and mix again just until a uniform batter appears.
Preheat the oven to 375. Grease a 9-by-9-inch pan and pour in mixture. Bake in preheated oven 20–25 minutes or until you can insert a toothpick and it comes out clean. (
Note: To make the cornbread in cupcake tins like Local 127 does, cook them at 375 degrees for 10 minutes.
)