Food + Drink
Inside Chef Ben Bebenroth's Ohio Farm
Chef Ben Bebenroth doesn't just talk about local food, he lives it on his farm in the Cuyahoga Valley.
July 2015 Issue
BY Rosie Haney & Kara Kissell | Photo by Casey Rearick
July 2015 Issue
BY Rosie Haney & Kara Kissell | Photo by Casey Rearick
A gentle buzzing rises up from the dirt as bumblebees burrow underneath rows of ornamental flowers. The 1-acre garden, lavish with zinnias, celosias and other colorful blossoms, stretches out on the east side of Spice Acres farm, a 13-acre plot of land nestled within the Cuyahoga Valley National Park. Nearby, a bounty of vegetables thrives in a 2-acre garden — one where lettuce leaves and vibrant tomatoes will flourish throughout the summer season. Chickens cluck. Pigs grunt. Birds sing in the background.

This farm was a natural progression for its caretaker, chef Ben Bebenroth, whose goals for sustainable agriculture have grown alongside his two businesses, Spice of Life Catering Co., which he opened in 2006, and Spice Kitchen & Bar, a restaurant that's called Cleveland's Detroit Shoreway neighborhood home since 2012.

A forager and gardener at heart, Bebenroth has always had a mind for crafting seasonal menus inspired by the ingredients nearest to him. The catalyst for his dedication to the land was a mixture of youth summers spent exploring the woods, watching a mother who made regular trips to Amish country for fresh ingredients and having a grandmother who cared for a plentiful garden.

"That all really just started to ferment in my soul ... [I realized], wow, this really means something," explains Bebenroth. "It was bubbling away and turning into this thing."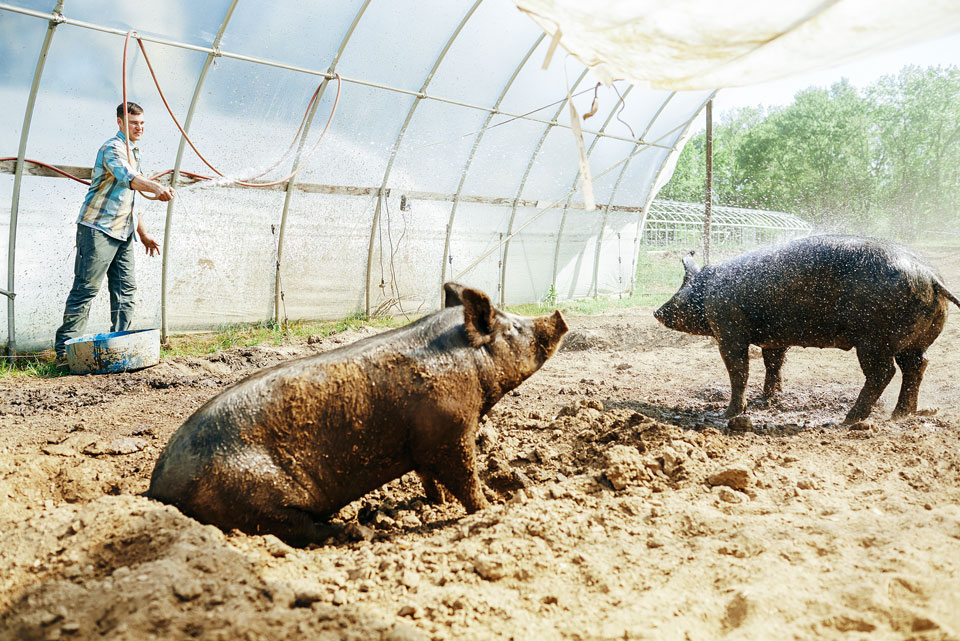 That "thing" is Bebenroth's tenacity to change the way agriculture operates. He explains that 70 percent of the nation's produce comes from the Salinas and Central valleys in California, a disconcerting thought given the water woes the state faces and the ongoing drought it is enduring. "So, where is that stuff going to be grown now?" asks Bebenroth. "We don't have these incredibly long seasons up here, but we do have water."
Bebenroth sees the Cuyahoga Valley as an ideal place to cultivate his vision from the ground up, given the area's rich soil and access to fresh water. Everything he grows at Spice Acres serves a purpose.
The ornamental flowers not only grace catering events and adorn tables at Spice Kitchen & Bar, they also help shape the restaurant's drink menu. "The bartending staff is coming up with cocktails based on all these seasonal botanicals that we have growing all over the place, plus wild foraged ingredients," explains Bebenroth. For example, his bar manager Lorilei Bailey infuses vodka with beetroot and ginger root.
Yes, even an ingredient that seems as nonnative as ginger is being grown at Spice Acres. So are more than 20 fig trees — an experiment of sorts — that amazingly survived Ohio's bitter winter.
"If we can offer something that is not on everyone else's plates, then we can set ourselves apart," says Spice Acres' farm manager Shawn Belt. "That is the reason that we do ginger, the reason that we do figs. If somebody else isn't doing it, then we can put ourselves out there that we are growing these locally."
Even the pigs will be something special. Bebenroth and Belt are just now learning how to raise them, purchasing piglets from New Creation Farm in Chardon. But they hope to one day raise pigs of their own — breeds coveted by the region's chefs. "We want to find our own beginning, so that we can get a good mother and end up with a good line, and we can continue to breed for years and years," explains Belt.
Bebenroth and his wife, Jackie, own a 48-year lease on the farm. It is one of nine in the Cuyahoga Valley National Park's Countryside Initiative, which aims to preserve the agricultural past of the area. Former farms that once stood empty have been reclaimed through a program that selects private farmers to tend them — people like Bebenroth. The science behind what is planted where and grazing patterns are the chef's budding proficiencies these days.
"I don't think along the lines of, what can I make with eggs?" he says. "Now, I am much more in the mindset of, how can I get these birds under these trees for larger concentrations of bug proteins for richer yolks for yellower pasta?"
For a look at all that effort in action, one needs only to visit Spice Kitchen & Bar, a 90-seat restaurant with cream-colored walls, exposed brick and plenty of natural light. The restaurant's menu changes twice a week, with new and seasonal ingredients providing inspiration for Bebenroth and his restaurant's director of culinary operations, Joshua Woo. Organized into "small plates," "sides" and "substantials," Spice's menu offers a pick-and-choose feel of rustic dishes, such as grilled whole artichokes with a ramp aioli in the springtime or the year-round offering of mushroom beignets served with honey goat cheese creme fraiche.
Ingredients for the menu come from anywhere between 30 to 60 farms located within 150 miles of Cleveland, including Spice Acres. "Fifty percent of what we grow here will go to the restaurant in the summer," explains Belt.
Thin ribbons of tangy, raw rhubarb appear in a salad at the start of the growing season, and sweet peppers color entrees during summer. Squash will take the plate come fall.
For those who want to further embrace the farm-to-table experience, Bebenroth is in his eighth year of presenting Plated Landscape Dinners. The events bring diners to a farm. Tables are set up outside, and there's a tour before the meal.
"We looked at it as an opportunity to get people to sit down with the farmer, break bread with them on their property and appreciate how much work goes into bringing food to you," says Bebenroth. "Food never tastes as good to me as when I am in the field eating it. ... No matter what anyone does on a plate or in the kitchen ... it never tastes as good as when you are just in the garden. It's just like, snap … eat."
Spice Kitchen & Bar, 5800 Detroit Ave., Cleveland 44102, 216/961-9637, spicekitchenandbar.com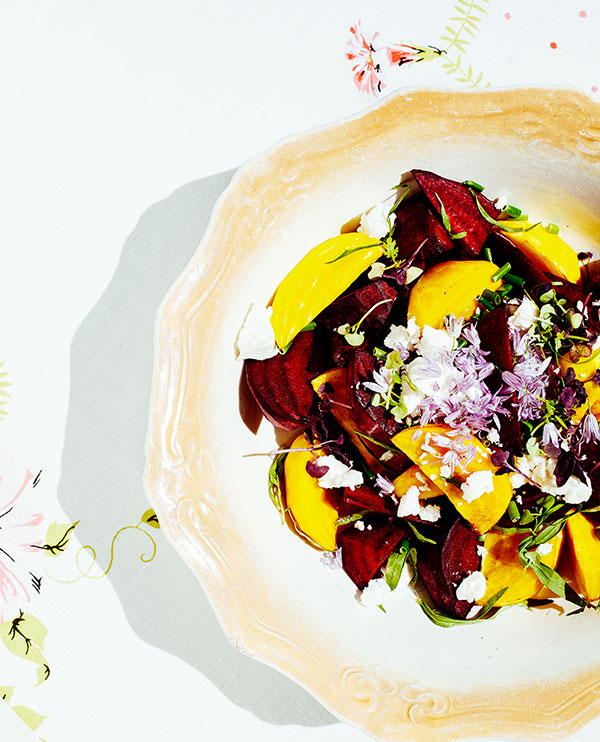 Seasonal Roasted Beet Salad with Lemon Tarragon Vinaigrette
Courtesy of Spice Kitchen & Bar
INGREDIENTS
10–12 large, mixed-color beets
6 ounces feta cheese
1 tablespoon honey
6 sprigs tarragon, chopped
Juice and zest of 1 lemon
1/2 cup extra-virgin olive oil,
plus more for roasting beets
1 teaspoon cider vinegar
1/2 teaspoon Cholula hot sauce
A few pinches of salt
Micro herbs of your choice for garnish
Chive blossom for garnish (optional)
DIRECTIONS
Preheat oven to 375 F. Toss beets in a little extra-virgin olive oil and salt. Spread on baking sheets and roast for 1 hour or until tender. While beets are roasting, prepare the vinaigrette. Whisk together honey, tarragon, lemon juice and zest, oil, cider vinegar and hot sauce. Set aside. When beets are cooked, let cool for about 20 minutes, then peel and cut into size of your choice. Toss beets with the vinaigrette and season with salt and pepper to taste. Garnish with the feta cheese, micro herbs and chive blossoms.
Serves 8

***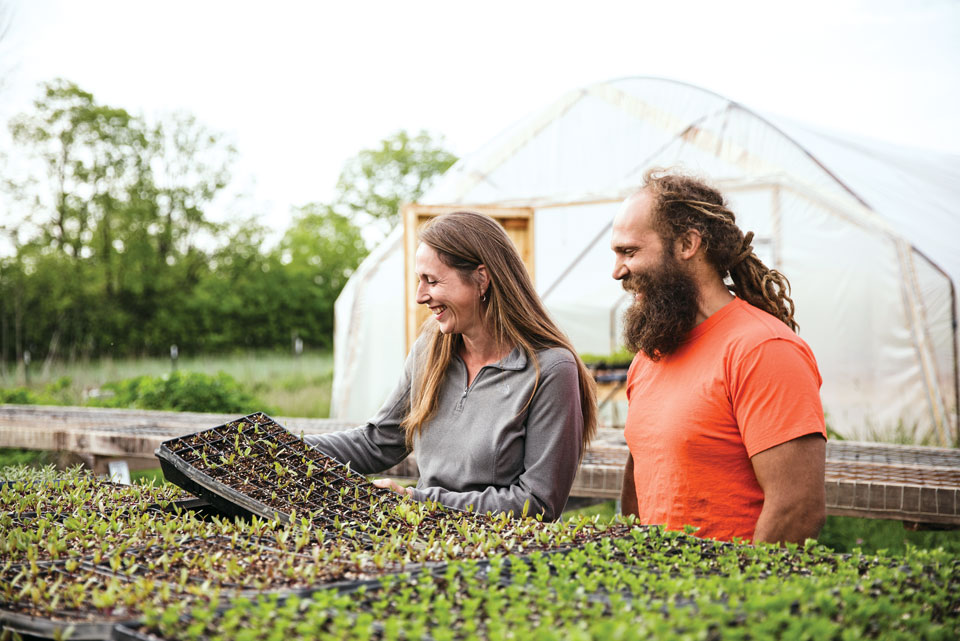 The Reinvention
Kimberly Collett's decision to transform a former Wympee diner into a cozy bistro didn't just revive an old property. It also brought eat-local evangelism to the heart of downtown Dayton.
The 800-square-foot former burger joint seems an unlikely place to forge a fresh relationship between countryside and city, farmer and restaurateur. But it's happening here, in a reinvented downtown Dayton landmark that first opened as a Wympee diner in 1938.
The cozy space was perfectly suited for Kimberly Collett's idea of a small bistro, which was inspired by her favorite pint-size restaurants in Paris and Chicago. It also seemed attainable for someone who had never owned an eatery, nor thought she ever would. Walls were demolished, the space was reimagined and Olive, An Urban Dive opened for business in 2011.
The kitchen staff works behind a counter built from walnut wood Collett got from her grandfather. She built the restaurant's tables herself from poplar and sliced the bottoms from bottles of her favorite beer, Chimay, to create drop lighting for evening ambiance.
"The world is such a throwaway kind of place," she says. "If you can find something worn and you can salvage it, even if it takes more work and more money, why not? I have a passion for, what can I turn this into?"
Collett likes to save things. That's why when she heard that local restaurant owners had merely flirted with the idea of working with local food producers, she wanted to fix that, too. Sitting together at a kitchen table one April day in 2011, Collett and two farmers took a gamble on one another.
Matt Keener had been trying to figure out how to save his parents' farm, which had been in his family since 1830. Keener moved to Montana to learn the beef business before returning home to Ohio to replace the unprofitable crops that had been growing on the family's farm.
"So we put in a couple acres of pasture, a couple acres of hay, and we started with four calves," recalls Keener. "We were just trying to get our name out there a little bit and then [Collett] came over, and I was like, 'wow, this is awesome.' She wanted to do a lot of stuff and it really changed the direction of what we were doing. It really pushed us."
Keener Walnut Grove Farm started with supplying 20 pounds of grass-fed ground beef to Olive for the restaurant's juicy Urban Burger, a 6-ounce patty served with fritti-battered cheese, fried leeks, lettuce, tomato, a beef bacon glaze and aioli. Now, Keener's grass-fed beef can be found at 10 local restaurants and Antioch College in Yellow Springs. The family also recently opened its own butcher shop and deli, the Butcher Block, which has been a success.
"The whole point is that we would support each other and grow together," explains Collett. "It's so cool that there are so many other [restaurants] coming up and everyone is shouting it out."
The other farmer at the table that day was George Mertz, a mechanical engineer who started his now-24-acre farm, Patchwork Gardens, seven years ago. With 10 acres of beautiful, healthy, flourishing rows of cabbage, leeks, tomatoes, zucchini, carrots, cucumbers, squash and many other garden vegetables, Collett has plenty to choose from. The farm doles out its bounty to 250 CSA members each season while Collett takes her fair share, namely for one of Olive's signature dishes — the salty, fritti-battered fried leeks that after an airy crunch yield a juicy sweetness.
Now, Collett works with more than 50 farms and has converted a bocce ball court in the backyard of her home into a garden in order to grow a steady crop of essential vegetables that Olive could use at a moment's notice. To add to it, this spring Collett started growing on a 6-acre field just outside the city. The land is an upgrade from a 2-acre plot that she had started in 2012, and the new site is home to tomatoes, peppers, zucchini, squash, watermelon, asparagus, peas, beans and many other vegetables, along with herbs, flowers, bees and ducks. The farm is also where Olive's weekly roundup of compost ends up — just one of the many ecological habits Collett practices.
Her efforts have paid off with recent recognition from the Hobart Center for Foodservice Sustainability. Olive was awarded the program's $5,000 grant, given to a restaurant that has adopted a high-level environmentally friendly system. Olive, An Urban Dive boasts the ability to trash only an average of 10 pounds of waste each day, composting more than 150 pounds per week.
"There were a couple of [judges] who said they had to do their calculations four times. [They wondered] did this little place actually hit every single thing?" Collett says. The grant money went straight into the farm.
Collett's choice to grow and buy local has fit well with her restaurant's Mediterranean-inspired menu. "It's all the ingredients that we can get in Ohio. Except for lemons and avocados, it is all stuff we grow," says Collett. The cuisine also allows lead chef David Kerg and his team to adapt dishes to cater to any type of diet — paleo, vegan, vegetarian, gluten-free and multiallergen included.
"The other night there were two young ladies in — one from out of state and the other has been a regular staple here," says Kerg. "Her friend was crying at the table, and she's making the waitress cry and her makeup is running because she is saying, 'I haven't been able to go out to eat in three years.' "
It may be tiny, but Olive, An Urban Dive's impact on the Dayton dining scene has far exceeded its compact footprint. The iconic property is rooted in the landscape while constantly sprouting new ideas. It is at once old and new, retro and forward thinking.
That's why Collett contested city laws for two months to keep the iconic Wympee sign out front. "This was where everybody came from Delphi, from the GM plants, and so there are hundreds of thousands of stories in this town about how grandma met this guy at the Wympee," says Collett.
And then there is the Olive, An Urban Dive flag out front, signaling a change.
416 E. Third St., Dayton 45402, 937/222-3483, olivedive.com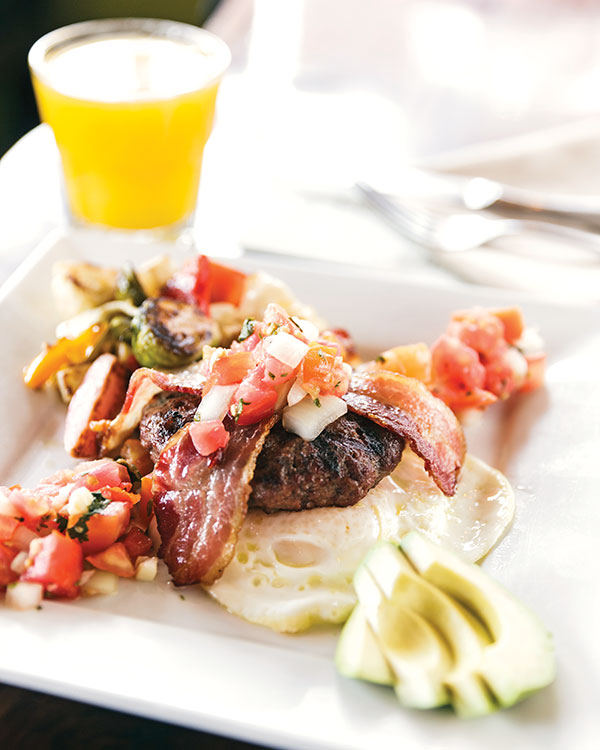 The Perfectly Paleo Platter
Recipe courtesy of Olive, An Urban Dive

INGREDIENTS
1 local, free-range egg*
1 6-ounce patty local,
grass-fed ground beef
1/2 avocado, sliced
2 slices pork bacon
Salsa (recipe follows)
Roasted vegetables (recipe follows)
DIRECTIONS
Cook beef patty to preferred temperature. Fry egg over easy in extra-virgin olive oil in separate pan.
TO ASSEMBLE
Place egg in center of plate, and gently set beef patty on top of egg. Place a large spoonful of fresh salsa in two opposite corners of plate. Add 1 cup roasted vegetable. Top burger with pork bacon, and place spoonful of salsa on top of the bacon. Garnish with sliced avocado.
Serves 1
Roasted Vegetables
INGREDIENTS
2 pounds (8 cups) local, seasonal
blend of vegetables
(such as radishes, squash and peppers)
Extra-virgin olive oil
Salt and pepper
DIRECTIONS
Preheat oven to 350 F. Wash the vegetables well in cold, running water. Pat dry. Peel, then chop vegetables into consistent, bite-sized pieces. Toss vegetables in seperate bowls with extra-virgin olive oil to coat, and season liberally with salt and pepper. Spread out vegetables in a roasting pan or on a baking sheet, separating each type. Roast vegetables for 15–35 minutes (different vegetables will roast for different times), tossing midway through cooking, checking for color and tenderness. Remove from oven and reserve. Yield: 8 cups
Olive, An Urban Dive Salsa
INGREDIENTS
5 large, ripe tomatoes, diced
1 large sweet onion, skin removed
and diced
5 cloves garlic, minced
1 bunch fresh cilantro, chopped
1 tablespoon fresh ground cumin
2 tablespoon fresh squeezed lemon juice
Salt and pepper, to taste
DIRECTIONS
Combine all ingredients in a large bowl, mixing well.
Yield: 6 cups
*Non-GMO eggs are suggested
***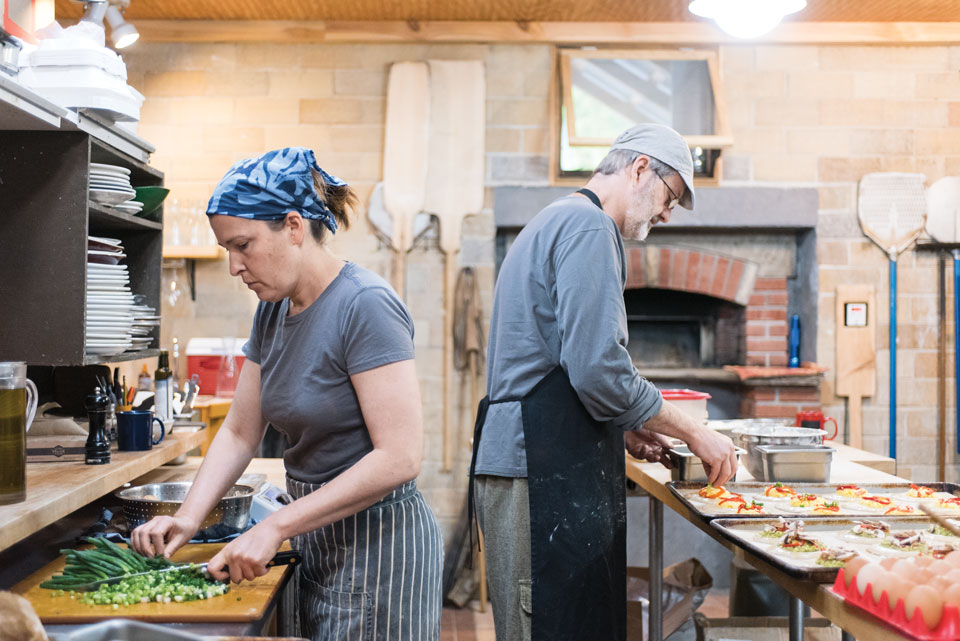 Food Network
There may be nowhere in Ohio that embraces eating local quite like Athens. A visit to Village Bakery & Cafe offers a window into southeast Ohio's web of small farms and food suppliers that have made farm-to-table thinking a way of life here.
One of the first things you notice when walking into Village Bakery & Cafe is a sign proudly proclaiming that everything served is "made with foods kids can pronounce and great-grandparents would recognize."
Since the Athens eatery opened its doors in 2002, the place has become a pillar of this southeast Ohio college town's local food culture — one that offers a place for families and friends to gather without the student-heavy crowds common on Court Street. "It's accessible," explains co-owner Christine Hughes.
A comfortable din of conversation, punctuated by occasional laughter from the groups scattered throughout the dining room, fills the space. Between the food offered on the menu and a recently expanded on-site market, visitors get a window into the region's network of local farmers.
Village Bakery & Cafe works with nearly 50 suppliers. Milk, yogurt and creme fraiche come from Snowville Creamery in Pomeroy, located a half-hour drive south, while chips and beans come from Athens' Shagbark Seed & Mill, a certified organic business roughly a mile down the road. But suppliers also include smaller operations, such as Integration Acres in Albany — which Village Bakery & Cafe turns to for goat cheese and foods native to southeast Ohio such as pawpaws — and High Bottom Farm in Guysville (both are a 15-minute drive away).
Sitting in the market half of the bakery and cafe, the surrounding shelves are filled with many of the ingredients found in menu items, as well as work from local artisans that spans handmade cutting boards, soaps and textiles, and a curated selection of regional and independent wines and beer for sale.
Hughes gestures to a mural she painted on a nearby wall that artfully diagrams the eat-local mindset that guides what's happening here.
In the first and largest circle labeled "Athens Area" are milk, butter, cheese, veggies, eggs, mushrooms and more — all accompanied by the names of the vendors who supply them. The next, smaller ring, "Nearby States" includes foods such as trout, which comes from Wisconsin, and cheeses from southwestern Pennsylvania's Clover Creek. The outer rings ("Distant States" and "International Fair Trade Agriculture") are represented with items like olives and sugar, which make up the smallest percentage of suppliers.
"We don't have a wall around us, but we start local," says Hughes. "I just find places that are doing what we want — taking care of their animals … not using chemicals — as close as possible."
This mix of practicality and commitment to the local economy has allowed Hughes' business to thrive. Her Village Bakery & Cafe seems to have struck the perfect balance between prioritizing local vendors and having a menu with variety and resilience. Her menu changes throughout the year to make use of what's available during the current growing season. During our meeting on a sunny day on the cusp of summer, Hughes is eagerly awaiting tomatoes.
"We haven't had tomatoes since October," she says with a sigh. But soon, she explains, the sandwiches, salads and quiche that had been featuring jarred (albeit delicious and organic) red peppers will feature perfectly ripe, vividly red tomatoes.
Hughes first moved to southeast Ohio from Maryland 20 years ago and started working for Casa Nueva, a popular worker-owned restaurant in uptown Athens that was an early leader in the area's local-food movement. During her time there, Hughes formed relationships with many of the farmers she still buys from today. She started Village Bakery & Cafe, which she now operates with partner Bob O'Neil, in an effort to provide a place that focuses on local ingredients while catering to families.
That idea of accessibility and openness is reflected in her eatery, which along with a welcoming atmosphere boasts remarkably affordable prices. The majority of pastries cost between $1 and $3, including the exceedingly popular oatmeal cookies. More elaborate breakfast entrees start at $2.50 for an onion bialy — a traditional Polish roll that looks and tastes like a thin bagel — and peak at just under $6 for a slice of strata or quiche. If you come for lunch, no plate costs more than $12, and that's for a Salmon Melt loaded with fresh cheese, lettuce, tomatoes, onion and mustard served on a spelt focaccia bun, made in house, of course.
The market for local food in Athens has always been strong enough to support businesses like Village Bakery & Cafe. But increased demand over the years has allowed Hughes to expand the business from a start-up bakery to a full dining experience and launch other projects such as the Catalyst Cafe, a fair trade and organic coffee and teahouse located a few miles away.
The success makes her optimistic that as people are exposed to eating good, responsibly sourced food, it will become a priority in their daily lives. The more that happens, she explains, the more businesses like hers (and the farmers and suppliers she buys from) will continue to flourish.
"We're not just here to provide you with your daily dose of calories. We're here to provide you with a bit of culture and something interesting," says Hughes. "Food is health. Food is life."
268 E. State St., Athens 45701, 740/594-7311, dellazona.com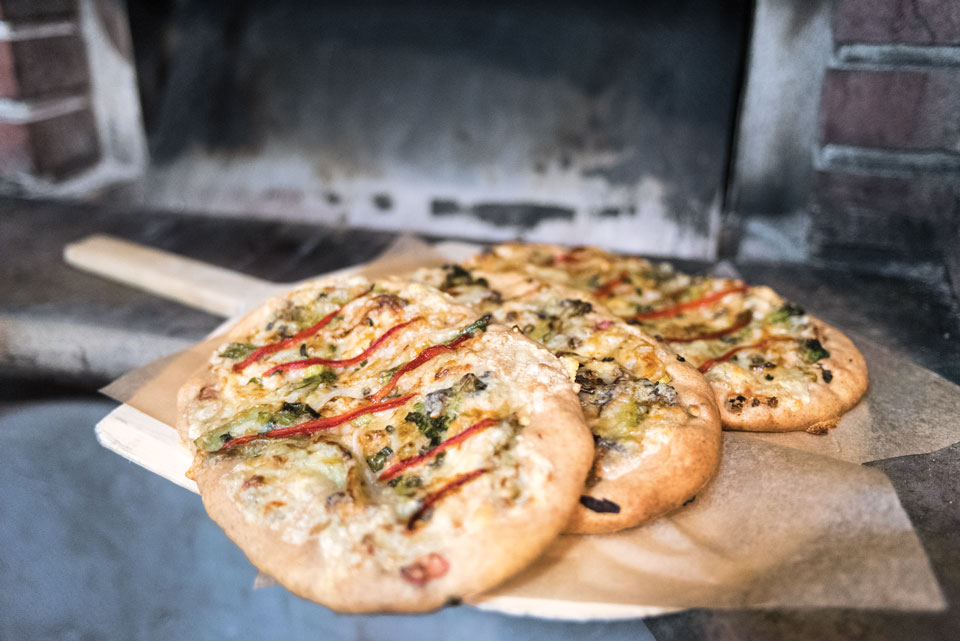 Focaccia Della Zona
Recipe courtesy of Village Bakery & Cafe
Note: Village Bakery & Cafe co-owner Christine Hughes says it's important to seek fresh, local flour for this recipe so the flavor of the grain shines through. "Ohio farmers grow many grain varieties across the state, and Ohio-grown wheat and spelt work wonderfully. Other local flours will be harder to handle but may also taste great. We use [Athens-based] Starline Organic's golden spelt flour, and we sell out of these focaccia every Saturday at Village Bakery."

INGREDIENTS
1 3/4 cups warm water
1 teaspoon active dry yeast
1/2 cup organic extra-virgin olive oil,
plus extra for cooking
2 1/4 teaspoons fine sea salt
1 3/4 pounds (7 cups) local organic flour
plus extra for rolling
Assorted local seasonal vegetables
and herbs
Local cheeses, grated, sliced
or crumbled
(optional)

DIRECTIONS
Preheat oven to 425 F. Mix first four ingredients together in a bowl on low speed using dough hook attachment of mixer or by hand. Slowly add flour, adding just enough so dough clears the sides and bottom of bowl and doesn't quite stick to your hand when you press it, but is still soft and silky. Mix for a total of 5–8 minutes. Cover and let rest in a warm and draft-free area until dough is risen and puffy (about 1 hour). Deflate and use right away or refrigerate for up to 15 hours.
Cut dough into six pieces (about 1/2-pound dough per focaccia). Roll each dough piece into a ball. Cover and refrigerate while preparing toppings.
Cut up the vegetables, herbs and cheeses. Saute or roast vegetables with a little extra-virgin olive oil and salt until just tender.
Sprinkle flour on a clean work surface then stretch or roll the dough to 1/2-inch thickness (thinner for crispier focaccia). Place on parchment-lined baking sheet. Brush with extra-virgin olive oil. Repeat with remaining dough balls. Top with vegetables, herbs and optional cheese.
Bake at 425 F until dough is cooked through and is puffed and golden (about 15 minutes).
Serves 6