Food + Drink
Comfort Food Secrets
Four restaurants known for hearty classics share the recipes for the menu items that keep their customers coming back.
November 2014 Issue
BY Jill Sell | Photos by Kevin Kopanski, food styling by Kara Kissell
November 2014 Issue
BY Jill Sell | Photos by Kevin Kopanski, food styling by Kara Kissell
Cheeseburger Soup
Berlin Farmstead Restaurant | Berlin

It would be hard to miss the Berlin Farmstead Restaurant, especially with the big concrete rooster outside that welcomes guests to the Holmes County spot.

"The rooster's name is Noodles," offers kitchen manager Amanda Yoder. "Even adults like to sit on him and have their picture taken."

It's a fitting name given the fact that homemade Amish noodles are one of the restaurant's specialties. Yoder, who learned much about comfort food growing up in her Amish home, oversees the menu at the restaurant, which the Dutchman Hospitality Group purchased about three years ago.

Pan-fried chicken is another favorite here, as are the apple and pumpkin pies, buttermilk pancakes, smoked ham and mashed potatoes with brown butter. "Some people think it's gravy, but it's not," Yoder says. "The butter is what makes it special."

Yoder defines comfort food as what's on your grandmother's dining room table during Thanksgiving and Christmas. And while most of Yoder's menu spans long-standing family favorites, she frequently offers an unusual but very popular soup of the day that is destined to become a comfort food classic in its own right: cheeseburger soup — a creamy creation that can be made at home without much trouble.

"Just pay attention to the recipe," advises Yoder. "Add the sour cream last and don't overheat it or it will curdle." 4757 Township Rd. 366, Millersburg 44654 (GPS address), 330/893-4600, dhgroup.com

INGREDIENTS
1/2 pound ground beef
3/4 cup chopped onions
3/4 cup shredded carrots
3/4 cup diced celery
4 cups peeled and diced potatoes
1 teaspoon dried basil
1 teaspoon dried parsley flakes
4 tablespoons butter, divided
3 cups chicken broth
1/4 cup flour
8 ounces Velveeta cheese
1 1/2 cups milk
3/4 teaspoon salt
1/4 teaspoon black pepper
1/4 cup sour cream

DIRECTIONS
Brown beef in a 3-quart saucepan, drain and set aside. In same pan, saute onion, carrots, celery, basil and parsley in 1 tablespoon butter until vegetables are tender (about 10 minutes). Add broth, potatoes and beef and bring to a boil. Reduce heat, cover and simmer until potatoes are tender (10–12 minutes).

While the saucepan mixture is cooking, melt remaining butter in small skillet. Add flour and stir for 3–5 minutes over medium heat until bubbly. Add to saucepan and bring entire mixture to a boil. Cook and stir for 2 minutes, and reduce heat to low. Add cheese, milk, salt and pepper and cook until cheese melts, stirring occasionally. Add sour cream into soup and stir until completely mixed in. (Note: Be careful that the soup does not boil during this process or the sour cream will curdle.) Remove from heat.

Yield: 2 1/4 quarts

***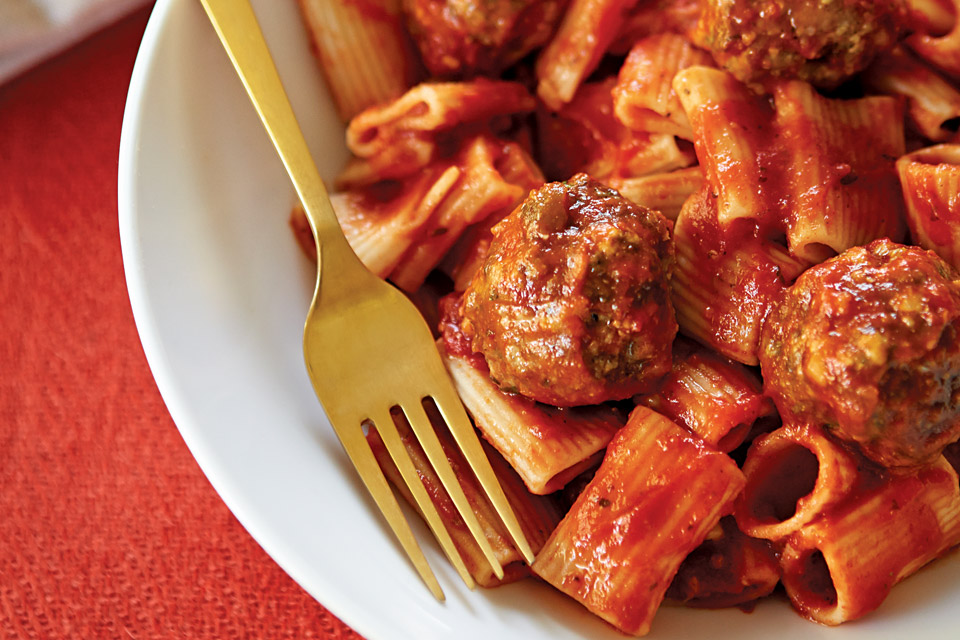 Homestyle Beef Meatballs
Meatball Kitchen | Cincinnati

Throughout culinary history, the meatball has been the focus of deep affection, transcending cultures and cuisines. Tasty meatballs can perfect a pasta dish, while so-so ones can sink a sandwich. But what meatballs haven't been over the generations is trendy. Until now.

Dan Katz opened Meatball Kitchen in Cincinnati's hip Short Vine neighborhood last January, and once you've visited, you may never look at the little round ball the same way again. The former New York restaurant and bar owner pays homage to the simple meatball by offering it in four varieties daily: beef, turkey, spicy pork and vegetarian.

Customers order at a counter and then build their meal, choosing to enjoy the meatballs on pasta, a salad or a sandwich. Then, they can opt for either a meat, tomato or béchamel sauce to top off the creation.

Katz says there are already meatball-centric eateries in New York City, Denver and Detroit, but his Meatball Kitchen is unique to Ohio.

"Our restaurant is good comfort food for Cincinnati," he says. "You can be amazing in New York City, but there is so much going on there that you get lost."

Everything at Meatball Kitchen is made from scratch, including the restaurant's signature meatballs, which are made with fresh spices, high-quality meats and the best cheeses. The shop also bakes its own bread.

"When people are sitting at home and they start thinking of those meatball sandwiches they used to have, they end up calling for a pizza," Katz says. "But that's not what they really want. They want a meatball. With us, you get what you dream about." 2912 Vine St., Cincinnati 45219, 513/407-7405, meatballkitchenusa.com

INGREDIENTS
1 pound ground beef
1 pound ground Italian sausage
1 cup fresh bread crumbs
2 large eggs
1/2 cup ricotta cheese
2 tablespoons chopped garlic
1/4 teaspoon crushed red pepper
1 1/2 teaspoons kosher salt
1 teaspoon black pepper
1 tablespoon fresh chopped rosemary
2 tablespoons fresh chopped parsley

DIRECTIONS
Combine all ingredients in a large bowl, mixing until just combined. Roll mixture into golf ball-size balls. Place on lined sheet tray and bake at 350 F for 20–25 minutes or until cooked throughout. Serve with your favorite sauce over pasta.

Yield: 30–35 meatballs

***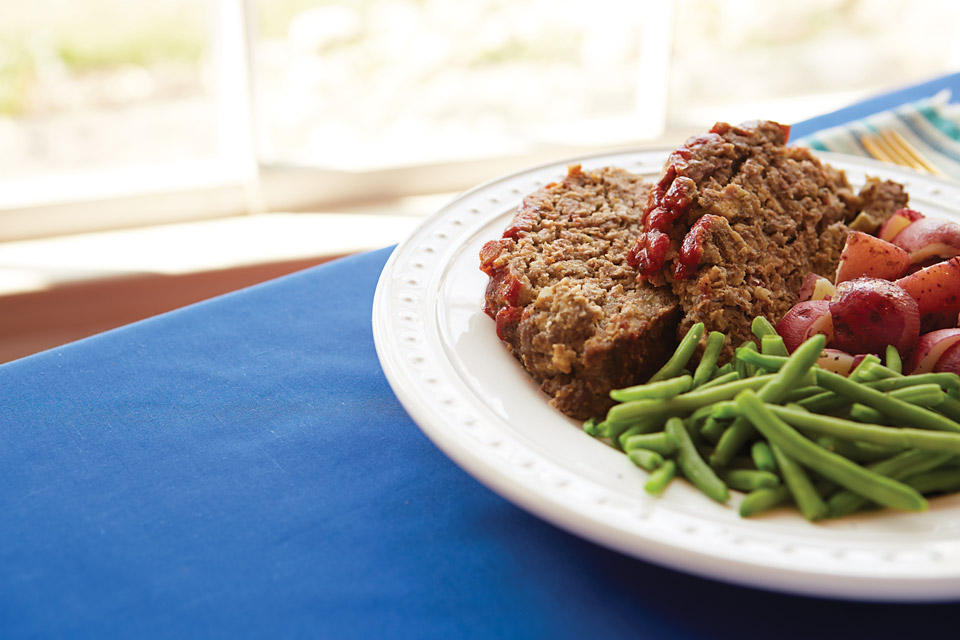 Sokolowski's Classic Meatloaf
Sokolowski's University Inn | Cleveland

The cafeteria line at Sokolowski's University Inn in Cleveland is far from the experience you had in middle school. Forget the odd-colored gravy and mystery meat. This is Polish and Eastern European comfort food at its best — pierogies and kielbasa, chicken paprikash and cabbage and noodles.

"Some people say they are not sure about waiting in a cafeteria line, but then they try it, and the food is so good they don't think about it again," says owner Mike Sokolowski, whose family established the business in 1923.

The restaurant made the switch to cafeteria style in the 1950s when Cleveland was filled with ironworkers building the bridges that serve as the city's main arteries. Sokolowski's mother was a nurse in New York City before she moved to Cleveland and married his father. She suggested the cafeteria line as a way to quickly serve hungry men. "It's worked for us for 60 years," adds Sokolowski.

The restaurant is also one of only five throughout the nation to be named a 2014 America's Classics award recipient by the James Beard Foundation. The honor recognizes beloved regional restaurants distinguished by their timeless appeal and food as well as how they reflect the character of the place they call home.

"My mother said our Salisbury steak put three children through college," says Sokolowski. "But I have also had local chefs go crazy for my meatloaf. They could never figure out where the smoky taste came from. When I would share my recipe and tell them that I include bacon, they would roll their eyes in dumbfounded amazement." 1201 University Rd., Cleveland 44113, 216/771-9236, sokolowskis.com

INGREDIENTS
1 pound ground beef
1/2 pound ground veal
1/2 pound ground pork
3 to 4 ribs of celery, diced small
1 medium sweet onion, diced
1 pound thick-sliced bacon
3 eggs, beaten
1 tablespoon salt
1 tablespoon granulated garlic
1 teaspoon pepper
2 ounces Worcestershire sauce
2 cups unseasoned breadcrumbs
2 tablespoons butter
1/2 cup of your favorite ketchup-based topping (see prep note at end)
Food-release spray, such as Pam

DIRECTIONS
In a small frying pan, combine diced celery, diced onion, 4 to 5 slices of diced bacon and butter. Saute until vegetables are soft and bacon is cooked (about 15 minutes). Allow to cool.

In a large mixing bowl, combine the cooked vegetable mixture with meat, eggs, salt, garlic, pepper, Worcestershire sauce and breadcrumbs. Mix thoroughly by hand until ingredients are combined. Spray a flat tray with Pam and form your meatloaf into a football shape.

Spray foil with Pam and cover the meatloaf. Bake for 45 minutes in a 350 F oven.

Remove from oven and take foil cover off meatloaf. Add your favorite ketchup-based topping and continue to bake for an additional 15–20 minutes. (Optional: add the remaining slices of bacon to the top of meatloaf at the beginning of the baking time.)

Yield: serves 6–8 people

Preparation Note: You can always top your meatloaf with a simple slathering of ketchup, but Mike Sokolowski suggests improvising: Add in a little A1 Steak Sauce, teriyaki sauce and Worcestershire sauce, and then adjust according to taste. You can even mix in some orange sauce for a sweet-tang kick.
***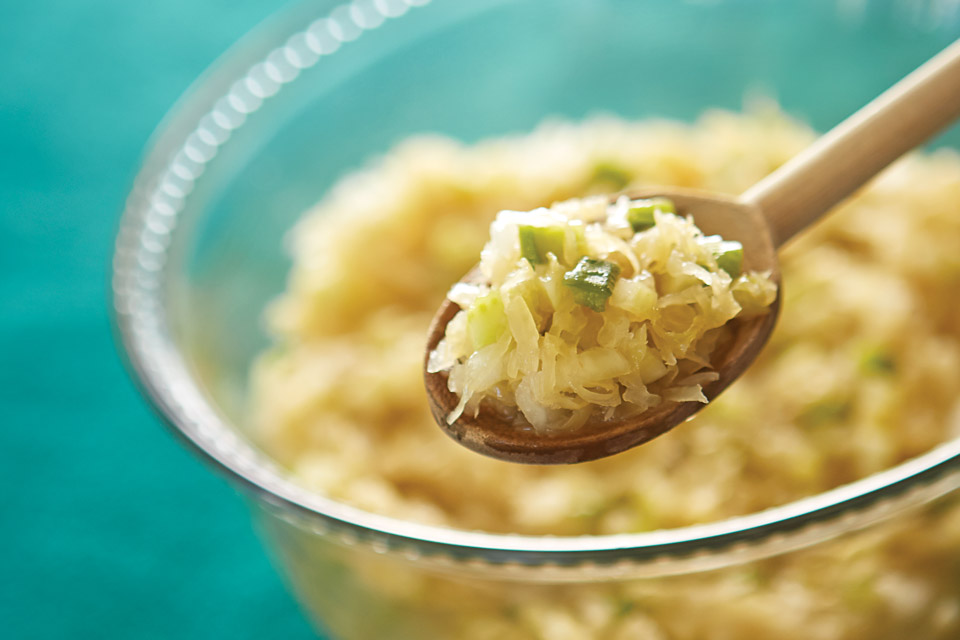 German Sweet Kraut
Schmidt's Sausage Haus und Restaurant | Columbus

There is nothing delicate about Schmidt's Sausage Haus und Restaurant. The bratwursts are fat, the potato salad is chunky and the place is at times wonderfully noisy with live oompah music, revelers and clinking beer steins. Here, Oktoberfest is celebrated all year long.
The Schmidt family's meatpacking house has roots dating back to 1886, while its restaurant in Columbus' historic German Village opened in 1967. The place is helmed by Geoffrey Schmidt, who is now welcoming the fifth generation into the family business.
"The youngest generation wants some changes," he says. "They say the buffet never changes, but our waitresses collect 500 comment cards a week and they all say, 'Don't change anything.' "
The restaurant serves German comfort food, but Schmidt explains that European cultures and foods mixed and mingled over time. "We are most proud when people say our food reminds them of their mom's cooking, no matter where they are from," he says.
Of all the German dishes the restaurant makes, Schmidt confesses to liking the garlic knockwurst most. "When I was growing up, my dad worked in the packing house before our family turned the business into a restaurant," Schmidt says. "He would come home with three garlic knockers, and he and I each had one and split one. Maybe his memory enhances the flavor a bit for me."
The restaurant's much-loved sweet kraut is a customer favorite, even for people who don't like the tangy flavor of traditional sauerkraut. "When we were young, my brother hated sauerkraut when he had to eat a little bit on New Year's Day for good luck," Schmidt recalls. "Now he loves our sweet kraut."
He adds that you don't even need to start with raw cabbage to make the dish at home. (The recipe here calls for transforming canned or jarred sauerkraut.) "It's good either way," Schmidt says.
240 E. Kossuth St., Columbus 43206, 614/444-6808, schmidthaus.com
INGREDIENTS
2, 20-ounce cans of sauerkraut
1/2 cup salad oil
1/2 cup cider vinegar
1 1/3 cup sugar
1 1/2 cup diced celery
1 cup diced onions
1/2 cup diced green peppers
DIRECTIONS
Open sauerkraut cans and empty into a colander to drain. Put salad oil, vinegar and sugar into a mixing bowl and mix until well blended. (Use medium setting on electric mixer or blend by hand using wire whip.)
Add diced vegetables to oil and vinegar mix. If using an electric mixer, whip on low setting for 1 minute and then medium setting for 10 minutes. If mixing by hand, whip until liquid portion gets a green tint.
Place drained sauerkraut in large mixing bowl. Pour vegetable and oil mixture over kraut and mix well by hand, breaking kraut up really well. Refrigerate and serve cold.
Yield: 1 1/2 quarts