Arts
Q&A: Martin Mull
After growing up in Ohio, Mull embarked on a television career that has spanned more than four decades. His new Fox series, "The Cool Kids," premieres this month.
September 2018
BY Barry Goodrich | Photo by Patrick McElhenney/Fox
September 2018
BY Barry Goodrich | Photo by Patrick McElhenney/Fox
If you've never seen Martin Mull on television you simply haven't been paying attention. For the past 42 years, he has been featured on such groundbreaking shows as "Mary Hartman, Mary Hartman," "Roseanne" and "Veep."

This month, at the tender age of 75, Mull is back doing what he does best on his new Fox sitcom, "The Cool Kids," joining comedy legends David Alan Grier, Leslie Jordan and Vicki Lawrence as rambunctious residents at a retirement home.

"At my age I was fully prepared for hanging up my shingle," says Mull, who grew up in North Ridgeville. "I consider this [show] the gold watch you get when you finally retire … but that doesn't mean I won't get something else when I'm 85."

Mull talked with us about his career, growing up in northeast Ohio, his days as a musician and the secret to staying young at heart.

You've been involved with revolutionary television shows. What's it like looking back on your career?
I just said to my wife that ["The Cool Kids"] is the 40th half-hour show I've ever been on. I've been very, very fortunate. I think that "Mary Hartman, Mary Hartman" was cutting edge and "Roseanne" was cutting edge at that time. It's just a joy to be doing this show. I don't think we're going to be stealing "The Big Bang Theory" audience, but I think we will be able to cull an audience that knows Wings wasn't Paul McCartney's first band.

How is it to work with such a talented ensemble cast as you have with "The Cool Kids"?
What makes this unbelievable is that this is not even remotely our first rodeo. We all just clicked immediately, and no one is stepping in anyone else's shadow. And you can't get a more diverse cast than us.

What was life like growing up in North Ridgeville?
There was a lot of hand to mouth. We didn't have a lot of money. Going from North Ridgeville to downtown Cleveland was a major opus for us. I played a lot of baseball, football and track. I was kind of an Ozzie-and-Harriet kid in the soft, white underbelly of America. Then I went to art school during the folk music scare of the '60s. Need I say more? It was sex, drugs and rock 'n' roll.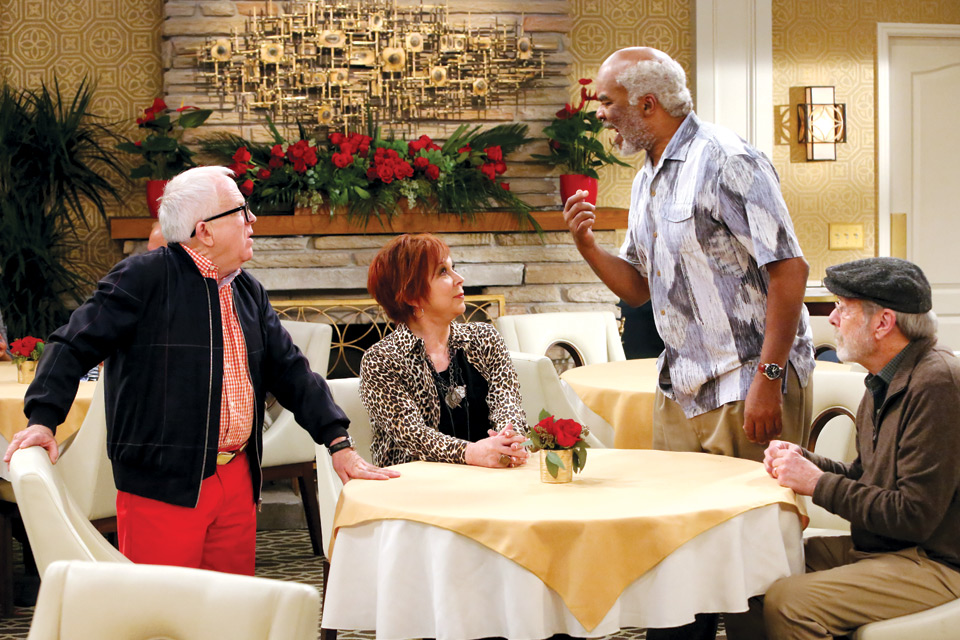 I know you're a diehard Cleveland sports fan. Do you still follow the Browns and Indians?
I lived in the area long enough to get the Browns and Indians in my bones. Bernie Kosar and I were good friends, and I would go out and kick field goals at practices. I got to meet Jim Brown when I was 12. I remember shaking his hand and wondering if I would ever get mine back. I park myself in front of the TV every Sunday, and I haven't missed an Indians game this year.

In the 1970s, you had a career as a musician, releasing albums like "Days of Wine and Neuroses" and "I'm Everyone I've Ever Loved." What was it like opening for Randy Newman, Billy Joel and Bruce Springsteen?
Randy's an absolute genius — he's brilliant. Billy Joel and I played a show, ironically, in Allentown, [Pennsylvania], but I don't remember the Springsteen thing at all. I may have been self-medicating at the time.

How did you get into acting?
I wanted to be a writer for "Mary Hartman, Mary Hartman" and had a nice talk with Norman Lear about it. Six months later, I came in to read for the part. I had never acted in anything, not even the high school play, and all of a sudden I'm going on with these monsters like Louise Lasser and Dabney Coleman. It was pure terror.

What is the secret to aging gracefully?
You can't ignore the 800-pound gorilla in the room … there is hearing loss, memory loss and flatulence. It happens. I've got a fake hip and hearing aids, but I think of myself as 35. The worst part of getting old is your brain doesn't really slow down, but when you get out of bed you sound like a used car.

"The Cool Kids" debuts Sept. 28 at 8:30 p.m. on Fox.