Arts
'The Jim Henson Exhibition: Imagination Unlimited'
An exhibition at COSI through Sept. 2, delves into the mind of the man who brought The Muppets to life.
August 2019
BY Linda Feagler | Photo by Nat Seymour
August 2019
BY Linda Feagler | Photo by Nat Seymour
As Elyse Lohrbach leads the way to "The Jim Henson Exhibition: Imagination Unlimited," her admiration for the celebrated puppeteer becomes delightfully infectious.

"I watched 'Sesame Street' over and over again," the COSI project manager says about the PBS show starring Henson's most iconic creations. "I connected with the characters because they weren't human — and that was the part that was so exciting. Kermit the Frog, Bert and Ernie and Cookie Monster had personalities and amazing traits that taught basic lessons like the importance of sharing and encouraged you to be the best you could be.

"Sometimes," she adds with a grin, "it's easier to receive those kinds of messages from someone magical versus someone like a parent."

Organized and curated by the Museum of the Moving Image in New York, the exhibition, on display at the Columbus science center through Sept. 2, offers an insightful retrospective of Henson's groundbreaking work for TV and film and an exploration of the renowned impact he had on popular culture.

It showcases a broad range of artifacts spanning his career, including 25 original puppets from "Sesame Street" and the Muppet franchise. There are also character sketches, storyboards, scripts, photographs, film and television clips, costumes and quotes from the artist tracing his thought process. Interactive kiosks invite visitors to try their hand at puppeteering on camera and designing a character of their own.

The exhibition opens with an enormous photograph of Henson and Kermit the Frog — the puppet most closely associated with him — face to face. The arresting image packs a punch, especially given the fact Henson died suddenly in 1990 at age 53 from streptococcus pneumoniae, a bacterial infection, just a day after he was admitted to the emergency room. The accompanying quote from Henson reflects his life's calling: "As children, we all live in a world of imagination, of fantasy, and for some of us that world of make-believe continues into adulthood."

Nearby, an original Kermit the Frog styled by designer Bonnie Erickson is posed to offer a warm welcome. Erickson, who worked with Henson for more than 30 years and created Muppets that include the diva Miss Piggy, assisted in the installation of the COSI exhibition.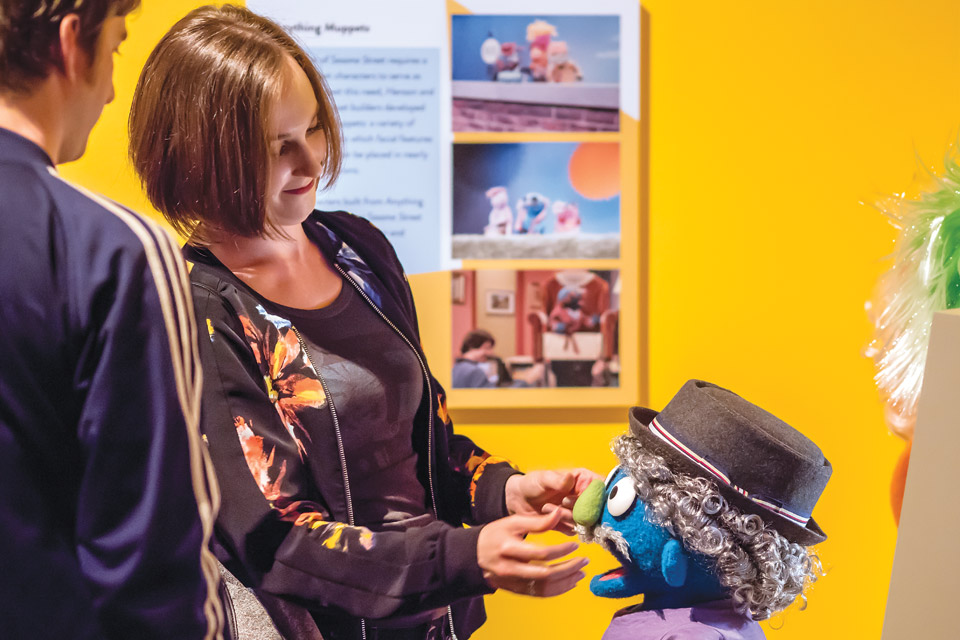 "I call myself 'the essence checker,' " she says with a laugh, "because I know how these characters behave. Everywhere we've toured with this exhibit, we've seen how much Jim moved and touched people. At a time when families didn't sit down together to watch TV, his shows appealed to everybody at every age."

***

Born in Greenville, Mississippi, in 1936, Henson was quickly captivated by a love of storytelling. He avidly watched televised puppet shows, including NBC's "Kukla, Fran and Ollie," a clip of which is broadcast in the exhibition next to a 1948 Admiral TV.

Although Henson's interest in puppetry was sparked by a desire to perform on television, his appreciation for the art form deepened after he attended puppet shows during a trip to Europe in 1958, as a quote from the exhibit explains: "It was at that point that I realized that puppetry was … a valid way to do really interesting things. I came back from the trip all fired up to do wonderful puppetry."

Structured chronologically, the exhibition offers a look at Henson's early professional career, which launched at age 18 when he created the TV show "Sam and Friends" while a student at the University of Maryland. Broadcast in Washington, D.C., it won an Emmy Award for Best Local Entertainment Program of 1958. The show marked the debut of a lizard-like character named Kermit — seen in film clips accompanying the exhibition — which would evolve into Kermit the Frog.

During the first few seasons of its six-year run, "Sam and Friends" featured puppets lip-syncing to recordings of novelty songs and comedy routines by Stan Freberg and Spike Jones. But in 1958, Henson began to write scripts for the show and develop distinctive voices and dialog for his characters.

"Jim realized early on that in traditional puppet shows, the puppeteers were looking at their puppets from the ground up or from behind a screen," Lohrbach says. "So, he created a system where the camera focused on the puppets. Puppeteers would have a monitor at eye level so they could see what the camera saw, and their puppet could interact with other puppets on the stage in a way that was more lifelike. ... Jim really changed the game."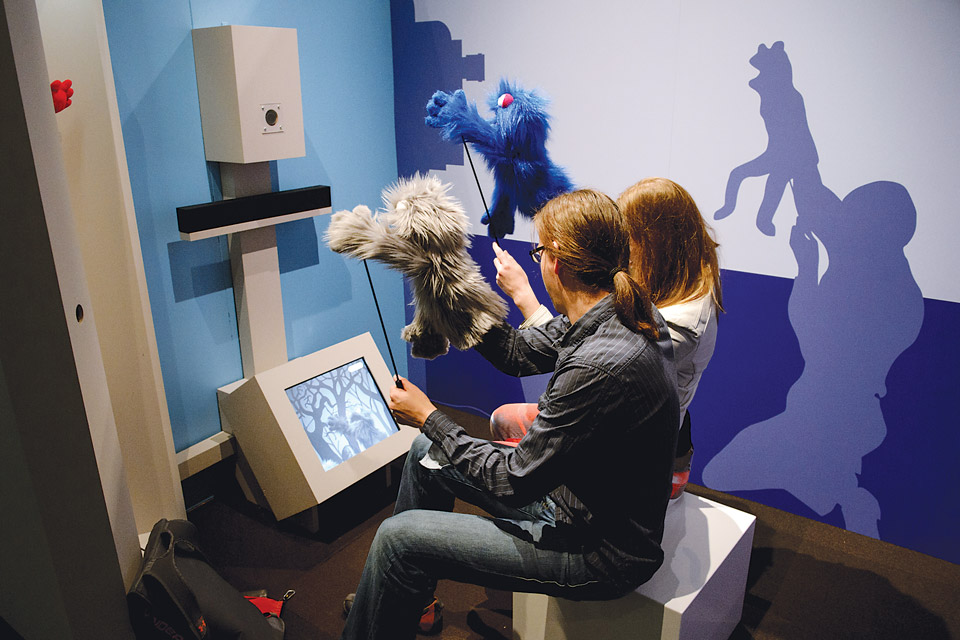 During the late 1950s and early '60s, the popularity of "Sam and Friends" led to invitations for The Muppets to appear on "The Ed Sullivan Show," "The Dick Cavett Show" and "The Tonight Show." Henson embraced the variety-show format, with its mix of music, comedy and novelty acts, and would copy it on "The Muppet Show," broadcast in the U.S. from 1976 to 1981. Before the debut of "Sesame Street" in 1969, Henson also created television commercials and corporate films for clients ranging from banks to coffee companies.

Throughout the 1960s, Henson worked on a range of experimental projects reflecting his interest in the creative possibilities of film. The exhibition features scenes from the movie "Time Piece," depicting a man living in constant motion in an attempt to escape the passage of time, and "Youth 68," which covered lifestyle choices in the counterculture period. Henson also developed a concept for a nightclub called Cyclia. The artifacts in the exhibition describe

it as "pure theater in a revolutionary new form: A perfectly controlled, unified environment of movement, images and sound." It included dancers on platforms with kaleidoscopic images projected onto their bodies and a floor that flashed in sync to the music.

"If this had been successful, who knows if he would have any of his other work," Lohrbach muses.

***
When Henson was asked in 1968 to join the team of educators, writers and producers developing "Sesame Street," he was reluctant, fearing he'd be categorized as a children's performer. But the father of four relented, believing in the creators' vision of the show being educational yet fun.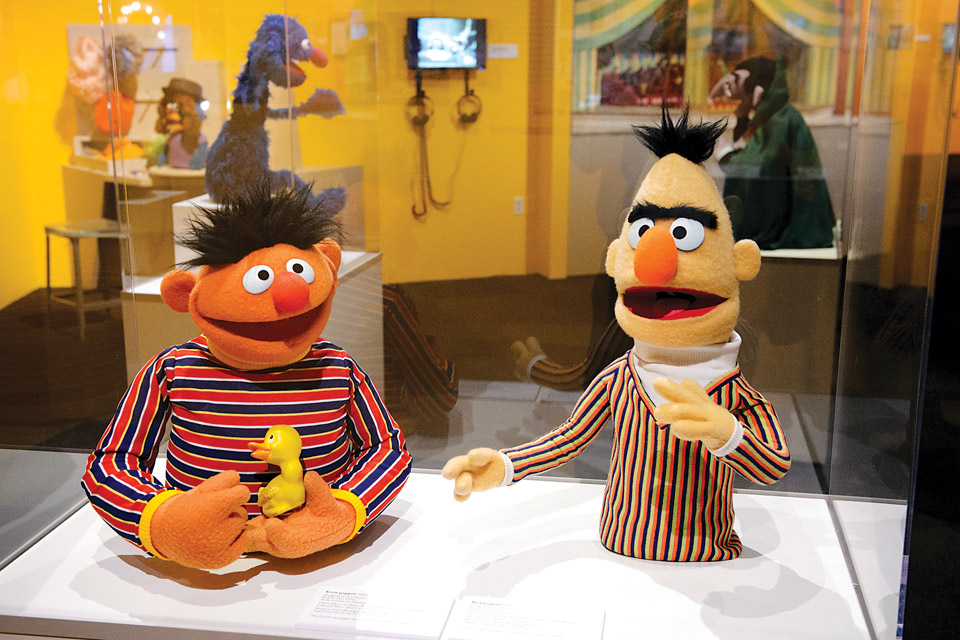 The "Sesame Street" and "Anything Muppets" portions of the COSI exhibition are clearly the attention-getters, as evidenced by generations of families posing for photos next to puppets Count von Count, Bert and Ernie, Dr. Bunsen Honeydew and Beaker; watching clips from "The Muppet Show"; and marveling at scenes from 1981's "The Great Muppet Caper," featuring Muppets riding bicycles.

Never one to rest on his success, Henson continued to develop stories into the 1980s that made use of innovations he devised. Three of his most ambitious projects, the fantasy worlds of "The Dark Crystal," "Fraggle Rock" and "Labyrinth" are well represented with character sketches, film clips and puppets.

"Aughra is one of my favorites," says Lohrbach, pointing to the oracle from "The Dark Crystal," constructed of foam latex, paint, synthetic hair, distressed silk, felt, lace, plastic and glass. "She's this wise cranky woman who is absolutely hysterical in the movie. She's not beautiful, but just by looking at her you can see she's so full of life and character. I adore her."

Although the exhibition's timeline ends shortly after Henson's death, his legacy continues as his family and the Walt Disney Co. develop new productions.

"Jim Henson exemplified creativity, innovation and imagination," Lohrbach says. "He weaves the arts and sciences together beautifully like no one else does."
COSI
333 W. Broad St., Columbus 43215, 614/228-2674, cosi.org
Hours: Mon.–Sun. 10 a.m.–5 p.m. (except Aug. 10, when the hours are 10 a.m.–2 p.m.)
Admission: Adults $25, ages 2–12 $20