Arts
'Stay Tuned: Rock on TV'
The Rock & Roll Hall of Fame examines how television from "The Adventures of Ozzie and Harriet" to "American Idol" shaped popular music for three generations.
August 2018
BY Linda Feagler | Photo courtesy of Rock & Roll Hall of Fame
August 2018
BY Linda Feagler | Photo courtesy of Rock & Roll Hall of Fame
Karen Herman, vice president of collections and curatorial affairs at the Rock & Roll Hall of Fame, strides past a copy of the $400 check Elvis received for his second appearance on "The Ed Sullivan Show" in 1956, and the Rickenbacker guitar John Lennon played when the Beatles made their American debut on the program eight years later.

After taking the stairs to the Rock Hall's fifth-floor gallery, she stops in front of the blue tuxedo Ricky Nelson wore when he sang the Fats Domino hit "I'm Walkin' " on his parents' TV show, "The Adventures of Ozzie and Harriet," on April 10, 1957. The sitcom, which aired on ABC for 14 years, starred the real-life Nelson family: Ozzie — a popular bandleader in the 1930s — his wife Harriet and sons David and Ricky. For Herman, this modest artifact is the one that made rock 'n' roll respectable TV fare for mainstream America.

"Ricky's performance was the big-bang moment," Herman explains. "Ed Sullivan, along with Dick Clark's 'American Bandstand,' opened the door to rock 'n' roll on TV, but when Ricky sang, it changed everything. 'Ozzie and Harriet' was the most white-bread, wholesome show on the entire planet. Viewers thought, OK, if Ozzie can let his squeaky-clean son be in a rock band, then it's not such degenerate music."

The song would go on to reach No. 4 on the pop charts and launch 16-year-old Ricky Nelson's music career as a teen idol.

The tux, accompanied by a clip of Nelson's performance, is one of 130 items featured in "Stay Tuned: Rock on TV," a multimedia musical journey on display at the Rock Hall through March. It showcases ways in which the small screen shaped the music of three generations. In addition to clothing, instruments, photos and footage of iconic performances from the past 60-plus years, the exhibition features insightful commentaries from music luminaries such as Cyndi Lauper, Kelly Clarkson, Darlene Love, Micky Dolenz and Paul Shaffer. Topics range from variety shows to animated series to MTV.

"I loved television from the first minute I sat down in front of it," says Herman, who oversaw the Archive of American Television at the Academy of Television Arts & Sciences Foundation in Los Angeles before joining the Rock Hall four years ago. "I studied it as a kid. I read every credit. TV and rock 'n' roll grew up together, and I've been thinking about ways we could present that from the moment I walked in the door."

***

Although television was available in a crude experimental form in the late 1920s, it wasn't until after World War II that an improved form of black-and-white TV broadcasting became popular in the United States. By 1952, there were more than 17 million sets in American homes, and networks were eagerly searching for compelling programming for viewers — and potential sponsors — to tune into.

"There was usually only one television in the house, and oftentimes teens controlled it," Herman says. "Networks knew teens were going to cut out unless there was programming for them, too, which gave rise to the Ed Sullivan model, where you had rock acts along with plate spinners and comedians. Advertisers knew teens were a really viable market, and that's what started the acceptance of rock 'n' roll by the networks."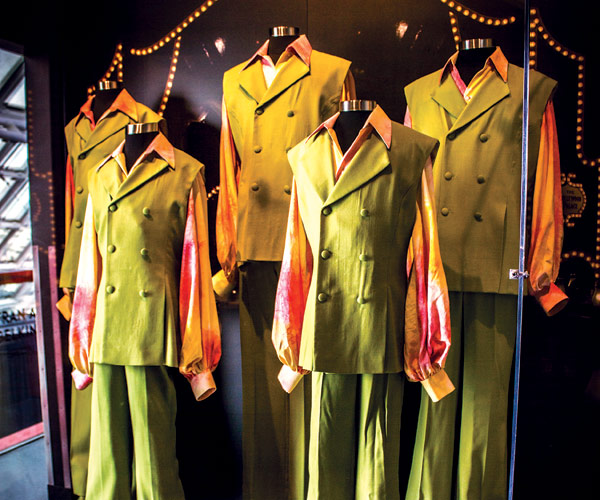 In 1956, 26-year-old DJ Dick Clark became the host of "Bandstand," a weekday teen dance show broadcast from Philadelphia. The program's popularity skyrocketed, and a year later it went national as "American Bandstand" — the first network series dedicated to rock 'n' roll.

Artifacts on display from the show, which enjoyed a 30-year run, include the microphone Clark used to interview guests during the 1970s and '80s. (When Clark pointed it at Madonna in 1983 to ask what was left for her, she replied, "To rule the world.") Then, there's the necklace in the shape of a Volkswagen logo that Mike D of the Beastie Boys wore during a 1987 performance. (Unhappy about having to lip-sync their songs, the band smashed their microphones.)

"'Ed Sullivan' and 'American Bandstand' made way for the variety shows that were TV mainstays from the late '50s to the mid-'70s," Herman says, citing "Hollywood Palace" as a viewer favorite. A significant precursor to "Saturday Night Live," with its innovative sets and rotating guest hosts, the show appealed to a youth audience with contemporary acts, including The Temptations and The Supremes. On Oct. 18, 1969, The Jackson 5 made their first national appearance. (The neon lime suits the siblings wore are featured in the Rock Hall exhibition.)

"When we talk about people who are really key, Michael Jackson is one of them, and we wanted to give him a little bit more than a footprint," says Herman, pointing to cases containing the jacket Jackson wore in 1985 while recording the USA for Africa single, "We Are the World," which raised more than $50 million for famine relief; a Gibson Flying V guitar used as a prop in the music video "Scream"; and photos of Jackson getting his werewolf makeup applied by special-effects artist Rick Baker before filming "Thriller."

Variety shows also paved the way for many guests to emcee their own programs. A two-piece, barely-there outfit fashion designer Bob Mackie created for Cher to wear on "The Sonny & Cher Comedy Hour" is here, as are the ice skates Donny Osmond laced up for an opening sequence on "Donny & Marie," the show he shared with his sister.

"Sonny and Cher were a rock act first, and then they became hosts," Herman says. "It started with their musicality and then they were the ones showcasing new talent. TV got edgier, and most of the variety shows were gone by the '80s. Today, they're back in a different form in shows like 'America's Got Talent.' "

***

When music videos came on the scene during the 1960s, they were predominantly used as promotional tools. A decade later, Queen's innovative "Bohemian Rhapsody" ushered in the modern music video by demonstrating the potential of combining artists, songs and imagery with groundbreaking editing technology.

MTV added to that spectacle. The cable channel, which debuted on Aug. 1, 1981, was the first to capitalize on the universal appeal music videos would have on audiences and began broadcasting them 24/7. Artifacts from that era on display include Joan Jett's leather jacket from her 1982 music video for "I Love Rock 'N Roll" and the velvet top hat Tom Petty wore as the Mad Hatter in the video for his song "Don't Come Around Here No More," which won the 1985 MTV Video Music Award for Best Special Effects in a Video.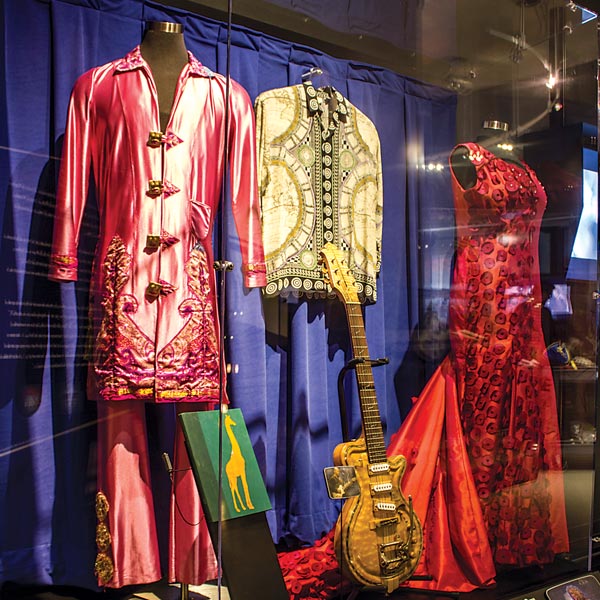 Herman's voice is tinged with excitement as she recalls the cable channel's first broadcast.

"MTV wasn't [completely] here yet, but as soon as you got an inkling of what was to come, it blew everything apart, not just for me personally but for the way we all experience music," she says. "Shows that came before it married the visual and the music. MTV took rock to an entirely new level of artistry: The visual and the music were completely created together, and a story component was added."

As The Buggles' "Video Killed the Radio Star" — the first music video to air on MTV — fills the screen, Herman stands next to the aluminum-colored jacket band member Geoff Downes wore and ponders what's next.

"Will something replace television? It has sort of been replaced with streaming and the Netflix model, much like what happened to early TV with cable," she says. "But people are always going to want great content, they're always going to want stories. So some form of it will always be with us."

Rock & Roll Hall of Fame
1100 Rock and Roll Blvd., Cleveland 44114, 216/781-7625, rockhall.com
Hours: Mon., Tues., Thur.-–Sun., 10 a.m.–5:30 p.m., Wed. 10 a.m.–9 p.m., (also open 10 a.m.–9 p.m. on Sat. through Labor Day)
Admission: Adults $23.50, seniors 65+ with I.D. $21.25, children 6–12 $13.75, children 5 and under free with purchase of adult admission