Arts
Q&A: Actress Katie Holmes
The Ohio native talks with us about reprising the role of Jacqueline Kennedy in a new miniseries.
April 2017 Issue
BY Barry Goodrich | Photo courtesy of REELZChannel
April 2017 Issue
BY Barry Goodrich | Photo courtesy of REELZChannel
The fairy tale image of America as Camelot came crashing down on the sun-splashed afternoon of Nov. 22, 1963, in Dallas. As the assassination of President John F. Kennedy numbed a nation and shattered the lives of the country's first family, it fell to a grief-stricken Jacqueline Kennedy to provide strength in the nation's darkest hour.

The widowed Kennedy's courage became a lifeline for the country, and the poignant images of her holding hands with her two young children remain vivid decades later. For the remainder of her life, the woman known throughout the world as Jackie bore the weight of that fictitious Camelot, personifying a bygone era, which existed only in books and magazines.

"Her life changed so dramatically," says actress and Ohio native Katie Holmes, who reprises her role as Jackie in "The Kennedys: After Camelot," a four-hour REELZ Channel miniseries premiering April 2. "As a widow, she really did feel a tremendous responsibility to honor her husband. Her strength is something to celebrate — she really did hold together her children and her country. She's such a great heroine."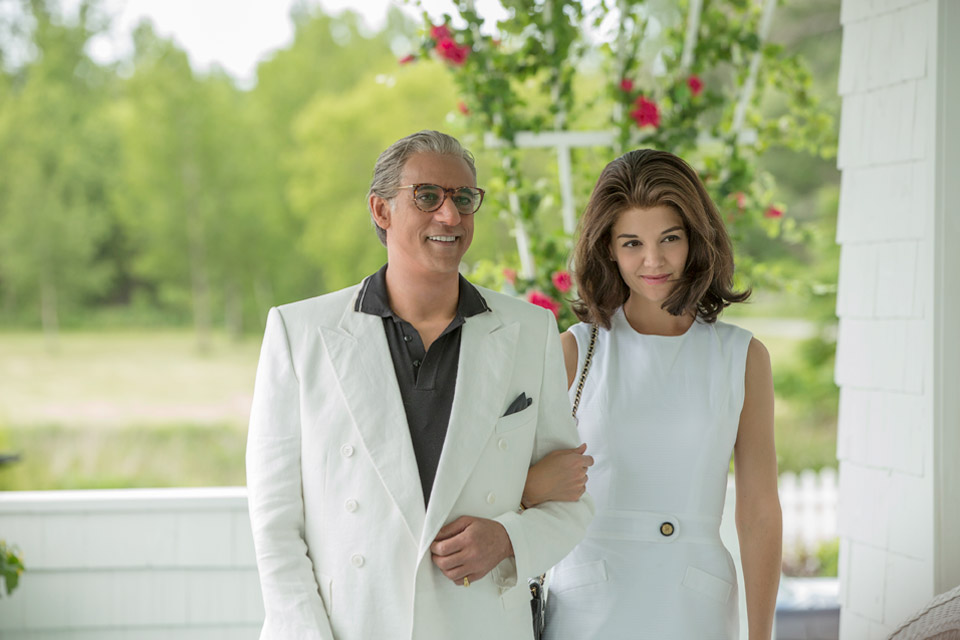 "The Kennedys: After Camelot" is based on Randy Taraborrelli's 2012 best-seller "After Camelot: A Personal History of the Kennedy Family — 1968 to the Present" and co-stars Matthew Perry as Ted Kennedy. The miniseries documents the assassination of Robert Kennedy, Ted Kennedy's tragic Chappaquiddick incident and Jackie's controversial marriage to Aristotle Onassis.
The 38-year-old Holmes, who grew up in Toledo, first portrayed Jacqueline Kennedy in 2008's "The Kennedys," which earned 10 Emmy nominations. Her acting career began after graduating from Toledo Notre Dame Academy (where she was a 4.0 student), portraying the fresh-faced Joey Potter in the long-running TV series "Dawson's Creek." She has since appeared in 28 films, including a memorable role as Bruce Wayne's childhood sweetheart in the blockbuster "Batman Begins" and a recurring role in season three of the Showtime drama "Ray Donovan."
We talked with Holmes about the new miniseries, the challenges of portraying an iconic historical figure, her childhood days in Toledo and her future projects.
How did you prepare for your role as Jacqueline Kennedy Onassis?
The first time I played her I did a lot of research. This time I did even more research. I listened to some of the White House tapes, which were released after we did the first series. It helped to hear her voice and her essence. I talked to people who had met her even for a second. I practiced her voice and the way she moved. I really wanted to honor Jackie. … It was a real gift to play her.

How challenging was this project for you as an actress?
This was a very challenging project because we covered so many years. I thought about who she was and who I thought she might be in private. In my mind, they were two different people. What is exciting about this series is we get to see her as a mother who's trying to heal from all the tragedies and still be a great mom. When I finished this, I felt happy to have had the challenge as an actress, but I was exhausted from all the emotions.

What are your memories of growing up as the youngest of five children in Toledo?
I loved it. I grew up riding my bike around the neighborhood and going to my brothers' basketball games. I used to get up and run with my dad in the mornings. I played basketball but I wasn't that talented at it, so I went in a different direction. We go back five or six times a year. I like to go for runs in the park and go downtown to all the new restaurants. Last Christmas, I signed a bun for Tony Packo's. … I love their pickles.

You were asked to travel to LA to audition for "Dawson's Creek" but elected to send a videotape instead. Why?
I was playing Lola in the high school play "Damn Yankees." They wanted me to fly out to audition, but I made a commitment to the play and wanted to keep it.

What was it like filming in Cleveland in 2013 for the dark comedy "Miss Meadows"?
We spent a month in Cleveland. It was August and everything was beautiful. We had a great crew and people went out of their way to make us comfortable. I love shooting in Ohio. I don't know the city that well, but I love Cleveland. I really want to get to a Cavs game.

You directed and starred in the 2016 film "All We Had" and directed the third episode of "The Kennedys: After Camelot." What attracts you to that aspect of films?
It's really rewarding to be on the other side of the camera. It's using a different muscle, being outside of the story and shaping it, finding different nuances in the scenes. The biggest surprise was how much a story can be shifted in an editing room. I really enjoyed that process.

What are you working on now?
I'm adapting the book Rare Objects for a movie, which I will direct and star in. I'm also in the new Steven Soderbergh movie "Logan Lucky" and in the movie "Coup D'etat" with Michael Caine, which should be out this summer. I'm very, very blessed.