Travel
| Long Weekends
West Virginia: Mountain State Music
These five music venues host national names and local favorites while celebrating the state's deep musical roots.
April 2019
BY Frances Killea | Photo courtesy of Mountain Stage
April 2019
BY Frances Killea | Photo courtesy of Mountain Stage
Mountain Stage

You don't need a seat at Charleston's Culture Center Theater to hear the music of Mountain Stage, but it's more interesting when you do. The show is broadcast by more than 200 National Public Radio affiliates, from Anchorage, Alaska, to Athens, Georgia, but music enthusiasts will want to check out the show live on stage.

"[They] get to see some remarkable things that happen sometimes that at home or even in the podcast you'll never hear," says Mountain Stage host and co-creator Larry Groce.

Since Mountain Stage's began in 1983, Groce, who has lived in West Virginia for 47 years, has introduced more than 900 shows and hosted musicians such as Warren Zevon, Eric Church and Mary Chapin Carpenter. The list goes on and defies genre, but no matter who is performing on stage, Groce has always aimed to create a show with a national reach.

"I didn't really think the show would grow like this. I thought it would be a once-a-month thing," says Groce, adding that performances are scheduled roughly every two weeks. "But once I started doing it, I realized I was no longer a singer-songwriter. I was now a host and artistic director, and that was that." 1900 Kanawha Blvd. E., Charleston, West Virginia 25301, mountainstage.org

---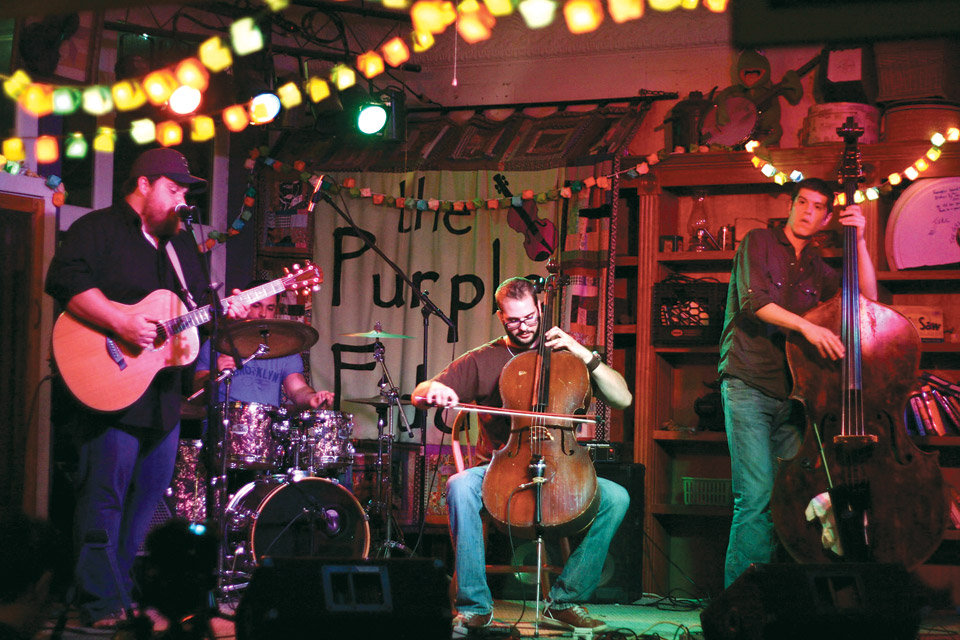 Purple Fiddle

The town of Thomas springs up suddenly as U.S. Route 219 winds through northern West Virginia. Between Au

"We opened Feb. 1, 2002," says owner John Bright. "It was a Friday night, and we had music that night, and we have not missed a weekend of music since."

Following 9/11 and the news that they were expecting a child, Bright and his then-girlfriend decided to make the move to the West Virginia countryside. The couple remembered the town of Thomas from a previous visit and found a cafe for sale on the corner of the main drag that would make for a great live music venue.

"We looked in the window and started talking about how we could turn it into a family-friendly community gathering place that would serve good coffee and good ice cream and good sandwiches," Bright recalls. "I said, 'and good beer!' And she said, 'I'm not raising my kids in a bar!' ... So, we had our first business fight right there and then."

The couple compromised with a satisfying list of microbrews to complement its food menu, but the biggest draw is the music. During the summer, Bright books 11 shows per week. 96 St. Hwy. 32, Thomas, West Virginia 26292, 304/463-4040, purplefiddle.com

---

AMT Productions

Herbert Aaron Baker was not always in charge of AMT Productions, a concert venue in Fairmont, but he's always been a fan. Created in 2002 and originally dubbed American Mountain Theater by Elkins native Susie Heckel, the idea took shape as a variety show to highlight local talent, but it quickly outgrew its original digs in an armory hall.

"In the new facility, you had state-of-the-art stadium seating, state-of-the-art sound, state-of-the-art lights," says Baker. "If it wasn't top notch, we never had it."

Baker, a longtime audience member, was inspired by the passion with which Heckel and co-founder Kenny Sexton ran the business. When they announced the venue's sale to a church in 2017, Baker hoped to keep some of the tradition alive.

"[Sexton] had a summer bluegrass and gospel concert series that had been going on here since 2009," Baker explains. "[I said,] 'I don't want to see these shows die, is there a way that you could train me to keep these going?'... And here we are."

Baker relaunched AMT Productions in Fairmont and hasn't skipped a beat.

"We [host] some of the biggest-name gospel, bluegrass or country acts in the business — people like Dailey & Vincent, Jimmy Fortune, the Isaacs, the Collingsworth Family," he says. 1993 Airport Rd., Fairmont, West Virginia 26554, 800/943-3670, amtproductionswv.com

---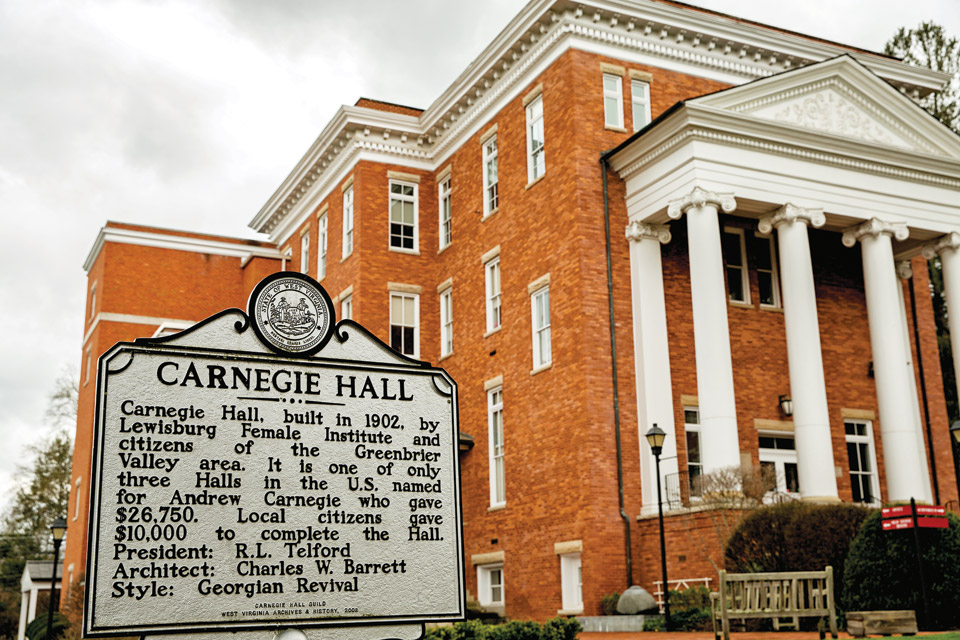 Carnegie Hall

New York City is home to the most famous Carnegie Hall, but an auditorium of the same name in Lewisburg brings music and art to Greenbrier County. After the original building located here burned down around the turn of the 20th century, the town hoped to revive the venue.

"In 1902, a resident … wrote to Andrew Carnegie's private secretary and asked if he would help rebuild the building," explains Sara Crickenberger, Carnegie Hall's executive director. Carnegie obliged on the condition the community raise a third of the funds. Falling short, the town asked Carnegie for more money to finish what they divulged was to be a chapel, but his secretary told them the philanthropist did not fund such things.

"Another letter went out," Crickenberger says. "Oh, I misspoke, it's not a chapel. It's an auditorium!"

Through the early 1980s, the venue served largely as an education center. It ultimately fell into disrepair, but local efforts restored it as a concert venue. It hosts eight or nine shows a year, with smaller events scheduled in between. (The venue also offers classes and houses dance and art studios.) Notable names that have taken the stage here include Judy Collins, Ricky Skaggs and iconic banjo player Bela Fleck.
"He did no singing, he just played the banjo," Crickenberger recalls. "People were just watching him, hardly breathing." 611 Church St., Lewisburg, West Virginia 24901, 304/645-7917, carnegiehallwv.org

---

Pocahontas County Opera House

The Pocahontas County Opera House spent most of its 100 years quiet, serving as a local church, a warehouse and even a long stint as a car dealership. But the venue was originally built in 1910 with performance in mind.

"They were named opera houses to elevate their status," says Brynn Kusic, operations manager at the Pocahontas County Opera House. "They were theaters for touring vaudeville troupes ... from what we know, there was never opera in the opera house, and it only operated as a theater for maybe four years."

Despite the long silence, the space was Kusic. "But, literally, cars had been driving in and out of it. They had to rebuild the stage."

The theater reopened in 2000, and since then, it has paid tribute to the town of Marlinton's deep musical roots.

"The Hammons family had specific ballads that had been brought with their family from the Old World — from Ireland — to this pocket in the mountains," says Kusic.

"Their music was recorded by the Library of Congress," she explains. "These songs, which were very much location based, [are] named for the places in the Cranberry Wilderness and the mountains that surround Marlinton." 818 Third Ave., Marlinton, West Virginia 24954, 304/799-6645, pocahontasoperahouse.org