Travel
| Long Weekends
Toledo: Celebrate the International Year of Glass
From shopping to art to special events, celebrate the International Year of Glass in this northwest Ohio city known for glass innovation.
March/April 2022
BY Kristina Smith | Photo courtesy of Momentum Festival
March/April 2022
BY Kristina Smith | Photo courtesy of Momentum Festival
From works of art to mobile phones to vials used in developing vaccines, glass touches nearly every part of life. To celebrate the contributions of this material and the people who innovate with it, the United Nations has declared 2022 the International Year of Glass.

Arguably, no place knows the material better than Toledo, the Glass City. It is where businesses made groundbreaking advances in glass manufacturing and technology, and artists launched the studio glass art movement. In 2022, the city of Toledo has planned a year of celebration surrounding its continued role as a leader in glass.

"Glass improves daily life," says Kyle Sword, manager of business development at the NSG Group, a glass-manufacturing company in Toledo. "I think that people take for granted that they use our products hundreds of times a day. This is a great opportunity to make people aware of who we are and what we do and bring some positive light to our industry."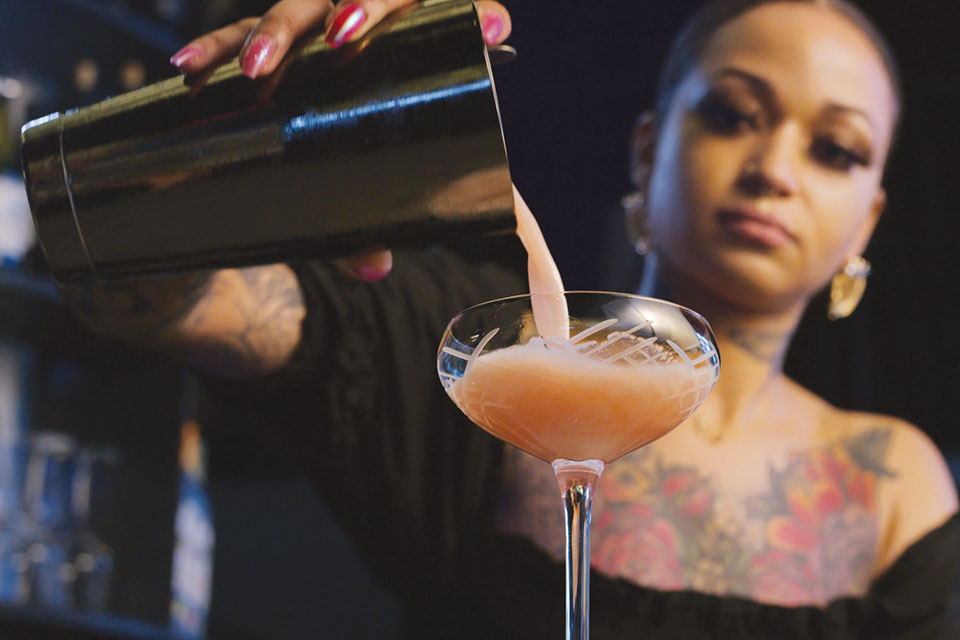 Toledo's glass dominance started with Libbey Glass, which moved from Massachusetts to Toledo in 1888 because of the area's abundance of natural gas and high-quality sand as well as its access to lake and railroad shipping outlets.

Today, Libbey and other companies in the region make glass for the restaurant, auto, and technology industries as well as others. The Toledo Museum of Art Glass Pavilion and several glass studios continue the city's proud tradition of creativity in the glass art world.

"You've got this rich, rich history in all these glass businesses, and you've got this rich cultural history that continues to develop," says Marc Folk, president and chief executive officer of the Toledo Arts Commission. "We're perfectly positioned to lift up Ohio on an international stage this year."

Explore

The Toledo Museum of Art is where the studio glass art movement began. In 1962, local artists were exploring glass as an artistic medium and began offering workshops at the museum with the director's support, says Diane Wright, the museum's senior curator of glass and contemporary craft.

"That series of workshops is considered one of the watershed moments for that movement," she says. "More than 50 years later, there are hundreds and hundreds of academic programs across the world. Toledo definitely has a very key role in that because of those 1962 workshops."

The museum and its Glass Pavilion are a blend of Toledo's glass artistry and industry. Libbey Glass, whose owners brought the company to the city of Toledo in 1888, helped to start the museum, and the company continues to help fund the institution today to keep admission free for visitors, Wright says.

"You can be immersed, whether it's watching a demonstration, seeing the collection and being in the pavilion that is also glass and made here by [Toledo glass company] Pilkington," Wright says.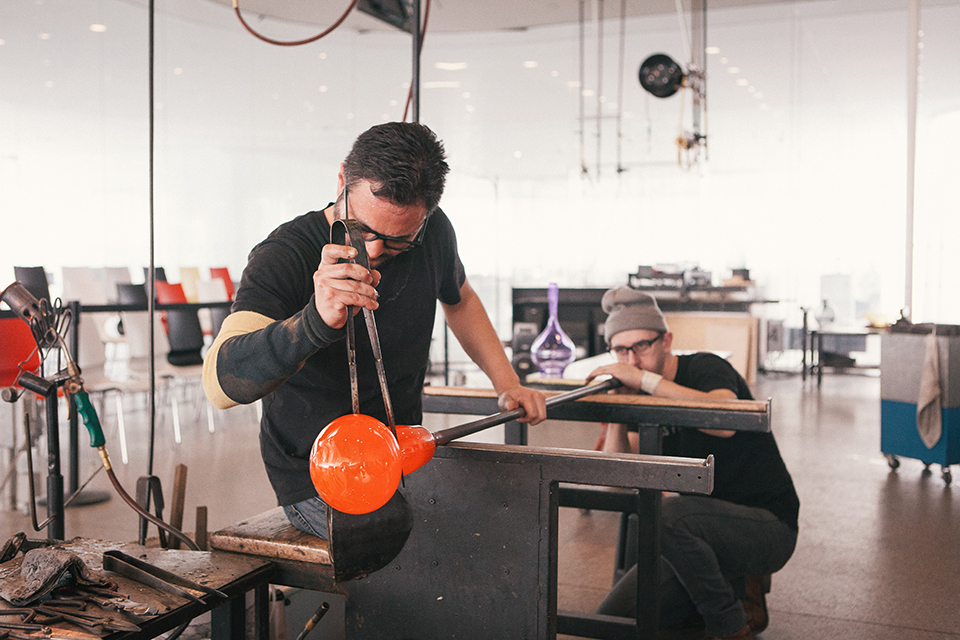 The Toledo Museum of Art's glass collection spans about 8,000 artifacts and is one of three major glass collections in the United States, she says. The works range from ancient to contemporary times.

The Glass Pavilion's Glass Study Room is Toledo Museum of Art glass studio manager Alan Iwamura's favorite exhibit in the pavilion. The room showcases works of glass — both functional and sculptural pieces — from countries around the world.

"You really get to see the origins of the material from a making perspective all the way through what has become more fine art," says Iwamura, who is also one of the museum's resident artists.

Other popular pieces on display within the pavilion include a life-size glass dress, Tiffany windows and a large glass sculpture by American artist Dale Chihuly.

What really sets the Glass Pavilion and museum apart is its on-site glass studio, which is where Iwamura and other resident artists create their work. Visitors to the Glass Pavilion can see them practicing their craft, which adds to the experience.

"I personally find working among all these artworks in this building to be inspiring every day," Iwamura says. "A lot of times, artists will reference their favorite works from the collection while they're working and how that might have influenced decisions they might have made during their process."

Shop

Toledo and the surrounding area have plenty of places where you can bring home a piece of the region's famous artistry, whether functional or decorative.

Several studios, including Gathered Glass and the Toledo Museum of Art's Glass Pavilion in Toledo and Firenation and Copper Moon, both in the Toledo suburb of Holland, also offer hands-on glass classes where visitors make their own piece of art.

Gathered Glass' gallery offers handmade sets of martini and scotch glasses, decorative wall plates, unique wine decanters and more, says co-owner Adam Goldberg. It also takes custom orders.

"A lot of times people will come in and say, 'I really like that pitcher, but I really want it in purple,' " he says. "I kind of describe us as a limited-production factory that functions as a custom shop."

At the studio's workshops, customers can learn to make creations, such as a flower or a stemless wine glass. Classes sell out quickly and give people an appreciation for the artistry of the glass field, Goldberg says.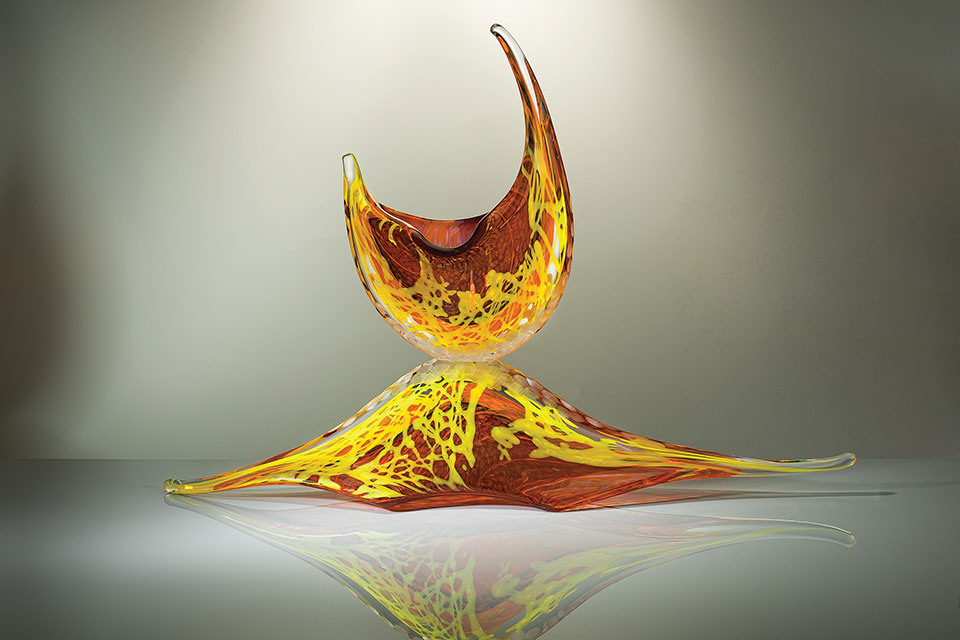 Firenation, which is celebrating its 20th anniversary in 2022, also offers hand-blown and sculpted glass and custom creations, as well as glass classes.

Owner and artist Matt Paskiet's series of spiderweb, confetti and seascapes in paperweights, vessels and sculptures are very popular. The studio also does custom orders and memorials.

"We still have a human touch," he says. "I think that's what is part of the key to our success. In this fast-paced world, it slows down a little when you walk in."

Copper Moon has classes for ages 4 and older, and participants use glass chips to make creations with a mosaic look. The Toledo Museum of Art also offers glass classes and sells a variety of art created by glass artists in its on-site gift shop.

For those looking for drinkware and bakeware, the Libbey Glass Factory Outlet in downtown Toledo offers glass made by the renowned company that is a staple of the hospitality industry. (When you eat at a restaurant, there's a good chance you're drinking from a Libbey glass.) The outlet offers everything from fine wine and water glasses to cocktail shaker sets to specialty drink sets to cake stands.

"You see folks in there really just exploring a bit," says Jim Burmeister, the company's senior vice president and chief operating officer. "It's more than getting a basic cylinder for water. It's more about choosing what kind of fun thing do I want to have for my friends and I."

Celebrate

The city of Toledo as well as organizations and glass businesses around the region are working together to plan celebrations throughout 2022 that bring awareness to the city's history with glass and create inspiring art, events and festivals.

The 16th annual North American Sea Glass Festival will offer sessions on Great Lakes history and the art of beach glass May 21 and 22 at Maumee Bay Lodge & Conference Center in Oregon, just east of Toledo.

The annual Momentum Festival, Sept. 15 through 17 in downtown Toledo, will include a glass art competition, a series of concerts and a celebration of public art with new or temporary public art displays at Promenade Park and surrounding areas, Folk says.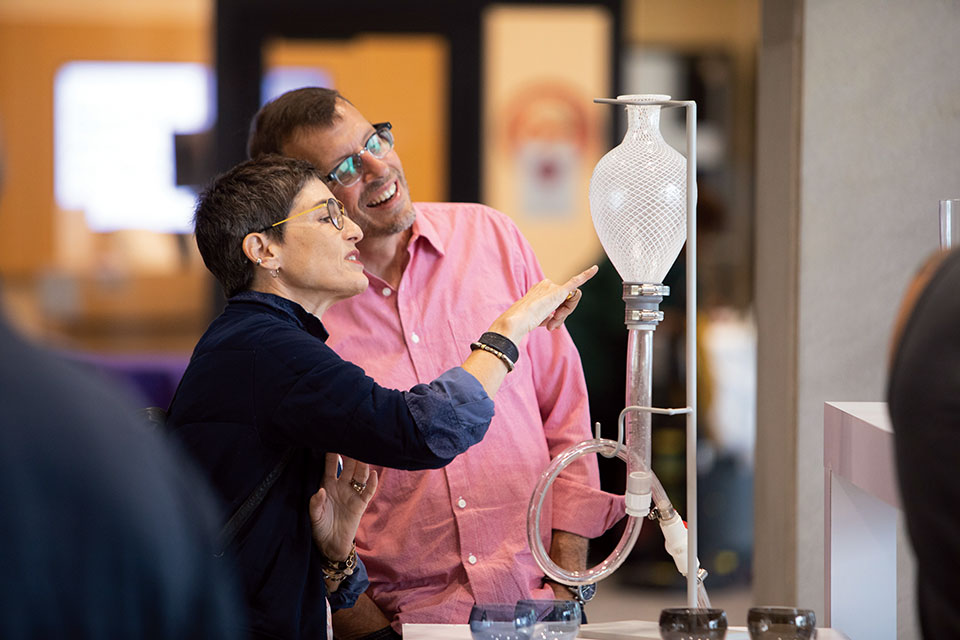 The Toledo Arts Commission is working with Toledo Metroparks on a new public art installation at the Glass City Metropark, which will be unveiled later this year. The organizations also are working on a Glass City Art Walk, which will use Toledo's waterfront to create a 6-mile urban trail system that includes public art, Folk says.

The NSG Group, Libbey and other Toledo glass companies are planning events such as open houses, public tours and a lecture series. Many of the International Year of Glass plans will be announced later this spring or summer. The Toledo Museum of Art has a variety of programs and classes planned, including exhibits and programs with guest artists.

"What's so special about Toledo that's embodied in the International Year of Glass is this really intentional and willful spirit of collaboration," Folk says. "That is one of the places where our future innovations are going to come from."

---

Year of Glass Events
Celebrate Toledo's glass heritage at these happenings and others to be announced soon.
16th Annual North American Sea Glass Festival | May 21–22: Maumee Bay Lodge & Conference Center, 1750 State Park Rd. #2, Oregon 43616, seaglassassociation.org/festival

Momentum Festival | Sept. 15–17: Downtown Toledo, theartscommission.org

Toledo Museum of Art | Dates to be announced: 2445 Monroe St., Toledo 43620, 419/255-8000, toledomuseum.org

Glass City Shopping
From kitchen ware to art pieces, pick up something special at these Toledo spots.

Gathered Glass: 23 N. Huron St., Toledo 43604, 419/262-5501, gatheredglasstoledo.com

Firenation: 7166 Front St., Holland 43528, 419/866-6288, firenation.com

Copper Moon Studio: 8007 Airport Hwy., Holland 43528, 419/867-0683, coppermstudio.com

Libbey Glass Factory Outlet: 205 S. Erie St., Toledo 43602, 419/254-5000, libbey.com

Toledo Museum of Art Store: 2445 Monroe St., Toledo 43620, 419/255-8000, toledomuseum.org