Food + Drink
The Original Tony Packo's, Toledo
As Tony Packo's celebrated its 85th anniversary in 2017, Tony Packo Jr. welcomed us in for a bite to eat and a look back through the landmark Toledo eatery's storied history.
January 2017 Issue
BY Stephanie Grauer | Photo by Jonathan Miksanek
January 2017 Issue
BY Stephanie Grauer | Photo by Jonathan Miksanek
"There she goes, see? That's her," says Tony Packo Jr., gesturing to the woman bellowing out orders as she serves up heaping helpings of hot dogs, chili, chicken paprikash and stuffed cabbage. "She's getting cranked up."
The woman's name is Cynthia Allison and she's been part of Tony Packo's in Toledo for the past 28 years. Grabbing a handful of dishes as clouds of steam billow around her face, she begins to sort the meals onto their respective trays. Her swift order calling has become as well known among regulars as the Hungarian hot dogs they line up for. Her voice — loud, welcoming and assertive — is music.
"She sort of sings the thing," says Packo. "At some point in time, everyone [here] can hear it, because the voice is so pleasant."
It's 11:30 a.m. on a Monday, and Tony Packo's is crammed. Work boots and backpacks, mothers with children and couples all pile into the single-file cafeteria line for some of the Front Street restaurant's famous Hungarian grub: dumplings, a bowl of chili mac, a hot roast beef sandwich and — on nearly every tray — Tony Packo's Original Hot Dog.
But the hot dog isn't really a hot dog. It's a sausage made from a blend of beef, pork and garlic that is quartered and then fried on the restaurant's griddle for 7 minutes on each side, which helps break up the natural casing. The dish is so highly regarded by Clevelander and Iron Chef Michael Symon that he highlighted it on "The Chew" television show in 2015.
"There's no such a thing — a Hungarian hot dog," explains Packo, adding that his father created the dish after opening the restaurant in 1932. "People have tried to duplicate it, and it doesn't duplicate. It's got a taste that you know, and it's consistent. It's this taste here."
The sausage is served with chopped onions, mustard and Tony Packo's signature meat sauce, all piled high on a fluffy white hot dog bun. In fact, the bun itself has become synonymous with the restaurant over the years, beginning when Burt Reynolds stopped in and autographed one in the early 1970s.
Celebrities have been signing them ever since, although foam hot dog buns have long since replaced the original bread ones. Today, they're proudly displayed on the restaurant's walls. The range of signatures from musicians, TV personalities and film stars reflects the place's longevity: Bob Hope, Willard Scott, Lee Iacocca, Stevie Nicks, Pat Benatar, Barbara Bush and the list goes on.
But Tony Packo's was drawing crowds long before that. There was a time when a New Orleans-style jazz band kept the dance floor busy until 2 a.m. on the weekends. The place was a welcoming haven for the Hungarian immigrants who called this corner of Toledo home, including Packo's father.
That tradition is what still brings people back today. In 2012, Packo sold the business to the local Bennett Management Group, which now operates the restaurant's five Toledo locations, but he's still involved, churning out dishes borne of family recipes — ones his father started serving here 85 years ago.
"It was a real family business," says Packo. "People that worked here were relatives."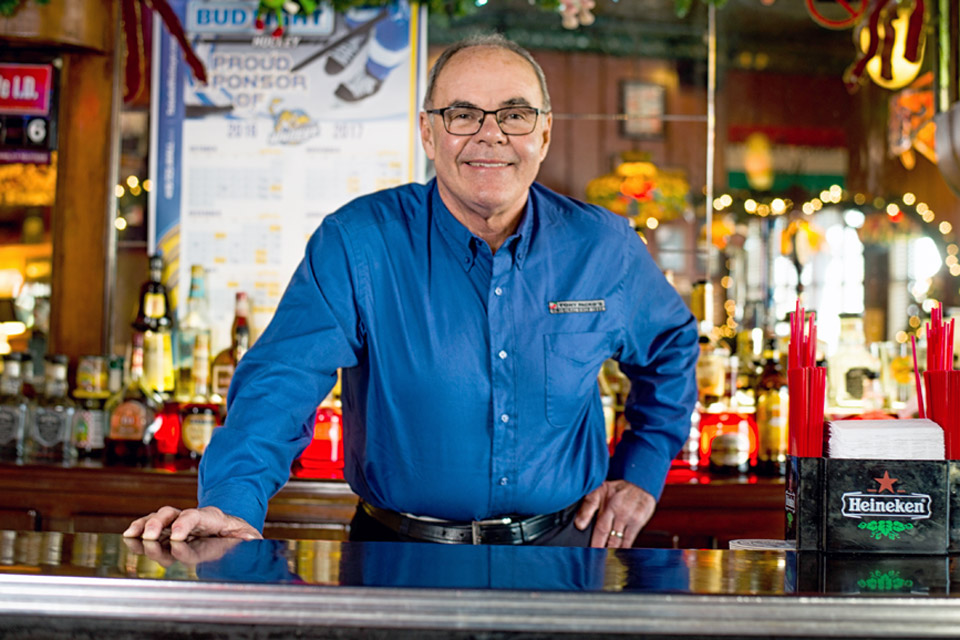 Family has always been at the heart of Tony Packo's. Tony Packo Jr. was just 15 years old when his father died, leaving him and his older sister Nancy to carry on what was, by that time, an already well-established legacy.
"Before I was born, it was already here 35 years," says Packo. "We sort of embraced the opportunity, instead of just letting it go. We enhanced things. We changed things."
In the first half of the 20th century, the Birmingham neighborhood of Toledo was brimming with local bars fueled by the ethnic neighborhood of first-generation Hungarian immigrants.
"It was really great to be raised in this area because of the fact that it was a tight-knit group," says Packo. "My grandmother was down that street; my other grandmother was down that street."
The Packo brothers — Tony, Joe and John — ruled the block, with each opening up a bar or restaurant in the heart of Birmingham in the 1920s and '30s. But it was the Tony Packo's restaurant concept that stuck. The Hungarian spices, slow-cooked meats and tangy pickles brought in the crowds and propelled Tony Packo's Original Hot Dog to local fame.
"That was a pretty bad time, economically," says Packo, referring to the Great Depression. "People couldn't afford a dime, so he sold it for a nickel. It stayed that way for a while, then it went up to a quarter — I remember that. And that stuck for a long time."
But people didn't just come for the comfort food. Tony Packo's was a local hangout for the neighborhood, offering live music every Friday and Saturday night.
"We lived upstairs, and on the weekend I could hear the music. I was literally right up there," says Packo, pointing to the ceiling. "It was great, because the other sound [was] muted out, and you just heard the music."
The small bar underwent several renovations to accommodate the crowds, the most prominent of which occurred in the 1940s to include a dance floor. "In this area, as you look on the floor, that was the '40s," says Packo, pointing a toe to the black line that designated the dance space.
Eager customers would line up outside to get a seat and a bite to eat before the tunes started at 9 p.m. A seven-piece big band made up of Toledo residents played there for more than a decade. Then, a local New Orleans-style jazz group commanded the stage beginning on July 4, 1968, and remained a regular musical act for more than 30 years.
"It was at a time in the late '60s and early '70s when the music was revolting," says Packo. "There was that hard-edged music condemning the war. But this was pure fun."
Tony Packo's became a haven for those wanting to ease their minds from the emotions of the Vietnam War, a place where they could kick back with a bowl of fried pickles and a beer and immerse themselves in the spirit of the place.
"I vividly remember bringing my parents to Tony Packo's [in the 1970s]," says Emily Bennett, owner of Bennett Management Group. "When the Cakewalkin' Jass Band started playing … I'll never forget the smile on my father's face."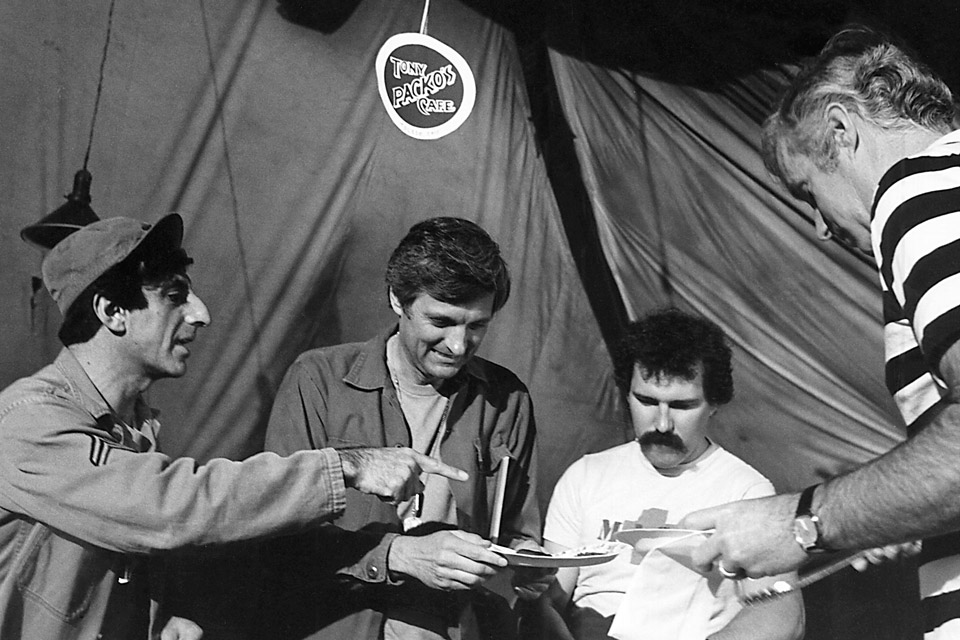 It was this energy — the entertainment and the sense of fun — that cemented a relationship between Tony Packo's and the stars that graced the stage of the nearby Stranahan Theater.

"We worked out a deal that we'd feed the cast at the end of the week, and then they could just come in. The first one that came in was Burt Reynolds, and he was at the pinnacle of his career then," recalls Packo. "He came in, and somebody suggested [he] sign a bun. So we got him to sign a bun, and then the other celebrities that followed, they'd come in. And then after about 50 buns, we realized we've got a problem."
What had begun as a simple autograph session was quickly turning into a phenomenon — one that was fueled all the more when Tony Packo's was mentioned seven times over the 13-year run of the hit television show "M*A*S*H," beginning in 1976. The shout-out was courtesy of actor Jamie Farr, a Toledo native who portrayed Cpl. Klinger on the show and was particularly fond of Tony Packo's.
"There was a bridge that would go onto the other side of the river, which was the Lebanese section," says Packo. "Farr would come over here ... The ["M*A*S*H"] cast had the opportunity to write their own stuff into the script — true or not — and that happened to be true."
The first mention of Tony Packo's on the show was when Cpl. Klinger declared that the "greatest Hungarian hot dogs" could be found at Tony Packo's. From there, the restaurant garnered six more mentions, including an episode where the hospital requested the use of Tony Packo's sausage casings for its blood-filtering machine. On the night of the show's 1983 finale, the restaurant held a viewing party.
Thanks to that snowballing stardom, Tony Packo's now has nearly 4,000 foam hot dog buns autographed by celebrities over the years gracing the walls of its five locations. Made by Willy Solnoy of Toledo, the foam buns come in six different shapes, and the collection keeps growing.
"That one up there in the corner with Jimmy Carter — that was the first president," says Packo, pointing to a bun hanging on the wall in a tube-shaped clear case. "We've had several presidents already sign buns, and Donald Trump did a couple weeks ago. That one's downtown."
The golden buns pop against the deep red walls as the lunch crowd digs into their trays of food. When asked if there's any celebrity that he'd still like to have sign a bun, Packo leans back and gives it some thought.
"Really, I just appreciate them all," he says. "I'm not looking to say, 'Well I'd really like to get this guy's bun, because that would be such a coup.'"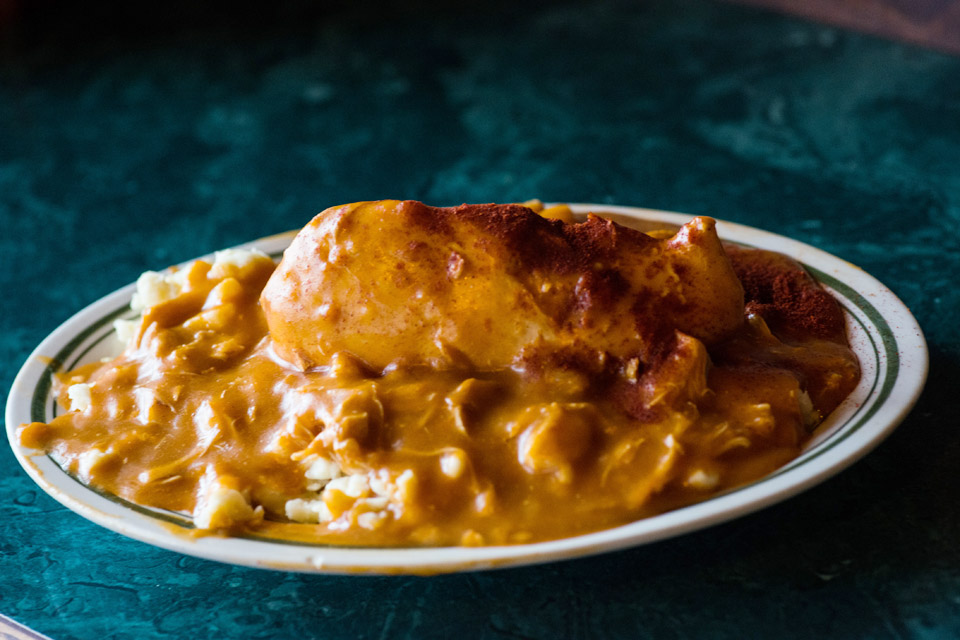 Cynthia Allison's voice cuts through the air and Tony Packo Jr.'s lunch order is up. He carries the two heaping trays to one of the dining room tables and sets up a feast that shows off the range of what the restaurant offers: a bowl of chili with a side of oyster crackers and shredded cheese, a Two Hot Dog Deal plate, chicken paprikash and stuffed cabbage. A server darts out from the kitchen with a fresh bowl of homemade pickles — a must to round out any Packo's meal.
"The only difference between that and smoked sausage: It's a little plainer," says Packo, pointing to the restaurant's famous hot dog. "Polish has a little bit more garlic."
The commissary, located just across the street, handles food prep for all five Tony Packo's locations throughout the Toledo area, frying up 1,800 pounds of sausage to perfection each week. The meat is produced in Michigan by Dearborn Sausage Co., and it's used in more than one of the restaurant's classic dishes.
"A whole hot dog is about 11 to 12 inches long," explains director of food production Jeff Hart. "We cut it in half, and that's a sausage for our stuffed cabbage platter. Then we quarter them, and that's a hot dog."
Packo's other dishes — namely the stuffed cabbage, chili and chicken paprikash — are brimming with warm spices, but Hart says there is an unexpected favorite in the mix of Hungarian dishes. "Our roast beef is the quietest item in our restaurants," says Hart, who started as a dishwasher at Tony Packo's 35 years ago. "We sell a lot of roast beef. People don't realize that."
The menu at Tony Packo's hasn't changed much through the years, and the traditional Packo family recipes are still used to this day. Simplicity rules the selections, with only a handful of appetizer offerings and fresh side dishes like coleslaw and mac and cheese available to complement the hearty main courses.
You won't find a hamburger here, but the meat sauce — a blend of ground beef and secret spices — is the family's classic hot dog topping that doubles as the basis for the restaurant's chili. "It's a Midwest taste," says Hart. "Our flavors are a spice — not a hot, but not a mild chili. It really doesn't have a smoky taste; just a nice blend from our chili powder."
Allison calls out another order — a Two Hot Dog Deal, stuffed cabbage and a strudel — as the music faintly carries on amid the crackling of the ice pouring from the soda fountain. Packo glances towards the line of people piling into the door and shakes his head in amazement.
"Sometimes I forget how long it's been going on," he says. "What people have had for years here is what they keep getting. … That's the key to it right there."
The Original Tony Packo's is located at 1902 Front St., Toledo 43605. For hours and information about the other four Tony Packo's locations, visit tonypacko.com.