Travel
| Long Weekends
Fun Festivals in Western PA
Head to western Pennsylvania to check out six festivals that celebrate history, summer eats and high-flying ingenuity.
June 2017 Issue
BY Nathan Havenner | Photo by Garth Milan/Red Bull content pool; all others courtesy of event listed
June 2017 Issue
BY Nathan Havenner | Photo by Garth Milan/Red Bull content pool; all others courtesy of event listed
Red Bull Flugtag | Aug. 5

No, it's not your normal summer air show. Red Bull Flugtag welcomes participants to build human-powered flying machines and launch them off a 22-foot-tall ramp to see which design will fly the farthest.
Although the competition dates back to 1991 when it was held in Vienna, Austria, Pittsburgh is hosting the fun-filled event for the first time during this year's EQT Pittsburgh Three Rivers Regatta.
"Pittsburgh is definitely a hot city right now, and this is something I have been working on for almost two years now," says Three Rivers Regatta director Derek Weber. "It is a great location for [Red Bull] to put on this event with the city and stadiums as a background."
Past Flugtag designs have ranged from aerodynamic crafts to a head-scratching flying cheeseburger. Although the designs are different, the goal is the same: shattering the 258 feet world record set in 2013. The addition of Red Bull Flugtag to the Three Rivers Regatta means the usual 500,000 attendees will be even larger this year, according to Weber.
"[Flugtag] gets 50,000 to 100,000 people," he says. "So when you add that into the existing crowd, it is going to be a great time for everybody." Free' visit website for hours; Point State Park, 601 Commonwealth Place, Pittsburgh, Pennsylvania 15222, redbullflugtag.com
***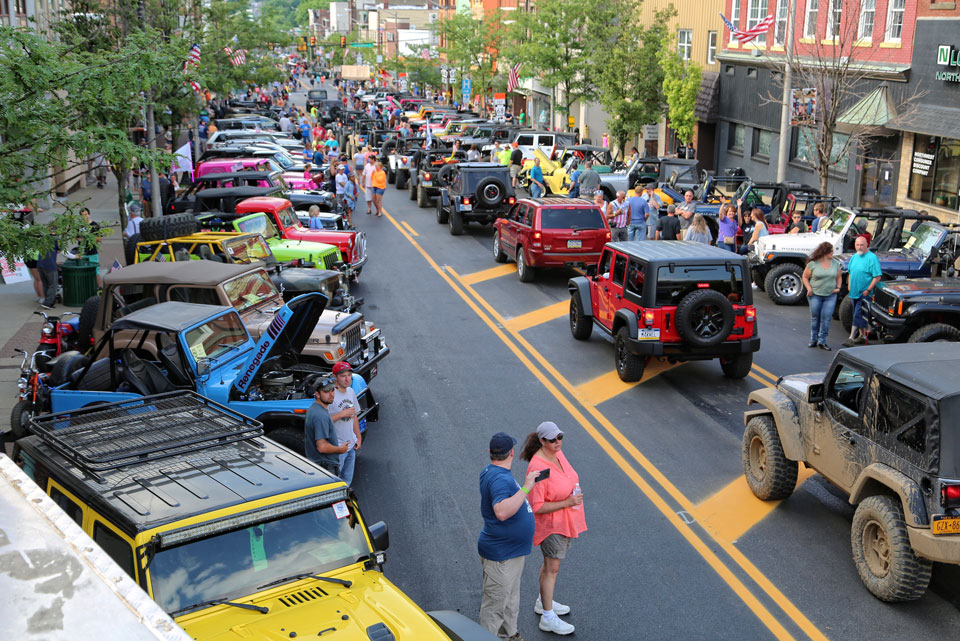 Bantam Jeep Heritage Festival | June 9–11
Now in its seventh year, the Bantam Jeep Heritage Festival welcomes more than 15,000 people to celebrate the original Jeep and the people who have counted on it at home and in battle.
"Butler, Pennsylvania, is the birthplace of the Jeep," says festival organizer Patti Jo Lambert. "This event is designed to bring Jeep owners back home to Butler."
The story of the Jeep began in 1940, when the United States government requested 135 automobile and tractor manufacturers design and build a prototype of a light, four-wheel drive reconnaissance vehicle in just 49 days. Only American Bantam and Toledo-based Willys-Overland responded, with Bantam being the only manufacturer to accept the challenge.
"The American Bantam Car Co. did build a couple thousand Jeeps," Lambert says, "but eventually the contract was taken away from them and given to Willys and Ford."
While this festival celebrates the original Bantam, Jeeps of all ages and origins are welcome. Events include a series of trails designed to test Jeeps of all off-road capabilities, while a Jeep playground allows drivers to test their skills on rocks, inclines and dirt mounds.
"It's one of the largest Jeep-only events in the country," Lambert adds. "If you are a Jeep enthusiast, you want to be at Bantam." Adults $10, ages 3–12 $3; visit website for hours; Cooper's Lake Campground, 205 Currie Rd., Slippery Rock, Pennsylvania 16057, 724/256-4050, bantamjeepfestival.com

***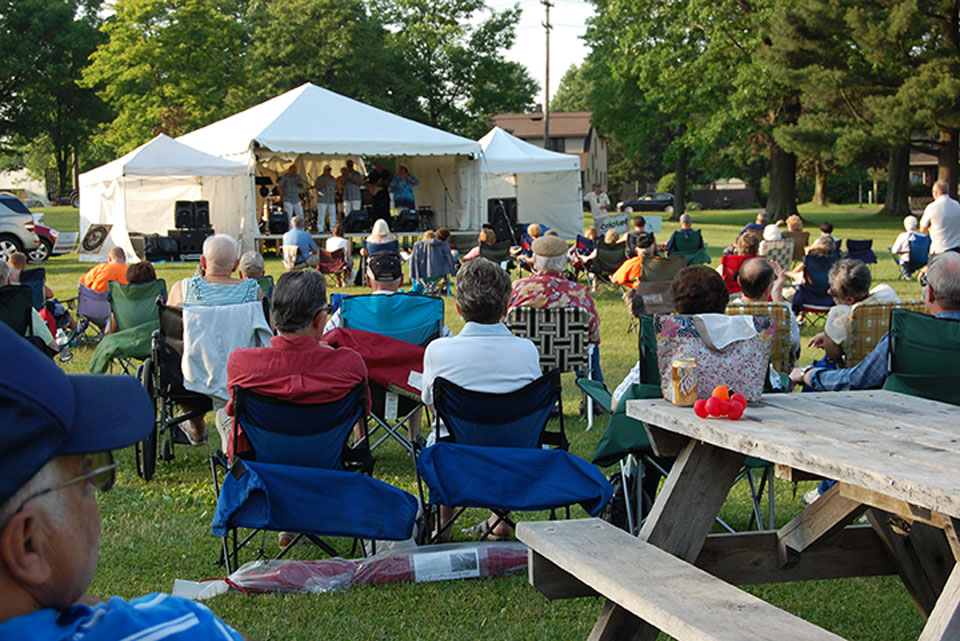 Grove City Strawberry Days | June 9–11
From thirst-quenching strawberry lemonade to delectable strawberry shortcake, a host of sweet and savory dishes are on the menu at the Grove City Strawberry Days festival, which marks 27 years this summer.
This free three-day festival held at Grove City Memorial Park began as a way to celebrate creativity. "A group of merchants downtown felt that we needed an arts and music festival," says event director Mary Kay Mattocks.
Since it began, the only food vendors permitted at the festival are local nonprofit organizations, which look to the annual event as a major fundraiser.
"We have a big circus tent, and we put 20 food booths under it," Mattocks says. "It's a win-win for everyone."
Sweet selections include strawberry ice cream and strawberry cheesecake, as well as both fresh and chocolate-covered berries, but Mattocks says her favorite confection is an old-time classic.
"Always the strawberry shortcake," says Mattocks. "It's done by the Rotary and they have been with us all 27 years. It's a great dessert." Free; Fri.–Sat. 10 a.m.–9 p.m., Sun. 11 a.m.–4 p.m.; Grove City Memorial Park, W. Main St., Grove City, Pennsylvania 16127, facebook.com/grovecitystrawberrydays

***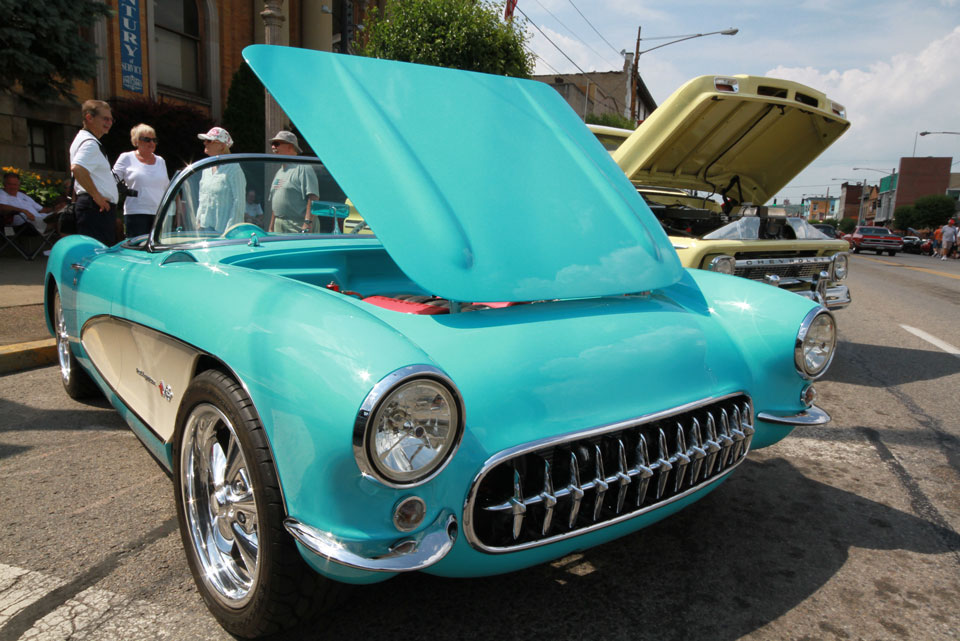 Beaver Falls Car Cruise | July 10

This annual classic car cruise will once again welcome more than 1,200 hot rods, muscle cars and chromed-out classics to the small town of Beaver Falls.
"There is everything that you could imagine: 396 Chevelles, trucks that sit 10 feet high in the air," says event organizer Steve Peterson. He began overseeing the cruise in 2016, taking over for a local car club that had organized it for the previous 25 years. "It is the best thing that happens to bring people in from outside the town, and I thought it would be a shame to let it die off," Peterson adds.
You don't have to own a classic car to have a good time, since food vendors, a DJ and door prizes are all part of the event. Peterson says he expects more than 12,000 attendees this year and has created a Passport to Beaver Falls that provides discounts and promotions at local businesses. Peterson adds that travelers should expect a good time with lots of friendly faces. "Car cruise people are just a nice group of people," he says. Free; 1–9 p.m.; Seventh Avenue, Beaver Falls, Pennsylvania 15010, facebook.com/beaverfallscarcruise
***

Paradise Park RibFest | July 28–30
From the rich, smoky flavor to the wide range of sauce varieties, barbecue has been in the hearts and stomachs of Americans for more than 200 years.
Paradise Park in Cowansville celebrates that legacy during its third annual national RibFest. The three-day event features award-winning rib-makers from five states including Ohio, South Carolina and Texas.
"We will compete for best ribs, best sauce and people's choice," says Ronald Conaway of Texas Pit BBQ in Willis, Texas. "I know the type of sauce that is going to win in that area. In Pennsylvania, they like a sweeter sauce."
In addition to the mounds of mouth-watering ribs, 12 music acts are scheduled to perform throughout the weekend. There's also a kids zone, a Saturday night fireworks display and on-site camping, making the event a fun weekend for all ages.
"Most importantly," says event producer Jennifer Salerno, "it's a festival that is worth the [money] to make the trip." $6; visit website for hours; 1581 St. Rte. 268, Cowansville, Pennsylvania 16218, 724/545-1540, paradiseparkpa.com
***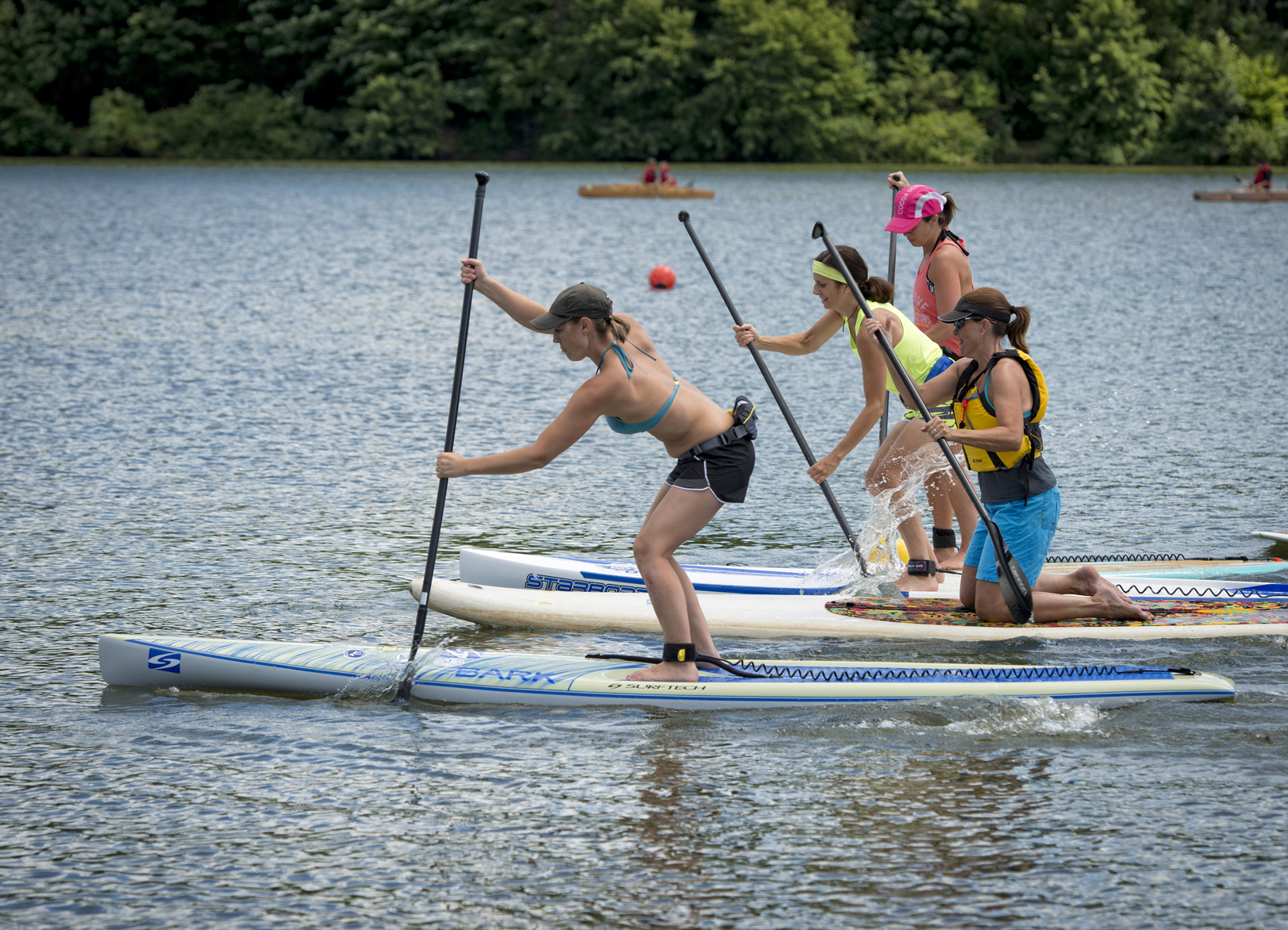 Regatta at Lake Arthur | Aug. 5–6
With more than 20 events packed into two days, the 19th annual Regatta at Lake Arthur in Portersville provides outdoor entertainment along with education about how attendees can embrace eco-friendly living.
More than 20,000 visitors are expected to attend the event, which offers the chance to relax on the beach and enjoy the variety of live music acts on the main stage.
"For two days, we basically take over the south shore at Moraine State Park," says event director Holly Muchnok. "We are really focusing on the environment. We try to use solar- and human-powered energy where we can, and the main stage is powered by those types of energies."
But the event also aims to teach people of all ages what Pennsylvania's state parks have to offer beyond a place to picnic. The 10 instructional classes offered include kayaking, fly-fishing, disc golf and stand-up paddleboarding. The event concludes Sunday evening with the release of 300 monarch butterflies.
"[Come] see what's happening in the world around you," Muchnok says. "It's pretty phenomenal." Free; visit website for hours; Moraine State Park, 225 Pleasant Valley Rd., Portersville, Pennsylvania 16051,724/687-0707, lakearthurregatta.org