Travel
| Hocking Hills
Night & Day in the Hocking Hills
Whether you're looking for trails to tackle during the day or a place to take in the night sky once the stars come out, here is where to find both in the Hocking Hills.
May 2019
BY Frances Killea | Photo by Brad Hoehne
May 2019
BY Frances Killea | Photo by Brad Hoehne
Over 11 million people call Ohio home, so our night skies aren't quite as dark as those over, say, Wyoming. But as it turns out, quite a few of those 11 million residents love looking up at the night sky, and Brad Hoehne has helped create a place for amateur astronomers to gaze at the stars.

"The idea of the astronomy park came about when we were doing a program down in the Hocking Hills with the naturalist," says Hoehne, an amateur astronomer and director of the John Glenn Astronomy Park in Logan. A guest approached Hoehne, lamenting the lack of spaces for simple stargazing, and it got him thinking.

"I had long thought that it would be nice to have a place to go," Hoehne recalls. "But the fact that there were people out there that were not telescope-heads like myself also asking for this made me think, Gosh, this is something people are craving."

The park, a purpose-built space just a mile past the Old Man's Cave Visitor Center, opened in 2018. There's a 25-car paved parking lot and space for 50 additional vehicles. Inspired by Ohio's prehistoric earthworks and Mound City, Hoehne built astronomical references into the park's wall and plaza, including a sundial that works when users stand in the center, letting their shadow cast the time. The plaza itself, which measures 80 feet across, is meant to be a scale model of the sun.

"There's a little ball in the center that represents the earth, that sits on a bench that represents Jupiter," Hoehne explains. "The ball is only a little bit more than eight inches across. ... It really gives you a sense of how enormous the sun and space really is, compared to our earth."

One of the most important features of John Glenn Astronomy Park is, simply, its hours of operation. While state park lands close at dark, the stargazing site welcomes visitors 24 hours a day, 365 days a year.

Last year, during the Perseid meteor shower, more than 350 people showed up to set up lawn chairs and lay out blankets. And even minus such a show in the sky, Hoehne says, when conditions are good, he's never seen the place empty.
"I don't think I've ever been there on a clear night when there hasn't been at least one car there at all hours," he says. "It's amazing how many people take advantage of it." 20531 St. Rte. 664, Logan 43138, 877/403-4477, jgap.info
---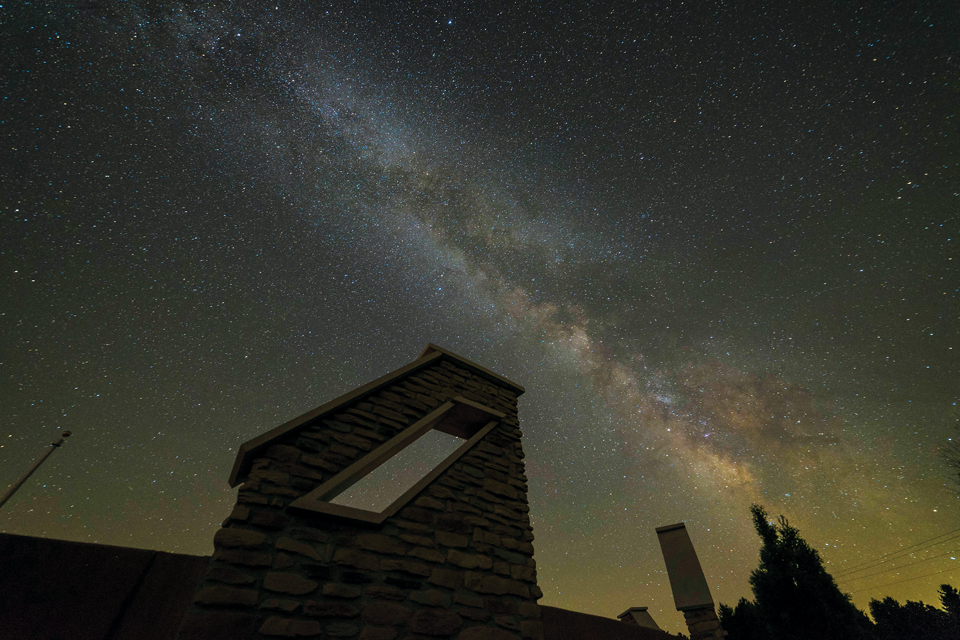 Star Parties
Looking to visit John Glenn Astronomy Park? Plan your travels around one of these events.

This article ran in 2019. Make sure to check their website for up-to-date events.

June 21: Although 2019 is John Glenn Astronomy Park's first full summer of operation, the attraction was dedicated on summer solstice 2018. So, this year's summer solstice will serve as a birthday bash. Besides activities at the park, a group of guitarists will perform the Beatles' "Here Comes the Sun" at dusk.

July 20: Another upcoming anniversary occurs on July 20: the 50th anniversary of the Apollo moon landing. Hoehne will pay tribute by replaying audio and video accounts of the landing from the era. Between 5 p.m. and 1 a.m., visitors can see and hear the historic clips and interact with a small-scale model of the famous spacecraft.

Ongoing: Visitors looking for guided programming don't need to wait for a special event. Every clear Friday and Saturday night, Hoehne and other volunteers host themed sky-watching sessions, focusing on everything from the Milky Way to the phases of the moon. Parking reservations are recommended, but they (and the programs) are free of charge.

---

Trail Mix
The Hocking Hills region is known for its caves, waterfalls and gorges. Here are five must-do hikes and their difficulty levels.



Ash Cave Gorge Trail • Level: Easy
"If you're looking for caves, the two big ones in the park are Ash Cave or Whispering Cave," says Hocking Hills naturalist Pat Quackenbush. While the rim trail offers a moderate hike of about 1/2 mile in length, the most common approach to the cave is via the Gorge Trail, a 1/4-mile-long jaunt through hardwood forest (and in the springtime, past wildflowers) on a paved trail. It emerges at the park's largest recess cave, a geological maw that's 700 feet wide and 100 feet tall. The cave is known for the large piles of ash early white settlers discovered there, illustrating that Native Americans used it for shelter. Located off state Route 56, South Bloomingville 43152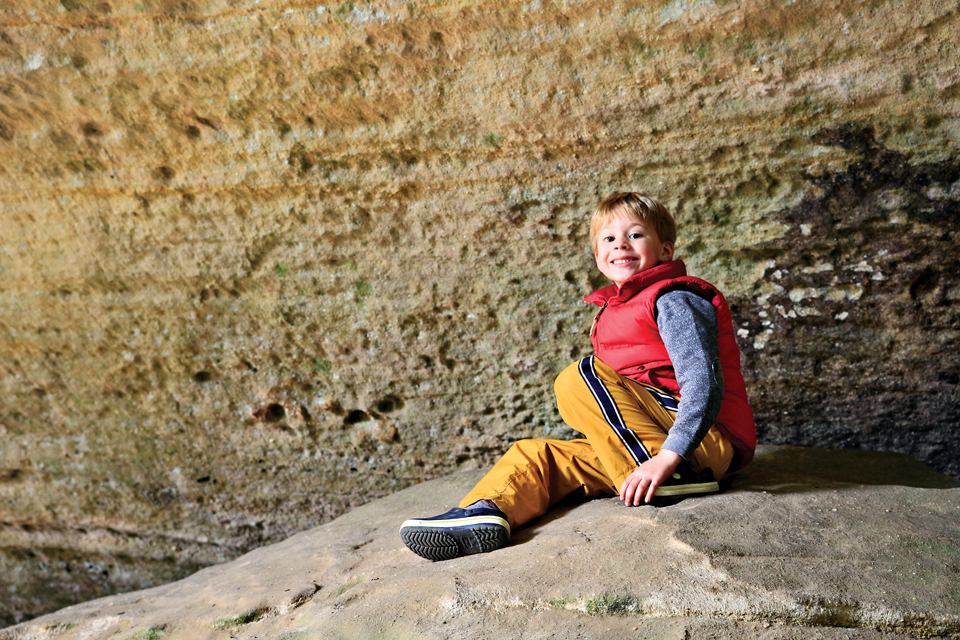 Old Man's Cave • Level: Moderate
Named for a hermit rumored to have once lived here, Old Man's Cave is the most visited feature in all of the Hocking Hills. "There's a reason it's the most visited," says Quackenbush, "because of what it is, and the legends behind it." At just 250 feet long and 75 feet tall, it's far from the largest cave in the park, but the area draws crowds for its web of trails and waterfalls. Trail lengths vary, but for a longer adventure, hikers can loop the Grandma Gatewood Trail with the Upper Falls Loop, Gorge Overlook, or Gorge Exit trails, crossing bridges and hiking staircases into the woods. 19852 St. Rte. 664 S., Logan 43138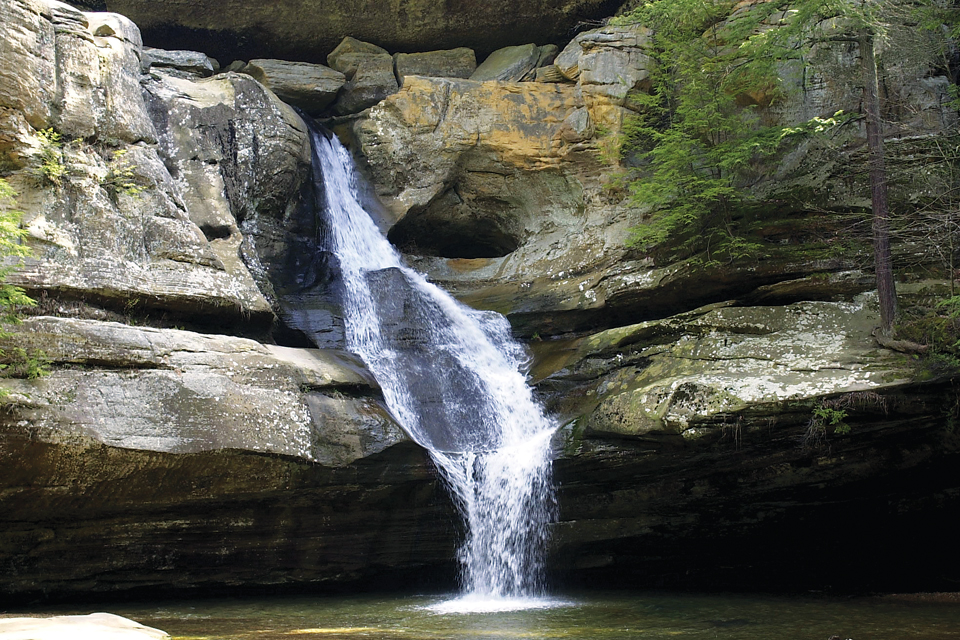 Cedar Falls • Level: Moderate
Although it's not the tallest waterfall in the park (that title goes to the falls at Whispering Cave, which spill 105 feet from the edge of the cave's roof) Cedar Falls is, Quackenbush says, ounce for ounce the biggest. While some of the other falls in the Hocking Hills shrivel to a trickle without rain, Cedar Falls holds its swell, pouring 50 feet down into a pool below. The destination is so well loved that the trail — about a 1/2-mile approach — is both well trod and well marked, clearly pointing guests to where the water cascades over the sandstone. Located off state Route 374, Benton Township 43138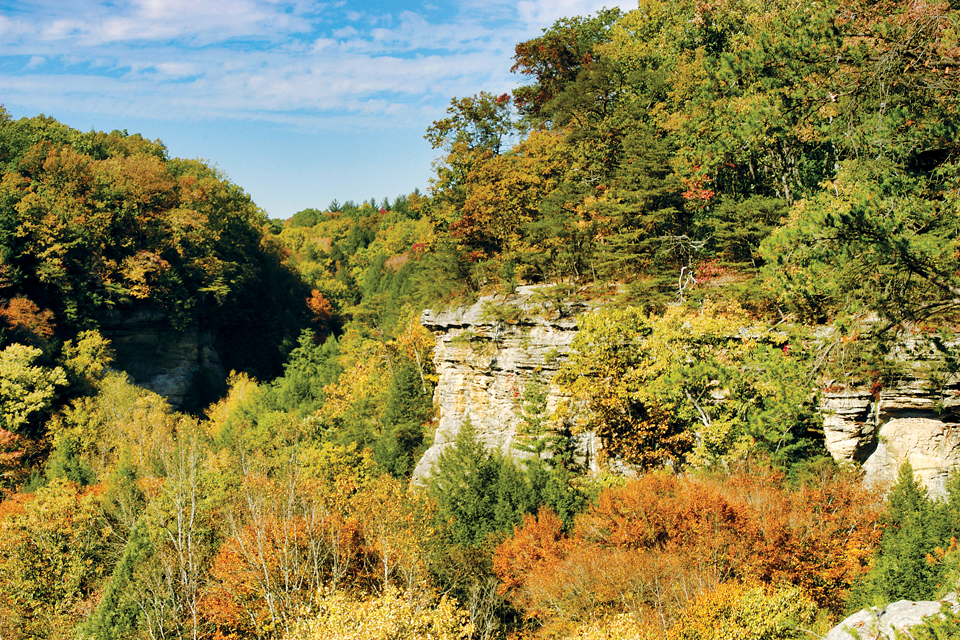 Conkle's Hollow Rim Trail • Level: Difficult
Some of the best hiking in the Hocking Hills is actually above the terrain. Although many trails descend into the landscape, the Conkle's Hollow Rim Trail provides hikers a rare view from above the tree line. Weaving along cliffs, the 2 1/2-mile trail sometimes creeps close to a precipice and visitors are advised to hike with caution. Keep safety in mind, and you'll love exploring these overlooks that offer unmatched views. "As many hills and cliffs as we have," says Quackenbush, "we don't have a lot of open areas where you can see out over the forest like that." 24858 Big Pine Rd., Benton Township 43138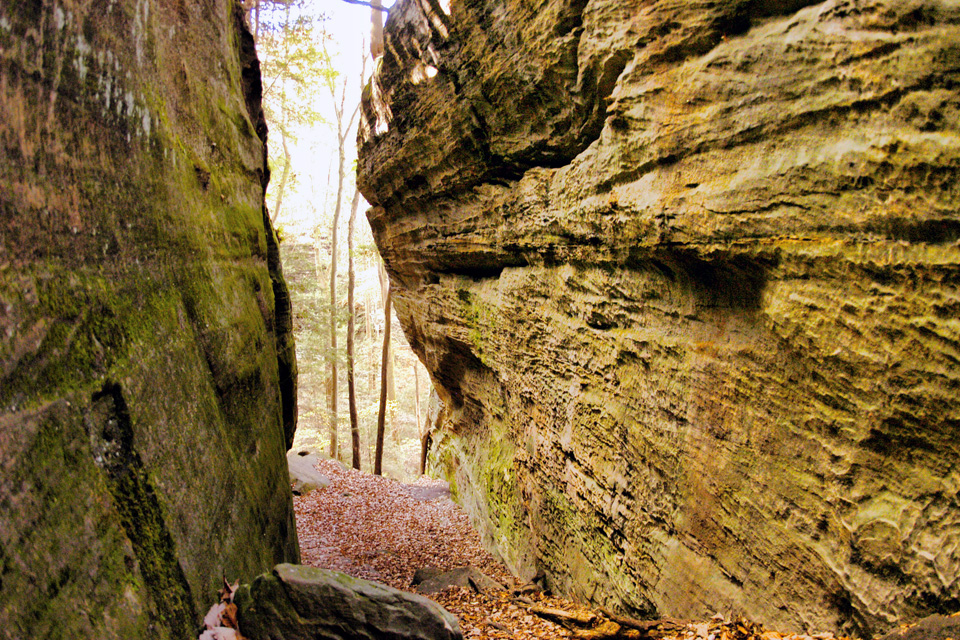 Cantwell Cliffs • Level: Difficult
For those interested in a demanding hike, the gorge trail through the Cantwell Cliffs area offers a bit of a challenge — but the effort is met with a reward. Separated from the most visited areas of the park by a 20-minute drive, Cantwell Cliffs is home to two recess caves, incredible biodiversity (naturalists have counted over 200 species of birds in the area and nearly 200 species of trees and wildflowers) and a tough effort for the zealous hiker. Although it covers just a mile, it is not for "the easily winded individual" warns Quackenbush. Located off state Route 374, Benton Township 43138

For more information about these hikes, visit explorehockinghills.com.